Team USA quest begins at Women's National Open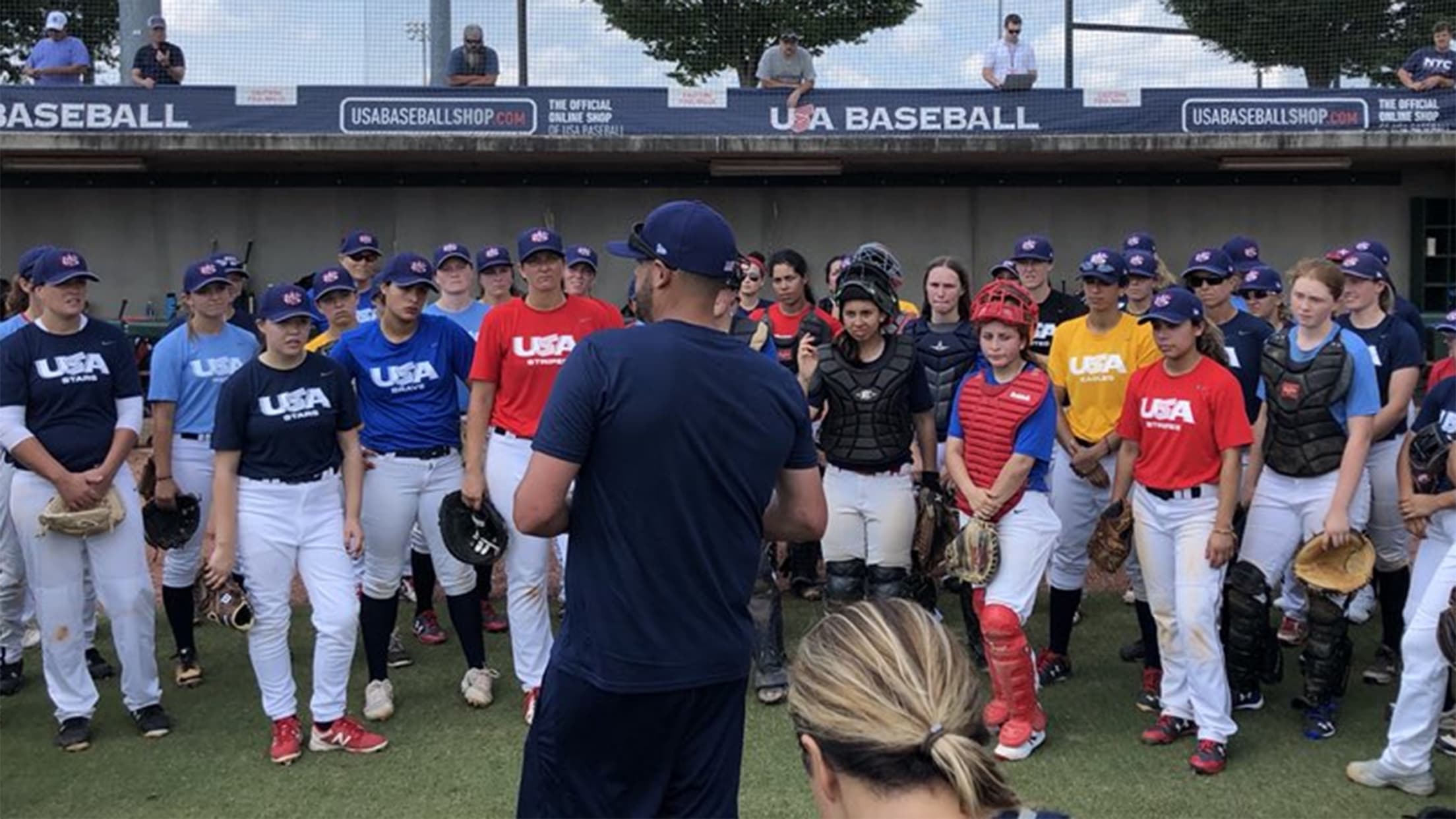 CARY, N.C. -- On Friday morning, the Women's National Open began at the USA Baseball National Training Complex in Cary. Players from around the country congregated on Thursday in preparation for the event, held in Cary for the second consecutive time. The event then officially kicked off with registration at
CARY, N.C. -- On Friday morning, the Women's National Open began at the USA Baseball National Training Complex in Cary. Players from around the country congregated on Thursday in preparation for the event, held in Cary for the second consecutive time. The event then officially kicked off with registration at 8 a.m. ET on Friday. Registration for the event was free.
In total, 106 players of all ages made their way to the complex for open trials in hopes of earning one of 40 spots at the Women's National Team Trials. The composition of the national team will then emerge from that pool. On June 18, the final cuts will be announced, with 20 spots up for grabs. The 20 distinguished individuals will go on to represent the United States at the eighth installment of the WBSC Women's Baseball World Cup, an event that began in 2004 and one in which the U.S. will try to win gold on home soil for the first time.
Players were provided with USA hats and shirts upon arriving for the event, but they were required to bring their own gloves, pants, belts and cleats.
Registration ✅#WNO18 pic.twitter.com/HTKCvtZ082

— USA Baseball WNT (@USABaseballWNT) June 8, 2018
With such a large number of players in attendance, there were certain to be national team mainstays, like outfielder Tamara Holmes and first baseman Malaika Underwood, two veterans who first made the national roster in 2006 and are quite familiar to the tryout process and the ways it has changed over time.
"It's gotten better, for sure," Holmes, who turned 44 on June 2, said. "It was always an organized event, but even more so. And now if you look [at] just the growth of it, the amount of young girls and women who are out playing, it's definitely become a bigger event."
With players needing to be born on or before Dec. 31, 2002, there were certainly some fresh faces hoping to be recognized.
One of those young girls who is new to the scene is Ashton Lansdell, a 17-year-old shortstop who hopes to be noticed with her hustle and competitive drive.
"Show my hustle and attitude, really," Lansdell said. "[Show that] I'm competitive and I can play and I want to win a gold medal."
Lansdell and other new faces will have plenty of opportunities to show off their skills this weekend for manager Matt Weagle, with nine scrimmages being played over the three days.
Weagle, in his fifth year with the team, noted the importance of the younger players showing aggressiveness to endear themselves to him and his staff.
Catchers throwing lasers this morning 🔥#WNO18 pic.twitter.com/1Zmx4bxZZO

— USA Baseball WNT (@USABaseballWNT) June 8, 2018
"Anyone that talks to me knows I'm really high energy," Weagle said. "I pursue it as really aggressive offensively, taking extra bags, reading dirt balls, limiting strikeouts, put the pressure on them -- that's going be something we harp on starting today until we take the field in Florida."
Weagle is joined by Veronica Alvarez, a five-time national team member herself, Cody Kauffman and Ernie May. Alvarez and Kauffman are two of the 12 coaches representing the six rosters in the scrimmages.
But before the scrimmages began, the women engaged in drills Friday morning, with allotted time slots for each event. First came the 60-yard dash and then the players got a chance to throw and warm up with their teammates.
At 10 a.m., the players migrated to Fields 2 and 3, where they engaged in outfield and infield practice, depending on their positions.
Outfield players practiced by catching fly balls and also worked on a drill throwing the ball back to the cutoff player.
Infield drills consisted of ground-ball plays around the infield, with players making throws from their respective positions around the diamond, including a drill for catchers throwing out imaginary basestealers. The drills moved smoothly, with players seamlessly rotating in and out.
At 11:45 a.m., the players gathered around Weagle, who briefly explained the events coming up before the athletes disbanded to grab lunch and socialize ahead of their return to the fields for the afternoon scrimmages.
We here at the #AAGPBL Players Association would like to say GOOD LUCK to the players who are participating in the Women's National Open tryouts this weekend! Let's get that gold in August!!🏅⚾️ Play ball! @USABaseballWNT @USABaseball @MLB #PlayForGlory #WNO18 pic.twitter.com/bUyJrvMJd4

— AAGPBL Official (@AAGPBL) June 8, 2018
The players were divided between the six teams: Stripes, Pride, Stars, United, Brave and Eagles. The teams were split up with a focus on evenly distributing veterans and newcomers, as well as even positional breakdowns for each roster.
The weekend concludes on Sunday with the final game at 10 a.m. At 2 p.m. the National Team Trials will be announced, with 40 players making the cut. From there, the players will stay in Cary to compete in the trials, held from Monday-Thursday.
Chris Hilburn-Trenkle is a contributor to MLB.com.