How Bogaerts deal affects upcoming FA class
Red Sox shortstop avoids free agency with 6-year extension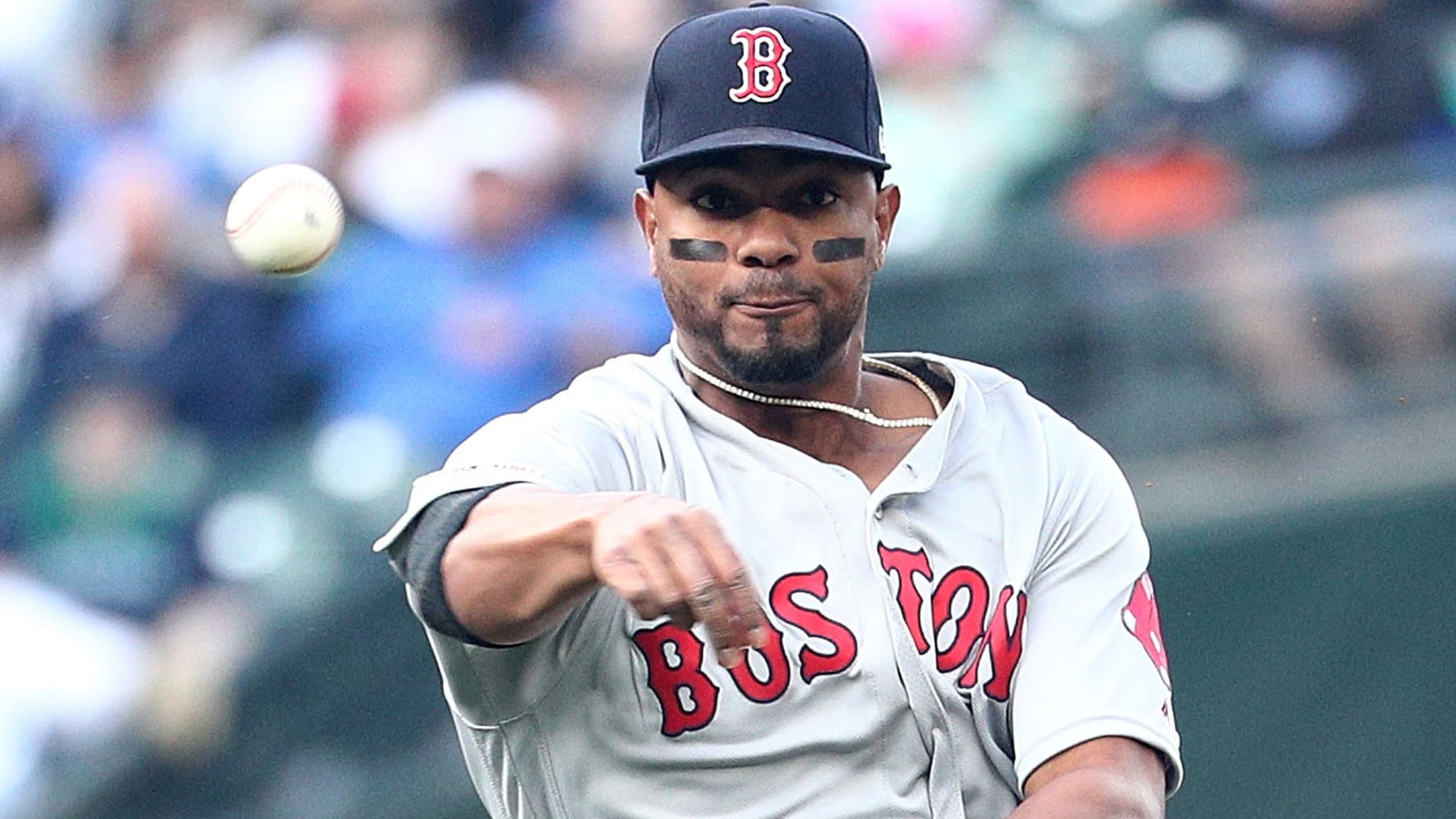 Next year's free-agent class took another hit on Sunday night, as the Red Sox and Xander Bogaerts near an extension that will keep the talented shortstop in Boston through 2025. According to a source, the six-year extension will pay Bogaerts $120 million, locking in another of Boston's key contributors as
Next year's free-agent class took another hit on Sunday night, as the Red Sox and Xander Bogaerts near an extension that will keep the talented shortstop in Boston through 2025.
According to a source, the six-year extension will pay Bogaerts $120 million, locking in another of Boston's key contributors as the Red Sox look to keep their core together into the next decade.
Having signed Chris Sale to a five-year, $145 million extension last week, the Red Sox have committed $265 million with the two extensions, though it's fair to wonder if Boston is preparing (protecting?) itself for the 2020-21 offseason, when reigning American League Most Valuable Player Award winner Mookie Betts is slated to become a free agent.
Based on what we've seen in recent weeks, he might be the only one.
Sale, Bogaerts, Nolan Arenado, Justin Verlander, Paul Goldschmidt, Miles Mikolas, Ryan Pressly and Aaron Hicks have all signed extensions since the start of Spring Training, removing eight notable names from the 2019-20 free-agent class.
Then there's Mike Trout, Jacob deGrom and Kyle Hendricks, who signed extensions over the past two weeks despite not being eligible for free agency for two more seasons.
Anthony Rendon and Gerrit Cole are the top players headed for free agency next fall, and given that both are represented by Scott Boras, the presumption has been that they're more likely to test the market than not. But Bogaerts is also repped by Boras, who might be more open to negotiating extensions for his clients than in previous years given the state of the free-agent market during the past two offseasons.
Other players currently slated to become free agents after the season include Didi Gregorius, Nicholas Castellanos, Yasiel Puig, Khris Davis, Marcell Ozuna, Madison Bumgarner, Rick Porcello, Dellin Betances and Zack Wheeler, so buyers will still have talented players to choose from if they decide to take the free-agent route.
There's also the possibility (probability?) of J.D. Martinez (another Boras client) opting out of the final three years and $62.5 million of his deal with the Red Sox, which would introduce another big bat into the free-agent mix.
Martinez would be looking for a new deal as at the age of 32, which hasn't been a sweet spot for players in recent years. Martinez could try to leverage his opt-out into a restructured deal with Boston rather than test the open market, though another 40-homer season might embolden Martinez (and Boras) to see what other offers are out there.
It should be noted that Betts would be entering his final year of club control next year, so freeing up Martinez's $20 million a year might actually help Boston's cause when it comes to re-signing Betts, who is expected to seek a contract somewhere between Bryce Harper's $330 million and Trout's $430 million if he hits the open market.
Keeping Betts in a Boston uniform should be the club's top priority, but we know that nothing is guaranteed once a player reaches free agency. Betts appears headed in that direction, though a lot can happen in two years. Having already locked up Sale, keeping Bogaerts in the fold is a sure sign that the Red Sox are serious about keeping their championship group together as long as possible.
With fewer and fewer options available to improve rosters in free agency, teams will likely continue to approach their own players about potential extensions.
Betts, J.T. Realmuto and George Springer, all of whom have two years remaining of club control, will be among those who might find themselves with serious extension offers being dangled in their direction. Based on what we've seen in the past six weeks, the extension craze isn't going anywhere. In fact, it might just be getting started.
Mark Feinsand, an executive reporter, originally joined MLB.com as a reporter in 2001.