Here are the Yankees' 2019 Top 30 Prospects
Since 2015, the Yankees have graduated four All-Stars (Aaron Judge , Gary Sánchez, Luis Severino and Gleyber Torres) and a fifth regular who finished second in last year's American League Rookie of the Year balloting (Miguel Andújar) to New York. They also have had 11 players claimed in the Rule
Since 2015, the Yankees have graduated four All-Stars (Aaron Judge , Gary Sánchez, Luis Severino and Gleyber Torres) and a fifth regular who finished second in last year's American League Rookie of the Year balloting (Miguel Andújar) to New York. They also have had 11 players claimed in the Rule 5 Draft and made several deals to avoid getting pillaged further, a testament to their prospect depth.
Top 30 Prospects lists
| | |
| --- | --- |
| AL East | BAL, BOS, NYY, TB, TOR |
| NL East | ATL, MIA, NYM, PHI, WSH |
| AL Central | CLE, CWS, DET, KC, MIN |
| NL Central | CHC, CIN, MIL, PIT, STL |
| AL West | HOU, LAA, OAK, SEA, TEX |
| NL West | ARI, COL, LAD, SD, SF |
| Division | Team |
While the Yankees' farm system isn't as overflowing with big league-ready talent as it has been recently, they do have an impressive stockpile of high-ceiling/high-risk youngsters. That group starts with their top prospect, outfielder Estevan Florial, who has three well above-average tools in his raw power, speed and arm strength but also comes with swing-and-miss concerns.
New York is one of the best organizations at helping pitchers improve their velocity and spin rates, giving it an intriguing wave of overpowering arms that has yet to surface in the big leagues. There are 21 pitchers (all right-handers) on our Yankees Top 30, including potential frontline starters such as Albert Abreu, Luis Gil and Luis Medina, whose raw stuff is significantly ahead of their polish.
The Yankees also are one of the most aggressive clubs on the international market, and their four best prospects (Florial and right-handers Jonathan Loaisiga, Abreu and Deivi Garcia) and 15 of their Top 30 originated there. Their 2017 class looks promising with a quartet of gifted outfielders in Everson Pereira, Antonio Cabello, Anthony García and Raimfer Salinas.
Here's a look at the Yankees' top prospects:
1) Estevan Florial, OF
2) Jonathan Loaisiga, RHP
3) Albert Abreu, RHP
4) Deivi Garcia, RHP
5) Clarke Schmidt, RHP
Biggest jump/fall
Here are the players whose ranks changed the most from the 2018 preseason list to the 2019 preseason list:
Jump: Antonio Cabello, OF (2018: NR | 2019: 9) -- Moved from catcher to center field and led rookie-level Gulf Coast League with .555 slugging percentage in pro debut.
Fall: Freicer Perez, RHP (2018: 8 | 2019: NR) -- Logged a 7.20 ERA in 25 innings before having bone spurs removed from shoulder.
Best tools
Players are graded on a 20-80 scouting scale for future tools -- 20-30 is well below average, 40 is below average, 50 is average, 60 is above average and 70-80 is well above average. Players in parentheses have the same grade.
Hit: 55 -- Everson Pereira (Antonio Cabello, Thairo Estrada, Anthony Seigler)
Power: 55 -- Anthony Garcia (Josh Breaux, Estevan Florial, Ryder Green)
Run: 65 -- Estevan Florial
Arm: 65 -- Estevan Florial
Defense: 60 -- Estevan Florial (Everson Pereira)
Fastball: 70 -- Luis Medina (Luis Gil, Tanner Myatt)
Curveball: 60 -- Deivi Garcia (Luis Gil, Luis Medina)
Slider: 55 -- Clarke Schmidt (five others tied at 55)
Changeup: 55 -- Domingo Acevedo (six others tied at 55)
Control: 60 -- Michael King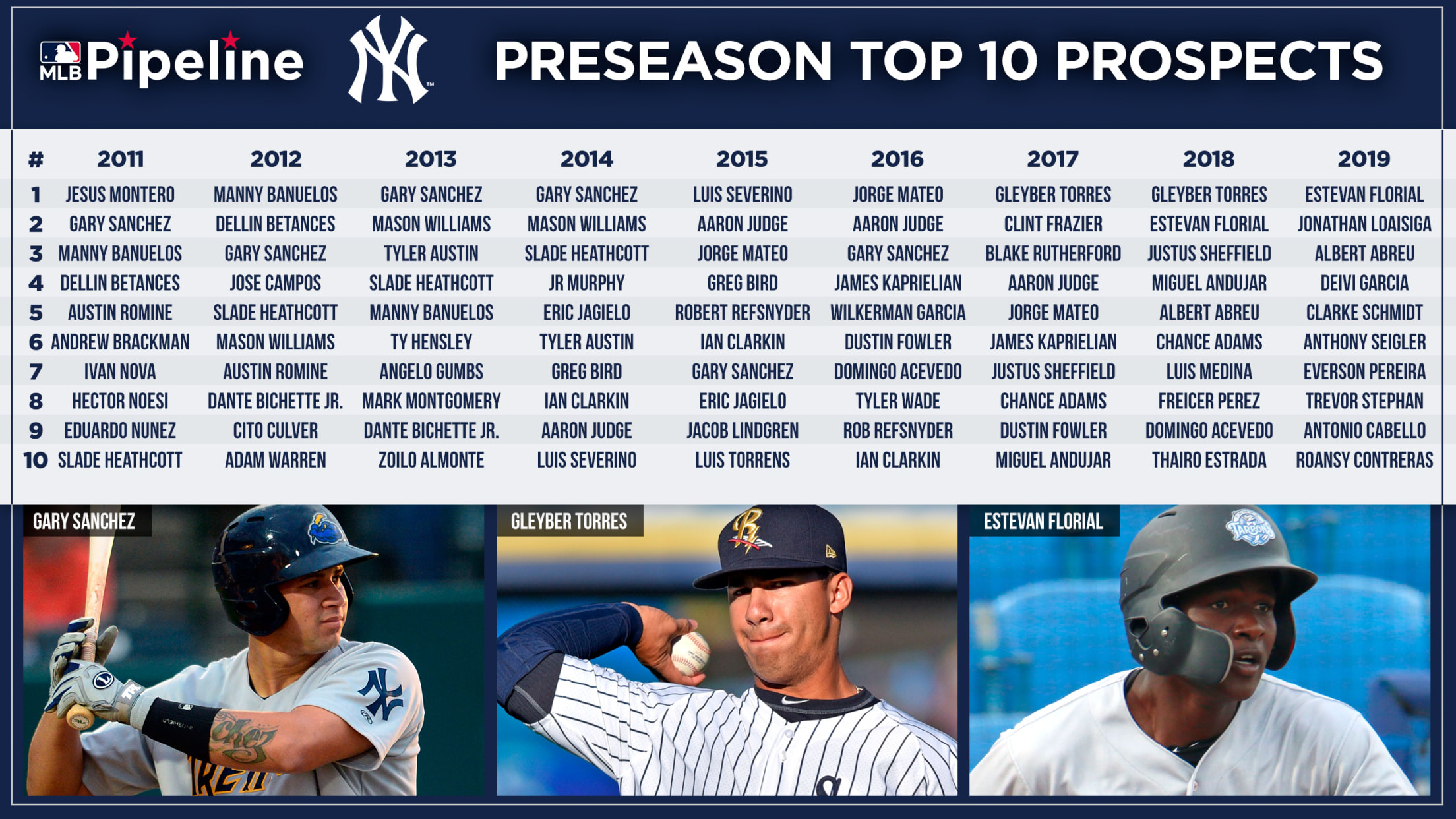 .
How they were built
Draft: 13 | International: 11 | Trade: 5 | Free agent: 1
Breakdown by ETA
2019: 7 | 2020: 4 | 2021: 6 | 2022: 12 | 2023: 1
Breakdown by position
C: 2 | 1B: 0 | 2B: 0 | 3B: 0 | SS: 1 | OF: 6 | RHP: 21 | LHP: 0