Predicting Yankees' 2020 Opening Day roster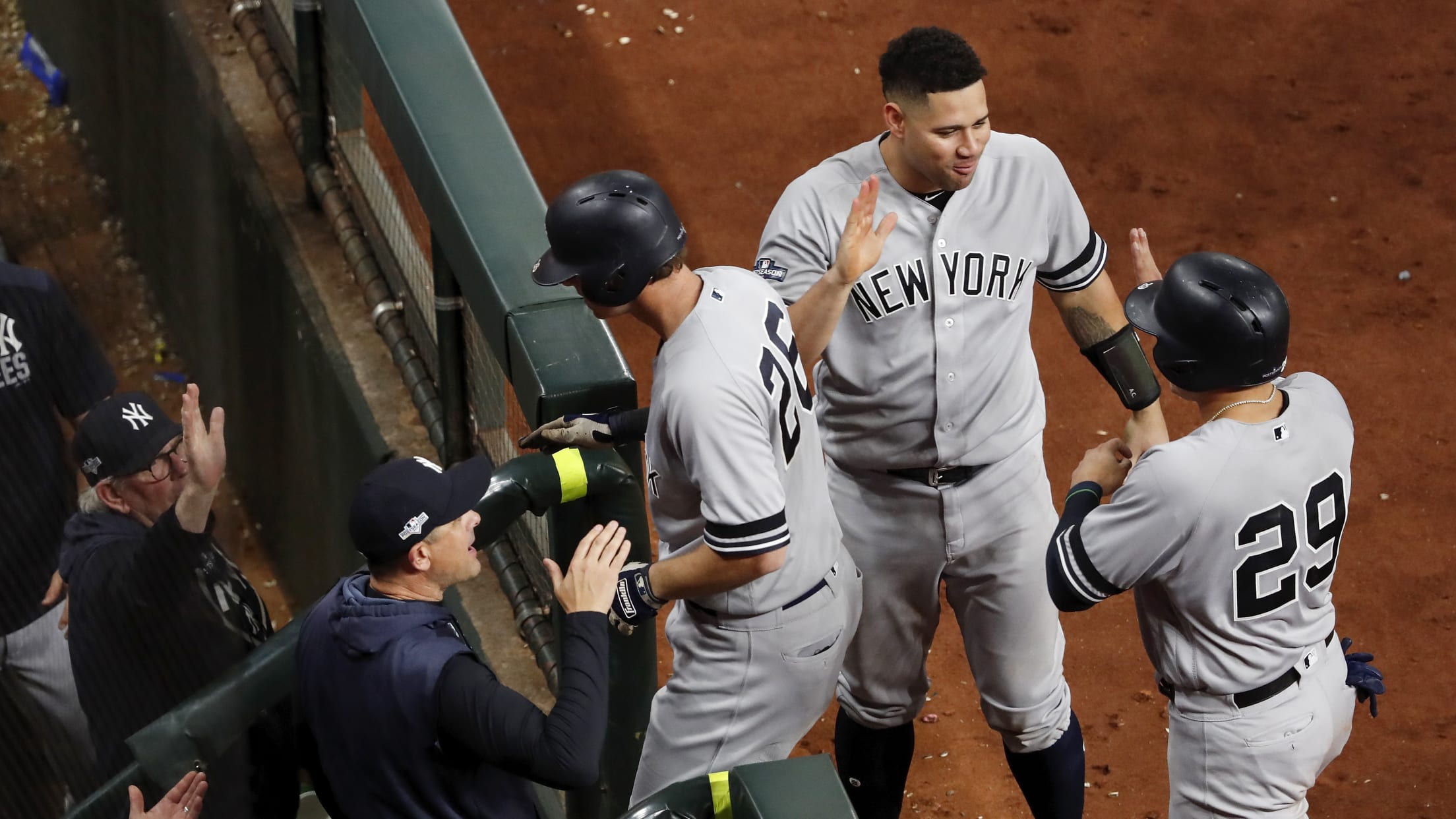 When the Yankees' decision makers assembled on Oct. 28 to begin their annual organizational meetings in the Bronx, general manager Brian Cashman promised to produce an honest assessment of the talent that is already within the organization, setting the course for what can be pursued from the free-agent and trade
When the Yankees' decision makers assembled on Oct. 28 to begin their annual organizational meetings in the Bronx, general manager Brian Cashman promised to produce an honest assessment of the talent that is already within the organization, setting the course for what can be pursued from the free-agent and trade marketplace.
Starting pitching is an obvious and familiar area where the Yanks will attempt to stockpile depth. Sometimes, as in the November 2018 trade for left-hander James Paxton, they have been able to supplement. Other times, like the several weeks in advance of this past July's Trade Deadline, they have fallen short.
With an eye to a 2020 campaign in which Major League rosters will expand to 26 players, Cashman plans to execute a sound process as the Yankees attempt to improve upon what they have.
"Most teams would love to be in a position that we've put ourselves in, and would love to have the roster of players that we have – and, in most cases, the personnel that we have running it," Cashman said. "We're not going to lose sight of those facts as we navigate what's next, whatever that happens to be."
Catcher
Locks: Gary Sánchez
Possibilities: Austin Romine, Kyle Higashioka, free agent/trade
Cashman left little wiggle room in his assessment of Sánchez's polarizing 2019 season, proclaiming that "Gary is part of the solution" while lauding his offensive capability and defensive game-calling. Though Sánchez was slowed by left calf and left groin injuries, he led all Major League catchers with 34 homers. Romine is eligible for free agency; if he departs, Higashioka received strong reviews from Yanks' hurlers this past year.
First base
Locks: Luke Voit
Possibilities: Greg Bird, Mike Ford, DJ LeMahieu, free agent/trade
With the Yankees declining Edwin Encarnación's $20 million option, they've momentarily returned to a similar situation from a year ago, when Voit and Bird battled for reps at first base during Spring Training. If Voit returns to his pre-injury form following surgery to correct a sports hernia, he would present an above-average everyday option. Bird is a candidate to be non-tendered, given Ford's emergence. Though LeMahieu started each of the Yanks' nine postseason games at first base, his services could be needed at second base.
Second base
Locks: DJ LeMahieu, Gleyber Torres
Possibilities: Thairo Estrada, Tyler Wade
The Bombers are well-stocked at second base, where Torres enjoyed an All-Star campaign that carried over into a strong postseason and LeMahieu -- one of the best winter signings by any club -- frequently flashed the defensive ability that allowed him to win three Gold Glove Awards in the National League. The identity of the Yankees' Opening Day second baseman likely rests upon how they proceed at shortstop.
Shortstop
Locks: Gleyber Torres
Possibilities: Thairo Estrada, Didi Gregorius, free agent/trade
Gregorius seamlessly executed the transition from the Derek Jeter era at shortstop, but he is eyeing free agency coming off an injury-shortened season that he freely admits did not live up to his expectations. The Yankees declined to extend a qualifying offer to Gregorius, and Torres presents an in-house option. A trade for the Indians' Francisco Lindor has been suggested as an alternate target.
Third base
Locks: DJ LeMahieu, Gio Urshela
Possibilities: Miguel Andújar, Thairo Estrada
Urshela was arguably the best investment made by any team last season, having been purchased from the Blue Jays for approximately $25,000. The Yankees envisioned him as an above-average defender who could swing the bat a bit; Urshela proved to be much more. That could effectively dislodge Andújar, who finished second in the AL Rookie of the Year voting in 2018 before losing most of '19 to a right shoulder injury.
Outfield
Locks: Aaron Judge, Giancarlo Stanton
Possibilities: Clint Frazier, Brett Gardner, Cameron Maybin, Mike Tauchman, Tyler Wade, free agent/trade
Aaron Hicks' decision to undergo Tommy John surgery on his right elbow, combined with Gardner's free agency, creates a void in center field. Gardner has said that he hopes to continue his career with the Yankees, the only team that he has ever played for, and he could be amenable to a short-term deal. Judge can plan on regular duty in right field, and having a healthy Stanton splitting time between left field and designated hitter has appeal for the Yanks. Frazier was shopped in trades this past season, and Tauchman could receive more playing time after showing the ability to play all three outfield spots well. Maybin is a free agent and may not return.
Starting pitchers
Locks: Masahiro Tanaka, James Paxton, Luis Severino, J.A. Happ
Possibilities: Domingo Germán, Michael King, Jonathan Loaisiga, Jordan Montgomery, free agent/trade
Wouldn't that group look more appealing if it included Gerrit Cole's name? You could say the same for Stephen Strasburg, Madison Bumgarner, Hyun-Jin Ryu, Zack Wheeler … and the Yankees know that, too. Cashman vowed to be "aggressive in trying to attack areas that need improvement," but also stated that it was situational hitting -- and not pitching -- that sent New York home in the ALCS. They're also open to opportunities that pop up in the trade market; for example, Cashman said that he didn't even learn about Paxton's availability until the GM Meetings in the first week of November. Germán is unlikely to be available for Opening Day as he faces potential discipline from Major League Baseball regarding a domestic violence matter, though he is expected to pitch in 2020.
Relievers
Locks: Zack Britton, Aroldis Chapman, Chad Green, Tommy Kahnle, Adam Ottavino
Possibilities: Dellin Betances, Luis Cessa, Nestor Cortes Jr., Cory Gearrin, Ben Heller, Jonathan Holder, Jonathan Loaisiga, Tyler Lyons, Stephen Tarpley, free agent/trade
New York's power bullpen was viewed as one of its greatest strengths this season, a quality that the Yankees will aim to maintain with AL Reliever of the Year Aroldis Chapman reportedly forgoing his opt out and adding another year to his contract. Cashman has added to the bullpen in past years when starting pitching was unavailable or too expensive; perhaps Yusmeiro Petit, Will Smith or Will Harris will pique their interest.