Inbox: What's the call on Judge's K's?
Beat reporter Bryan Hoch answers questions from fans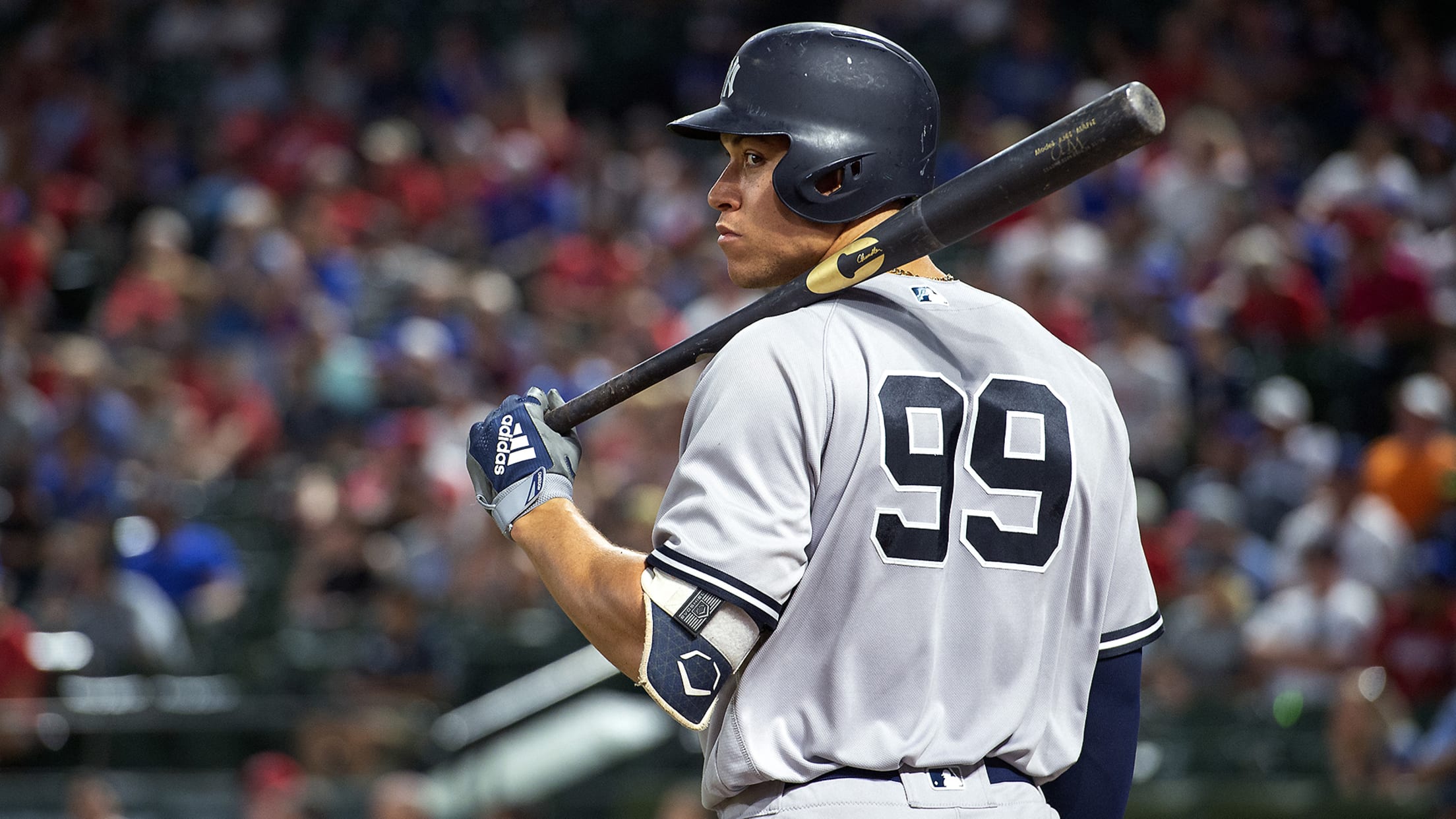 New York Yankees' Aaron Judge waits on deck during the ninth inning of the team's baseball game against the Texas Rangers, Tuesday, May 22, 2018, in Arlington, Texas. Texas won 6-4. (AP Photo/Jeffrey McWhorter) (Jeffrey McWhorter/AP)
It seems like Aaron Judge and the Yankees are consistently rung up on called strikes out of the zone, more than other teams. Do my eyes deceive me? -- Jerry S., Paramus, N.J.Thanks to the magic of Statcast™, we can quantify that. You're on the money. So far in 2018,
It seems like Aaron Judge and the Yankees are consistently rung up on called strikes out of the zone, more than other teams. Do my eyes deceive me?
-- Jerry S., Paramus, N.J.
Thanks to the magic of Statcast™, we can quantify that. You're on the money. So far in 2018, the Yankees have seen 242 pitches that were called strikes but judged to be in quadrants outside the strike zone by the system. That ties the Giants for the most in the Majors. I asked manager Aaron Boone about that on Wednesday, and he confirmed that he has seen the same numbers.
"Part of that is the way we preach patience and the way our guys really control the strike zone," Boone said. "That's going to be a result of that, frankly. More free-swinging teams are chasing or protecting the plate. We're not a really big protect-the-plate, two-strike go off the plate [team]. If it's a ball, we take it. That's what we want."
:: Submit a question to the Yankees Inbox ::
Judge in particular has been victimized, seeing 47 called strikes in those zones, the most in the Majors. During the Yanks' series in Texas, Judge winced at a called third strike and gestured as though he was going to toss his bat away for ball four, which is probably about as demonstrative a protest as you're going to see from him.
"He is 6-foot-7. Those knees can be really high on Judge, so sometimes it feels like there are some lows ones on there," Boone said. "But I think it's patience. When you're a patient team, when you're a patient hitter, you're going to tend to get rung up on close calls, because a lesser hitter is going to chase that."
Brett Gardner (34) also has legitimate strike-zone gripes this year, ranking among the top five in the league. Boone said that he frequently watches games where announcers will say that a two-strike pitch was "too close to take," and he disputes the logic of that statement.
"What does that mean?" Boone said. "If it's a ball and I've got two strikes on me, what are my chances of getting on base with two strikes? Probably not great. If I take that pitch that's a ball out of the zone and I swing at it, what are my chances of getting a hit on that? Probably not very good.
"But if I take a ball, there's a good chance that it gets called a ball and I'm going to first base. So I don't really buy into protecting the plate, especially with our guys."
What are the chances, realistically, that the Yankees will get Madison Bumgarner at the non-waiver Trade Deadline?
-- Joey P., via e-mail
This was one of many pitching-related inquiries we received this week, especially after Domingo German and Carsten Sabathia turned in poor outings in the series against Texas. We've already discussed the scenario involving Cole Hamels and the Rangers at length, so Bumgarner provides a fresh way to look at the Yankees' ongoing search for starting pitching.
Short answer: it's unlikely, but not impossible. The Yanks would need a substantial package of controllable talent to pry Bumgarner loose, but they'd be adding a pitcher whose competitiveness is off the charts and a true postseason difference-maker. Bumgarner's contract has a team option for 2019 worth $12 million that would be a no-brainer to pick up.
If the Giants are scuffling into July, they'll likely listen to offers for Bumgarner, who should be completely back from his broken left hand by then. Again, San Francisco would need to get a huge return for its biggest arm since Juan Marichal -- think three or four prospects out of the Yankees' Top 30 -- but in this case, it could be worth it.
Gleyber Torres has been playing really well, but he is staying at the bottom of the order. Is there any chance Boone is going to move him up?
-- Nehru M., New York
The way Torres has been swinging the bat, a promotion in the lineup seems to be inevitable -- though for the moment, Boone seems to content to keep his hot-hitting rookie in the No. 9 spot. Boone views Torres as a second leadoff hitter of sorts, adding traffic on the basepaths for the second and third times through the batting order.
"I'm good in that position," Torres said. "The manager has control of that. Any opportunity I have to help my team, I do my job and I just think about that. I don't think about the position."
The youngest Yankee to homer in three consecutive games, Torres' eight home runs out of the No. 9 spot are already approaching another club record. Alfonso Soriano holds that mark, having hit 11 homers as the Bombers' No. 9 hitter in 2001. Other notables: Scott Brosius (nine, 2000), Bucky Dent (eight, 1977), Nick Johnson (eight, 2002) and Russell Martin (eight, 2012).
With Jordan Montgomery out for a substantial amount of time, would there be a possibility of Adam Warren coming back off the disabled list as a starter instead of long relief?
-- Dechaine M., Thomaston, Maine
I don't see that happening, simply because by the time they built Warren up from a stamina standpoint, Montgomery might be back. Warren has been pitching in simulated games in Tampa, Fla., and is about to begin a Minor League rehab assignment, with an eye toward rejoining the bullpen by the end of the month. Montgomery's timetable is somewhere from mid-June to early July. He's set to resume playing catch shortly.
What can you tell me about Erik Swanson? His numbers this season are incredible.
-- Randy S., East Islip, N.Y.
Indeed, Swanson has pitched his way onto the Yankees' radar, and he is someone that fans should be aware of. The 24-year-old righty was recently promoted to Triple-A after going 5-0 with an 0.44 ERA over 40 2/3 innings for Double-A Trenton, where he struck out 52 against 12 walks and held opponents to a .152 average.
Swanson was acquired from the Rangers as part of the Carlos Beltran trade prior to the 2016 Deadline. His breakout has been due in part to the improvement of his curveball, which gives him a third pitch to attack with, along with his fastball and changeup.
Didi Gregorius' slump started the day after he was kicked in the head on a play at second. Have the Yankees tested him for a concussion? Seems like a pretty obvious cause and effect, no?
-- Max C., Philadelphia
To refresh, it was May 4 at Yankee Stadium, and Gregorius was kicked in the back of his head by the Indians' Francisco Lindor, covering second base to record a force out. Gregorius lay on the ground for several moments in what appeared to be a scary scene, but he lightened the mood when someone asked if he knew what day it was.
"May the fourth be with you," Gregorius replied.
I checked with Gregorius this week, and he confirmed that the Yankees did put him through concussion protocol tests that night, all of which came back clean. In his mind and in the opinion of the medical staff, there is no connection between that play and the offensive struggles that followed.
"To be honest, I was hitting the ball hard. They were just not falling [for hits]," Gregorius said.