Inbox: Will Yankees' roster get too crowded?
Beat reporter Bryan Hoch answers questions from fans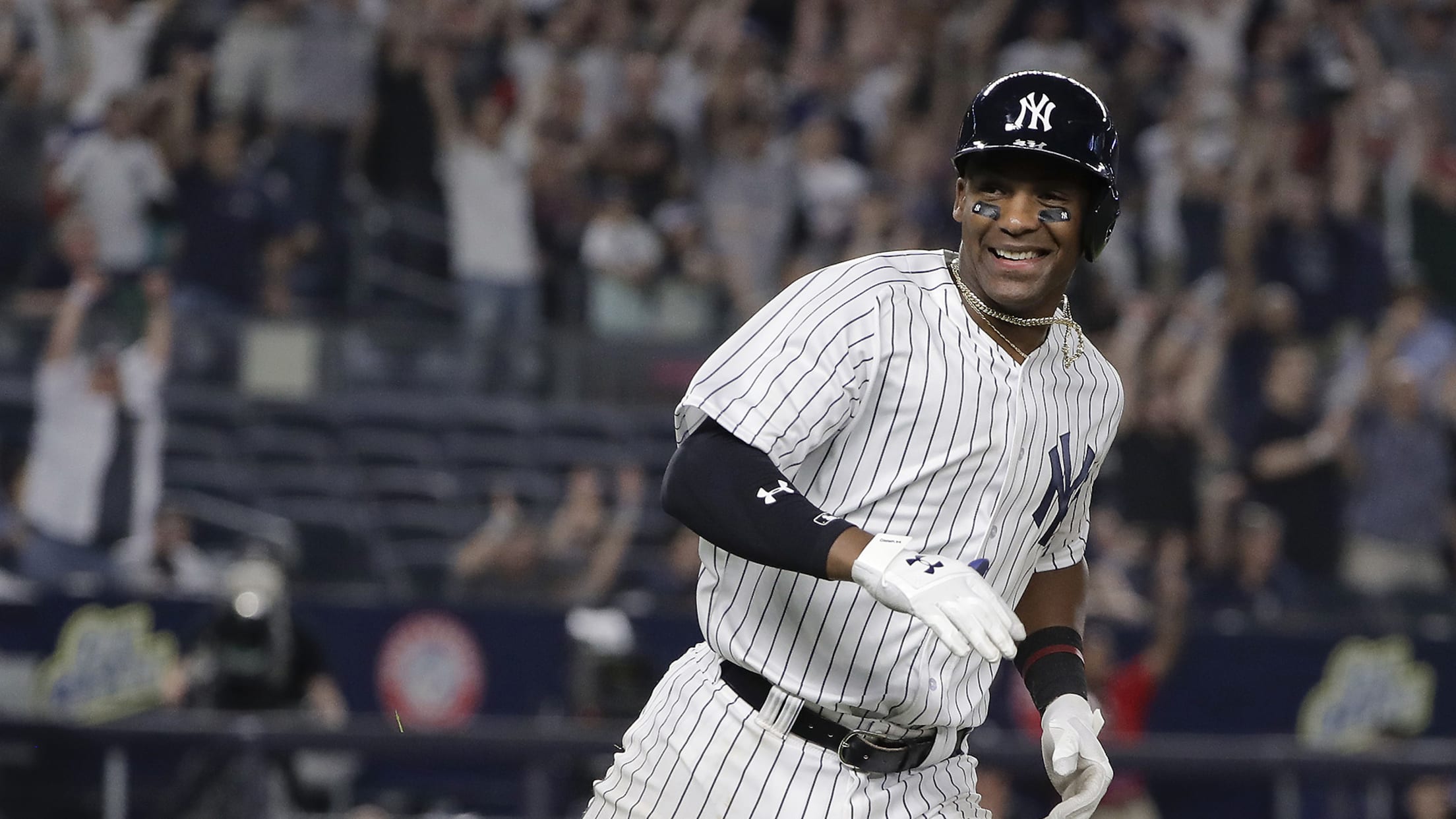 New York Yankees' Miguel Andujar smiles after driving in the winning run with a single to right field against the Cleveland Indians during the ninth inning of a baseball game Friday, May 4, 2018, in New York. The Yankees won 7-6. (AP Photo/Julie Jacobson) (Julie Jacobson/AP)
With Miguel Andujar playing well, what are the Yankees' plans for Brandon Drury? Is there room for both on the roster? -- Mark K., New YorkAndujar's solid play at third base has allowed the Yankees to take their time with Drury, who has now played 11 rehab games in the
With Miguel Andujar playing well, what are the Yankees' plans for Brandon Drury? Is there room for both on the roster?
-- Mark K., New York
Andujar's solid play at third base has allowed the Yankees to take their time with Drury, who has now played 11 rehab games in the Minors, batting .361/.455/.500 with a homer and three RBIs for Double-A Trenton and Triple-A Scranton/Wilkes-Barre. Manager Aaron Boone said that while the Yanks could have rushed Drury if there was a pressing need, the organization would discuss Drury's situation during Monday's off-day.
The good news is that the Yankees believe that they have identified the cause of Drury's issues with migraines and blurred vision, pinpointing an irritated nerve between his neck and the back of his head. Drury has been regularly seeing Dr. Gil Chimes, the club's consulting sports medical chiropractor, for assistance in managing the symptoms.
:: Submit a question to the Yankees Inbox ::
While Andujar has impressed, the Yankees acquired Drury from the D-backs because their scouts believed the 25-year-old was capable of more than he has shown in his career to date. Drury also has said things to that effect, and Boone has talked about appreciating the "grit and grind" of Drury's game. Especially now that the blurred vision appears to be under control, they are going to want to give Drury at-bats at the big league level.
Maybe Drury could shoehorn in at a different position. Drury has played second base, left field and right field in his career, but he has been alternating between third base and designated hitter over those 11 games in the Minors. One other thing to note: general manager Brian Cashman said that Drury has two Minor League options remaining, so that provides flexibility if they opt to wait for a more pressing need on the big league roster.
When is the earliest that Greg Bird could return?
-- Sue M., Easton, Pa.
Bird is scheduled to play in his first extended spring camp game on Monday in Florida, and the Yankees are optimistic that his recovery from right ankle surgery will be on the shorter side of the six-to-eight-week timeline given at the time of his March 27 procedure.
Boone has said that the Yankees will want Bird to play in 10 to 14 games at various levels of the farm system before rejoining the big league roster. So the upcoming road series against the Royals and Rangers could be in play. Assuming no setbacks, Bird should certainly be active for the six-game homestand that begins on May 25.
What is the record for most games in one season that a team has had a player hit multiple homers? The Yanks have done it eight times already this year, and Aaron Judge hasn't even joined the party yet.
-- Michael S., San Diego
With help from the fantastic Baseball Reference play index: the 1961 Yankees and '66 Braves each had 24 such instances; Mickey Mantle did it eight times and Roger Maris did it seven times during that memorable summer of '61. The others were Johnny Blanchard (three), Clete Boyer (one), Elston Howard (one), Moose Skowron (two) and Yogi Berra (two). Also worth noting on that '66 Braves club: Joe Torre had five multihomer games, as many as Hank Aaron.
What are the chances that the Yankees sign Matt Harvey?
-- Anthony C., Brooklyn, N.Y.
Though the Yankees are continually searching for pitching depth, my sense is that they will pass on Harvey, whose on-field performance has fallen markedly since 2015 and could distract from their solid clubhouse atmosphere. Maybe Harvey goes elsewhere and gets his career on track, but he will need to start regularly to do so. Yankee Stadium's hitter-friendly dimensions are also a concern. Is Harvey better than Domingo German at this point in time? I don't believe that the answer is yes.
Who is the most realistic target at the non-waiver Trade Deadline? I've got to think we'll try to get another ace to pair with Luis Severino.
-- Jordan M., Denver
Over the offseason, the D-backs' Patrick Corbin and the Tigers' Michael Fulmer were two of the names that were connected to the Yankees regularly, and for good reason. Arizona will probably hold onto Corbin since it's contending, but Detroit might entertain moving Fulmer in exchange for some of the prizes of the Yanks' system. He's a 25-year-old ground-ball pitcher who is under team control through 2023, which checks a lot of boxes for New York.
Would the Rays be tempted to deal Chris Archer within the division for the right prospect package? The Yankees have volleyed with Tampa Bay regarding Archer in the past. Cole Hamels is another name to be keep in mind; while not the ace he was in his Phillies years, he's still a solid starter pitching for a Rangers team that is not expected to contend in the American League West, and he will be a potential free agent after 2018.
I have concerns about our rotation. Do you think we have any prospects in the Minors who are ready?
-- Mike S., Ellettsville, Ind.
While German made a convincing case to stick around in his first Major League start, the Yankees also promoted Justus Sheffield to Triple-A Scranton/Wilkes-Barre last week. Sheffield is the Yankees' top-rated pitching prospect, according to MLB Pipeline, and he will work on improving his fastball command now that he is one step away from the big leagues.
Chance Adams, the Yanks' No. 6 prospect, seemed to be on the cusp of a big league callup last season. He endured a rough spring and a shaky start to his Triple-A campaign, though his last start against Pawtucket was encouraging (six innings, two runs, three hits). Josh Rogers has also pitched well at Triple-A through six starts.
Do you think Giancarlo Stanton not playing in the field is having an effect on his at-bats?
-- Nancy H., Calgary, Alberta
Stanton has been diplomatic when quizzed on that topic, subscribing to the mantra that he wants to do whatever is best for the team. But the adjustment to DHing can be difficult for everyday position players (thinking of you, Jorge Posada). They need to find a routine to stay in the game mentally and keeping their body loose between at-bats, so it's usually some combination of cage work, riding the bike and stretching exercises. Some handle it better than others (now thinking of you, Carlos Beltran).
It's too small of a sample size to get excited about, but Stanton's best performance as a Yankee has come in the 13 games that he has played left field -- .288/.356/.538, three homers, 11 RBIs. In 15 games as a DH, he has batted .204/.328/.426 with three homers and six RBIs. He has six games in right field, hitting .154/.185/.346 with a homer and two RBIs.
Gary Sanchez and Masahiro Tanaka both give interviews using interpreters, so how do they communicate during mound visits?
-- Paul S., Jericho, N.Y.
They speak in English during those mound visits. Tanaka has said that Sanchez's English is better than his, though Tanaka certainly has a working knowledge of the language. Conducting an in-depth interview with reporters is different than debating pitch selection with a teammate, and so both players prefer to use the interpreters to ensure that their thoughts are accurately conveyed to the media.