Cashman, Girardi expect to play out contracts
Deals for GM, manager expire at the end of the 2017 season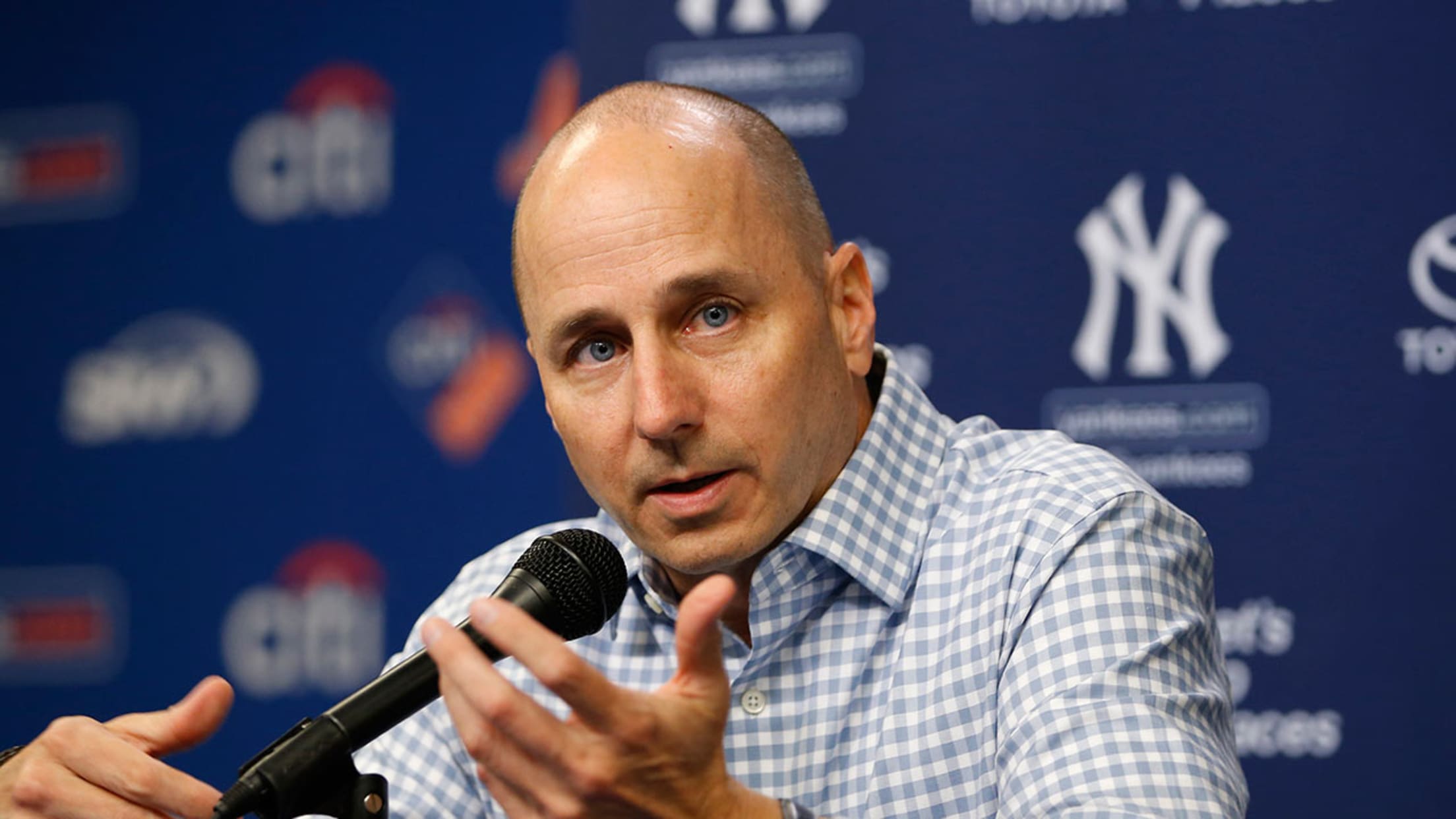 GM Brian Cashman said he and manager Joe Girardi should continue with the Yankees through the 2017 season, when the club decides whether to extend their contracts. (Kathy Willens/AP) (Kathy Willens/AP)
NEW YORK -- Yankees general manager Brian Cashman and manager Joe Girardi are heading into the final year of their respective contracts in 2017, and neither of them are expected to be extended until that season ends, Cashman said on Wednesday.That issue, along with a number of others, was addressed
NEW YORK -- Yankees general manager Brian Cashman and manager Joe Girardi are heading into the final year of their respective contracts in 2017, and neither of them are expected to be extended until that season ends, Cashman said on Wednesday.
That issue, along with a number of others, was addressed by Cashman during a news conference on Wednesday at Yankee Stadium.
"I assume things will play out the way they've played out for a long time here, where we will go through next year and collective ownership will decide what we want to do as we move forward," Cashman said. "Unless ownership tells me otherwise, there's that built-in assumption that we play our contracts out and then they'll decide."
Cashman has been the GM since he replaced Bob Watson after the Yankees won the 1996 World Series. Girardi replaced Hall of Fame manager Joe Torre in 2008.
Girardi has 819 wins and a .562 winning percentage in his nine seasons managing the club. However, the Yankees haven't won the World Series since 2009 and haven't even won a postseason contest since Game 5 of the '12 American League Division Series, when they eliminated Baltimore. They were swept by the Tigers that year in the AL Championship Series.
The Yanks have played only one postseason game since then, losing the AL Wild Card Game at home to Houston in 2015.
Cashman praised Girardi for the job he did during a transition season, in which the GM dealt veterans Carlos Beltrán, Aroldis Chapman, Andrew Miller and Ivan Nova at the Aug. 1 non-waiver Trade Deadline and subsequently released slumping slugger Alex Rodriguez. Mark Teixeira also announced his retirement, which happened at the end of the season.
The Yankees brought up rookie catcher Gary Sánchez and first baseman Tyler Austin, who both had a significant influence as the club remained in postseason contention until three games remained in the season.
Sanchez hit 20 homers in only 53 games, and he is expected to be the starting catcher over veteran Brian McCann next season, Cashman said.
"It's his job to lose," Cashman said about Sanchez.
About Girardi, Cashman said: "I think Joe understood from a professional standpoint that we in the front office did what we felt was necessary. His job description is to win with whatever he's given and do everything in his power to win with whatever he's given, even though the roster dramatically changed.
"He approached every game to the best of his ability to try to win. He did not give up. His job is not to give up. I appreciated his efforts in everything he did."
Cashman said changes will certainly occur before the team returns for Spring Training next February in Tampa, Fla., but like last offseason, many of them may come internally because ownership is still committed to duck under the competitive balance tax threshold, which has remained at $189 million for the past three seasons.
The Yankees' payroll was $226 million this past season, which means they paid a 50-percent repeaters tax on the $37 million margin over the threshold.
All of that may change in the new Basic Agreement, which is being collectively bargained between Major League Baseball and the MLB Players' Association.
The Yankees also have about $60 million in payroll coming off the books next season, so that would give them some money to spend, considering that the competitive balance tax threshold is elevated as historically happens in new labor agreements.
To that end, Cashman said right field could be a Spring Training competition between Aaron Hicks, Aaron Judge and Rob Refsnyder, and first base a battle between Austin and a returning and healthy Greg Bird.
• Girardi sees young talent playing a key role in 2017
Cashman also noted that he's not committed to Dellin Betances as the closer, saying he's "our closer unless we do something different," and that McCann's status is uncertain. The catcher has two years remaining on the contract at $17 million per season, with a $15 million club option for 2019. He also has full no-trade protection.
"We have a right-handed power-hitting catcher in Gary and a left-handed power-hitting catcher in McCann, and that's a valuable combination to have," Cashman said. "That being said, I'm expecting, as I did at this past Trade Deadline, to get calls about Brian McCann. I never approached Brian. I think he's very valuable. I didn't even waste his time, because I've got to be satisfied first."
The Yankees, Cashman said, will still be trying to find ways to win the World Series, no matter the extent of the current transition. Considering his own contract situation, Cashman said he doesn't feel any additional pressure to win than usual.
"I serve at the direction of ownership," Cashman said. "I would think they'd not be pleased if I said, 'Yes, there's urgency now because my contract is expiring.' I think if you're doing your job right, there's urgency to get a decision right in every decision you make. The only urgency I have is to make sure that every box is checked in the process and then live with those decisions."