Personal cathedral: Yanks make over fan's room
Players team up with Blissful Bedrooms for final 2016 HOPE Week project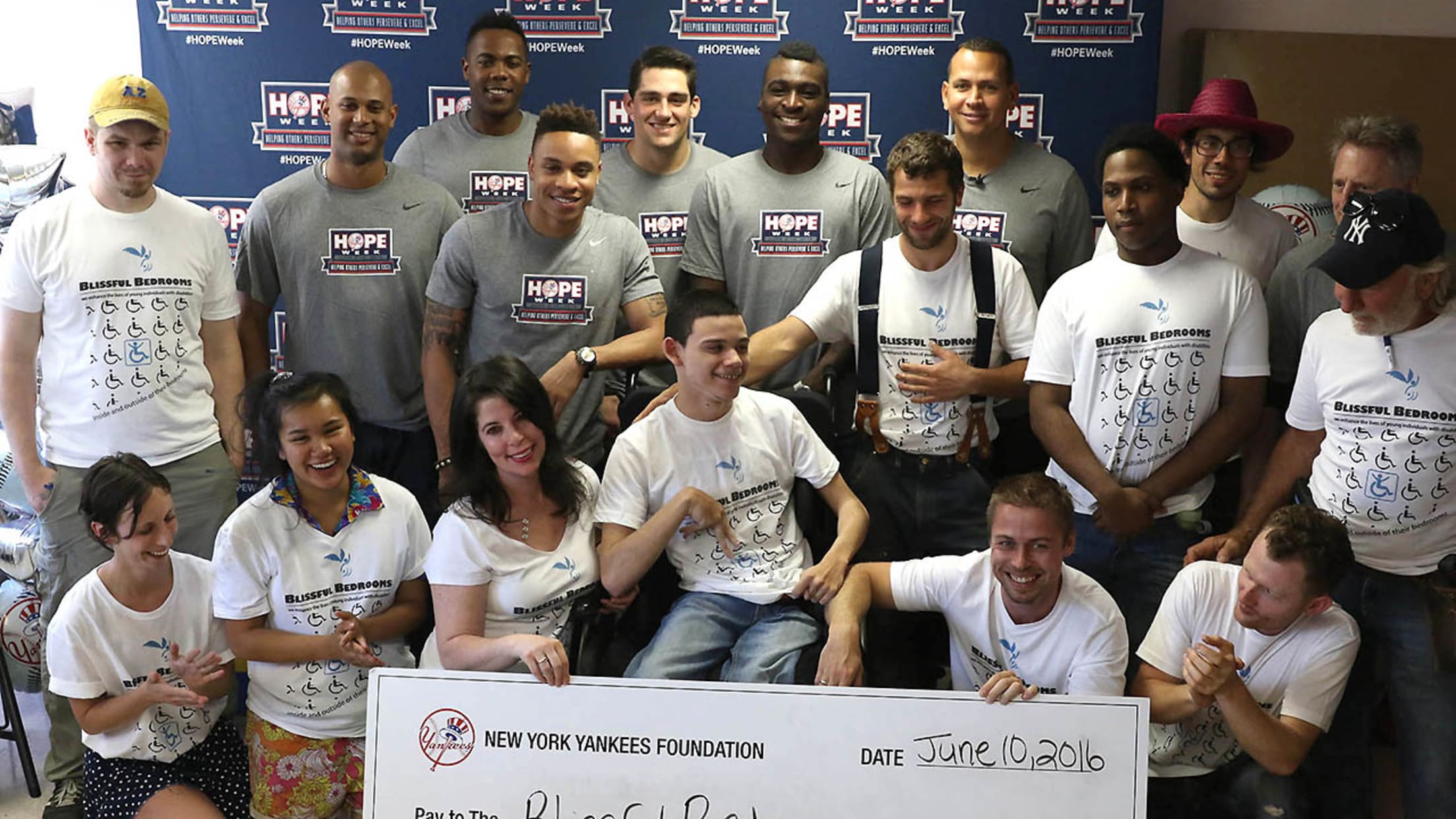 The Yankees presented Blissful Bedrooms with a $10,000 donation after helping transforn Said Rivera's room. (Josh Lobel/MLB.com)
NEW YORK -- A bedroom is something many people take for granted -- a place to watch television, hang out and sleep. But to those with severe physical disabilities, a bedroom can be a set of walls that can be difficult to get out of and even harder to live
NEW YORK -- A bedroom is something many people take for granted -- a place to watch television, hang out and sleep. But to those with severe physical disabilities, a bedroom can be a set of walls that can be difficult to get out of and even harder to live in.
For the final day of HOPE Week on Friday, the Yankees' Didi Gregorius, Alex Rodriguez, Aroldis Chapman, Nathan Eovaldi and Aaron Hicks joined Blissful Bedrooms to help renovate the bedroom of 18-year-old Said Rivera, who was diagnosed with cerebral palsy when he was 5 months old.
• HOPE Week coverage
"It's really great to see Said," Gregorius said. "He's been fighting through everything, but he was really excited to see us here, and we are here to help. We always give back to the community whenever we have the chance, especially for HOPE Week. We get great stories and we want fans to see what Blissful Bedrooms is doing for everybody here."
In 2009, Martha Gold-Dvoryadkin and her husband, Alex, had the idea of fixing up one of Martha's former physical therapy students' bedroom, and the nonprofit Blissful Bedrooms was founded.
The organization's objective is to transform the personal spaces of young individuals who have limited resources and severe physical disabilities.
Rivera's bedroom, which will be Yankees-themed and is expected to be finished on Sunday, is the 19th that the nonprofit organization has renovated since its inception.

"Very often individuals with disabilities are forgotten and pushed aside," Gold-Dvoryadkin said. "We're so lucky in New York City to have a public school education for them, and they really thrive on that. But when they graduate, a lot of times, there is nowhere left for them to go and they end up being in their bedrooms.
"I'm a physical therapist and I have some students who were in that situation, and it broke my heart. So it was really just a desperate effort to bring a smile to some very sad people."
• HOPE Week gallery: Blissful Bedrooms
Gregorius stated that his "dream bedroom" would likely have been Yankee-themed as well, while Rodriguez said that his would have been modeled with all the players he admired growing up.
"It would have been baseball-themed, that's for sure," Rodriguez said. "I already had Keith Hernandez, Darryl Strawberry, Dale Murphy and all of my favorite players up on my wall."
The day began with the five Yankees players surprising Said in his room. They then helped the beginning stages of the bedroom makeover by painting some of the room's decorations, including a Yankees logo and the Yankee Stadium façade, and even helping to sew a Yankees blanket.
"It never gets old, and sometimes you forget what an incredible platform we have with the New York Yankees," Rodriguez said. "We're into playing every day, we're in the midst of playing 41 games in 42 days -- and you forget the power that you have.
"To be able to go into the community and share some time, even if it's only a few hours, is really enjoyable."
Afterward, the Rivera family, the players and all the volunteers of Blissful Bedrooms sat down for lunch before the Yankees presented a $10,000 check to the organization to help continue its work in the community.
"It's really validating," Gold-Dvoryadkin said. "I feel so honored that they think we [Blissful Bedrooms] are important enough to spend some time with us."
Troy Provost-Heron is a reporter for MLB.com.