Kaprielian to make spring debut against Jays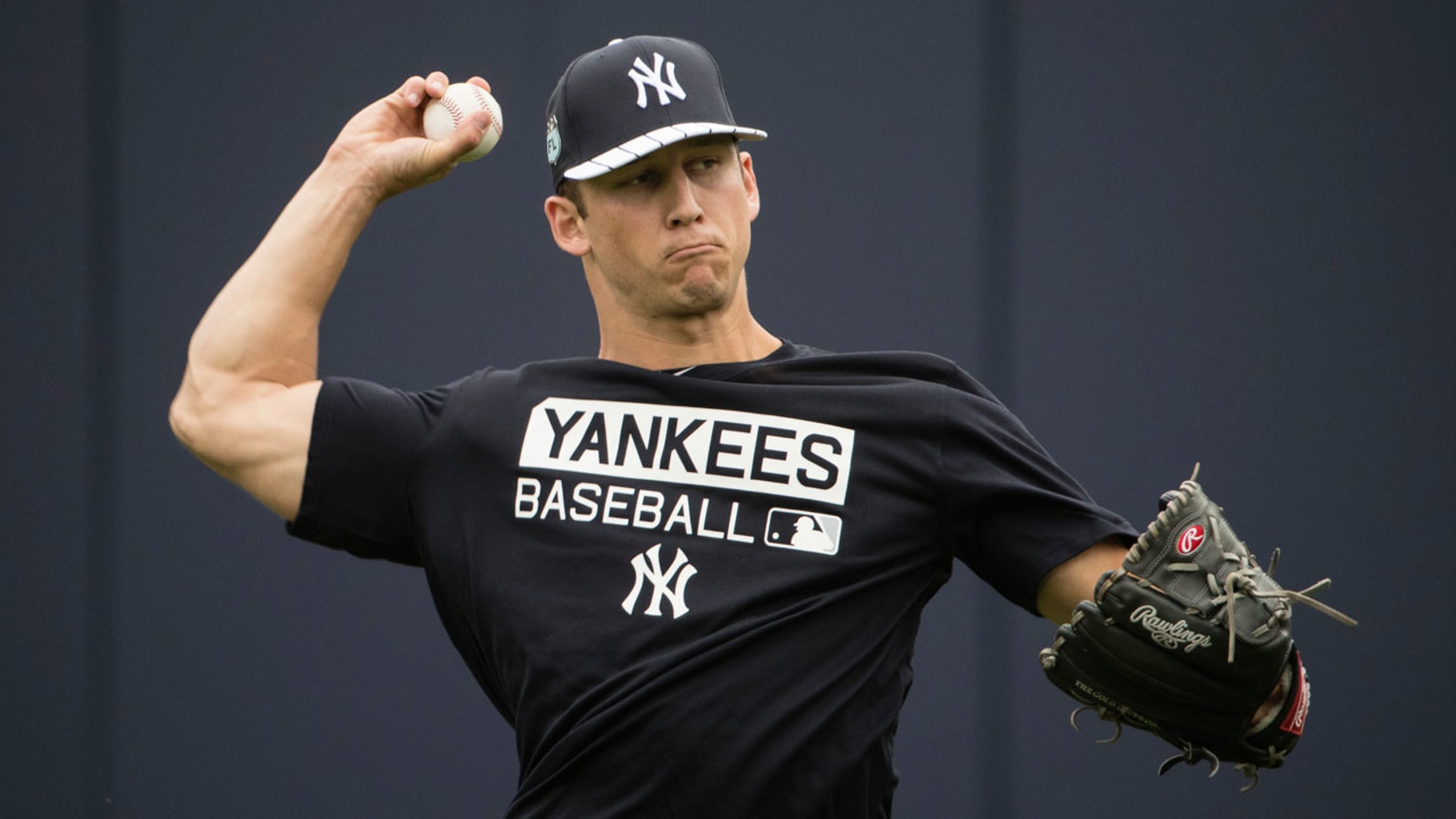 Yankees prospect James Kaprielian has pitched under only simulated conditions so far this spring. (AP)
TAMPA, Fla. -- The "caged bull" is about to get a chance to run free. James Kaprielian, ranked as the Yankees' top pitching prospect by MLBPipeline.com, is scheduled to make his spring debut on Thursday against the Blue Jays in Dunedin, Fla.Yankees manager Joe Girardi said that Kaprielian is expected
TAMPA, Fla. -- The "caged bull" is about to get a chance to run free. James Kaprielian, ranked as the Yankees' top pitching prospect by MLBPipeline.com, is scheduled to make his spring debut on Thursday against the Blue Jays in Dunedin, Fla.
Yankees manager Joe Girardi said that Kaprielian is expected to work at least one relief inning in the contest. The 23-year-old Kaprielian has pitched under only simulated conditions so far this spring, coming off a season in which a strained right flexor tendon limited him to just three April starts.
"I'm excited, I'm looking forward to it," Kaprielian said. "Regardless of the outcome, it'll be good to get out there and just be able to compete."
• Yanks honor Tampa area HOPE Week charity
The Yankees have proceeded cautiously with Kaprielian, who is ranked as the No. 58 prospect in baseball by MLBPipeline.com.
Earlier this spring, general manager Brian Cashman said that it was "more than possible" that Kaprielian would not see Grapefruit League action at all, but Kaprielian's poise in side sessions convinced pitching coach Larry Rothschild otherwise.
"I think we looked at him and thought he was ready to go," Girardi said. "I think it was more watching him than maybe what someone is going to say or not say. Larry feels good about where he's at, we took it slow on purpose, and he's been champing at the bit. There's no doubt about it.
"He wanted to go faster but we said, the prize is not in March, definitely not for him. Larry felt that he was in a good place. Larry will talk to him and tell him, don't try to do too much. If we see him trying to do too much, one of us will sprint out there."
While Kaprielian is expected to open the year with Class A Advanced Tampa, it has been suggested that he could make his Major League debut this season. Kaprielian said that he understood why the Yankees wanted to have him proceed slowly this spring.
"You do what you can to prepare, and as a competitor and as an athlete, you want to go out there and try to make those situations as realistic as possible," Kaprielian said. "That way, when you do get into those positions, you feel like everything is moving naturally along and like you've been there before."