Cessa seizes opportunity as converted hurler
'His mechanics are pristine,' Cashman says of young righty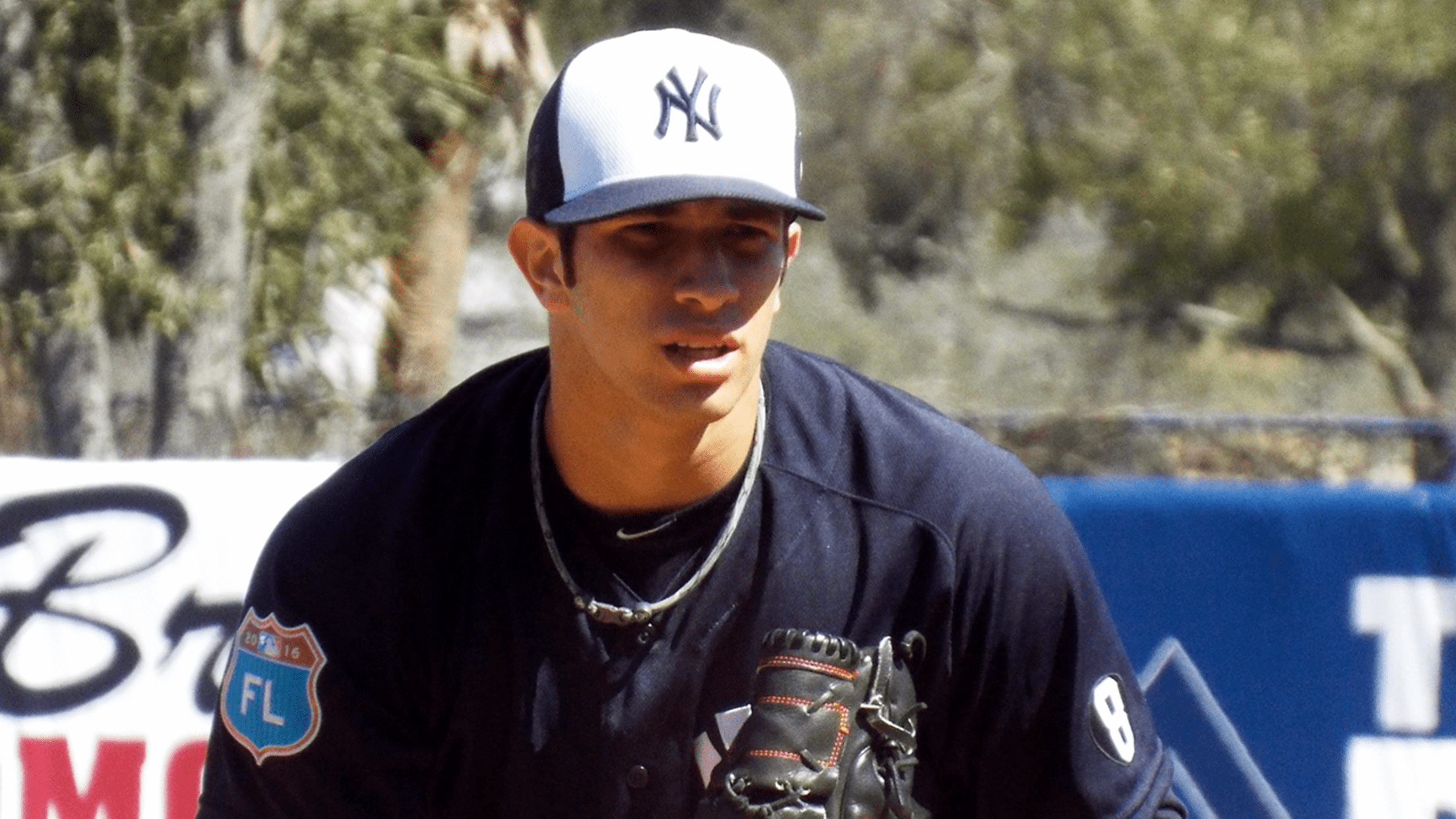 In his first big league camp, Luis Cessa 'walks around as if he's a 10-year vet,' says Yankees GM Brian Cashman. (Bryan Hoch/MLB.com) (Bryan Hoch/MLB.com)
TAMPA, Fla. -- Luis Cessa was playing in the Dominican Republic for a Mets farm club in the summer of 2010, his second season as an infielder struggling to crack a .200 batting average, and realized that this path to the big leagues was heading toward a dead end.Instead of
TAMPA, Fla. -- Luis Cessa was playing in the Dominican Republic for a Mets farm club in the summer of 2010, his second season as an infielder struggling to crack a .200 batting average, and realized that this path to the big leagues was heading toward a dead end.
Instead of continuing to flail against the pro pitching ranks, Cessa joined them, taking his strong right arm to the mound. It has proven to be the best decision of his career, and one that could see him reach Yankee Stadium at some point this season.
"I pitched in high school in Mexico, but not too much," Cessa said. "The first couple of months, I felt weird on a lot of plays like bunts; it's not the same when you're a position player. After that, I felt great and comfortable."
• Yankees Spring Training info
The Yankees took notice, picking Cessa up from the Tigers in a December deal that shipped left-hander Justin Wilson to Detroit. General manager Brian Cashman said that the trade was made to replenish the team's upper-level pitching depth, and that the Yankees have been pleased by the 23-year-old's first spring in pinstripes.
"His mechanics are pristine. He's unusually polished for a conversion," Cashman said. "Usually you see some issues, but he's very clean mechanically. That's why he throws so many strikes. The attributes we were attracted to were his arm strength and [that] he's a strike-thrower."
In 95 Minor League outings (86 starts), Cessa has struck out 419 and walked 110 in 513 2/3 innings. Pushed to the mound by the Mets after having surgery on his non-throwing shoulder, Cessa started the journey with just a fastball and changeup, and has since expanded his repertoire to include a slider and curveball.
"The stuff is good, the body language -- he walks around as if he's a 10-year vet, the way he is on the mound," Cashman said.
Cessa was a combined 8-10 with a 4.52 ERA in 25 starts last year, starting the season in the Tigers' system before being sent to the Mets in the Yoenis Cespedes trade. He was surprised to be included in the Dec. 9 trade because the Tigers had just added him to their 40-man roster, but it has been a blessing.
"This is my first big league camp, so I feel really happy," Cessa said. "It's a different experience than the Minor Leagues. It's not the same. You've got Alex Rodriguez staying in the same clubhouse, practicing here. For me, it's the best experience of my life. It's unbelievable."
Cashman said that the Yankees view Cessa as a starter going forward, while noting that pitchers like Bryan Mitchell, Adam Warren and Shane Greene have made it to the big league bullpen because of their arm strength. All the more reason that Cessa said he's glad he stopped swinging a bat.
"The last year, I hit in Double-A and Triple-A with the Mets and I had a couple of hits," Cessa said. "I know my job right now is pitching. I'm focusing on pitching. Maybe when we play a National League team, I can hit, but I want to focus right now on pitching."