Yanks' HOPE Week is magic for performer, kids
Players join 78-year-old blind magician on train, at Stadium for dream show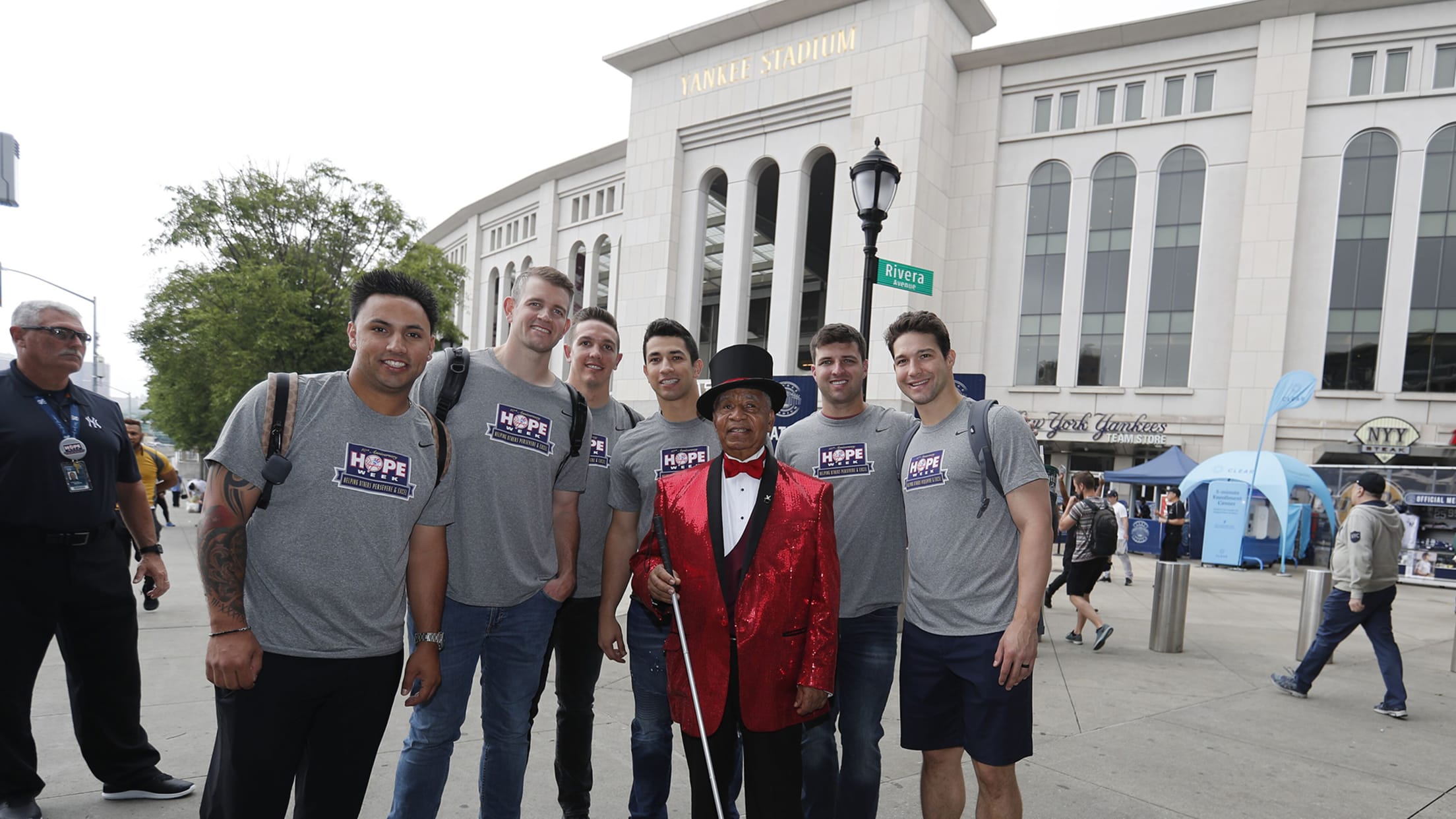 NEW YORK -- It's not so unusual for a person who dreams of stardom to set their sights on New York City. It's less common for that person to be a nearly 50-year-old immigrant from Ecuador who does magic for a living. But that's the story of Olmedo Rentería, better
NEW YORK -- It's not so unusual for a person who dreams of stardom to set their sights on New York City. It's less common for that person to be a nearly 50-year-old immigrant from Ecuador who does magic for a living.
But that's the story of Olmedo Rentería, better known by his stage name, "The Great Olmedini," a 78-year-old blind magician who spent Wednesday -- the third day of the Yankees' 10th annual HOPE Week -- putting on a magic show for a kindergarten class from P.S. 73 in the Bronx in the Plymouth Rock Kids' Clubhouse at Yankee Stadium.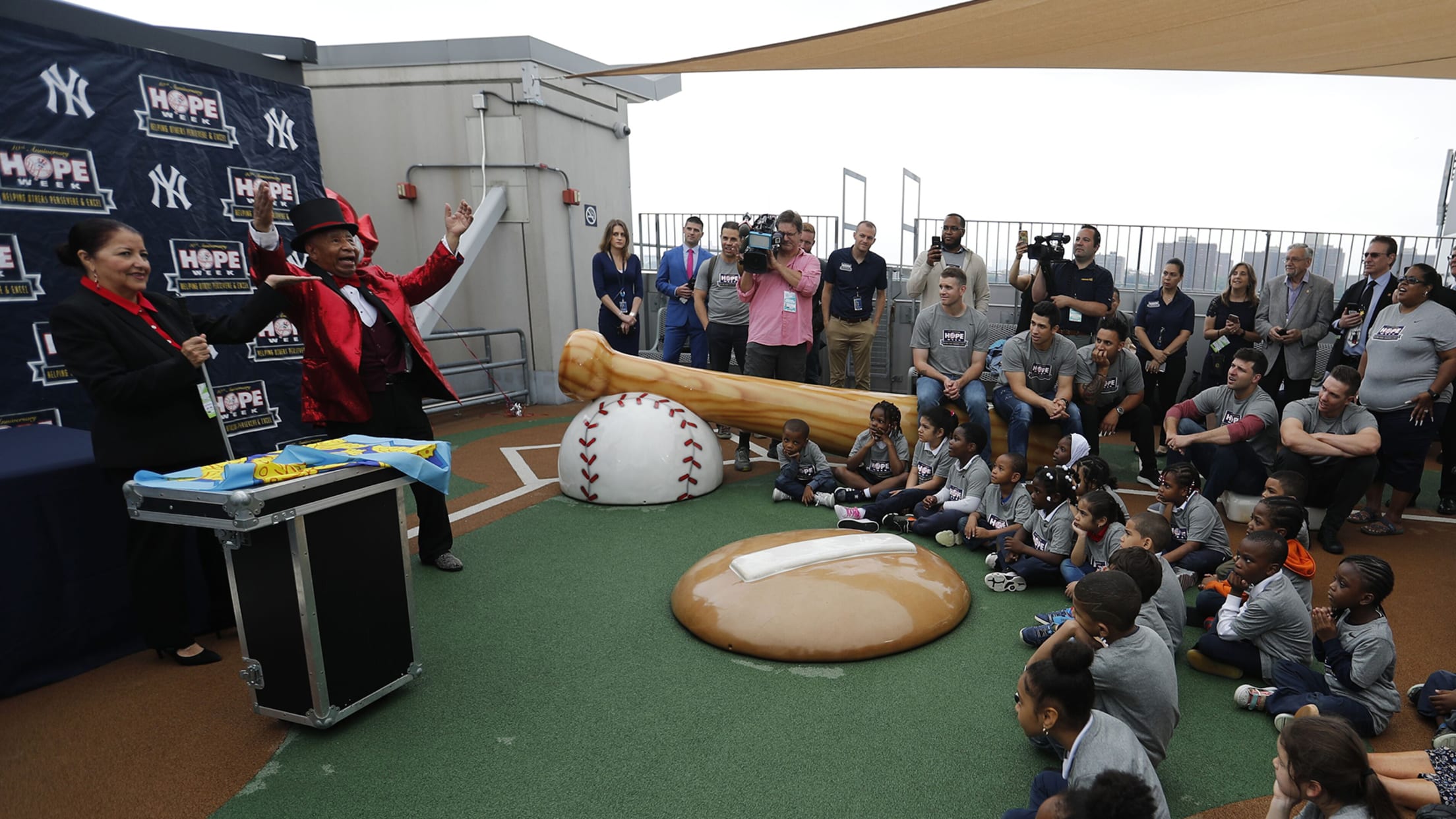 It was a unique stage for Renteria, who made a name for himself in the city performing on the subway. In 1990, amidst a career as a self-made star in Ecuador -- making the climb from children's birthday parties all the way to television -- Renteria dreamed of bringing his act to the biggest stage of all: New York City.
But it wasn't a rocket straight to the top for Renteria in America. He knocked on doors at restaurants and nightclubs all over town, but he was never booked for a show. He started watching street magicians to pass the time and practice his craft. One day, he ran into a Spanish-speaking woman who showed him the subway for the first time.
He had never seen anything like it, but he knew he had found his stage. He ended up as a regular performer in New York's transit system, becoming a local sensation for nearly 30 years.
Before heading to Yankee Stadium on Wednesday, "The Great Olmedini" put on one of his trademark pop-up shows for the morning commuters in the Bronx. But not before he received a surprise of his own.
As he walked out of his apartment building -- an East Harlem housing complex for disabled persons -- Renteria was greeted by a group of Yankees players including James Paxton, Tommy Kahnle, Chad Green, Luis Cessa, David Hale and Nestor Cortes Jr., all dressed in matching HOPE Week shirts. They walked with him to the subway, and Cortes Jr. noted how Renteria kept repeating the same refrain: "Thank the Yankees, thank God for this opportunity."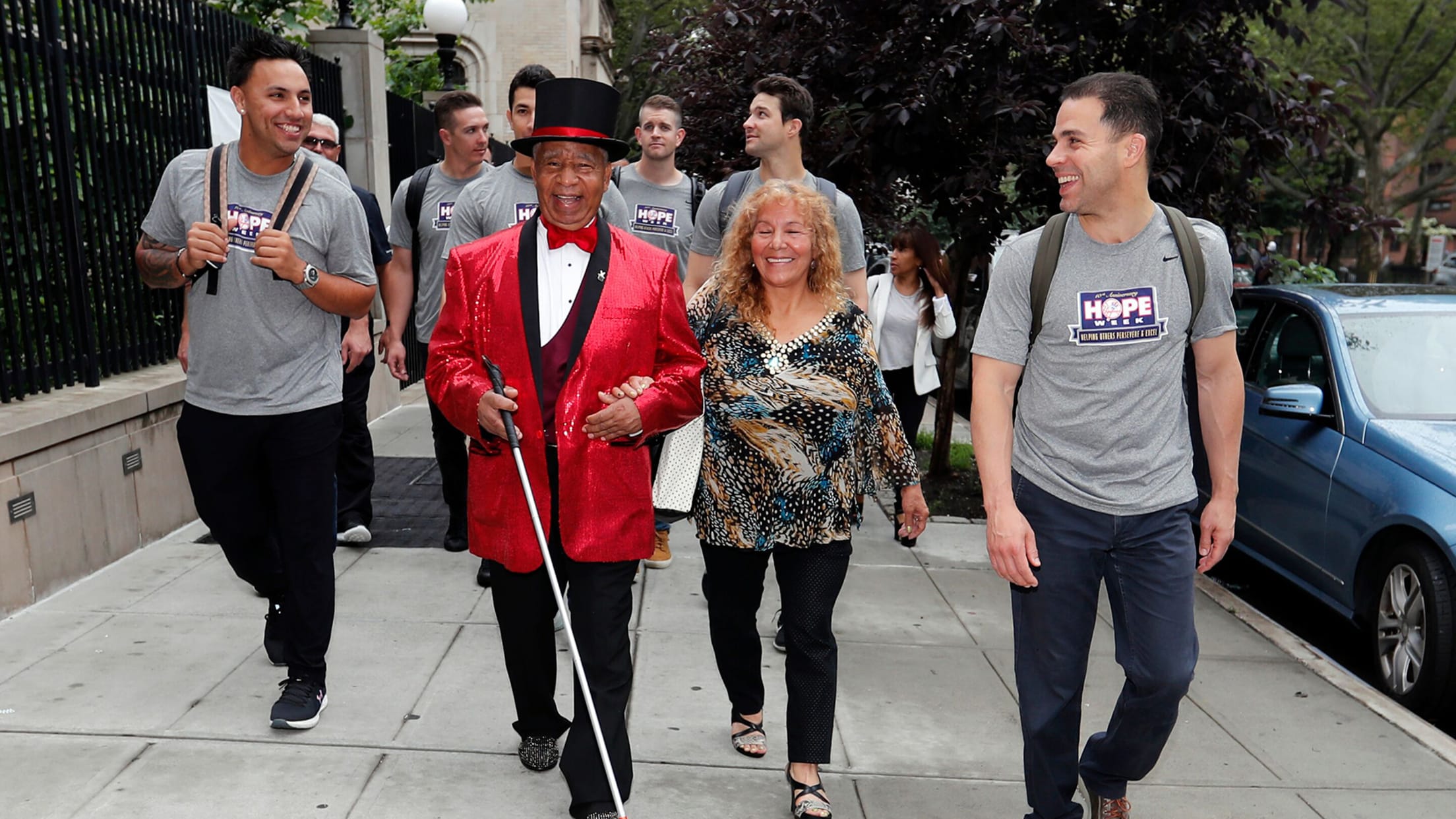 "He's so appreciative of what's happening for him," Cortes Jr. said. "Given the fact that he lost his vision in 2012, that he can still do this and come out and put smiles on people's faces is special."
After a stroke robbed Renteria of his vision, he only took a year off before he returned to the subway. Though he struggled at first to adjust to pulling off his tricks without seeing them in action, his comeback was made all the more worthwhile by a few chance encounters.
Multiple people excitedly pulled him aside after his routines and told him that they remembered him from his performances at their birthday parties long ago, reminding him of his homeland, and of his whole life's journey. Even though he had to adapt his performances to accommodate his blindness, his personality was just as recognizable as ever.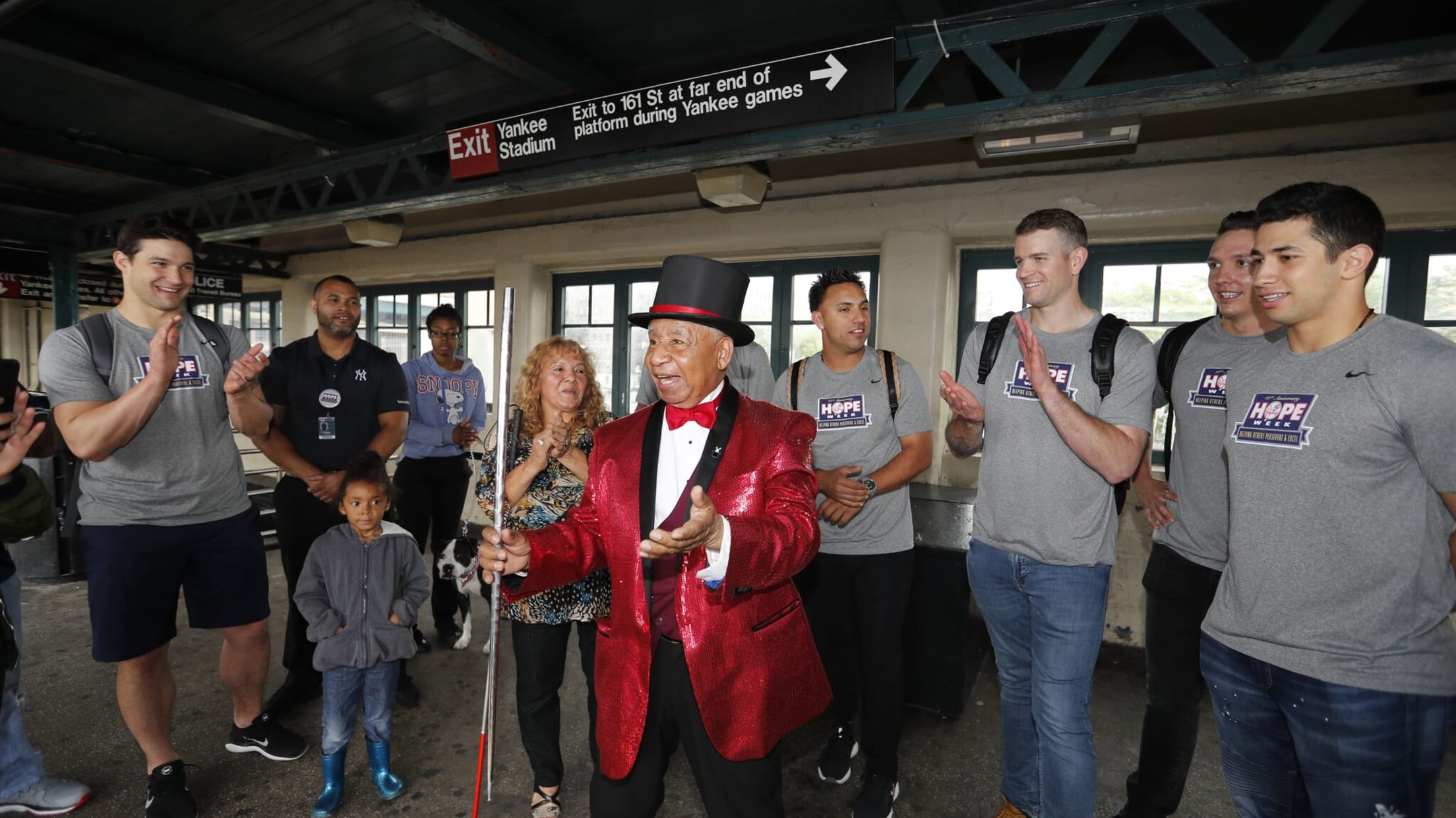 "It all goes down to years of practice. I know he's been doing it for 30 years, so he has a lot of feel for his hands," Cortes Jr. said. "The fact that he can do it and act in front of so many people without hesitating, it's incredible."
Dressed in a red-sequined, black-laced tuxedo with a red bow tie and a black top hat -- looking the part as well as Hugh Jackman in "The Greatest Showman" -- "The Great Olmedini" treated the subway crowd to his favored three-act routine. He made a birdcage vanish into thin air, a handkerchief disappear and reappear from a clenched fist and a collection of silver strings turn into a cane.
Renteria left the crowd in awe, but his most enthusiastic responses came from the kindergartners at Yankee Stadium, whom he entertained with a total of six acts. He won them over after the first act alone, though, eliciting high-pitched screams and a chorus of "How did he do that?"
"[It's] the best part. Just seeing their reactions for the first time was pretty cool," Green said. "Anytime we get a chance to make somebody's day, make somebody's week, it's pretty special. Just to see his reaction makes it all worth it. To show our appreciation for what he's overcome, for what he's done, is awesome."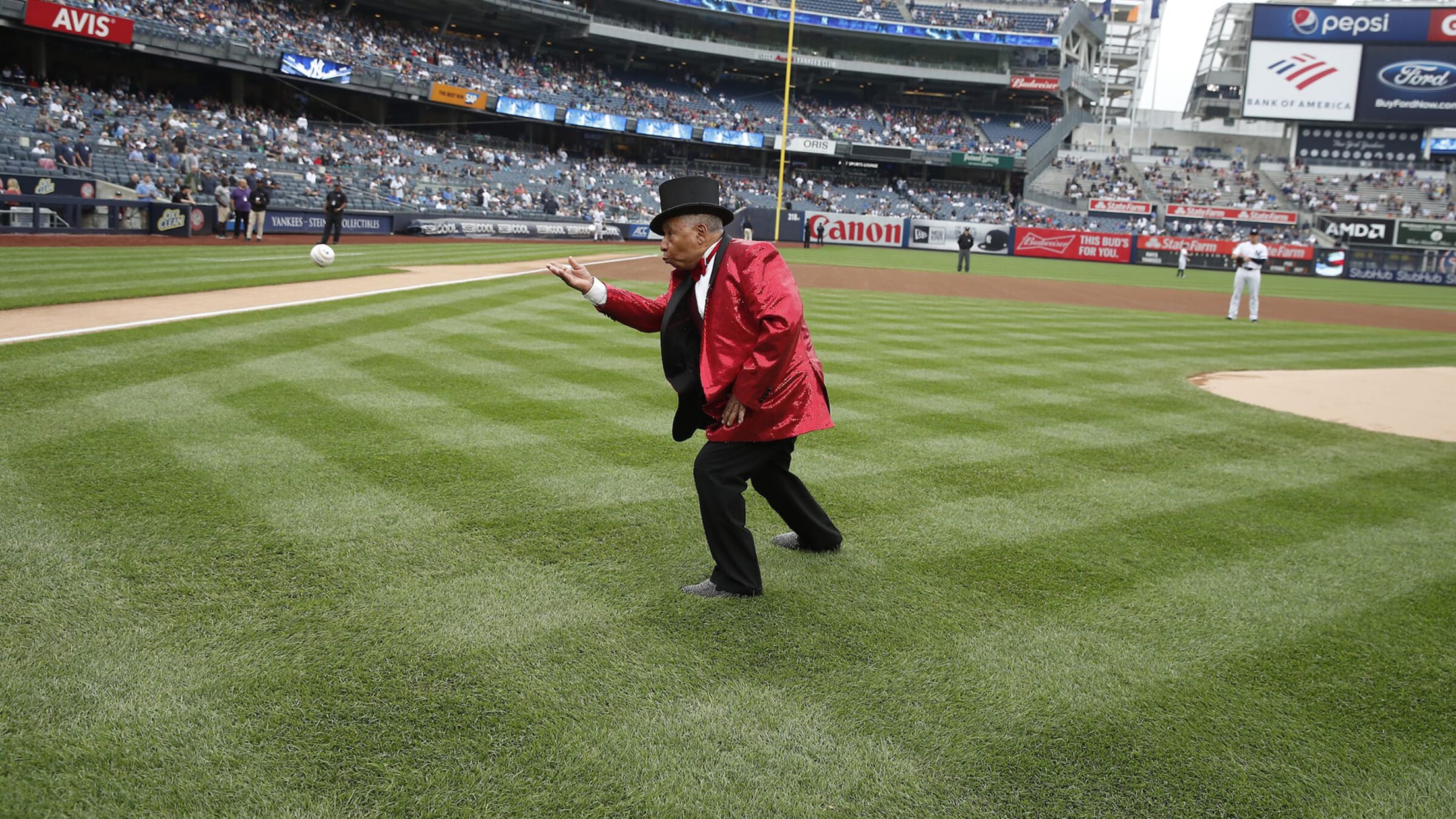 In addition to his subway routine, Renteria's three additional tricks whipped the kids into a frenzy. First, he placed a blanket over his arm and pulled a large bouquet of flowers out from underneath, not once but three times. Then, he put a piece of paper in his mouth and drank a little bit of water, which somehow turned into a multicolored streamer. He kept pulling more and more of it out of his mouth, and as the colors kept changing, the kids eagerly called them out. And if that wasn't enough, he also pulled out a live white dove.
For his final act, he took two pages of The New York Times and ripped them down the middle. Suddenly, he had a large pair of colorful flags in his hands that he waved around to a rousing round of applause from the audience.
After he tipped his hat and took his bow, Renteria thought the show was over. But the Yankees had one more trick up their own sleeves. They brought out representatives from the Society of American Magicians -- the prestigious organization founded in New York City by Harry Houdini in 1902 -- to present Renteria with an associate membership. The Yankees also donated $10,000 in his name to the Society's Magic Endowment Fund, a charitable foundation dedicated to the advancement of the art of magic.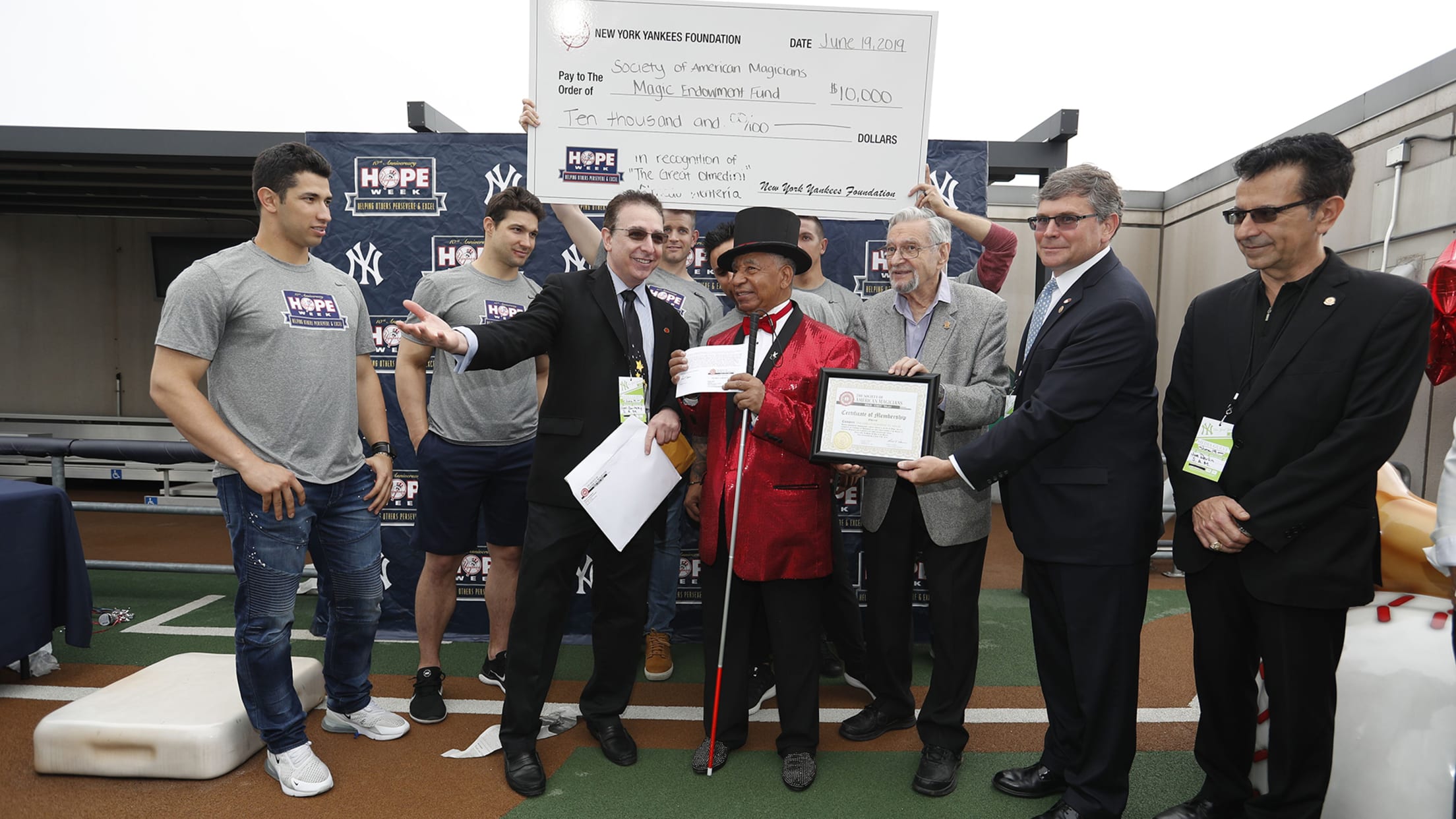 For Renteria, whose interest in magic originated at a very young age when he attended a show in Ecuador and felt a kinship with the magician, it was a full-circle moment.
"This is the life. I lost my vision but all I have in my mind is New York. Now I have this day. In my mind, I will remember for my whole life that moment," Renteria said. "I'm very, very happy. I don't have the words to say. … My dream came to me."