Boone, Kahnle rooting for Eagles in Super Bowl
Majority of Yanks players predict Patriots will prevail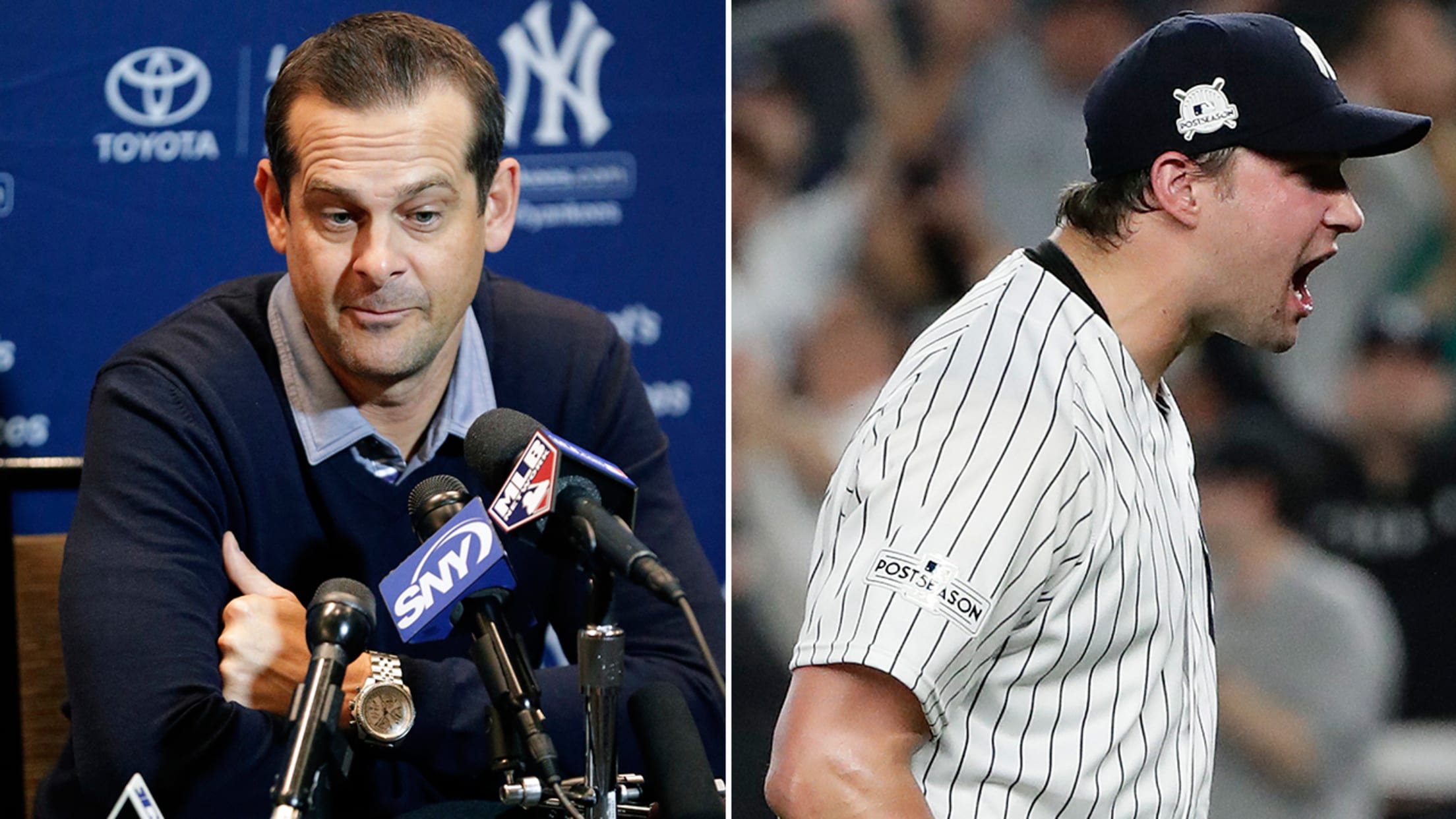 Aaron Boone and Tommy Kahnle are siding with the Eagles in this year's Super Bowl. (AP)
TAMPA, Fla. -- Aaron Boone has considered himself a Philadelphia Eagles fan since childhood, so the new Yankees manager is shelving his lineup cards for a few hours on this Super Bowl Sunday in favor of nachos, popcorn, and what he hopes will be an upset of the favored New
TAMPA, Fla. -- Aaron Boone has considered himself a Philadelphia Eagles fan since childhood, so the new Yankees manager is shelving his lineup cards for a few hours on this Super Bowl Sunday in favor of nachos, popcorn, and what he hopes will be an upset of the favored New England Patriots.
"[Quarterback Nick] Foles is playing well, and if he continues to play the way he is, I think it's a better roster -- frankly -- than the Patriots," Boone told MLB Network Radio. "I think the NFC is a better conference this year. I think [the Eagles] had a way tougher road to go through. I guess it sounds like 'shock the world,' but I don't think it would be that shocking."
Boone is predicting a 27-20 Philadelphia victory, and though most of the Yankees' players polled expect Tom Brady and New England to come out on top, the skipper is not alone in the Eagles' corner.
Our guys give their predictions for the game today. Enjoy - baseball is on deck! pic.twitter.com/4iDvBPuvCt

— New York Yankees (@Yankees) February 4, 2018
Yankees reliever Tommy Kahnle keeps a regulation Eagles helmet in his clubhouse locker during the season, and he appeared this past week on MLB Network's Hot Stove in full Eagles regalia.
"I think hopes are high," Kahnle said. "I'm sure the fan base is pretty crazy and stoked. This is huge for the city of Philadelphia."
Kahnle said that he has a friendly bet with a friend; should Philadelphia lose, Kahnle will wear a Brady jersey to the field this season. But how did Kahnle, a product of upstate Latham, N.Y., become such an Eagles diehard?
"I was, like, five years old and I remember watching a football game," Kahnle said. "It was Jets-Eagles, sitting on the floor with my dad watching, and I just happened to like the color green as well. I picked the Eagles because of the helmet and I fell in love with Randall Cunningham right away."
As kickoff approaches, here are a few more of the Yankees' Super Bowl predictions:
Miguel Andujar: Eagles 24, Patriots 21
Christopher Austin: Eagles 34, Patriots 31
Luis Cessa: Patriots 28, Eagles 24
Clint Frazier: Patriots 28, Eagles 14
Kyle Higashioka: Patriots 27, Eagles 24
Aaron Judge: Patriots 28, Eagles 24
Gary Sanchez: Patriots 31, Eagles 28
Luis Severino: Eagles 35, Patriots 30
Chasen Shreve: Patriots 31, Eagles 24
Giancarlo Stanton: Patriots 28, Eagles 23
Gleyber Torres: Patriots 31, Eagles 14
Adam Warren: Patriots 27, Eagles 17