Yankees agree with 4 undrafted college pitchers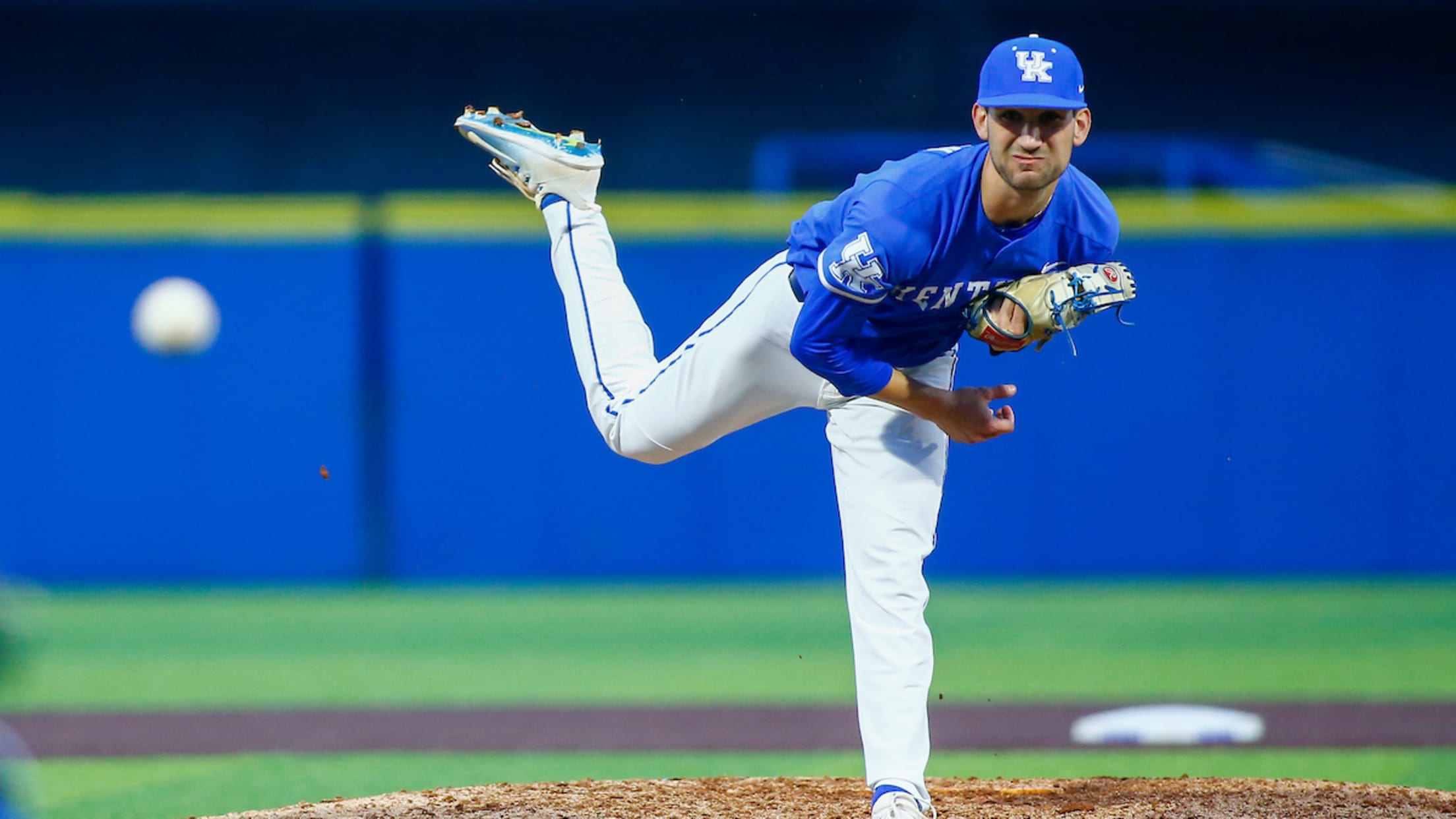 TAMPA, Fla. -- The Yankees have agreed to terms with four nondrafted free agents following last week's MLB Draft, according to MLB.com's Jonathan Mayo. Right-handed pitchers Carson Coleman, Ocean Gabonia, Trevor Holloway and Jarod Lessar are all set to join the Bombers' farm system. Each player will receive a signing
TAMPA, Fla. -- The Yankees have agreed to terms with four nondrafted free agents following last week's MLB Draft, according to MLB.com's Jonathan Mayo.
Right-handed pitchers Carson Coleman, Ocean Gabonia, Trevor Holloway and Jarod Lessar are all set to join the Bombers' farm system. Each player will receive a signing bonus valued at $20,000. The signings have not been formally announced by the organization.
• Team-by-team: Undrafted free agent signing tracker
Lessar told the Deseret News (Utah) that he grew up as a Yankees fan and wore No. 13 because Alex Rodriguez was his favorite player, making it an easy decision when the club sent a recruitment package that included a mock photo of the hurler playing at Yankee Stadium. Lessar played the past two seasons at Brigham Young University, where he helped the Cougars win a West Coast Conference title as a reliever last year.
"I hung up the phone, and I was overwhelmed with a sense of joy and gratitude," said Lessar, who told the newspaper that he also heard from the Angels, Astros and Orioles. "It was weird, because I felt like I was being recruited again."
In 24 starts at BYU, the 6-foot-4, 220-pound Lessar pitched to a 3-2 record with a 4.43 ERA, registering 59 strikeouts against 73 hits and 22 walks in 65 innings. In his shortened senior season, Lessar made four starts (five appearances), pitching to a 4.41 ERA with 15 strikeouts in 16 1/3 innings. His signing was announced by BYU.
Congrats to @jarodlessar22 on signing a free agent contract with the @Yankees!! pic.twitter.com/CftYPdq9eL

— BYU Baseball (@BYUBaseball) June 14, 2020
"We've tried to create an advantage by all the work that we've put into this -- the individuality that we've shown the kids that they would be getting by coming here, the instruction and the resources that will be made available to them," said Damon Oppenheimer, the Yankees' senior vice president of domestic amateur scouting. "We've really pooled all of everything together, from the staff in New York to the player development people that have gone on Zoom calls with the scouts."
• Recapping the Yankees' 2020 Draft class
Coleman agreed to his deal on Sunday, according to the University of Kentucky. The 6-foot-2, 190-pounder was one of the Wildcats' top relievers, compiling a 5-5 record with five saves and a 4.19 ERA over 49 collegiate appearances.
Congrats to @Carson_Coleman on agreeing to a deal with the @Yankees! Huge opportunity for Carson! #WeAreUK | #CatsinthePros pic.twitter.com/ahO4PFmlU3

— Kentucky Baseball (@UKBaseball) June 14, 2020
The 22-year-old recorded 81 strikeouts against 31 walks in 53 2/3 innings, including 13 of the 17 outs Coleman recorded during a junior season that was shortened due to the coronavirus pandemic. Previously selected by the Rays in the 33rd round of the 2019 Draft, Coleman starred in the Cape Cod League the past two summers, leading the circuit with a 0.90 ERA in 2018.
Gabonia, a product of Hilo, Hawaii, made three starts this season for Everett (Wash.) Community College, going 0-2 with a 2.40 ERA. In 15 innings, Gabonia struck out 23 against seven walks, scattering 10 hits. The school confirmed Gabonia's signing.
Congrats to @EverettCC's Ocean Gabonia who signed with the New York Yankees organization! @EvCC_Baseball @NWACSports @HeraldNetSports @SnoCoSports pic.twitter.com/NCfjivUyix

— EvCC Trojans (@EvCC_Trojans) June 15, 2020
Holloway compiled a 5-1 record with a 1.64 ERA over the 2019-20 seasons at the University of Central Florida, having played his previous two years at High Point University (N.C.) and Chipola College (Fla.).
In 49 1/3 innings, the 6-foot-2, 200-pound product of Venice, Fla., limited opponents to a .166 batting average, permitting 29 hits and 21 walks while striking out 66. He registered 14.69 strikeouts per nine innings this season. Holloway's signing was announced by UCF.
Trev looks good in pinstripes 😏

Holloway has officially signed a free agent deal with the @Yankees ✍

📰: https://t.co/FARhzddv5v#BuiltByUCF pic.twitter.com/PRFzdPLRiY

— UCF Baseball (@UCF_Baseball) June 14, 2020
"We've really made a strong push," Oppenheimer said. "We've got the 'NY' that will obviously attract some people, but I think that we've shown that there's more to it than that, and that their careers can be enhanced by everything that we have to offer here."