Flurry of moves locks in Yanks' opening roster
NEW YORK -- The Yankees made a series of transactions prior to Thursday's season-opening 7-2 victory over the Orioles, all of which had been anticipated, thus setting their 25-man roster to begin the regular season. Headed to the 10-day injured list were ace Luis Severino (right rotator cuff inflammation), setup
NEW YORK -- The Yankees made a series of transactions prior to Thursday's season-opening 7-2 victory over the Orioles, all of which had been anticipated, thus setting their 25-man roster to begin the regular season.
Headed to the 10-day injured list were ace Luis Severino (right rotator cuff inflammation), setup man Dellin Betances (right shoulder impingement), center fielder Aaron Hicks (left lower back strain) and shortstop Didi Gregorius (recovering from Tommy John right elbow surgery).
Outfielder Jacoby Ellsbury (recovering from left hip surgery) and right-hander Ben Heller (recovering from Tommy John right elbow surgery) were also placed on the injured list. The assignments were all made retroactive to March 25, the earliest date that is permitted.
Severino is expected to return after May 1, while the club is hopeful that Betances and Hicks can return in April. Gregorius is not expected back before June. Ellsbury's timetable is unknown, as he is beginning baseball activities at the team's complex in Tampa, Fla. Heller is targeting late May or early June to be potentially available for a big league callup.
In addition, CC Sabathia was placed on the MLB suspended list to serve his his five-game suspension, which is being carried over from his actions in a late-September game against the Rays at Tropicana Field.
The 38-year-old left-hander, who has been rehabbing from offseason right knee surgery and a heart procedure, will be moved to the injured list after serving his suspension. Jonathan Loaisiga is expected to take his place in the rotation at that time.
Entering his final season, Sabathia remained behind in Tampa to continue building stamina against Minor League hitters. The Yankees expect Sabathia to be ready to pitch in Major League games in April.
In the swing
The eighth-inning double by Troy Tulowitzki on Thursday was his first hit with the Yankees. It was also the first big league knock for Tulowitzki since July 27, 2017, as he missed the last 1 1/2 seasons with the Blue Jays due to ankle and heel injuries.
"People doubted me that I could get back to this point, so it definitely had some extra meaning to get back out there and play," Tulowitzki said. "I like my chances of what I felt in the spring, and I was happy to go out there and help us win a game."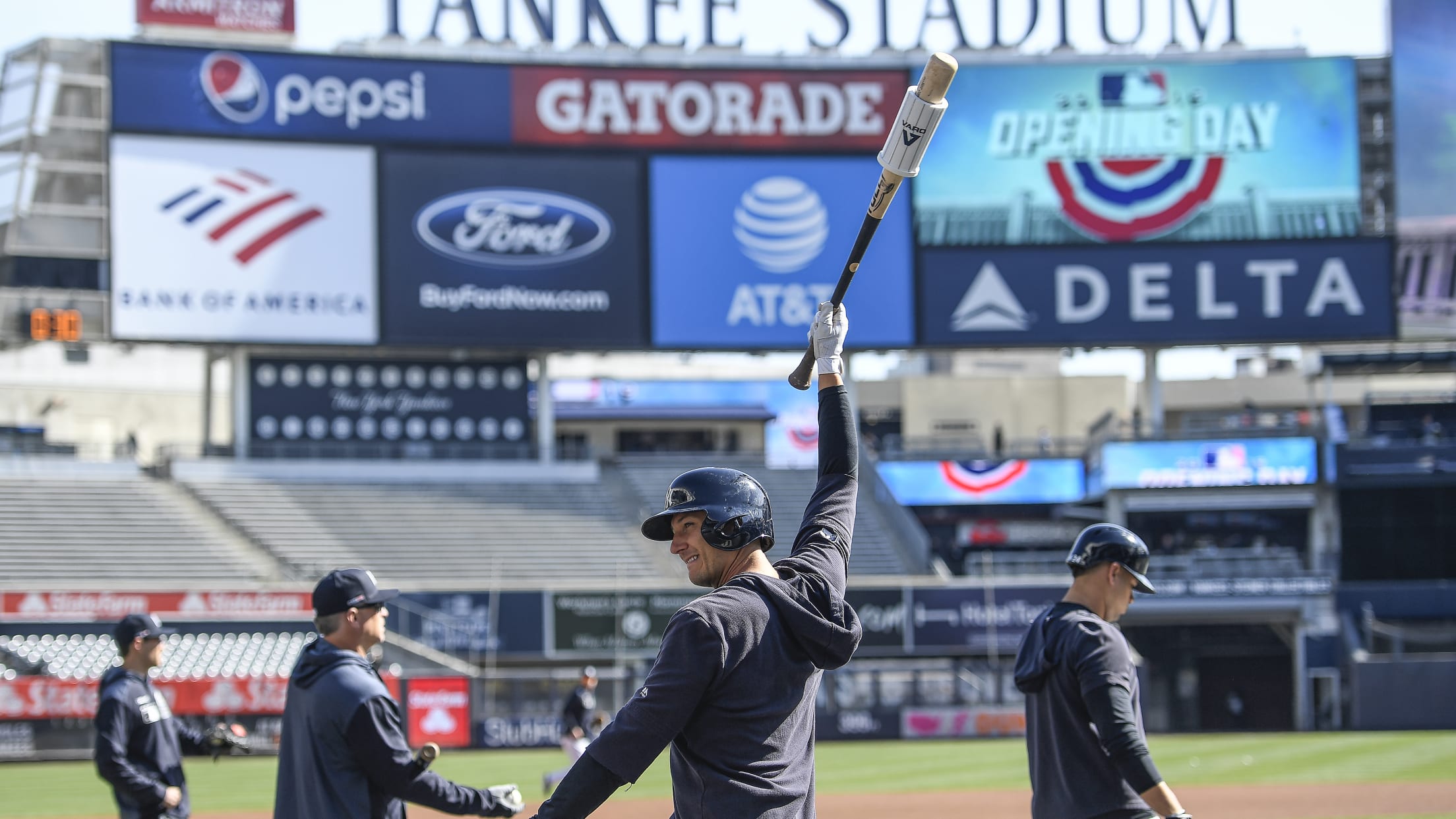 Tulowitzki played the complete game in the field at shortstop, and manager Aaron Boone said that the veteran looked "at home" in his pinstripes.
"I know this had to be a big day for him and, on some level, emotional," Boone said. "For him to go out there and get that first knock out of the way and make a couple plays, he's another guy I am just happy for. You know what this game means."
Paying tribute
The Yankees will wear a black armband on the left sleeve of their jerseys for the 2019 season to honor the life of former hurler and pitching coach Mel Stottlemyre, who passed away on Jan. 13 at the age of 77.
"I think it's awesome," Boone said. "Just being in the clubhouse this morning at breakfast, they had his accomplishments up on our board, so the guys were talking about and looking at all of his complete games and everyone was like, 'Whoa!'
The Yankees will wear a black armband on the left sleeve of their jerseys for the 2019 season to honor the life of former Yankees pitching coach and LHP Mel Stottlemyre, who passed away on January 13, 2019, at the age of 77. pic.twitter.com/OoKb4TuIQj

— New York Yankees (@Yankees) March 28, 2019
Though fans of the late-1990s dynasty recall Stottlemyre as Joe Torre's trusted consigliere, the right-hander was a five-time All-Star who pitched 11 seasons with the Yankees from 1964-74, going 164-139 with a 2.97 ERA. Stottlemyre completed 152 of the 356 games he started.
"When I came here [in 2003], he was the pitching coach," Boone said. "He was someone that just embraced you right away and made you part of the team, made you feel part of the family. So it'll be an honor to wear that in his memory."
No place like home. #OpeningDay #PinstripePride pic.twitter.com/5K7WqYJRV4

— New York Yankees (@Yankees) March 28, 2019
Bombers bits
• Thursday marked the earliest Opening Day in Yankees history, taking place one day ahead of the 2018 season opener against the Blue Jays in Toronto. It marked the first time that the Yankees have opened at home since 2016, and their fourth in the last seven seasons (since 2013) but their ninth in the last 24 seasons (since 1996).
• Of the 25 players on the Yankees' 2018 Opening Day roster, only 10 appeared on the '19 Opening Day roster: Aroldis Chapman, Brett Gardner, Chad Green, Jonathan Holder, Aaron Judge, Tommy Kahnle, Austin Romine, Gary Sanchez, Giancarlo Stanton and Masahiro Tanaka.
• Stanton's first-inning single had an exit velocity of 120.6 mph, according to Statcast, making it the fifth-hardest base hit in the Majors since 2015. Stanton is responsible for seven of the eight hits of at least 120 mph. (Judge has the other.)
• With Thursday's win, the Yankees are 499-312 at the current Yankee Stadium. Another win on this homestand would make them the fastest to reach 500 wins at a new stadium since the Braves were 500-315 at Turner Field (1997-2006).
Up next
After an off-day on Friday, the Yankees and Orioles will resume their series at Yankee Stadium on Saturday at 1:05 p.m. ET. Left-hander James Paxton (11-6, 3.76 ERA in 2018) will make his pinstriped debut. Baltimore will turn to right-hander Nate Karns, who will be the "opener" in his first Major League outing since 2017.