Bronx tale: Yanks grab local product Weissert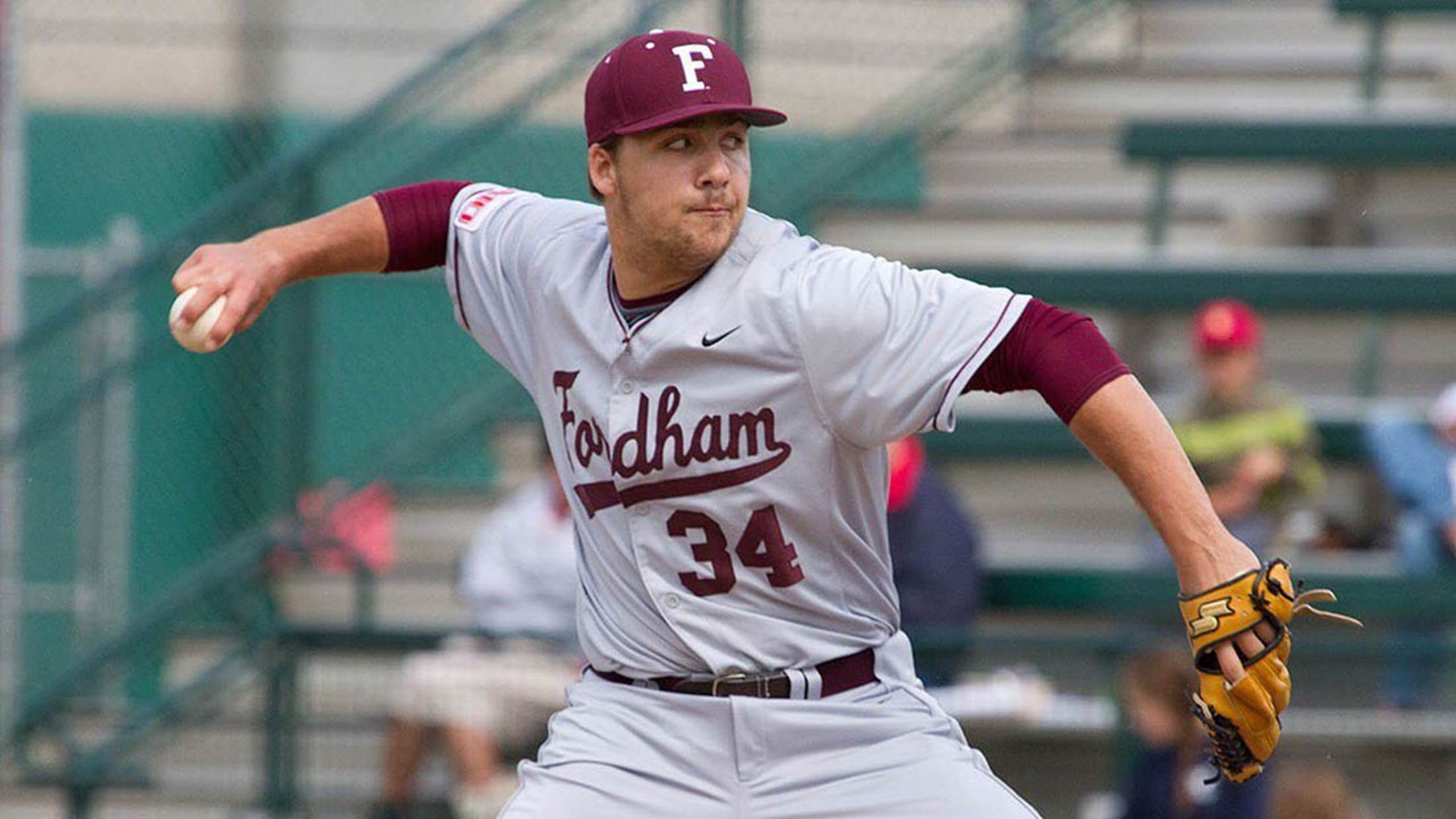 Greg Weissert made 14 starts for the Rams in his junior season. (Fordham University Photo)
NEW YORK -- The anticipation of hearing his name called in the 2016 Draft so filled Greg Weissert with nervous energy, the Fordham University right-hander scooped up his glove on Saturday afternoon and played catch with his brother across the yard of his parents' Long Island home.It was between tosses
NEW YORK -- The anticipation of hearing his name called in the 2016 Draft so filled Greg Weissert with nervous energy, the Fordham University right-hander scooped up his glove on Saturday afternoon and played catch with his brother across the yard of his parents' Long Island home.
It was between tosses that Weissert heard an outburst from inside, preceding the biggest development of his life. The Yankees dipped into their Bronx backyard for their 18th selection of the Draft, staying close to home to tab the Bay Shore, N.Y., product as one of the newest members of the organization.
:: Complete 2016 Draft coverage ::
"It's the most unreal thing that's ever happened to me," Weissert said. "I was following along with it on Twitter. Someone gave me a call in the 16th round and asked me about my signability. My dad started screaming and came out and my mom started crying. I'm still in shock."
Weissert made 14 starts for the Rams in his junior season, tying for the team lead in wins with five while ranking second with 78 innings pitched and 82 strikeouts. He posted a 4.04 ERA and was impressive in Atlantic 10 play, going 5-0 with a 3.80 ERA and 49 strikeouts in 47 1/3 innings.
The most notable moment of Weissert's collegiate career (at least in terms of media attention) came on May 1, 2015, when the hurler nonchalantly bare-handed not one but two comebackers in a start against St. Bonaventure. The plays were aired nationally both on MLB Network and ESPN's SportsCenter.
Greg Weissert on SportsCenter
"I threw a slider to a righty that was off the plate and he poked it with the end of the bat, and my natural reaction is to go bare-handed because I fall off to the left side," Weissert said. "I turned and kind of just snatched it. The next one was a slider also, and he pounded it into the ground. It's just a reaction; I did it a couple of times in high school, too, and then I'd get yelled at when I get in the dugout."
.@FordhamBaseball's Greg Weissert with not 1 but 2 #webgem plays in an @atlantic10 win over St. Bona #SCtop10 - https://t.co/oOzyXtq6qZ

— Fordham Baseball (@FordhamBaseball) May 1, 2015
That'll be something for the Yankees' coaches to keep an eye on, as Weissert said that he intends to begin his pro career as soon as possible -- an opportunity that he was not sure he would ever receive.
"I was throwing 85 [mph] out of high school," Weissert said. "I always wanted to be a big league player, but realistically, I thought about it a lot and I was like, 'This is a great academic background. I could get a really good job out of here.' I was enrolled in the business school, top 50 in the country, right in the city. I was like, 'This is the best opportunity that I have.'"
Until now. It takes about 25 minutes to get from Fordham to Yankee Stadium, a trip that Weissert said he made several times over the past three years.
On each visit, Weissert imagined what it would be like to take the mound, though maybe not in pinstripes since he comes from a family of Mets fans and began following Ryan Braun, CC Sabathia and the Brewers after the Mets' devastating collapse closed Shea Stadium in 2008. It took just one phone call to shift those allegiances again.
"It's so funny, because all those years when we were in Little League and stuff, we'd always get the Yankees as a team," Weissert said. "My dad would come home and tell me, and I'd say, 'No!' Now this happens, and it's the best moment of my life. It really is surreal that I get to stay in the Bronx, hopefully."