Yanks to rise to occasion for Players Weekend
Judge to display nickname when new event takes place during all games from Aug. 25-27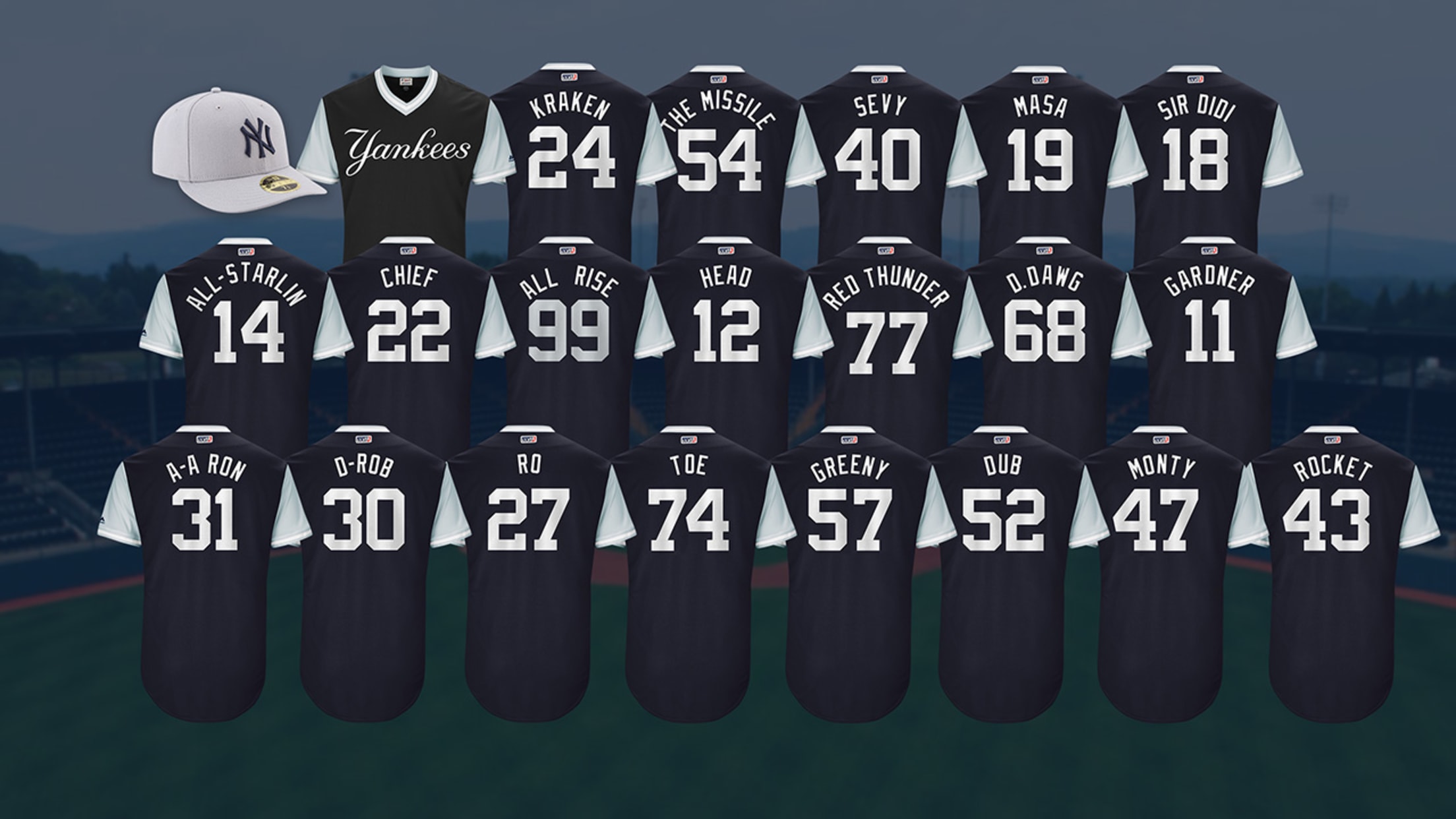 TORONTO -- For the first time in their storied history, the Yankees will feature more than a number on the back of their uniforms. Players will have the opportunity to select a nickname that will appear on their game jerseys during the inaugural Players Weekend, to be held Aug. 25-27.•
TORONTO -- For the first time in their storied history, the Yankees will feature more than a number on the back of their uniforms. Players will have the opportunity to select a nickname that will appear on their game jerseys during the inaugural Players Weekend, to be held Aug. 25-27.
• Players Weekend gear available at MLBShop.com
Major League Baseball and the MLB Players Association are excited about the joint venture, in which all players will wear colorful, non-traditional uniforms featuring alternate designs. For example, the back of Aaron Judge's jersey will read "ALL RISE" above his uniform No. 99.
"Todd Frazier got me on it; I was just going to put my last name because I didn't really have anything to put on there," Judge said. "He was kind of razzing me a little bit and said, 'Put ALL RISE,' so I did it. We'll see how it turns out. It should be cool."
The Yankees' jerseys, produced by Majestic Athletic, will have a navy blue body and gray sleeves with the team name in script across the front. Frazier said that Judge seemed too humble to write the nickname for himself and required more than a few gentle nudges from his teammates.
"I said, 'Come on, man. Get your brand out there!'" said Frazier, who will have "THE TODDFATHER" on the back of his Players Weekend jersey. "It'll be a pretty cool jersey. It just makes the game that much better. Aaron 'All Rise' Judge. I think that's one of the best nicknames out there."

Players are being encouraged to wear and use uniquely colored and designed spikes, batting gloves, wristbands, compression sleeves, catcher's masks and bats. They will wear specially designed caps by New Era and unique socks from Stance. During pregame workouts and postgame interviews, they will wear T-shirts highlighting a charity or cause of their choice.
"I think the fans will appreciate the style and flash we come up with that weekend," Dellin Betances said. "Since last year, a couple of guys were talking about it. I thought it was a good idea. It's something different, obviously. It just allows the youth to see what kind of stuff we like, what nicknames we like to use. I think it'll be fun."
This will mark the third time that the Yankees have taken the field in an "alternate" uniform. On April 8, 1996, at Detroit, they wore replicas of the Negro Leagues' New York Black Yankees, and on April 20, 2012, they wore reproductions of their 1912 uniforms to help celebrate the 100th anniversary of Fenway Park.
In recent years, the Yankees have also participated in league-wide initiatives relating to various holidays, including camouflage and American flag inspired elements on Memorial Day and Independence Day, and pink and baby blue elements on Mother's Day and Father's Day.
Additionally, each player will wear a special sleeve patch showing the progression of a child evolving into a Major Leaguer. Under that logo is white space where every player can express gratitude for the advancement of their careers.
"I did it for my father and my brothers," said Betances, who will don "D. DAWG" on his jersey. "They're the ones that led me to play baseball at a young age. I just enjoyed playing basketball, and they drove me to play the game of baseball. I'm thanking them."
The uniforms will first be worn by the Pirates and Cardinals during the MLB Little League Classic, to be played in Williamsport, Pa., on Aug. 20, during the 2017 Little League World Series.
Game-worn Players Weekend jerseys will be auctioned at MLB.com/auctions, with 100 percent of net proceeds donated to the MLB-MLBPA Youth Development Foundation, a joint effort established in July 2015 by MLB and the MLBPA with an initial commitment of $30 million focused on improving the caliber, effectiveness and availability of amateur baseball and softball programs across the U.S. and Canada.
"Any time you can benefit and help people out in any way, that's what we're here for, to inspire people and help people out," Judge said. "We're all blessed to be in this situation to play Major League Baseball. Anything we can do is pretty rewarding."
Here's a list of nicknames that some Yankees are expected to sport on the back of their jerseys on Players Weekend:
• Aaron Judge: "ALL RISE"
• Dellin Betances: "D. DAWG"
• Albertin Chapman: "THE MISSILE"
• Carsten Sabathia: "DUB"
• Masahiro Tanaka: "MASA"
• Didi Gregorius: "SIR DIDI"
• Todd Frazier: "TODDFATHER"
• Gary Sanchez: "KRAKEN"
• Jacoby Ellsbury: "CHIEF"
• Sonny Gray: "PICKLES"