Puig brings holiday joy with toys for childen
Outfielder donates 600 gifts with latest charitable endeavor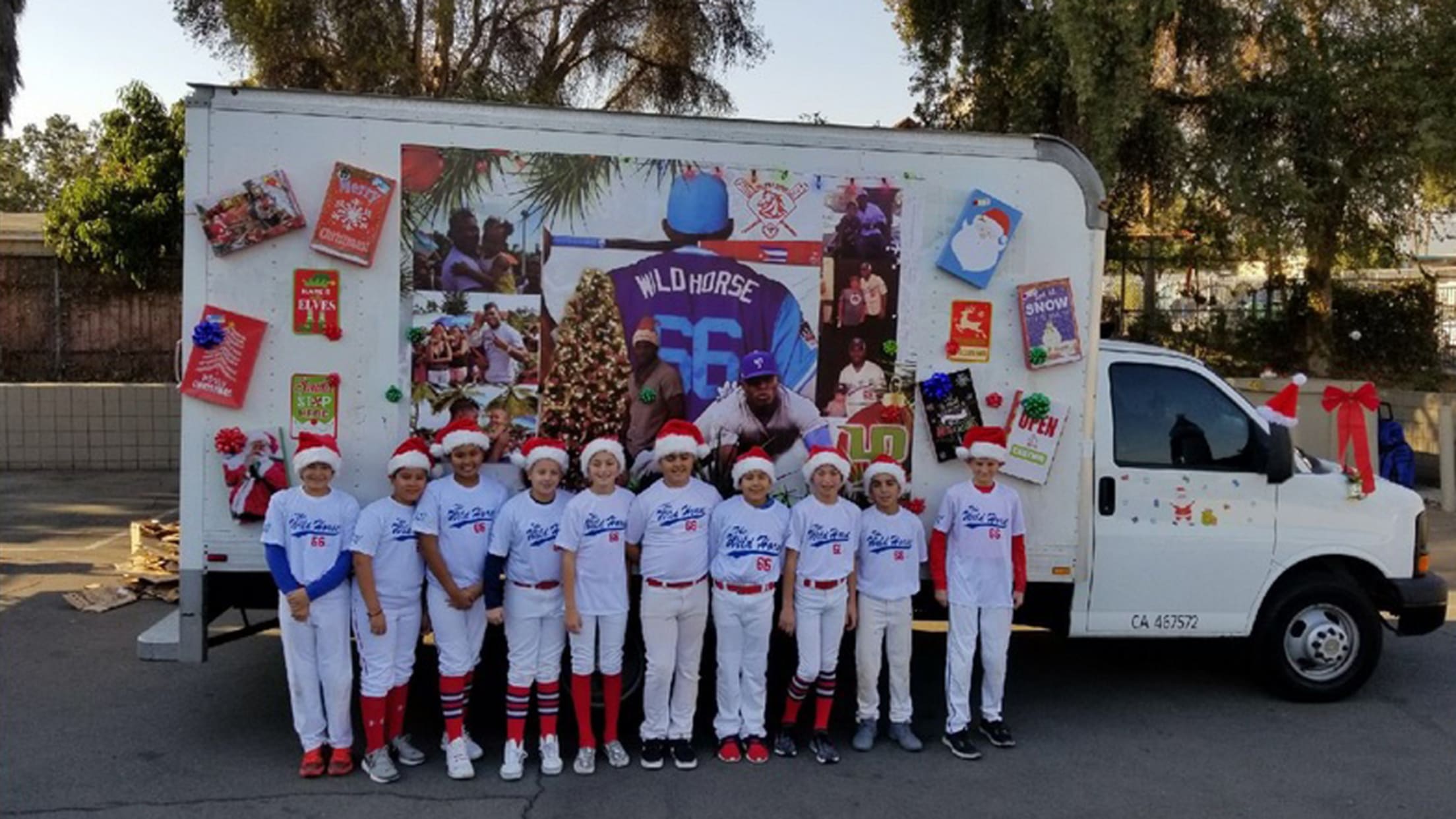 Yasiel Puig's Wild Horse Children's Foundation donated 600 toys to Los Angeles children on Monday. (Wild Horse Children's Foundation)
LOS ANGELES -- Yasiel Puig took his mother on a Christmas trip to Europe at the invitation of Real Madrid soccer superstar Cristiano Ronaldo, but that didn't prevent the Dodgers outfielder from bringing holiday cheer to the Los Angeles community.Entrusting his Wild Horse Foundation elves to do the distributing on
LOS ANGELES -- Yasiel Puig took his mother on a Christmas trip to Europe at the invitation of Real Madrid soccer superstar Cristiano Ronaldo, but that didn't prevent the Dodgers outfielder from bringing holiday cheer to the Los Angeles community.
Entrusting his Wild Horse Foundation elves to do the distributing on Tuesday, #SantaPuig donated 600 Mattel toys to underprivileged children at the Evergreen Recreation Center in East Los Angeles.
"I wanted to help families who have struggled to provide for their families all year long and probably are worried about how they will buy their kids gifts for Christmas," Puig said. "When you are a parent you want to do so much for your children."
The #SantaPuig truck for the @wildhorsefdn and his elves showed up in East LA today and handed out new toys to the needy families and kids in the community. We hope that we made their hearts smile. I wish everyone a very happy holiday season and a Merry Christmas#Puigyuorfriend😀 pic.twitter.com/xJmcVxpgT0

— Yasiel Puig (@YasielPuig) December 20, 2017
Through all of Puig's successes and challenges on the field since he arrived in the United States in 2012, his affection and caring for children has been a constant. He started the Wild Horse Foundation -- borrowing the nickname given to Puig by legendary Dodgers broadcaster Vin Scully -- to aid economically disadvantaged children and families.
In September, the foundation made a donation for Hurricane Harvey relief. In April, Puig partnered with the Midnight Mission Homelight Family Living program in Inglewood. In March, Puig visited Compton High School for a special career day presentation.
His words touched my heart. You all know of the love I feel for children. They're my inspiration as well, and I feel grateful to be in a position where I can now give back, help and bring smiles to the kids. #love #kids #LA #SantaPuig @WildHorseFDN wildhorsefoundation pic.twitter.com/56TvULl4fk

— Yasiel Puig (@YasielPuig) December 20, 2017
"I am happy that hundreds of children will have a brand new Mattel toy for Christmas which may help their family worry a little less," Puig said. "I hope this small act makes Christmas a little better for the community in East L.A./Boyle Heights."
Puig is coming off an impressive rebound season in 2017 after struggling in 2016, at one point being sent down to Triple-A. He increased his home runs from 11 to a career-high 28. He also increased his RBI total from 45 to a career-high 74 and he increased his stolen bases to a career-high 15 after only five in 2016. Puig's OPS went from .740 in 2016, to .833 in '17, reversing a steady decline since he posted a .925 OPS while finishing second in National League Rookie of the Year Award voting in '13.
Just a few of the many happy faces today at @YasielPuig's #SantaPuigYourFriend toy gift giveaway at Evergreen Recreation Center in East LA/Boyle Heights! 😀🎅🎄🎁🐎 pic.twitter.com/tyLMq26J40

— YP Wild Horse Fdn (@WildHorseFDN) December 20, 2017
At last year's Winter Meetings, Puig was offered for trade. Now he's again a key producer in the lineup and, at age 27, he should still be on the improve.
Ken Gurnick has covered the Dodgers for MLB.com since 2001.