Puig returns after making most of suspension
Tribe outfielder became U.S. citizen while serving 3-game ban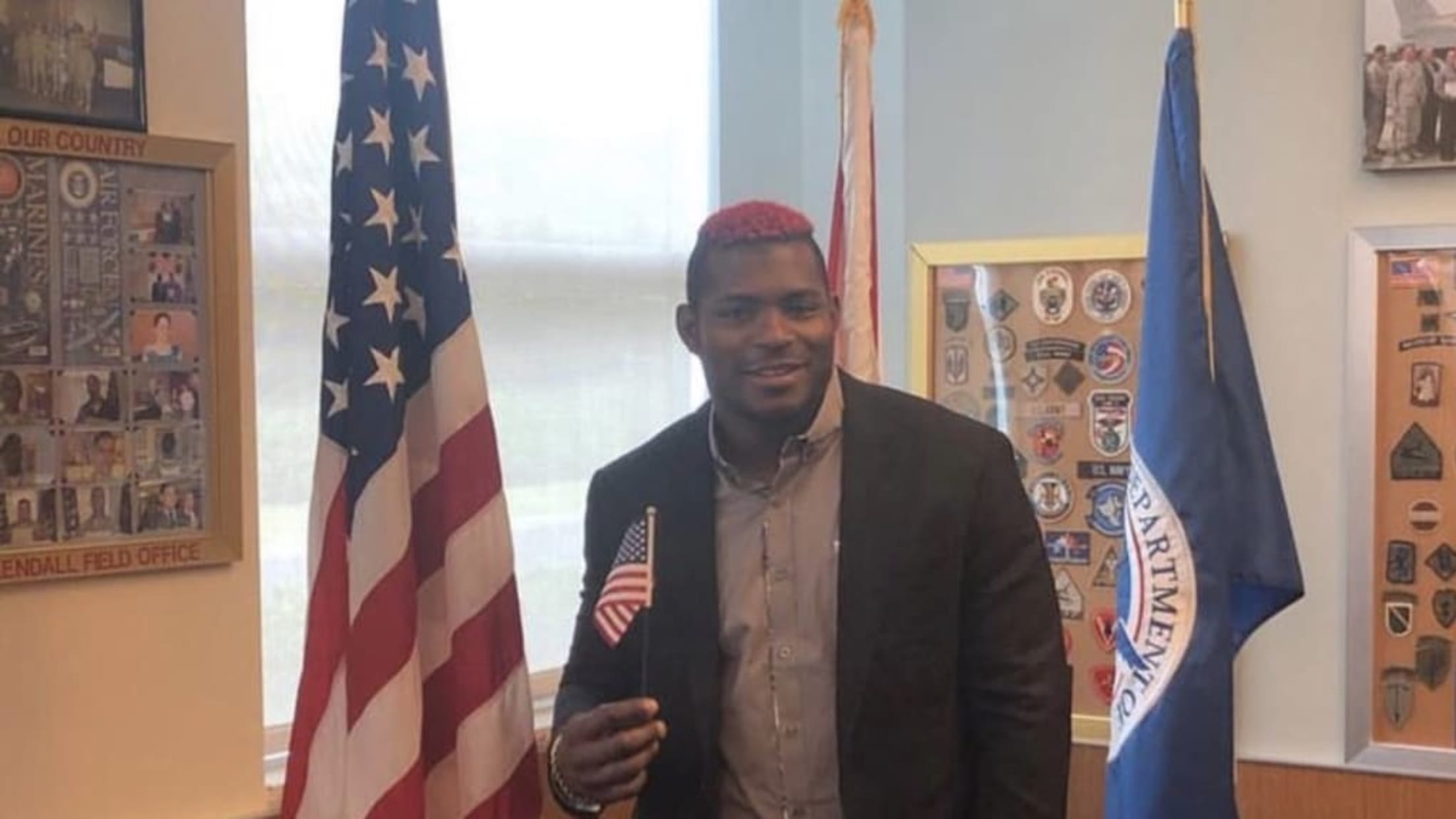 NEW YORK -- Yasiel Puig was excited to return to the lineup Thursday after serving his three-game suspension, but not as excited as he was Wednesday afternoon in Miami. That's when the energetic outfielder officially became a United States citizen. Puig, who defected from Cuba in 2012, posted a photo
NEW YORK -- Yasiel Puig was excited to return to the lineup Thursday after serving his three-game suspension, but not as excited as he was Wednesday afternoon in Miami.
That's when the energetic outfielder officially became a United States citizen.
Puig, who defected from Cuba in 2012, posted a photo Wednesday with the message, "Thank you God for this great opportunity to be an American citizen." Thursday, Puig stood at his locker in the visitors clubhouse at Yankee Stadium and talked about the emotions he felt as he passed his test.
"Everybody wants to be a U.S. citizen," said Puig, whose mother became a citizen a few months ago. "I got to the United States first, but she's an American [citizen] before me, so that's the reason I wanted to be like her."
Puig had prepared himself for all 100 questions he might have been asked, but he said he was presented with only six or seven, which he aced.
"I was excited to respond to almost to 100 questions, but thank God they didn't ask me 100 questions," Puig said. "I get them right, but it's a lot of questions."
Puig was acquired by the Indians before the Trade Deadline, though he was suspended three games for his part in an on-field fight during his final game with Cincinnati. He appealed the penalty and played 11 games for the Tribe, posting a .984 OPS, but he opted to drop the appeal following Cleveland's four-game series against the Twins.
With his citizenship appointment scheduled for Wednesday -- a day he already planned to ask the team for an excused absence -- it made sense for him to serve the suspension during that time.
"I missed baseball; being suspended for fighting is not fun," Puig said. "I didn't want to miss Minnesota because Minnesota is in first place and we needed to beat Minnesota. We needed to beat Boston, too, but these were my citizenship days. I took that three days and came back to face the Yankees, the Mets and everybody for the rest of the season."
"It's a big deal," manager Terry Francona said. "But I'm also glad he's back."
Puig became the fourth Indians player to become U.S. citizens this season, joining Carlos Santana, Hanley Ramirez and Oliver Perez.
"From the first time I got here, I wanted to be American," Puig said. "I'm so proud and happy for all the players doing this stuff, too."
.@YasielPuig got a lot done in his three days away from the @Indians' lineup. 🇺🇸#RallyTogether | @DreKnott pic.twitter.com/lb58a0JWQR

— SportsTime Ohio (@SportsTimeOhio) August 15, 2019
Rookie rest
Oscar Mercado was not in Thursday's lineup, as Francona decided to give the 24-year-old a day off in the series opener against the Yankees. Mercado is mired in a 4-for-32 (.125) slump over his past nine games, and with left-handers James Paxton and CC Sabathia slated to start on Saturday and Sunday, the manager thought a break could benefit the struggling right-handed-hitting rookie.
"It looks like he's a little tired," Francona said. "We have some lefties coming up, so we want to give him a chance to maybe catch his breath. I just think that we've played a lot of games in a row. Sometimes you take for granted that the young kid doesn't get tired because he's young. The intensity of the games are different at this level. He hasn't gotten a lot of hits lately, which I think is wearing on him a little bit so I just thought it would help him."
Familiar face
When Francona looked at the Yankees' lineup Thursday, he saw a familiar name slotted into the cleanup spot for New York: Gio Urshela.
Urshela signed with the Indians as a 16-year-old in 2008, making his debut with Cleveland in '15. He appeared in 81 games that season and another 67 in '17, but he was traded to the Blue Jays in May 2018 after slashing just .225/.273/.314 with just seven home runs in 423 at-bats with Cleveland.
Urshela, who was dealt to the Yankees a year ago, has been a revelation for manager Aaron Boone's club this season, hitting 18 home runs with a .335/.378/.586 slash line in 331 at-bats.
"I sure as hell hope he doesn't beat us, because we obviously don't want that," Francona said. "But there's probably not one person here that isn't happy for Gio. He's a great kid. He got an opportunity and my goodness, you talk about taking advantage of it. That's phenomenal."
Mark Feinsand, an executive reporter, originally joined MLB.com as a reporter in 2001.