Tomas hits 4 HRs as Reno scores 25 runs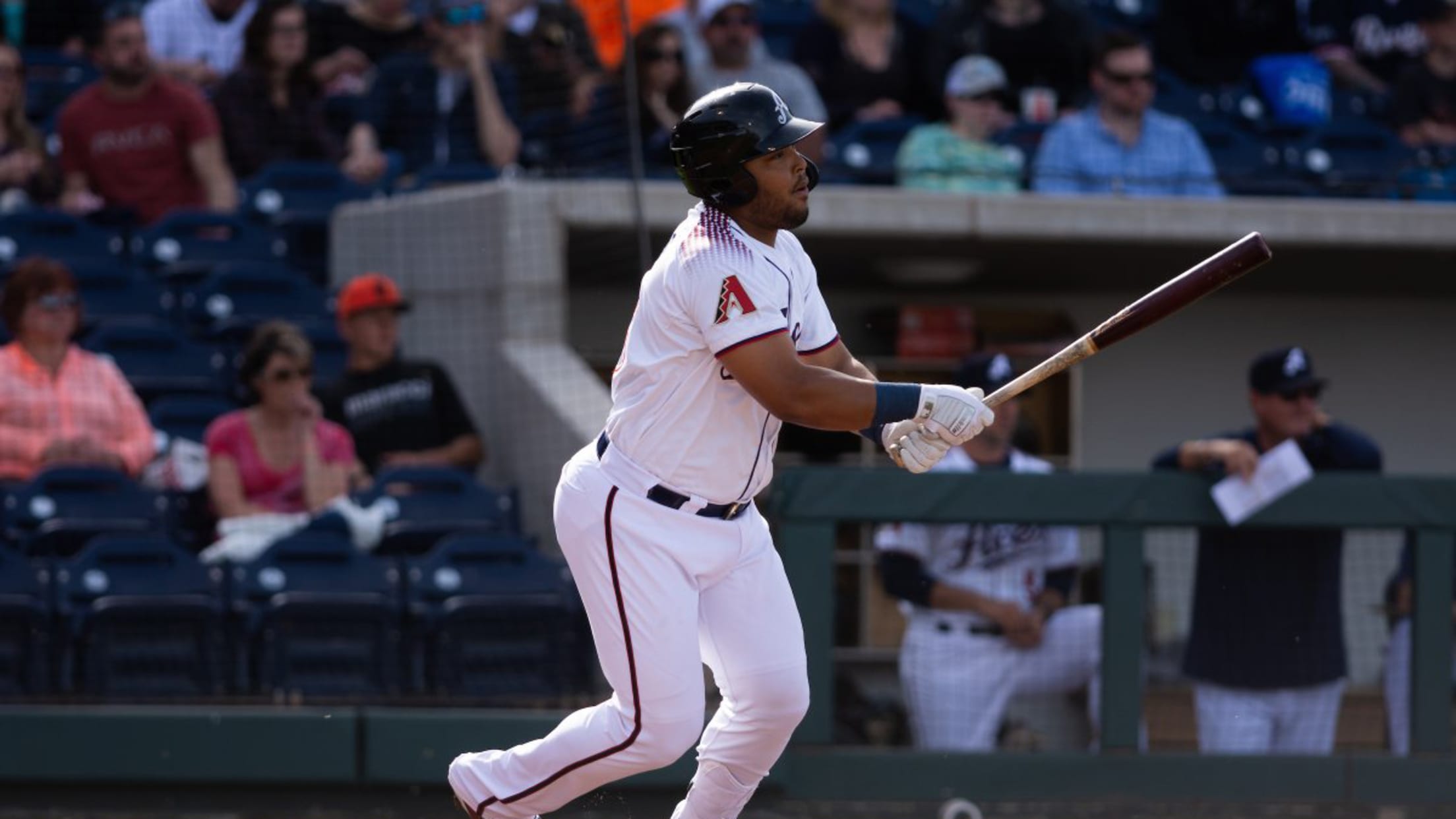 The D-backs' Triple-A affiliate erupted for 25 runs on Monday in a game that you'd have to see to believe, spearheaded by monster performances from Yasmany Tomás, Kevin Cron and Matt Szczur. Tomas homered four times. Cron -- the Minor League leader in home runs -- went deep twice. Szczur
The D-backs' Triple-A affiliate erupted for 25 runs on Monday in a game that you'd have to see to believe, spearheaded by monster performances from Yasmany Tomás, Kevin Cron and Matt Szczur.
Tomas homered four times. Cron -- the Minor League leader in home runs -- went deep twice. Szczur hit for the cycle.
All told, Triple-A Reno hammered 10 home runs and 17 extra-base hits in the 25-8 blowout win over Mariners affiliate Tacoma. There isn't definitive Minor League record-keeping in those categories, but both marks equal the corresponding Major League records for homers and extra-base hits by a team in a single game.
Count D-backs manager Torey Lovullo among those amazed by the performance.
"I don't care what park you're playing in," Lovullo said. "I don't care what the conditions are. I don't care what the altitude is. When you hit four home runs, you're doing something pretty spectacular."
Tomas is the second Minor League player with a four-homer game this season, after Indians prospect Will Benson did it for Class A Lake County on April 18.
.@eltanquetomas... HAVE A DAY!!!

4️⃣ HOME RUNS!!! #Aceball ♠️⚾️ pic.twitter.com/stfZANiyAR

— Archie (@Aces_Archie) May 20, 2019
Interestingly, the D-backs now have the most recent Minor League and Major League four-homer game -- J.D. Martinez, Tomas' former D-backs teammate, was the last to do it in the Majors, on Sept. 4, 2017.
Cron now has 21 home runs on the season in just 42 games. That's one every two games. With the Aces just having played their 44th game of a 140-game season, that puts the 26-year-old on pace for a 65-homer year.
Szczur is the sixth Minor Leaguer to hit for the cycle in 2019. The D-backs have had six cycles at the Major League level, most recently Aaron Hill's on June 29, 2012.
Yasmany Tomás (@eltanquetomas): 4⃣ HOMERS
Matt Szczur: CYCLE

It was a monumental game for the @Aces, who drilled 🔟 HRs and scored 2⃣5⃣ runs! #Dbacks

📰: https://t.co/lEjcOdEJBy pic.twitter.com/G0HD0gT3qg

— Minor League Baseball (@MiLB) May 20, 2019