Moncada progressing, set for rehab assignment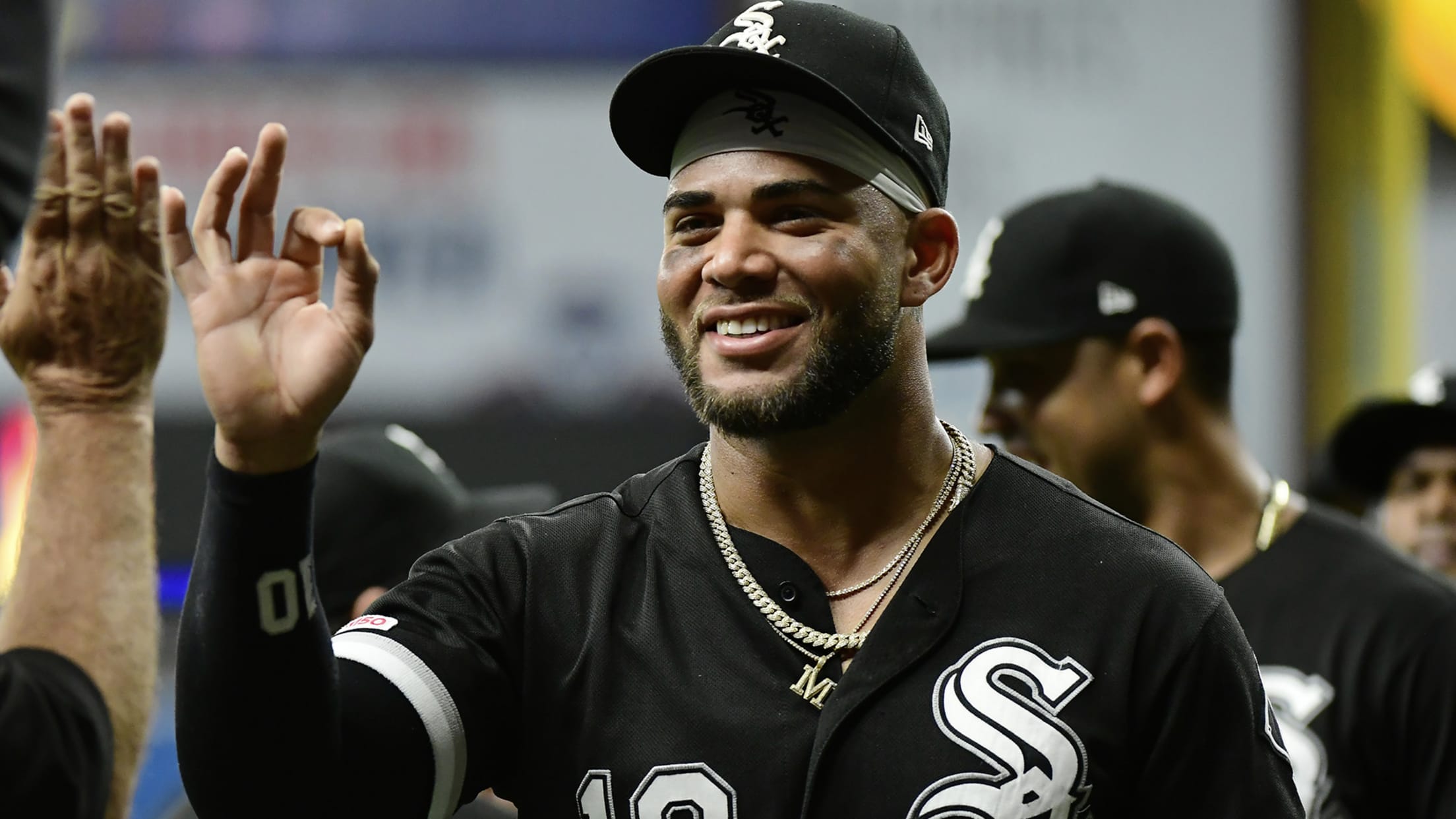 CHICAGO -- White Sox third baseman Yoán Moncada, who has been on the injured list retroactive to July 31 with a strained right hamstring, left for Triple-A Charlotte on Wednesday to begin a rehab assignment. "You see him out there running, and he's looking really good," White Sox manager Rick
CHICAGO -- White Sox third baseman Yoán Moncada, who has been on the injured list retroactive to July 31 with a strained right hamstring, left for Triple-A Charlotte on Wednesday to begin a rehab assignment.
"You see him out there running, and he's looking really good," White Sox manager Rick Renteria said. "Yesterday, actually, was a really good day. He didn't complain about anything.
"He'll be going out to Charlotte to continue his rehab. He'll play in a couple games, and then we'll see where we're at."
Moncada has produced a breakout 2019 campaign, featuring a .301/.358/.535 slash line. He has already reached 20 home runs for the first time in his career, and he has 21 doubles and 59 RBIs.
Benetti and Walton together again
Bill Walton was part of the White Sox television broadcast for 15 minutes on Saturday night, leaving fans amused, a bit confused and most of all excited for Friday's unique pairing of talented White Sox television voice Jason Benetti and the basketball Hall-of-Famer for the White Sox game in Anaheim.
The duo worked together previously at the Maui Jim Maui Invitational in November 2018.
"Ecstasy," was the first word used by Benetti to describe having the colorful Walton as a temporary replacement for Steve Stone, the expert analyst who will be off this weekend.
"He's not messing around here, I don't believe," said Benetti of Walton. "And the fun part about prepping for Bill Walton is it's a little different than prepping with anybody else, because the topics tend to glide other directions. He doesn't like anything halfway. That's the best."
As for that preparation part, Benetti mentioned Wednesday how he sent an e-mail to Walton regarding some matters for this weekend. And Walton's initial response?
"'Who is this?'" said Benetti with a laugh.
In all seriousness, Walton will bring a different and humorous feel to the game. As Benetti explained, everything Walton does is completely true to his character.
"I don't say this lightly: He is one of the most genuine people I've ever been around," Benetti said. "He has such a great heart and such a caring heart and such an interest in being around joy and creating joy for the other people he's around.
"It's viral. It's awesome. I wouldn't sign up for even the mental exercise of it except for he's got such a wonderful soul, plus the mental exercise, it's a glorious combination. You literally can't find it anywhere else. I'm totally in for that. I just love being around it."
Lopez expects big things in 2020
Reynaldo Lopez agreed with Lucas Giolito's assessment regarding the White Sox potential to soon have one of the most dominant starting rotations in baseball. Giolito's season overall, Lopez's second-half excellence and Dylan Cease's growth as a hurler have emerged as three examples to support that argument.
"Right now, our expectations for next year and beyond are really big because we have confidence in ourselves. We're seeing the results of the work we have been putting in," said Lopez through interpreter Billy Russo. "We can taste that right now.
"We're getting better and we're going to be really, really good. It's up to us to keep trusting and keep building our confidence and keep doing our jobs to improve every day. If we do that, at the end of this season we're going to be pretty sure that next year's going to be a very, very good year for all of us."
He said it
"The numbers say that he hasn't been doing as good of a job as we want him to, either offensively or maybe even behind the plate. But this guy has value, both in the box and behind [the plate] catching. It's kind of hard to find guys with his experience just floating around. Big league catchers are not easy to find." -- Renteria in support of Welington Castillo, who entered Wednesday hitting .195 with a .613 OPS and coming off three passed balls in a Game 1 loss Tuesday to Houston.