Sox being patient with Moncada's woes vs. LHPs
Club still believes in switch-hitter's skill set from the right side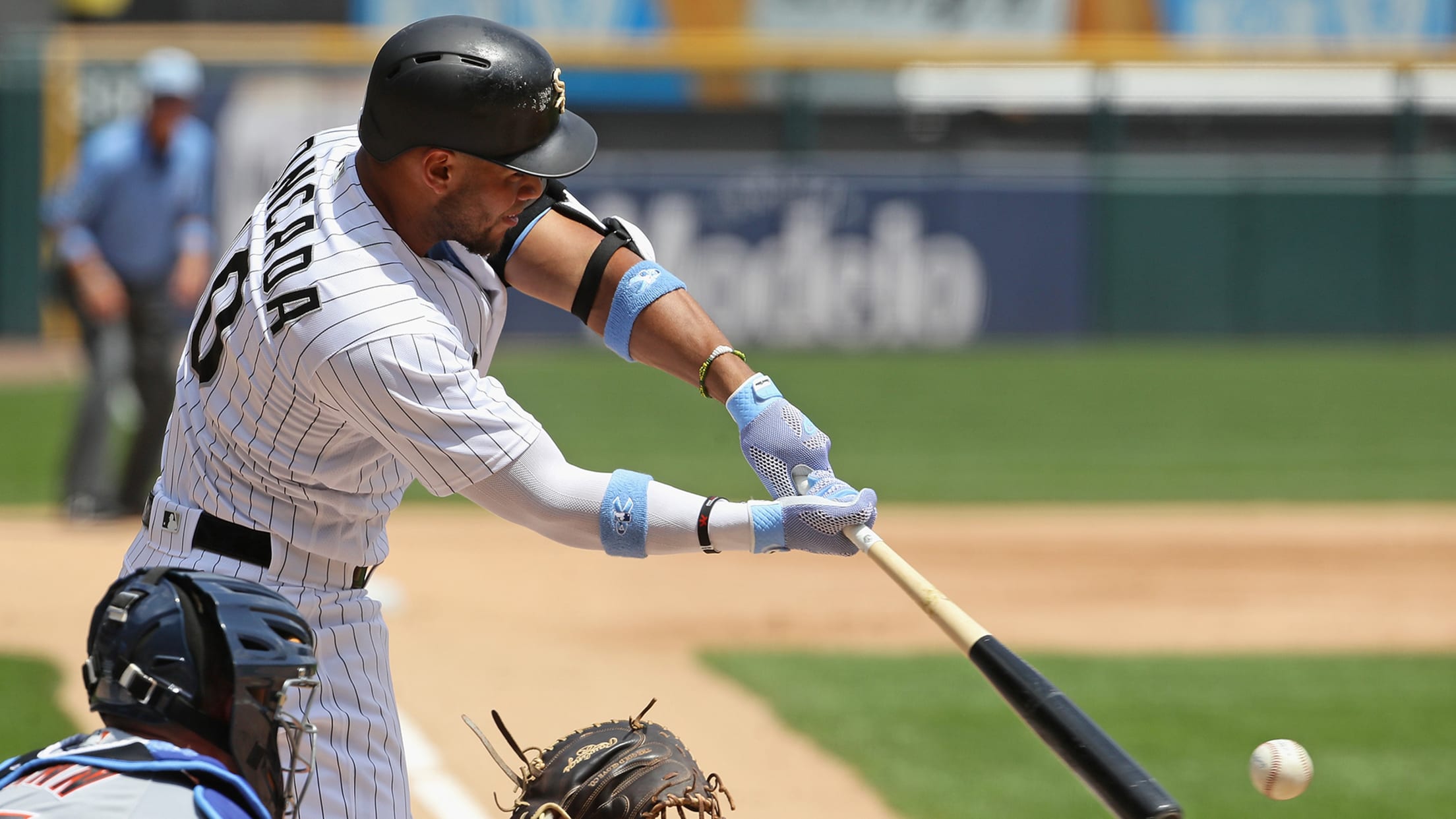 HOUSTON -- With Houston southpaw Dallas Keuchel on the mound Sunday, Yoan Moncada moved from his usual leadoff spot to seventh in the White Sox lineup.That drop has become customary in this situation for the switch-hitter, who has a slash line of .153/.215/.236 from the right side this season. An
HOUSTON -- With Houston southpaw Dallas Keuchel on the mound Sunday, Yoan Moncada moved from his usual leadoff spot to seventh in the White Sox lineup.
That drop has become customary in this situation for the switch-hitter, who has a slash line of .153/.215/.236 from the right side this season. An argument can be made for keeping Moncada in the same leadoff spot against lefty pitchers to get him needed at-bats from the right side, where he has 79 plate appearances vs. 280 as a left-handed hitter.
But manager Rick Renteria wants to see a little more progress from Moncada before making such a move.
"As he continues to show me a little bit more confidence on that side, and he's kind of chipping away at it, there's certainly no reason why I wouldn't use him at the top spot," Renteria said. "The truth is that Timmy [Anderson] vs. lefties in the top spot is exceptional right now. We are going to take advantage of that, trying to balance all sides of it, and it's one of the things we can do to put ourselves in a better position.
"It's a valid point to consider as we've done in the past with other hitters, including Timmy, to get him at the top and get him as many at-bats as possible. But the right handed at-bats are coming in such limited fashion that I don't know how much I'm going to gain from doing it right now."
Moncada is a natural right-handed hitter. It has been said before by Moncada and the organization, but at age 23 and with 144 games as a Major Leaguer on his resume, Moncada certainly isn't giving up switch-hitting and focusing solely from the left side any time soon.
"My eyes tell me he has the skill set to hit from both sides of the plate," Renteria said. "I could be wrong. But I don't even consider eliminating one side at this point at all. It's not even in the recesses of my mind right now. He has plenty of time to figure out how to manage that side."
Rodon sees many aces
Carlos Rodon has the most experience among the plethora of young starters being put together and developed as part of what the White Sox hope is a future championship pedigree. But Rodon doesn't believe he necessarily needs to be considered the ace of that burgeoning group.
"One thing I learned a while ago -- I can't remember who said it, but it was [Jeff] Samardzija, [Chris] Sale or [Jose] Quintana, some of the great guys -- is that there's no No. 1," said Rodon during a recent interview. "Whoever is the No. 1 is the guy who pitches that day. That makes sense.
"The first guy that pitches the first game of the year is your ace, but after that, it really doesn't matter. You just want to be good. I want every one of us to be an ace."
Third to first
• Anderson, with 13 homers and 21 stolen bases, is the only player in the Major Leagues this season with 13-plus home runs and 20-plus stolen bases. His 21 steals are a career high, and his 13 homers are four shy of his career high of 17 last season.
• Outfielder Nicky Delmonico is 1-for-4 with a run scored in two injury rehab games with Double-A Birmingham. Delmonico has been on the disabled list since May 19 with a fractured third metacarpal on his right hand, an injury he sustained when he was hit by a Matt Moore pitch on May 18 vs. the Rangers.