Mendez (elbow) to miss first half of '19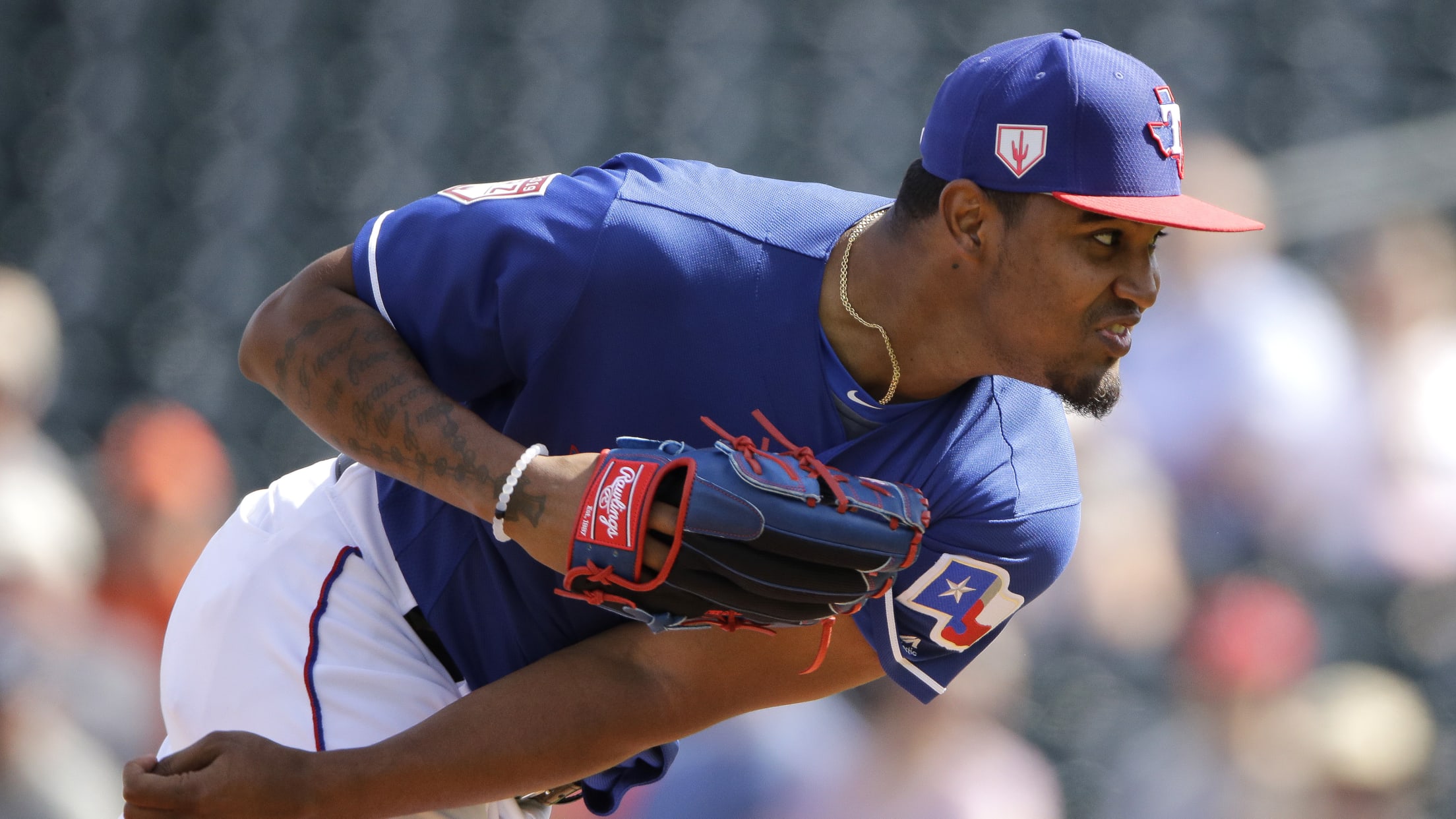 SURPRISE, Ariz. – Rangers left-hander Yohander Méndez has been diagnosed with a sprained ligament in his left elbow and is expected to miss the first half of the season. Mendez, the No. 26 prospect in the Rangers' farm system, underwent an MRI on Monday after leaving Sunday's start against the
SURPRISE, Ariz. – Rangers left-hander Yohander Méndez has been diagnosed with a sprained ligament in his left elbow and is expected to miss the first half of the season.
Mendez, the No. 26 prospect in the Rangers' farm system, underwent an MRI on Monday after leaving Sunday's start against the D-backs in the third inning with tightness in the elbow. The diagnosis was a Grade 1 sprain of the ulnar collateral ligament, which means there was minimal damage.
"I felt it on the last pitch," Mendez said. "It was something weird. That's why I stopped pitching. It was tight but I feel better today."
Mendez will not throw for six weeks and then will be slowly built back up. That's why he is not expected to be an option at the Major League level until after the All-Star break.
But the Rangers were relieved that Mendez didn't become the next pitching prospect to require Tommy John surgery.
"I know he is going to miss a lot of time, but after it happened, everybody thought the worst," Rangers manager Chris Woodward said. "You assume when a guy comes out with an elbow [injury] and feels something, you immediately think he's going to miss an entire year. So for him to only be down for six weeks and then we're going to have to build him back up, we did dodge a major bullet."
It's still a hit to the Rangers' pitching depth. Mendez was not going to be a part of the Opening Day roster, but he was supposed to be in the Triple-A rotation. Right now the Round Rock rotation includes right-handers Adrian Sampson and Ariel Jurado, and left-hander Taylor Hearn.
That leaves two spots undecided because the Rangers are hoping to keep some of their other top prospects -- Jonathan Hernandez, Joe Palumbo and Brock Burke -- at Double-A Frisco to start the season.
Gallo, Guzman update
Joey Gallo remains out of the lineup with a strained right groin muscle and is still being limited in his baseball activities. The Rangers are hopeful Gallo will be able to play in a game this weekend.
As for Opening Day on March 28 ...
"I am not missing Opening Day," Gallo said.
Ronald Guzmán is also out of the lineup with a sore right knee, but he has shown significant improvement and could play as early as Wednesday against the Reds.
Woodward addresses video games
A big topic of discussion around baseball Monday was guys playing video games in the clubhouse while the real game was going on. The Phillies apparently had a problem with it at the end of last season and first baseman Carlos Santana reacted by smashing a couple of televisions in the clubhouse.
Rangers manager Chris Woodward said there is no need for a rule banning video games like Fortnite during a game. Woodward said it goes without saying players shouldn't being doing it.
"If you guys are more interested in playing video games than being champions, that's on you guys," Woodward said. "It's not a difficult thing to address when you put it in that light. What's more important to you, your teammates and winning a championship or you becoming a better player in Fortnite."
Minor's scoreless struggle
Rangers pitcher Mike Minor threw 3 1/3 scoreless innings for the Rangers in a 3-1 victory over the Dodgers on Monday. But it was a struggle as he allowed three hits and three walks while striking out three.
Brett Martin, still competing for a spot in the bullpen, threw 2 1/3 scoreless and has not allowed an earned run over nine Cactus League innings. Opponents are hitting .210 off him and he has 11 strikeouts.
"I was excited to get him against that lineup, too," manager Chris Woodward said. "They have some pretty challenging hitters who typically don't give at-bats away. He was strike one, strike two, attacked them."
Rangers beat
• Reserve infielder Matt Davidson faced three batters in a Minor League intrasquad game. He struck out one, retired one on a pop out and then walked a batter. The Rangers called the inning after he had thrown 14 pitches.
• Shawn Kelley also threw 14 pitches in the same game. His outing came one day after pitching a scoreless inning against the D-backs. Back-to-back outings is one of the customary final tests for a reliever in Spring Training.
• Elvis Andrus is 8-for-15 with eight RBIs in his last five games and Rougned Odor is 11-for-26 in his last 10 games.
Up next
Right-hander Lance Lynn pitches against the Brewers at 3:05 p.m. CT Tuesday in Phoenix. It will be his third start in a Cactus League game. Rule 5 Draft pick Jordan Romano and reliever Chris Martin are also scheduled to pitch.