Darvish not concerned by blister on right finger
Cubs righty said injury occurred on his final pitch against Mariners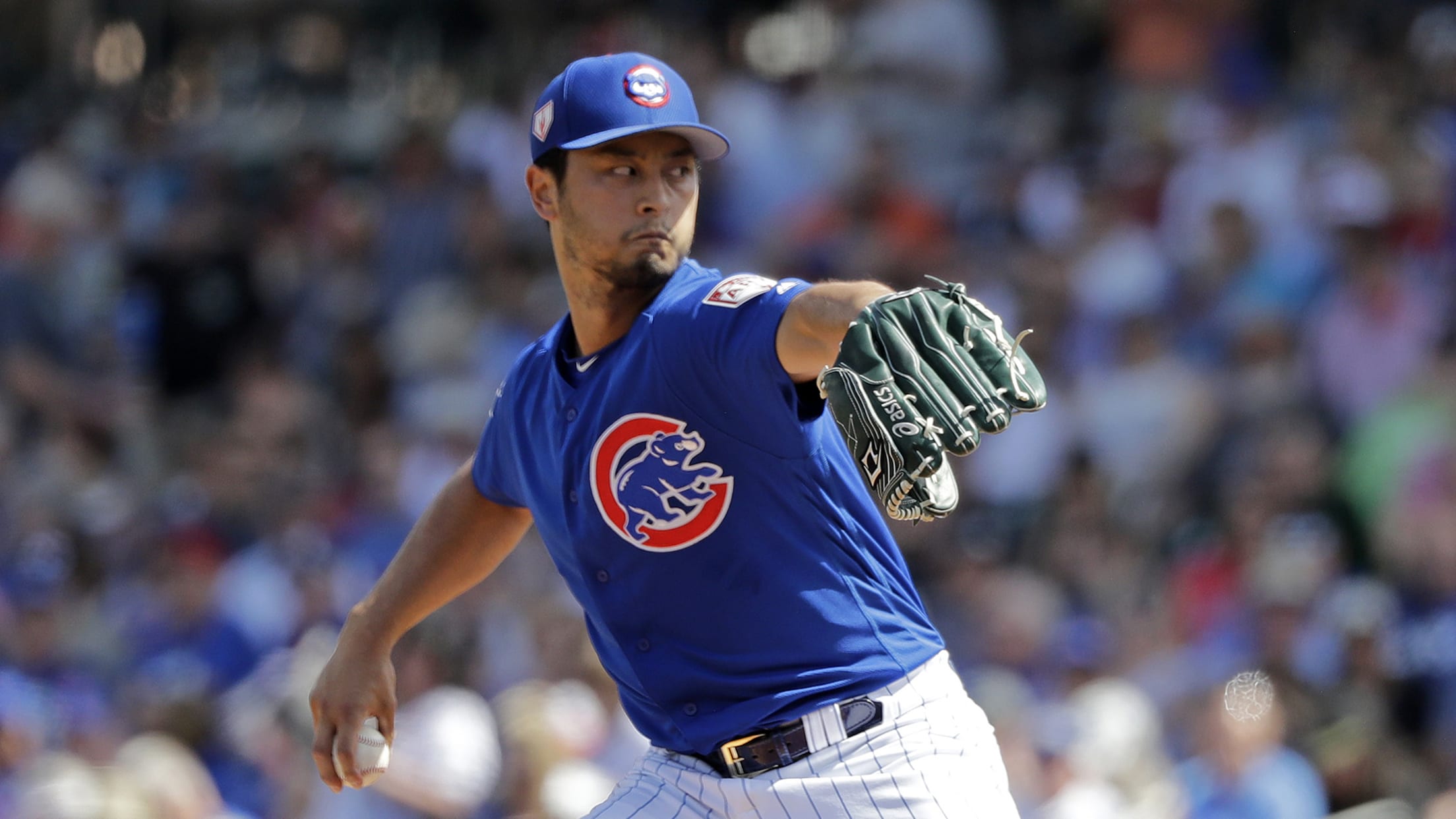 MESA, Ariz. -- The last time Yu Darvish dealt with a blister on his right ring finger, he nearly walked off the mound with a perfect game. On Tuesday, the right-hander was optimistic that his latest bout with the issue would soon be classified as history. Darvish provided a momentary
MESA, Ariz. -- The last time Yu Darvish dealt with a blister on his right ring finger, he nearly walked off the mound with a perfect game. On Tuesday, the right-hander was optimistic that his latest bout with the issue would soon be classified as history.
Darvish provided a momentary scare in the Cubs' 6-4 split-squad victory over the Mariners when a 2-2 slider to Jake Fraley in the fifth led to a mound meeting and an early exit. As Darvish had his right hand examined, it was soon clear that this was unrelated to the elbow issues that plagued his first season with Chicago in 2018.
"I don't feel any pain," Darvish said. "It's good for next outing."
While talking to reporters, Darvish displayed the inside of the affected finger, but he shrugged off the injury as being any kind of real concern. He noted that he will undergo laser treatment and apply medical cream to the digit before resuming playing catch as planned on Wednesday. Then, barring any setbacks, Darvish will throw a bullpen session on Friday and start again on Sunday as scheduled.
Darvish said the only odd part about the injury was that it occurred on a slider -- his final pitch of the outing. When the issue last flared on April 2, 2013, it came on a cutter in the later innings of a start against the Astros. With history on the line, Darvish continued to pitch through the problem for two or three innings, losing his bid for a perfect game and a no-hitter in the ninth inning of a 14-strikeout performance for the Rangers.
After that happened, Darvish made his next scheduled start five days later.
"That game, I had exactly the same thing," Darvish said. "The slider, I never feel it here [on the ring finger]. Today is the first time."
Darvish's demeanor after Tuesday's development quickly diminished the initial concern. After talking things over with pitching coach Tommy Hottovy, manager Joe Maddon and a member of the team's training staff on the mound, Darvish had a hug for catcher Willson Contreras and fist bumps all around as he headed off the field.
Darvish's line against the Mariners included two runs (one earned) allowed on five hits, with six strikeouts and two walks in 4 2/3 innings. In Cactus League play this spring, Darvish has 14 strikeouts against nine walks (four in his spring debut) over 12 innings of work.
"Fastball was good today. Good command," he said. "The slider was not really good, but fastball, it was the best in the spring."
Last season, Darvish was limited to eight starts due to arm trouble, which led to a right elbow debridement procedure in September. He arrived to Spring Training with no restrictions and he has looked strong in his workouts and outings throughout camp.
Darvish said he called it a day early against the Mariners as a precaution.
"I don't want to hurt my elbow or shoulder," said Darvish, who was worried he might compensate for the finger discomfort if he kept pitching. "That's why I said, 'I don't want to throw.'"