Back home in Japan, Kikuchi set for MLB debut
Lefty slated to be first Japanese player to begin MLB career in country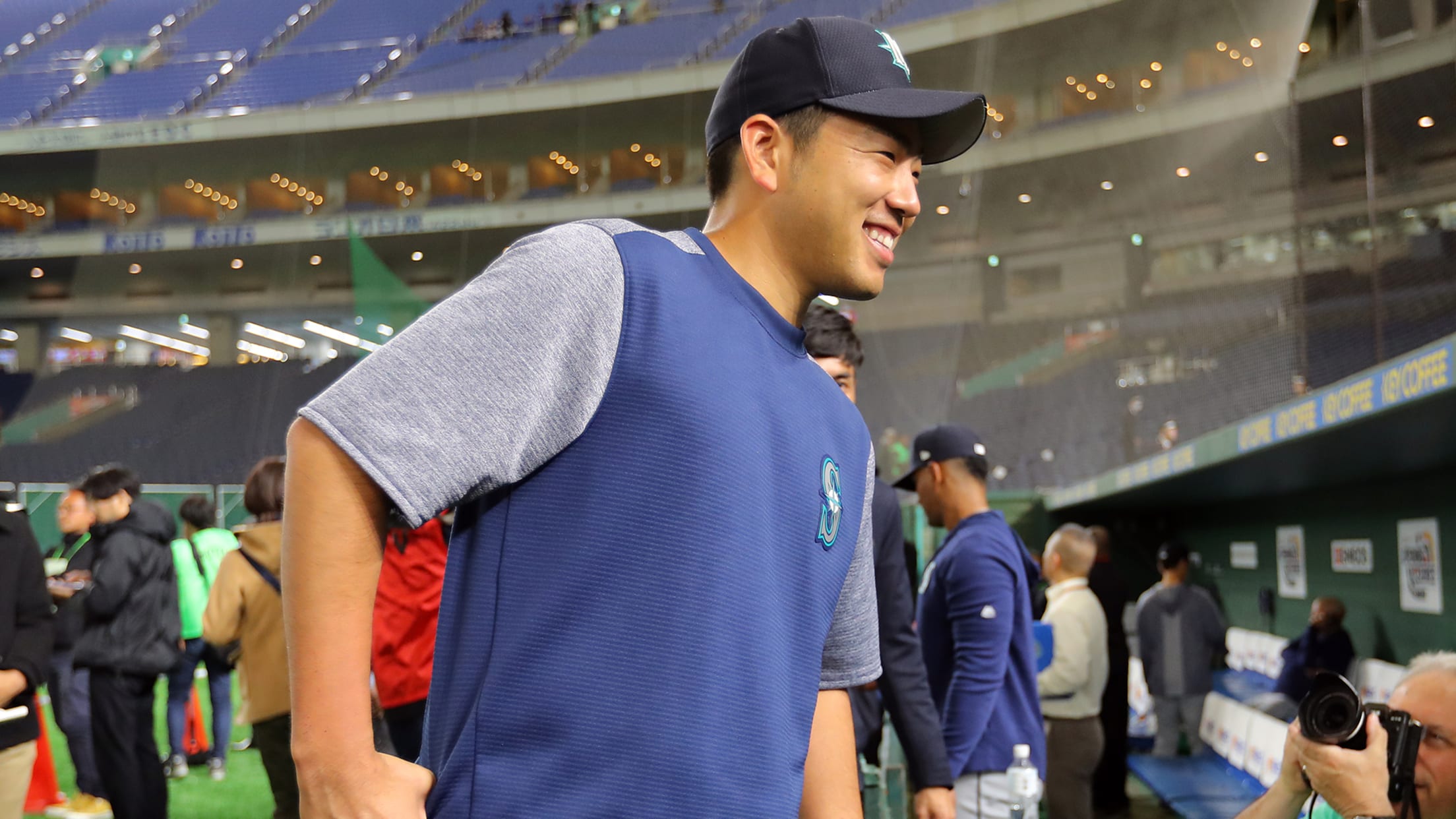 TOKYO -- While most eyes have been on Ichiro Suzuki this week, Yusei Kikuchi doesn't mind. He's as big a fan as anybody of the Mariners' icon and has enjoyed his front-row seat to history. When Kikuchi first signed with Seattle in January, he'd only seen Ichiro from afar. Growing
TOKYO -- While most eyes have been on Ichiro Suzuki this week, Yusei Kikuchi doesn't mind. He's as big a fan as anybody of the Mariners' icon and has enjoyed his front-row seat to history.
When Kikuchi first signed with Seattle in January, he'd only seen Ichiro from afar. Growing up in Japan, he revered Ichiro like every youngster in the country who watched the first Japanese position player become a star in MLB.
• Ichiro in lineup for what could be his final game
The first professional game Kikuchi attended in Japan was to see Ichiro playing for the Orix Blue Wave in his final season before coming to the United States. At Kikuchi's introductory press conference in Seattle, he referred to Ichiro as "a person in the sky, a legend. I don't know if he really exists," in deference to his new teammate's nearly mythical status in Japan.
But once Kikuchi joined the Mariners, the walls came down.
"When I first started talking to him, I was really nervous and kind of scared what to say and my heart rate would start getting faster and I'd start sweating," Kikuchi said. "But as camp went on, I was able to ask him a bunch of questions, pick his brain a little and help me adjust and do well in my career. He's been a really good role model."
Ichiro is nearing the end of his 18-year run in MLB, while Kikuchi is just getting started. But Kikuchi will make some history of his own Thursday when he becomes the first Japanese player to make his Major League debut in Japan.
"I have been looking forward to this day," Kikuchi said. "I could never have dreamed of starting my career in Japan. This would be the lifetime experience for me so I'd like to enjoy it fully. I'd like to show my winning game to the Japanese fans."
Kikuchi brings an impressive resume from his time in Japan, where he went 69-45 with a 2.89 ERA in 148 games for Seibu. The Mariners signed him to a unique free-agent deal that will keep him in Seattle anywhere from three to seven years and they have been pleased with his poise and pitch quality in Spring Training.
"He's really grounded. Really grounded," said veteran teammate Wade LeBlanc. "When you have your priorities in order, it's to easy to try to keep the game from speeding up on you. It happens to everybody. The game speeds up. It's human nature. But to keep moments in perspective the way he's able to do, to do that you have to have your priorities in order and he definitely does."
Now he'll get his first chance to show his stuff in a real game and he'll do so in the Tokyo Dome, a park he pitched in twice during his time in Japan. Kikuchi has wanted to pitch in the Majors since his teenage years and has to pinch himself now that it's here.
"It's a big day for me," Kikuchi said. "Lots of friends, family members, teachers, coaches, colleagues. They will all be there. I'm looking forward to having them there. I'm going to play in the Major Leagues and this will be a wonderful start for me to show it to my loved ones."