Britton honors Dominican family with nickname
Yankees reliever will wear 'Anglada' on Players' Weekend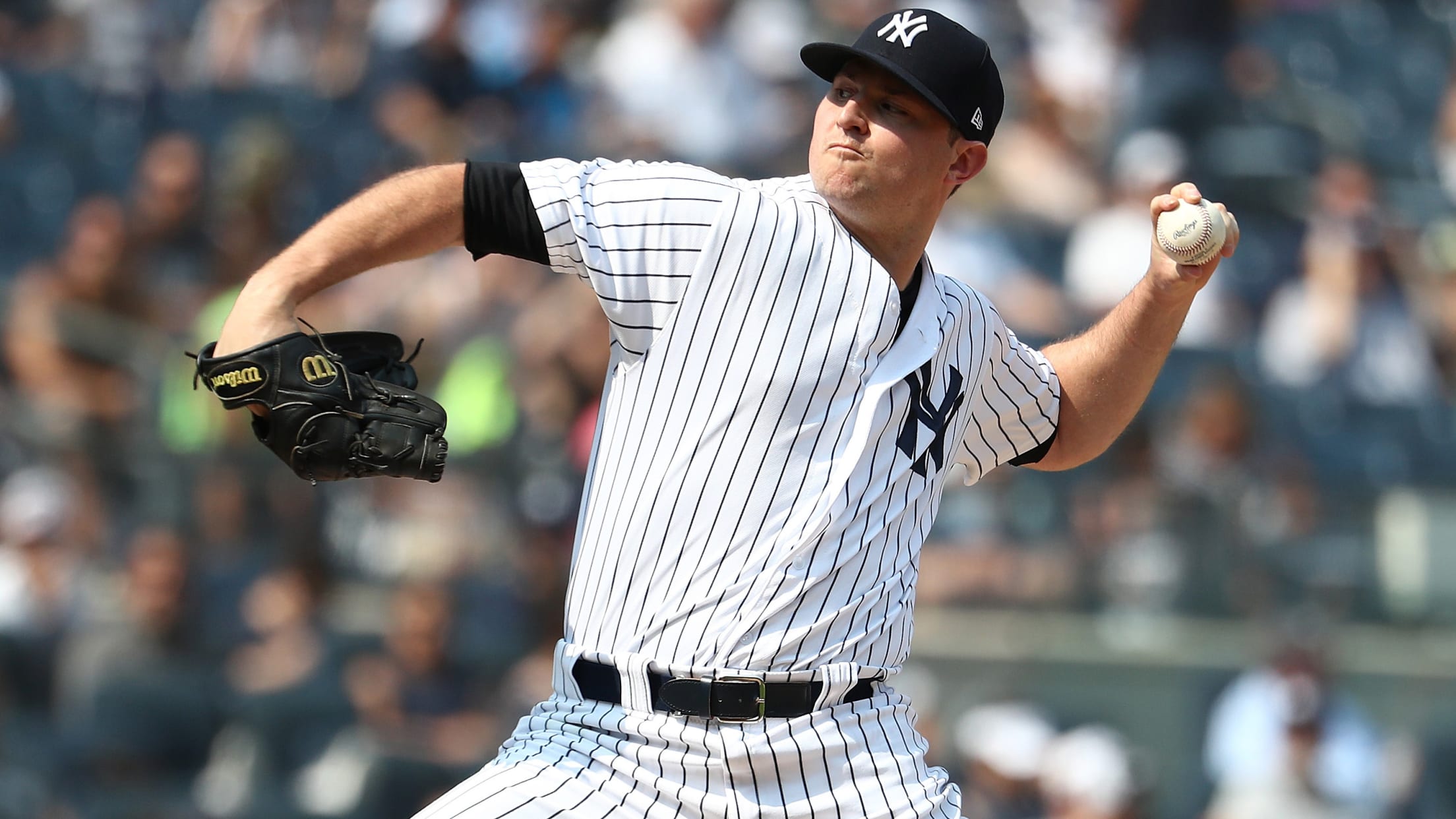 NEW YORK, NY - AUGUST 16: Zach Britton #53 of the New York Yankees pitches against the New York Yankees during their game at Yankee Stadium on August 16, 2018 in New York City. (Photo by Al Bello/Getty Images) (Al Bello/Getty Images)
NEW YORK -- Many players have chosen a fun nickname to sport on the back of their uniform this weekend in celebration of Major League Baseball's annual Players' Weekend, but Yankees reliever Zach Britton took advantage of the opportunity to honor his family.In his first news conference after being acquired
NEW YORK -- Many players have chosen a fun nickname to sport on the back of their uniform this weekend in celebration of Major League Baseball's annual Players' Weekend, but Yankees reliever Zach Britton took advantage of the opportunity to honor his family.
In his first news conference after being acquired by New York from the Baltimore Orioles on July 24, Britton said that he is part Dominican, joking that he may not necessarily look the part and is unable to speak Spanish.
:: Players' Weekend presented by Valspar Stain ::
Britton's maternal grandmother is from the Dominican Republic, and her maiden name is Anglada, which he chose to be printed across the back of his uniform from Friday-Sunday in a four-game set against his former team at Camden Yards to recognize his grandmother and all of his Dominican family.
"I mean, this [decision] was [made] well before I got traded, so it was in the offseason, and the Orioles asked me what I wanted to do, and I was kind of like, 'I don't really have a nickname,'" Britton said. "Somebody on the team was like, 'Why don't you do something with your Dominican thing?' Because [Players' Weekend] is not necessarily just a nickname thing, it's kind of like telling something that's unique about yourself to the fans. So I was like, 'Yeah, that'd be kind of cool.'"
• All you need to know about Players' Weekend
Although he hasn't put on the uniform just yet, the excitement in his family is already building. Britton said that he keeps in contact with the members of his family who live in the Dominican Republic over Facebook, and they told him how thrilled they were about his decision the day the names were announced earlier this month.
• Shop Yankees Players' Weekend gear
Last season, Britton chose to sport "Brit" as his nickname while with the Orioles. Although he made the decision to make the switch to "Anglada" this year while he was still with Baltimore, it may mean even more now to his Dominican family -- who are all Yankees fans -- to see their last name on the back of a New York uniform.
"Yeah, all the Dominican family [named] Anglada either lives in New York, or they live in the Dominican," Britton said. "That's why we did that. They're huge Yankee fans regardless, so they'll see 'Anglada' on the Yankee uniform, and they'll be pretty happy."
Mandy Bell is a reporter for MLB.com based in New York.