Mechanics behind McAllister's early struggles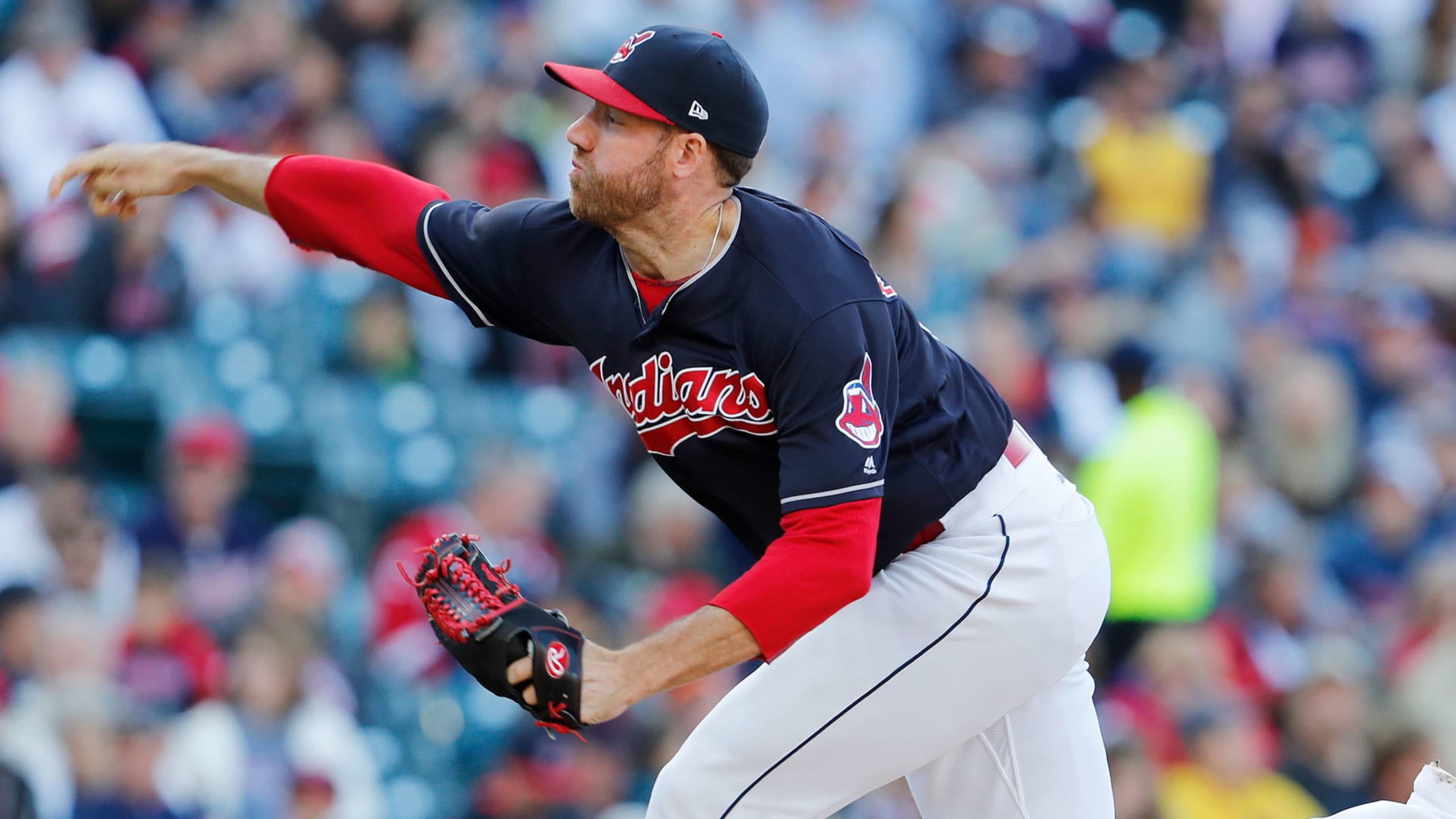 CLEVELAND -- Something small within a pitcher's mechanics can have a significant impact on his offerings. Indians reliever Zach McAllister and bullpen coach Scott Atchison have been working to identify what has been behind the increased horizontal movement on the right-hander's fastball.The working theory is that this change in McAllister's
CLEVELAND -- Something small within a pitcher's mechanics can have a significant impact on his offerings. Indians reliever Zach McAllister and bullpen coach Scott Atchison have been working to identify what has been behind the increased horizontal movement on the right-hander's fastball.
The working theory is that this change in McAllister's fastball might be one of the causes for what has been a rough first month for the reliever. His velocity and direction to the plate -- two key components for the right-hander -- are fine at the moment. It has been something earlier in his delivery that could be creating a ripple effect in the pitch's path to the plate.
"Atch and them mentioned that I'm getting a little tilt too early," McAllister explained before Sunday's series finale against the Mariners. "So, I'm getting that tilt over the rubber instead of coming down the slope with it."
The results have not been pretty. After allowing five runs in the fourth inning of Saturday's 12-4 loss to the Mariners, McAllister's season ERA climbed to 10.38 in 8 2/3 innings. The big right-hander had only three strikeouts through his 11 appearances. It has been a drastic dropoff from last year, when McAllister turned in a 2.61 ERA with 66 strikeouts in 62 innings for Cleveland.
McAllister's velocity is where it should be (94.2 mph avg. now, 94.1 mph avg. in April '17). One factor in fastball getting hit is more run (-8.64 horiz movement this year vs. -7.46 in '17). Said they found he's been tilting a little early in his delivery. pic.twitter.com/bOGiVhrGQb

— Jordan Bastian (@MLBastian) April 29, 2018
While McAllister is working to correct the flaw in his mechanics, he is also staying focused on the positives within his outings.
Per Statcast™, he has averaged 94.2 mph on his fastball, compared to 94.1 mph in April of last year. McAllister has thrown 51.2 percent of his pitches in the strike zone -- right in the range of his 2017 showing (52.7). His walk rate (6.1 percent) is below his career rate (8.0 percent), while his first-pitch strike rate and overall strike percentage have been better than his career norms.
"One thing that makes it a little better to swallow is the fact that I'm happy with where my stuff is," McAllister said. "If my stuff was down, if I wasn't throwing hard and my breaking ball was terrible, it'd be easy to be like, 'OK, this is why I'm not doing well.' And that makes it a little challenging sometimes, because when your stuff is good and you're not getting results, that's frustrating."
Fortunately, McAllister and Atchison believe they may have found a contributing factor for the inconsistent fastball command and movement.
"There's been a little more run instead of ride, I guess, would be the way to put it," Atchison said. "Other than that, the [velocity] is normal. The breaking ball's in a pretty good spot. It's just some execution on some pitches and we're kind of trying to find a way to get him on a roll."
Plutko's perfection
Indians pitching prospect Adam Plutko carried a perfect game into the eighth inning for Triple-A Columbus on Saturday, but was pulled after 7 2/3 innings and 95 pitches. Plutko, who finished with six strikeouts in the win over Indianapolis, has a 2.35 ERA with 25 strikeouts against seven walks in 30 2/3 innings to date this season.
"They said he was really commanding his fastball," Indians manager Terry Francona said. "So far, that's been the biggest difference with him. It's been command. I think his velocity is negligible -- maybe up a little bit. But, he's really been commanding. That's good. That's exciting to see."
Plutko is on Cleveland's 40-man roster and is a candidate to make a spot start on Thursday in the Indians' doubleheader against the Blue Jays at Progressive Field.
• Right-hander Carlos Carrasco tripped on the dugout steps and jarred his back during his start on Saturday. Francona said Sunday morning that the training and medical staff feel "pretty strongly" that Carrasco will be able to make his next scheduled start on Thursday.
• Second baseman Jason Kipnis received a scheduled day off from starting for Sunday's game against Seattle. Utility man Erik Gonzalez got the nod at second in Kipnis' place.