Thompson using Rule 5 letdown as motivation
Right-hander posted 1.55 ERA in Minors after converting to relief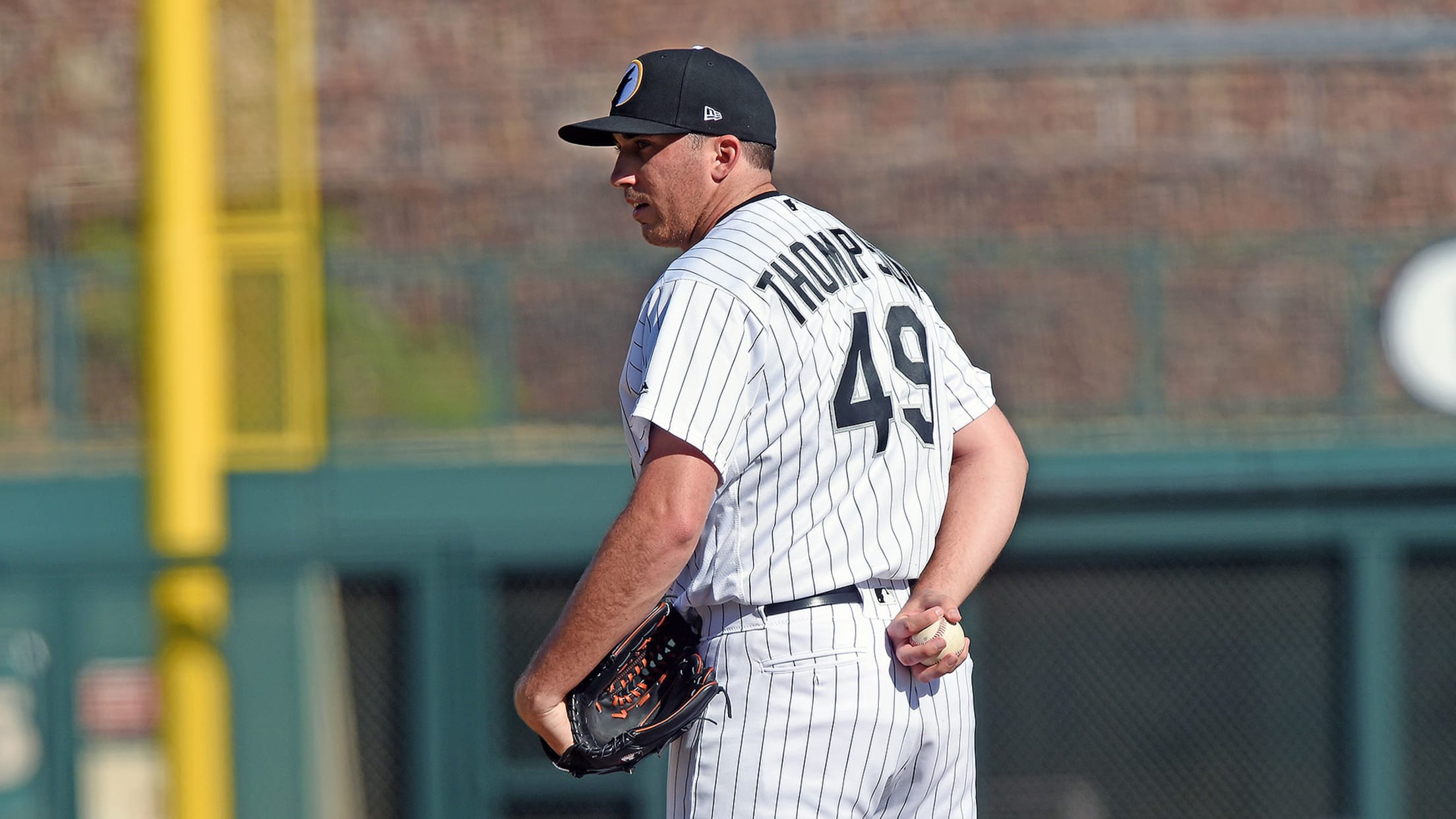 Zach Thompson pitches for the Glendale Desert Dogs in the Arizona Fall League on Oct. 16, 2018 at Camelback Ranch in Glendale, Ariz. (Brian McLeod/MiLB.com)
CHICAGO -- The camera was set in selfie mode at home as Zach Thompson and his wife, Ashlyn, prepared to follow the Rule 5 Draft on MLB.com last Thursday at the close of the Winter Meetings.With the announcement of Thompson's name, the 6-foot-7 right-hander in the White Sox organization would
CHICAGO -- The camera was set in selfie mode at home as Zach Thompson and his wife, Ashlyn, prepared to follow the Rule 5 Draft on MLB.com last Thursday at the close of the Winter Meetings.
With the announcement of Thompson's name, the 6-foot-7 right-hander in the White Sox organization would become a Major Leaguer somewhere else, and the Thompsons would have that moment of his instant promotion captured forever. The announcement of his name never came.
"You don't want to see that video," Thompson said with a laugh during a recent phone interview. "It was kind of a letdown just because it's one call away, hearing your name, and all of a sudden it's like, 'Wow I'm on a 25-man roster.' That aspect is really disappointing.
"But again, being a part of the White Sox now, it's still really cool. It went from depressing to, 'Wow, OK, all right, I have another opportunity with the Sox.' If I don't break with the club, I know Charlotte is a really nice park if that's where I end up going. I know all the guys there. I know what the rebuild is doing. It made me more excited than I was before the Rule 5."
Thompson's past few months have featured highs and lows, but they are steeped in something inherently positive -- his breakout 2018 campaign. The fifth-round selection in the 2014 Draft didn't find a niche during his first four years in the system as primarily a starter, but he posted a 1.55 ERA between stops at Class A Advanced Winston-Salem and Double-A Birmingham over 43 games as a reliever in '18. He struck out 76 and walked 29 in 75 1/3 innings, and then fanned 15 over 13 1/3 innings in 11 games for Glendale in the Arizona Fall League.
Those impressive numbers led to speculation of a 40-man roster add for Thompson, who turned 25 in October. When he was not protected on the 40-man, he became a potential Rule 5 pick.
"Honestly it was pretty disappointing," Thompson said of not being added to the White Sox roster. "I thought I had earned a spot on the 40-man, but it doesn't change my attitude about anything. I'm still going to work the same way I worked last year."
After the Rule 5 Draft was completed, White Sox general manager Rick Hahn praised Thompson.
"We like Zach," Hahn said. "Really when it comes down to setting the roster, you try to put it in order of guys you are concerned may get taken and survive at the big league level.
"Sometimes those guys don't check those boxes for you, and you take the risk they are getting exposed. But Zach has a real bright future, and we are glad he's still part of the White Sox organization."
Everett Teaford, the quality control coach in the White Sox system, also called following the Rule 5 and delivered "a really nice message" about the organization being stoked to have him back, per Thompson. He also was pleased to read the plaudits from Hahn, turning the brief Rule 5 disappointment into added motivation for reaching the Majors in 2019.
"Before this whole switch to a reliever, I didn't know if I would still be around," Thompson said. "Getting to become a reliever and this 2018 season going from nobody to having everyone talk about me, thinking I'm worthy of 40-man and Rule 5 picks, it was like 'Wow, I never would have thought I would have got to this point.'
"Honestly, the quote-unquote disappointment has lit a fire under my butt. It makes me want to work even harder to go into Spring Training and earn a spot."