Wheeler pitches 7 scoreless in Minors outing
Callaway mulling plans if Alonso, Smith both make roster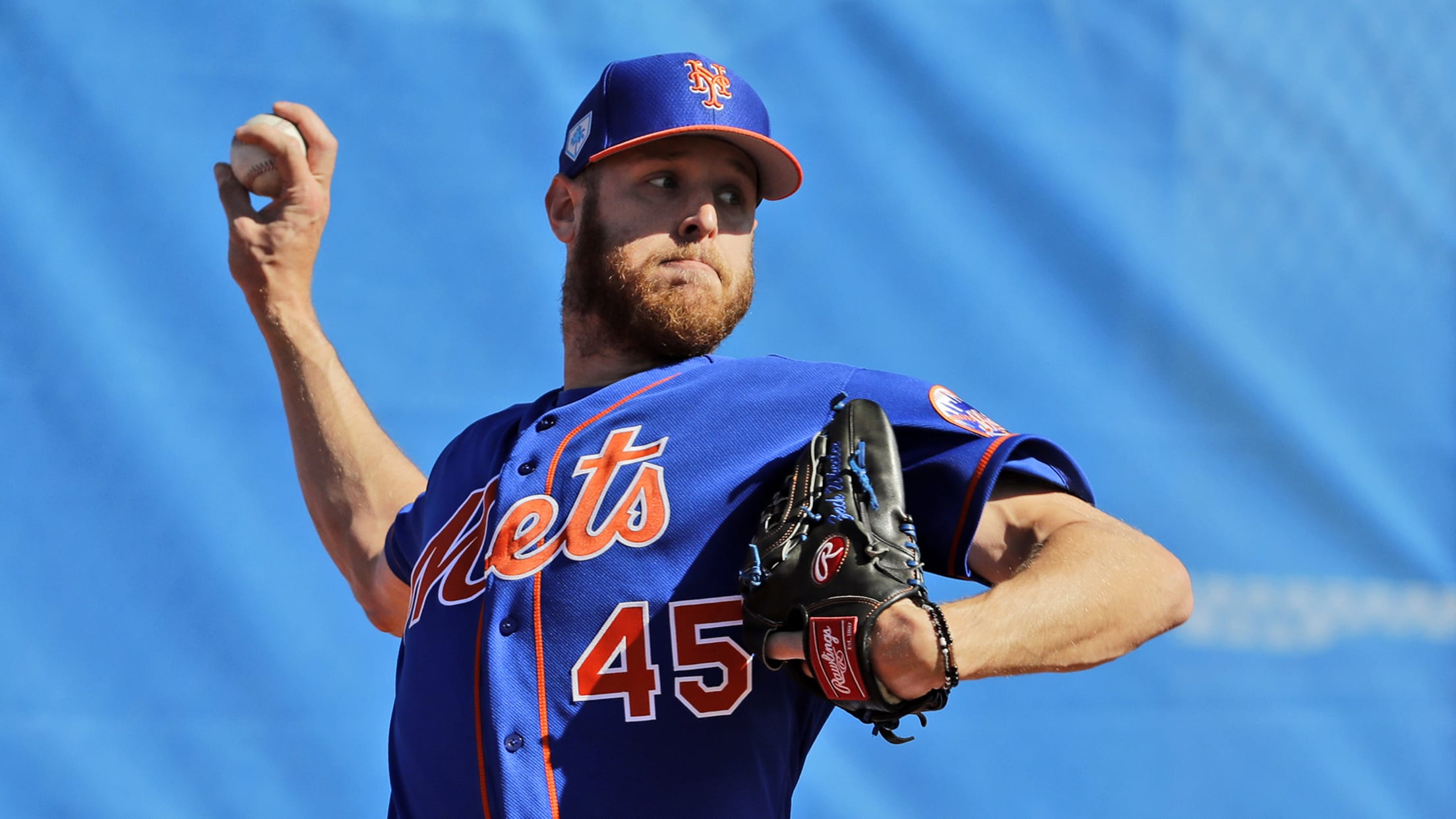 PORT ST. LUCIE, Fla. -- Almost exactly a year ago, Zack Wheeler stood in front of his Spring Training locker discussing a surprise demotion to the Minors. He didn't wind up staying there long, returning to go 12-7 with a 3.31 ERA over 29 starts in New York, which allowed
PORT ST. LUCIE, Fla. -- Almost exactly a year ago, Zack Wheeler stood in front of his Spring Training locker discussing a surprise demotion to the Minors. He didn't wind up staying there long, returning to go 12-7 with a 3.31 ERA over 29 starts in New York, which allowed him to enter this spring on an entirely different plane.
Without a roster worry on his mind, Wheeler delivered seven shutout innings in a Minor League game on Wednesday, striking out six and stretching out to 91 pitches.
"It's a big difference," Wheeler said. "Last year, I just didn't know at this point. So to know, and to be able to feel healthy and go out there and get outs, get past the first inning in Spring Training starts, it's nice."
Wheeler has one, abbreviated spring start remaining Monday in Sarasota. He'll then make his regular-season debut March 31 against the Nationals.
"I've already started thinking about them," Wheeler said. "You need to prepare. We already know a lot of those guys. It's not a huge deal, but you need to mentally prepare yourself and get ready for that first start."
Who's on first?
Given the significant chance that both Pete Alonso and Dominic Smith make the Opening Day roster, the Mets have begun considering ways to use them both at first base. Manager Mickey Callaway said that the Mets would not utilize a straight platoon, a strategy that would severely limit the right-handed Alonso's playing time. But he didn't offer further details.
"I've been thinking a lot about that, because that's something that could happen," Callaway said of both players making the team. "I think what our main goal would be is to put them both in the best situation to succeed."
Alonso, the Mets' top-ranked prospect, appears to be a near-lock to make the roster thanks to his .360 average, four home runs and 1.076 OPS in Grapefruit League play. Smith has likewise excelled, batting .349 with one home run and an .869 OPS, though he is currently in a 2-for-13 skid at the plate.
The deal with Minors deals
According to the "upward mobility" clauses in the Minor League contracts of catcher Devin Mesoraco, infielder Adeiny Hechavarria and Rajai Davis, the Mets technically faced a deadline on Wednesday. The team needed either to guarantee those three Opening Day roster spots, or to alert the other 29 clubs that they did not intend to make such a promise.
The Mets had little reason to guarantee anything, however, because they maintain right of final refusal on all three players. If another club calls the Mets and says it is willing to guarantee one of those players a spot, the Mets can block the move by adding him to their own roster at that time. If no team calls by Friday, the Mets can freely assign those players to Triple-A Syracuse. None of the three have straight "outs" in their contract that would allow them to refuse such an assignment.
Mesoraco is perhaps the most interesting case, given the uncertainty surrounding fellow catcher Travis d'Arnaud's health. To make the Opening Day roster and avoid extended Spring Training, d'Arnaud still must catch a full, nine-inning game, and also start consecutive games behind the plate before the end of spring. The Mets won't know by Friday if he'll succeed in that mission, giving them reason to want Mesoraco in camp.
Davis, 38, is enjoying a fine spring, with a .310 average and .905 OPS in 29 at-bats. But he has also struck out 10 times without a walk, and would likely have to make the team over either Mesoraco or J.D. Davis.
Hechavarria, 29, is batting .233 with a .673 OPS this spring. Another candidate for the Mets' backup middle infield job, Luis Guillorme, has outperformed him, but Hechavarria boasts a longer track record of success at the Major League level.
Cespedes family barbecue
For most players, Wednesday was an off day. Many planned to travel to "La Potencia Ranch" in Vero Beach, Fla., where Yoenis Cespedes was hosting his annual barbecue for players and staff. Callaway was among those planning to attend.
Up next
Five Grapefruit League games remain for the Mets, beginning Thursday against the Marlins at First Data Field. Left-hander Steven Matz will start the 1:10 p.m. ET game at First Data Field, stretching out to 90-plus pitches in what will be his longest spring tune-up.