Academy Notebook: Top Academy moments of 2020
Despite the challenges of 2020, the year was also marked by new experiences and major achievements for the athletes at the Texas Rangers MLB Youth Academy at Mercy Street Sports Complex, presented by Toyota. A few of those moments are remembered here. Dreaming Big Julian Olivo and Christopher Marcellus became
Despite the challenges of 2020, the year was also marked by new experiences and major achievements for the athletes at the Texas Rangers MLB Youth Academy at Mercy Street Sports Complex, presented by Toyota.
A few of those moments are remembered here.
Dreaming Big
Julian Olivo and Christopher Marcellus became the first Academy athletes selected to participate in the MLB/USA Baseball Dream Series, taking their talents to Tempe Diablo Stadium, the Spring Training home of the Los Angeles Angels, in Tempe, Arizona, in January.
Designed to prepare high school pitchers and catchers for the season, the Dream Series features pitching, catching and defensive workouts with former Major League players, including former Rangers pitcher Darren Oliver. Seminars and guest speakers were also featured.
Olivo graduated from Pinkston High School in 2020 and will take the field for Mountain View College. Marcellus will graduate from Sachse High School in 2022.
Elvis Andrus Donates Gear
After a tornado-ravaged Dallas in Oct. 2019, the Rangers and infielder Elvis Andrus jumped into action to help the athletes of Thomas Jefferson High School, whose school was heavily damaged.
On Jan. 20, Andrus was at the Academy to donate equipment bags, helmets, bats, gloves, catchers gear, baseballs, softballs, and more to members of the baseball and softball teams. The first base dugout on Oates Field was renamed the Elvis Andrus First Base Dugout in recognition of Andrus' generosity to the Texas Rangers Baseball Foundation and its Youth Academy on the occasion.
Immediately following the tornado, the Rangers reached out to Thomas Jefferson High School to assist its athletic program. The baseball and softball teams used the Academy's indoor facilities for off-season training and practices, and the football team completed its off-season conditioning program in the Academy's Globe Life Training Center weight room and indoor field.
Walk-off Heroics
Evan Smith stepped up to the plate in the bottom of the final inning Feb. 14 with his team trailing by one run and down to its final out. He responded with a three-run, walk-off homer to give the 12U squad from the Rangers Academy an 8-6 victory in its first game of the inaugural New Orleans MLB Youth Academy 12U Tournament.
The tournament was held at the New Orleans MLB Youth Academy in connection to the collegiate baseball Andre Dawson Classic. Participants attended Andre Dawson Classic games featuring Historically Black Colleges & Universities (HBCUs) and were recognized on the field prior to the Feb. 15 contest between Grambling State University and the University of New Orleans.
Smith's blast completed a four-run rally for the Academy's 12U squad that finished its first-ever tournament outside the metroplex by going 2-1 in pool play.
Academy Opening Day
After a three-month programming hiatus due to COVID-19 regulations, Opening Day came to the Academy on June 15, as the Texas Rangers Baseball and Softball RBI leagues got underway.
Approximately 450 high school baseball and softball players competed on the 26 RBI teams in Junior and Senior division play during the seven-week season.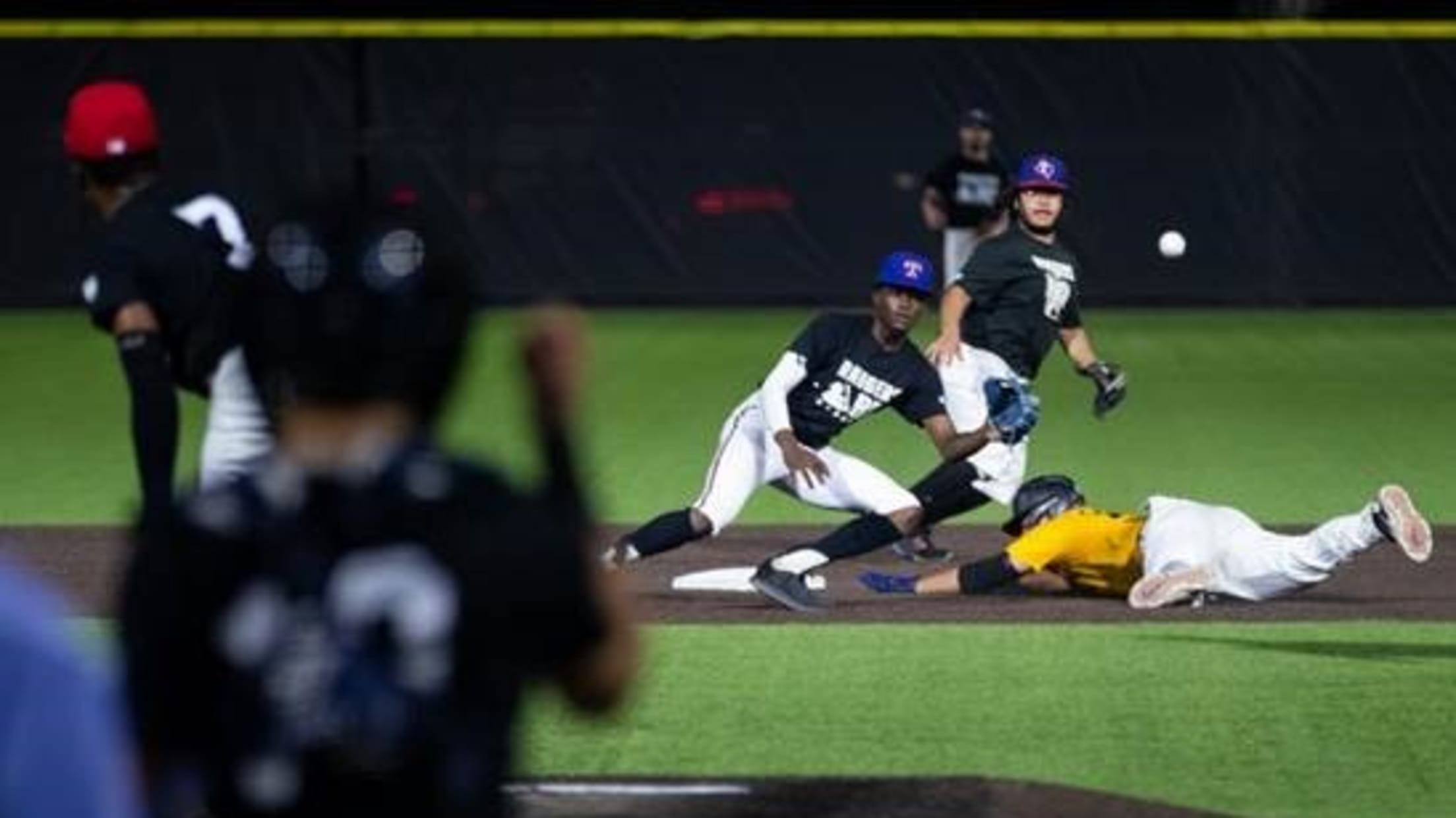 "For a number of players, they played their final high school baseball and or softball game and, in that moment, had no idea they would never step onto the field again. The RBI league is giving many of them the opportunity to have that closure and go out on their own terms," Academy Director Juan Leonel Garciga said at the time.
Academy Signing Day at Globe Life Field
Twelve Academy baseball and softball players took center stage at Globe Life Field on July 19 to symbolically sign National Letters of Intent to take their games to the collegiate level.
Academy Director Juan Leonel Garciga introduced the athletes, and the Globe Life Field video featured photos and highlight videos from their high school careers, narrated by Rangers public address announcer Chuck Morgan.
Pitching Performance
James Malone made his way to 2303 Bicker's Street in Dallas in 2020 for the Academy's RBI League after his junior season at DeSoto High School came to an abrupt ending due to COVID-19.
"Coming back out here, it's almost like you played with more drive, more intensity. You were eager every at-bat. You didn't take it for granted anymore. You really went out and gave it 110 percent every time," Malone said.
The lefty tapped into that mentality when his Eagles handed him the ball for the quarterfinals start of the RBI Wood Bat Tournament against the Hard Hitters, fanning 18 batters over seven frames of one-hit ball.
When his parents asked later what was clicking for him in the game, he was at a loss to fully explain the mentality.
"It was kind of like somewhere I had never really gone before. The greats, they always say, 'you go in, give it your all. Go in with a dog mentality.' That game, I really did that. It was like tunnel vision almost. I can't really remember how I felt. At the beginning of the game, I had that drive and it just never left."
The All-Star Experience
All-Star teams from the Rangers Academy RBI leagues Senior Division Baseball, Junior Division Baseball, and Softball Division were treated to a Big League experience at Globe Life Field in August, competing in exhibition contests scheduled in lieu of the RBI Southwest Regionals, which were canceled as a result of COVID-19.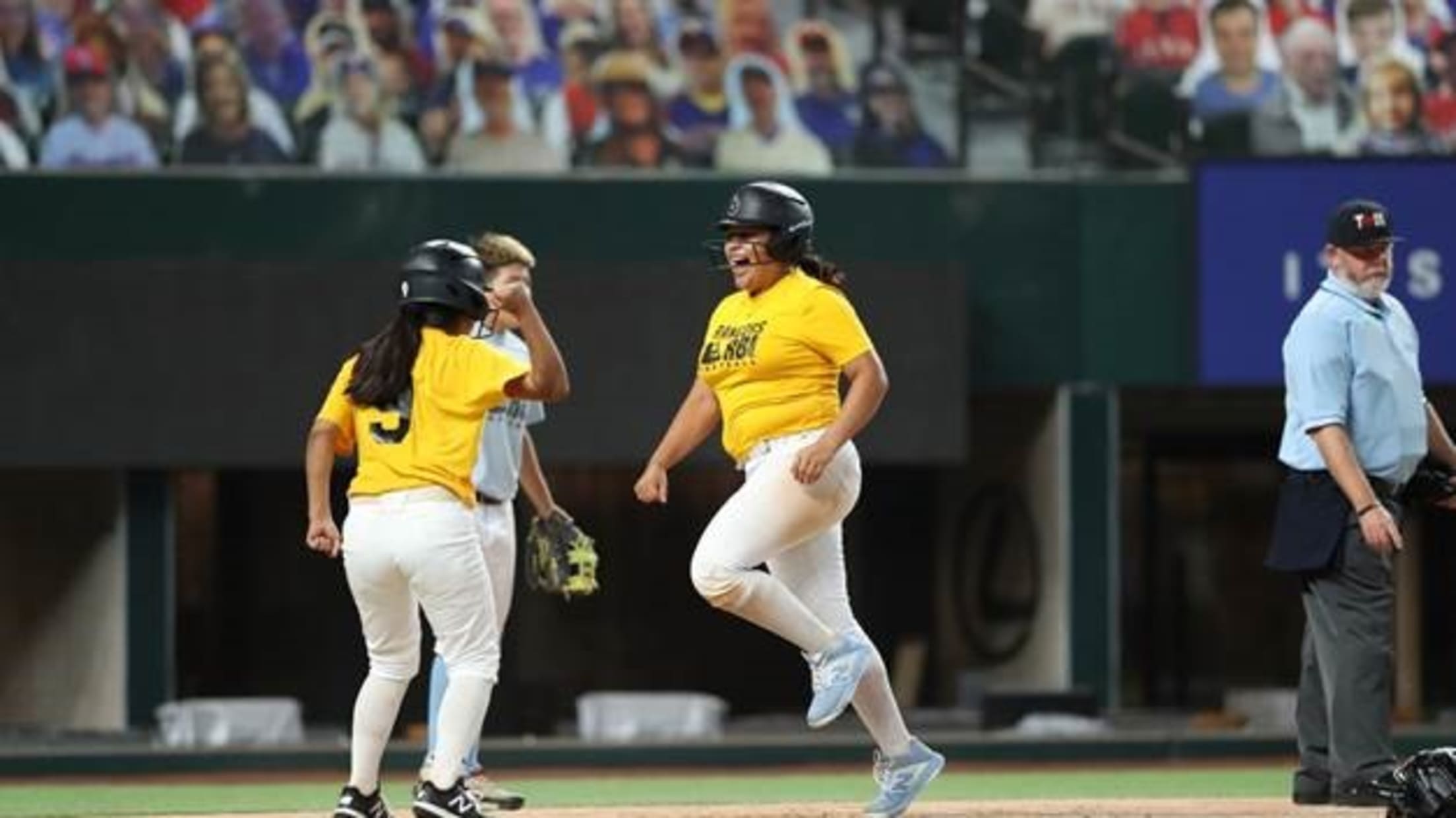 During the RBI season, athletes tried out as normal for the All-Star teams, but instead of spots being awarded to fill one team from each division, two teams were created. The softball All-Stars competed at Globe Life Field on Aug. 3, followed by the Senior Division baseball squads on August 4, and the Junior Division baseball teams on Aug. 5.
Molina High School graduate Giselle Garcia had her senior season of high school softball cut short by Coronavirus, but she was one of the Academy athletes who got to play her final softball game at Globe Life Field, thanks to the efforts of the Academy staff and support of the Rangers.
"It feels like a dream come true," Garcia said at the game. "It's something that you never thought would happen because of coronavirus. It's a dream come true because nobody else gets to say, 'I played the first softball game at Globe Life Field.' It's just so surreal."
Academy Youth of the Year
Kevin Daniel Cox was expecting a conversation about the recruiting process when he logged into a Zoom with Academy Director Juan Leonel Garciga on Dec. 28.
Instead, Rangers pitcher Taylor Hearn made a surprise appearance to tell the Skyline High School senior he'd been selected as the Texas Rangers Youth Academy Youth of the Year.
"It's amazing. I'm speechless," Cox said after receiving the news. "There's a lot of competition there and I'm just thankful to be chosen. Hard work pays off."
Normally, a Youth of the Year is chosen from each of the eight MLB Youth Academies, and honorees are rewarded with a trip to the World Series.
While that was not feasible in 2020, the Rangers didn't want to let the year pass without honoring an athlete who has been the ultimate hard worker and team player throughout the season.
Cox took home a baseball autographed by Hearn and a Rangers jersey, in addition to tickets for a 2021 game at Globe Life Field.
Winter Training Program Kicks Off Monday
The Academy's Winter Training Program is slated to begin Monday, Jan. 11 and run through Feb. 25. The weekly programming schedule by age group is listed below. All programming will run from 6:30-8:30 p.m.