COLLECTIBLE GIFTS ARE FREE WITH FULL-PRICED PAID HALL OF FAME ADMISSION ON SATURDAYS AND SUNDAYS WHILE SUPPLIES LAST. GIFTS ARE ALSO INCLUDED WITH HALL OF FAME MEMBERSHIP PACKAGES.
Visit redsmuseum.org for more details.
AVAILABLE ONLY TO MEMBERS
Member-exclusive Commemorative Pennant
MAY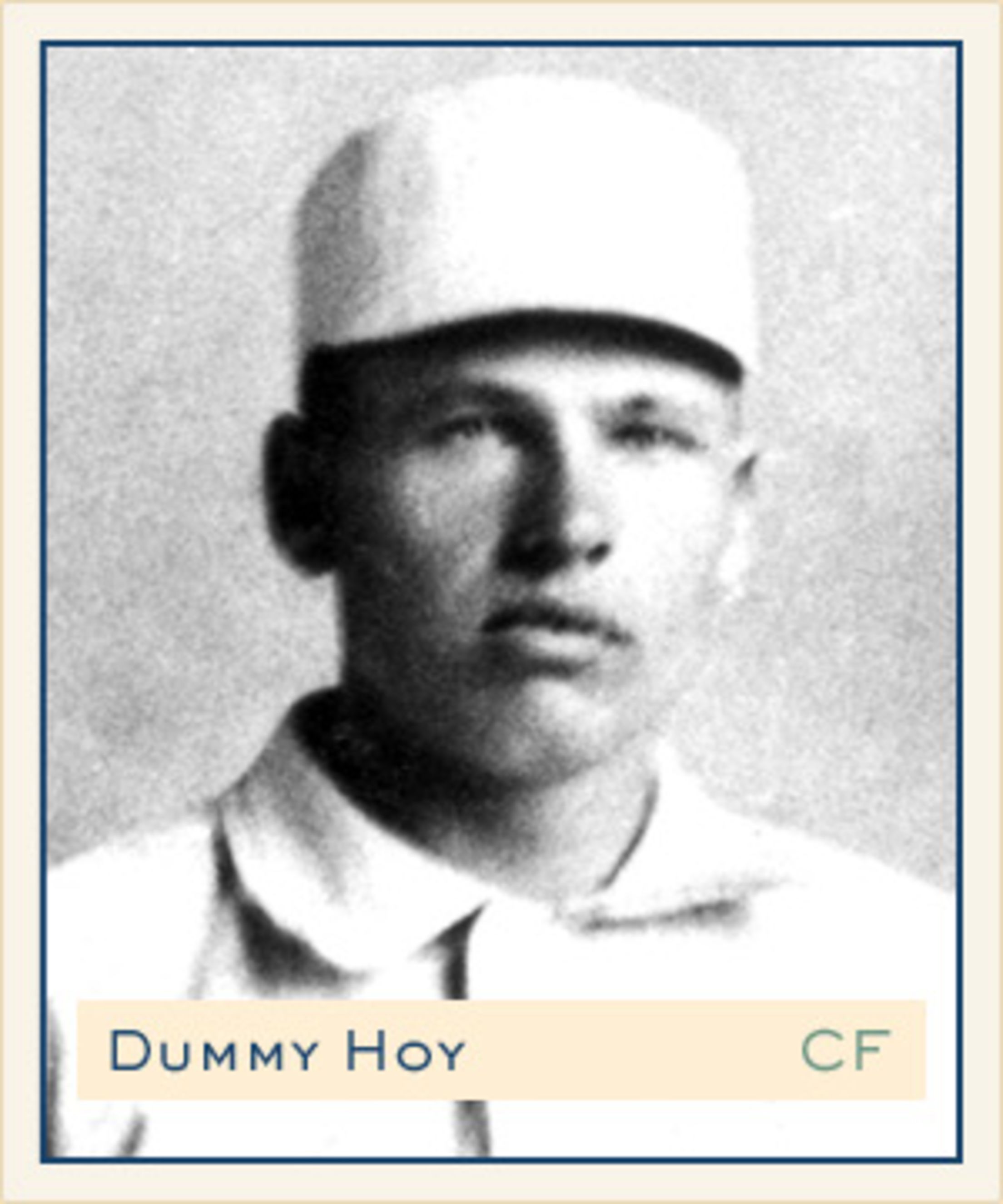 Dummy Hoy
The most celebrated deaf athlete in baseball history, and one of the most important in sports history, Dummy Hoy's long career spanned 14 seasons (1888-1899, 1901-1902), seven clubs, and four different major leagues. Hoy spent more years with the Reds than any other team, playing for Cincinnati from 1894-1897 and again in 1902.
Born in Houcktown, Ohio in 1862, William "Dummy" Hoy lost his hearing at the age of three after suffering from spinal meningitis. He discovered baseball while attending the Ohio School for the Deaf in Columbus and was quickly recognized for his speed and ability to play the outfield.
At 5'6" and 150 pounds, the diminutive Hoy began his professional career in 1886 and became a major league player in 1888. During that 1888 season, Hoy stole a then-rookie record 82 bases for Washington of the National League, one of several records he set in his first season. One of the most accomplished defensive outfielders of his era, in 1889 Hoy set a Major League record (since tied) by throwing out three runners at home plate in the same game.
Overall during his major league career, Hoy appeared in a total of 1,797 games, amassed 2,048 hits and stole 596 bases (19th most in Major League history). As a Red, he ranks fourth on the club's all-time list for career on base percentage at .392, 17th all-time in stolen bases with 176, and his .293 career batting average ranks 30th in franchise history.
Hoy's lengthy major league career and his great success as a player were significant contributing factors to the popularization of the use of hand signals throughout the game.
Upon retirement, Hoy lived on a farm near Cincinnati, and he remained a fan of the club throughout his life. At the time of his death in 1961, 99-year-old Hoy was the oldest living former major league player. He was inducted into the Reds Hall of Fame in 2003.
June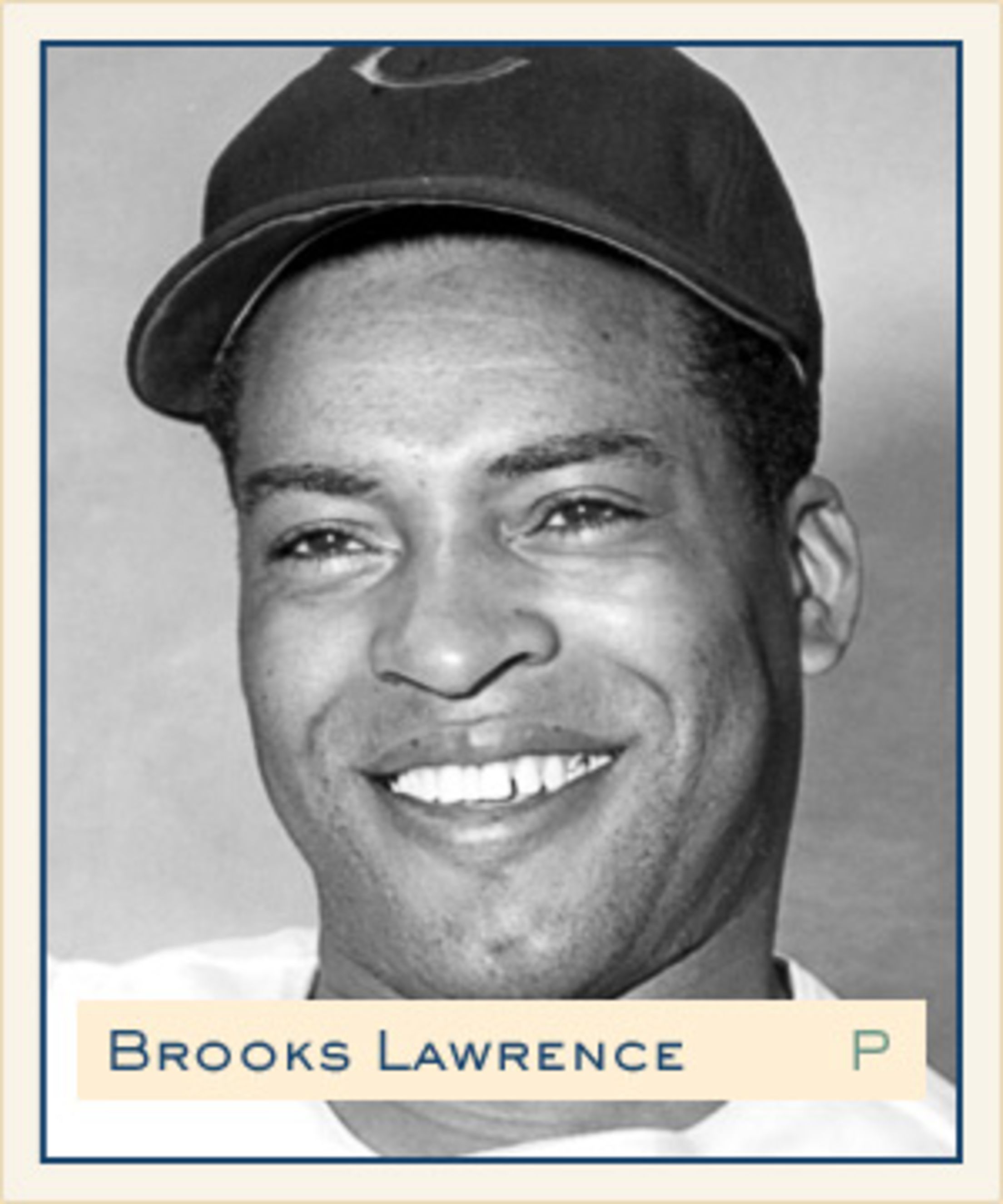 Brooks Lawrence
The pitching ace of the iconic 1956 Reds team that vied for the National League pennant until the season's final weekend, Springfield, OH, native Brooks Lawrence had enjoyed a life full of achievement before he arrived in Cincinnati prior to that unforgettable season.
One of a small number of African American students at Springfield High School, Lawrence lettered in multiple sports but was unable to display his baseball skills as the high school's team was segregated. Drafted into the Army after graduating from high school, Lawrence earned a Bronze Star for valor while serving with a segregated Army Engineers unit in Guam. After the war, Lawrence enrolled at Miami University in Oxford, OH. Lawrence had honed his pitching talents while playing with various Army teams during his years in service and was a standout on the Miami club. His skills caught the attention of major league scouts and he signed a contract with the Cleveland Indians in 1949.
After pitching in the minors the next five seasons, Lawrence was acquired by the St. Louis Cardinals and made his major league debut with that club on June 24, 1954. In just over half a season with the Cardinals, the 29-year-old Lawrence won 15 games, lost only six and posted a 3.74 ERA. The Cardinals' Opening Day starting pitcher in 1955, Lawrence's sophomore season was undone by ulcers and he was not able to replicate the success he enjoyed in his rookie season due to the condition.
Traded to the Reds on January 31, 1956, Lawrence recaptured his rookie form for a resurgent Reds team that was the franchise's first pennant contender in over a decade. Lawrence won his first 13 decisions of the season to set a franchise record. Overall, his streak of 13 straight wins is the second longest in Reds history. An All-Star in 1956, Lawrence led the team with 19 victories with an ERA of 3.99. He again led the Reds in victories in 1957, winning 16 games with a 3.52 ERA. Lawrence pitched for the Reds until 1960, retiring after that season at the age of 35.
Lawrence stayed connected to the game following his retirement, working for the Reds organization in tickets sales for several years and serving as the baseball coach at Wilmington (OH) College from 1988-1993.
Brooks Lawrence was inducted into the Reds Hall of Fame in 1976. He was the first African American to be so honored. He passed away in his native Springfield on April 27, 2000 at the age of 75.
July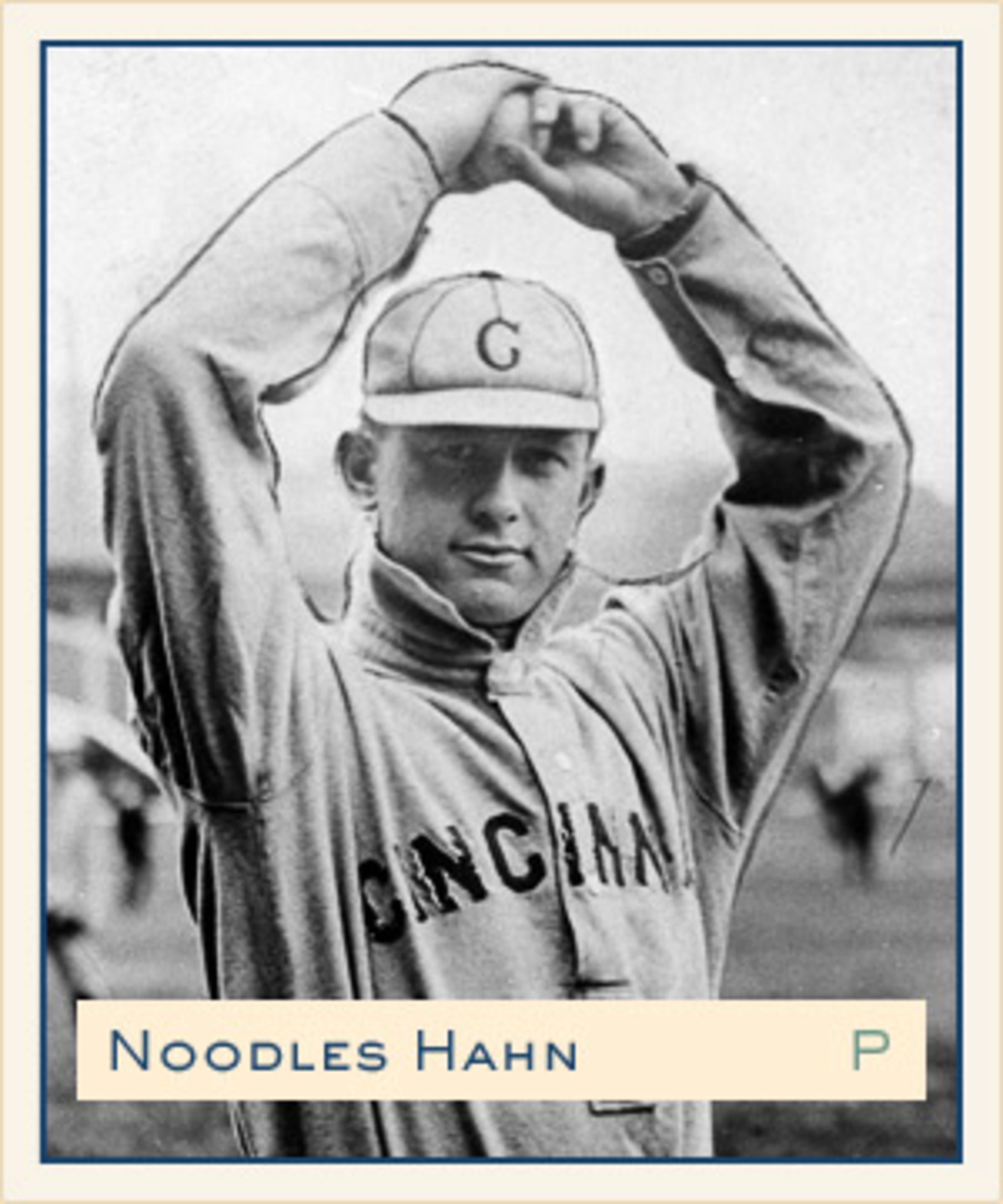 Frank "Noodles" Hahn
Frank "Noodles" Hahn made quite splash in his debut season with the Reds in 1899, posting a 23-8 record with a league-best 145 strikeouts and top-ten finishes in almost every other major statistical category. The 1899 season proved to be a taste of things to come, as Hahn dazzled National League hitters for most of the next five seasons. An exceptionally hard thrower, Hahn repeated his strikeout title in 1900 and 1901. As durable as he was fast, Hahn averaged more than 300 IP per season from 1899 to 1904, and he completed 204 of his 217 starts during the same period. His no-hitter in 1900 was the first for a Reds pitcher in the 20th century.
Hahn's finest season was 1901. Pitching for a Reds club that won only 52 games, Hahn was credited with 22 victories -- 42% of the team's total. Hahn also led the league in strikeouts, complete games, innings pitched and shutouts.
Commonly called the finest left-handed pitcher in the game, Hahn's star was destined to burn briefly. A slight 160 pounds on his 5'9" frame, the number of innings that Hahn pitched from the beginning of his career took a heavy toll. By the end of the 1904 season, Hahn's reliable arm began to fail him, and after pitching sparingly in 1905 and 1906, he was forced to walk away from the game.
Hahn remained in his adopted hometown of Cincinnati until almost the end of his life, pitching batting practice for the Reds in his spare time into his late 60s. "Noodles" Hahn died in 1960. He was posthumously inducted into the Reds Hall of Fame in 1963.
August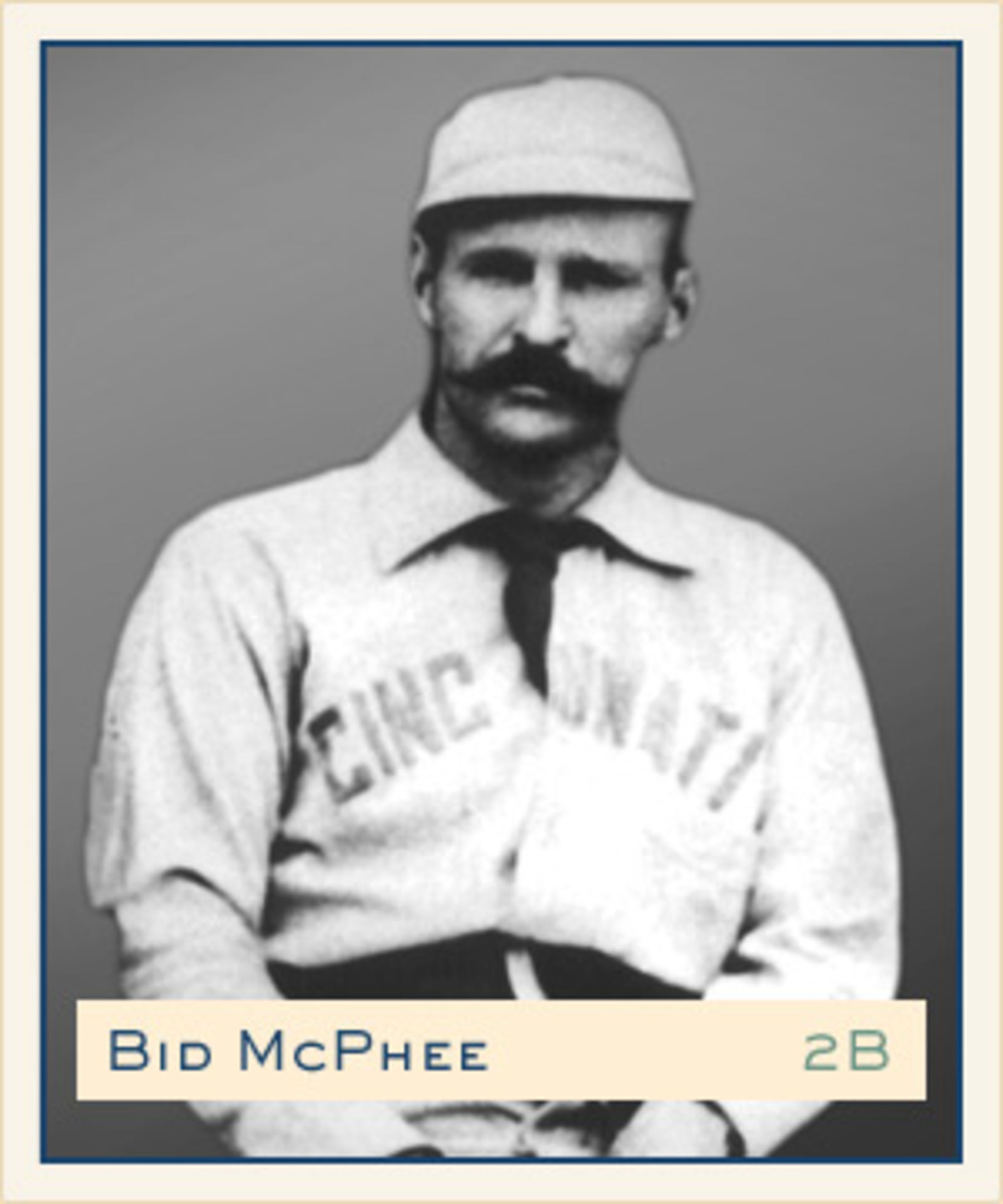 Bid McPhee
The 1882 season not only marked the first pennant for the Reds franchise but also the start of one of the most illustrious careers of any player to wear a Reds uniform -- that of John Alexander "Bid" McPhee. Upon his retirement after the 1899 season, McPhee ranked first in nearly every statistical category in the Reds' record book, establishing career totals that would stand for more than half a century.
McPhee led his league (the Reds moved from the American Association to the National League in 1890) in fielding percentage nine times (never finishing lower than third in any of his 18 seasons); putouts, eight times; and assists, six times. At the plate, he was also among league leaders in walks, stolen bases and triples multiple times.
McPhee's defensive prowess is even more impressive considering that, as his career progressed, more and more of his contemporaries adopted the use of gloves. McPhee remained steadfastly "gloveless" until his career was almost at an end. It was for this feat more than any other that McPhee was remembered -until the National Baseball Hall of Fame's Veterans Committee selected McPhee for Hall of Fame induction in 2000. McPhee joined the Reds Hall of Fame in 2002, two years after the selection process was broadened to include players who played the majority of their careers in the 19th century.
McPhee remained a passionate supporter of the Reds throughout his retirement years. In letters to friends and family written by McPhee in 1940, he never failed to mention his close monitoring of the Reds' progress during that championship season from his home in California. He died in 1943 in San Diego at the age of 84 -- a Reds fan until the end.
September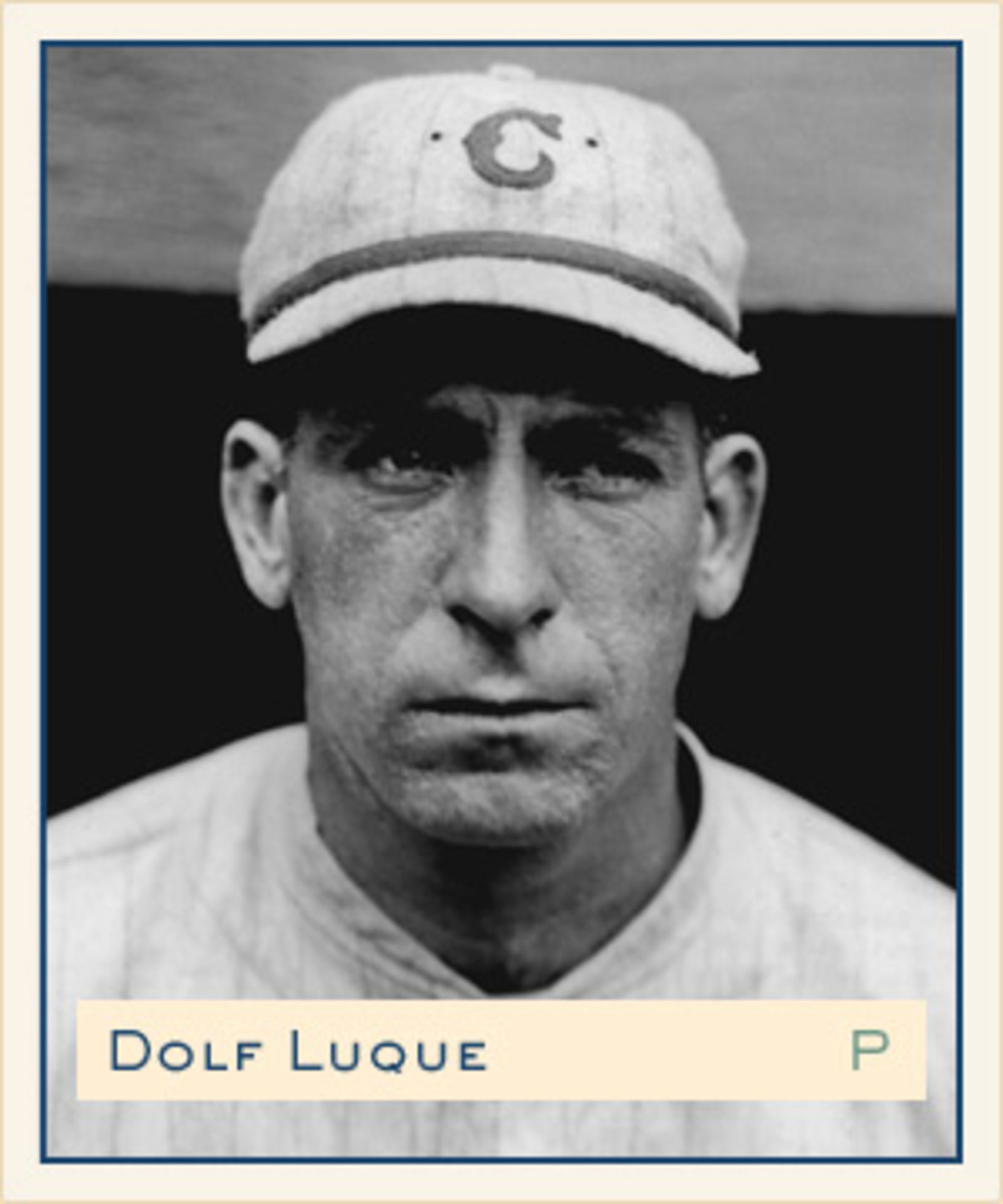 Dolf Luque
A member of the Reds' first World Series champion team in 1919, Dolf Luque was quite a trailblazer during his 20-year big-league career. The Cuban native was the first Latin to pitch in a World Series, win 20 games in a season, win 100 games in a career and lead either the American or National leagues in wins, winning percentage, and ERA in a season. His 1923 season is arguably the greatest single season for a pitcher in Reds history, as he led the NL with a club record 27 wins and posted a league-best 1.93 ERA. Luque was inducted into the Cuban Baseball Hall of Fame in 1958 and was the first Latin player to be enshrined in the Reds Hall of Fame.