Help make your favorite player a meme for all eternity with a vote in the All-Star Game ballot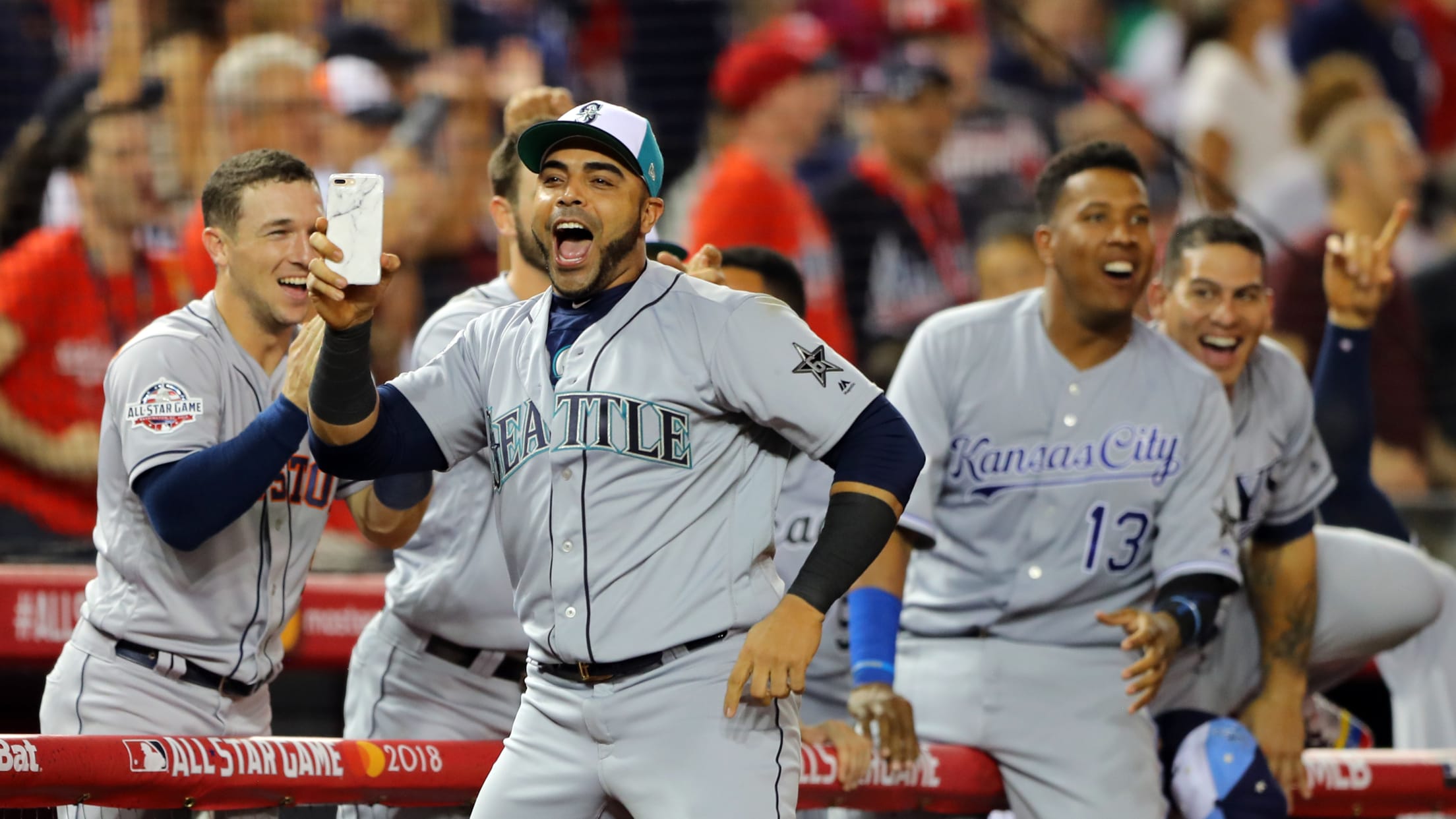 Big players make big plays in big games. They're the kind of things that live on forever: David Ortiz's grand slam in the 2013 ALCS. Jose Bautista's ALDS bat-flip. Madison Bumgarner's entire postseason oeuvre. But while these are all memorable moments, they're also extremely intense -- the very best baseball players doing incredible things to win baseball games.
If you're looking for a bunch of very famous people goofing off and ragging on each other, you need to look to the All-Star Game, when the very best players come together for a night of bragging rights and endless fun. It's like the biggest, brightest, most athletic version of "The Oscars."
Where else could a star like Nelson Cruz -- who has hit more homers than any one else in the league since 2014 -- take a second to snap a quick pic at home plate? Take that, Ellen.
Or, how about when Torii Hunter robbed Barry Bonds of a home run, so Bonds picked him up and carried him around like the slugger was a literal giant and not a Giants player?
You wouldn't see that in a regular season game. I think if you did, there would be mayhem. I'm not sure what kind of mayhem, but there would be some.
At the All-Star Game, though, that's par for the course. A break from the intensity of the season allows players -- these highly competitive freaks of nature, who will do anything and everything to win -- to relax a little. They have fun. They laugh with their old friends and foes. And thanks to all the eyes on them, it allows these little moments to blow up and become something endlessly repeatable. They join the collective unconscious and leap into the meme pool.
So, with the All-Star Game Starters election in full swing until 4 p.m. ET on Thursday, (click here to vote), now's your time to choose the cast of characters who will make the next round of GIFs and Photoshop jobs that you won't be able to escape for months.
Nelson Cruz is up for the American League D.H. spot. Not only has he taken a photo on the field, but last year he made sure to film Jean Segura's home run from the dugout, giving everyone a view we can rarely see:
.@ncboomstick23 is all of us.

😂😂😂#TrueToTheBlue x #AllStarGame pic.twitter.com/WRtOahdjul

— Seattle Mariners (@Mariners) July 18, 2018
His competition is fierce, though. It includes Hunter Pence, who's always a candidate to do something truly unexpected. After all, he already has a Know Your Meme page for fans showing up at the ballpark with signs for him. At his last Giants game, he rode around the field on a scooter -- reminding fans of the time he led a manhunt around the city for his stolen one. Who knows what he might do at the All-Star Game?
The Cubs' Javier Báez is in the final vote at second base for the National League. Báez is a human sparkplug, whose slap tags and slides tend to defy belief. His enthusiasm for the game has extended to his body art: He has the MLB logo tattooed on the back of his neck.
Tag THEN celebrate?

Way too basic for @Javy23Baez. #WBC2017 pic.twitter.com/d0o3t60EIJ

— MLB (@MLB) March 15, 2017
Ronald Acuña Jr. and Ozzie Albies are endlessly endearing young stars who have helped the Braves race out to first place in the NL East. They're also best friends, either warmly embracing each other or goofing on each other at any given moment. If both are on the field at the All-Star Game, who knows what the cameras might be able to capture?
Friendship goals. 😂 #SundayNightBaseball pic.twitter.com/LgFRxM3PEx

— MLB (@MLB) April 15, 2019
Perhaps Mookie Betts will be mic'd up and we'll learn more about his child's diaper habits, or if he "ain't gonna get that one, boys."
Joey Gallo is known as much for his massive dingers as for his love of the camera.
Charlie Blackmon is ... well, he's sure to do something memorable.
Something -- and more likely multiple somethings -- are going to happen that will live on in our memory. It's up to you, yes, you, to decide just who the players in this hilarious play are going to be. Go do it.
Michael Clair writes about baseball for Cut4. He believes stirrup socks are an integral part of every formal outfit and Adam Dunn's pitching performance was baseball's greatest moment.