The red-hot Mets are so irresistible that even Yankees fans are cheering them on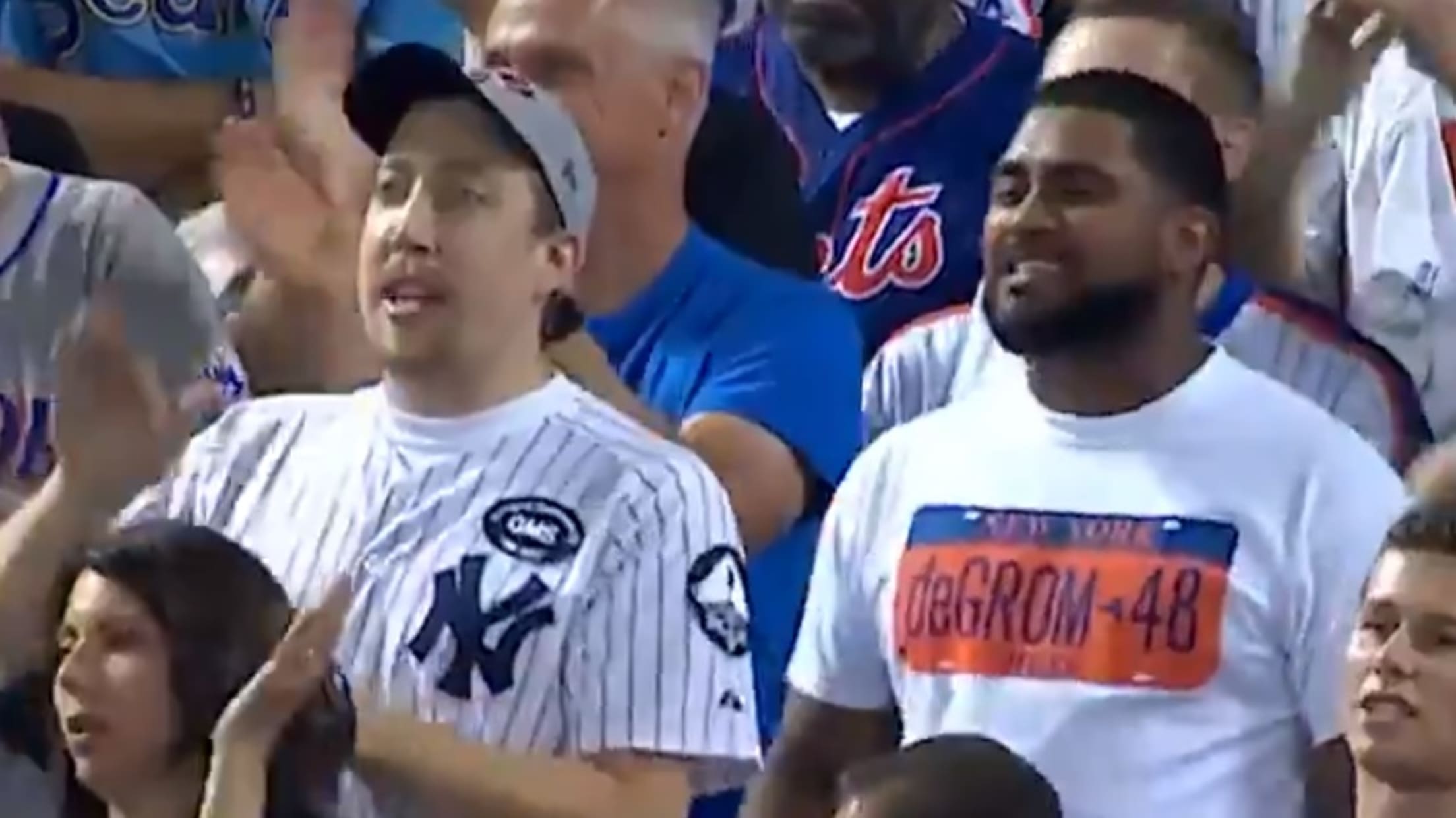 For the better part of the Mets' entire existence, Yankees fans have felt quite comfortable assuming the big brother role in their intracity rivalry. While the Yankees tend to drive Mets fans crazy with their success, the Bronx supporters generally seem more bemused by the Mets than anything else. They always have the 2000 Subway Series victory and the Luis Castillo Game to fall back on, anyway.
The 2019 season might be changing that stance. The Mets have come roaring back from near-oblivion into the heart of the Wild Card race (and more, if Pete Alonso has anything to say about it). Between Alonso's formidable power and the superb performance of the starting rotation, they've looked as dangerous in August as they did during their run to the 2015 NL pennant.
The Mets hosted the Nationals on Friday, and cameras in the stands caught a most peculiar sight -- a Yankees fan cheering "Let's go, Mets" right alongside a Mets fan:
Let's Go WHO?! pic.twitter.com/WFMFNIK6NT

— Cut4 (@Cut4) August 10, 2019
I know what you're thinking. This does not compute. Why on earth does this Yankees fan seem as enthustiastic about the Mets as the biggest Keith Hernandez diehard?
Maybe he's feeling some self-doubt. Sure, the Yankees just ripped off a nine-game winning streak and look like they're running away with the AL East, but hey -- that run was snapped by the Blue Jays on Friday. The Yankees never held the lead, and this guy was surely watching the out-of-town scoreboard.
Perhaps questions are bubbling up in his mind about the club's shaky rotation and how long their role players can keep stepping up. Can they really get past the Astros or Dodgers? And wouldn't it be more fun to cheer for a perpetual underdog rather than a team whose season is often considered an abject failure if they don't win the World Series? It has to be tempting.
Regardless, it'd be tough to avoid getting caught up in the wave of pure energy that's been emanating from Citi Field, especially on Friday night. Long Island native Marcus Stroman was electric in his home debut.
The Mets stayed in the game and mounted a stirring rally off normally reliable Nationals closer Sean Doolittle.
Playing a pivotal role was former Yankees third baseman Todd Frazier, who might have helped win that fan over to the Mets' side a little bit more, with both his familiarity and clutch performance.
By the time the Mets players were ripping off Michael Conforto's jersey in the wake of his walk-off single, there's a decent chance that this fan was already singing the praises of Flushing's finest.
Maybe former pitcher Phil Hughes is right. There's room for all the thrilling teams in your heart, conflicted Yankees fan, even if they play in Queens.
You just have to open it up.
There's already too much division in our society. Let's bring people together. Yankees, Mets, Jets, Giants, Knicks, Nets, Rangers, Islanders, Devils. Cheer for them all pic.twitter.com/DqeFLPanAt

— Phil Hughes (@PJHughes45) August 10, 2019
Andrew Mearns is a writer for Cut4 whose baseball obsession was born from the shattered dreams of Mike Mussina's perfect game attempt in 2001. He has a startling memory of World Series highlights that barely functions as a party trick.
Teams in this article:
Topics in this article: