10 biggest trades in Red Sox history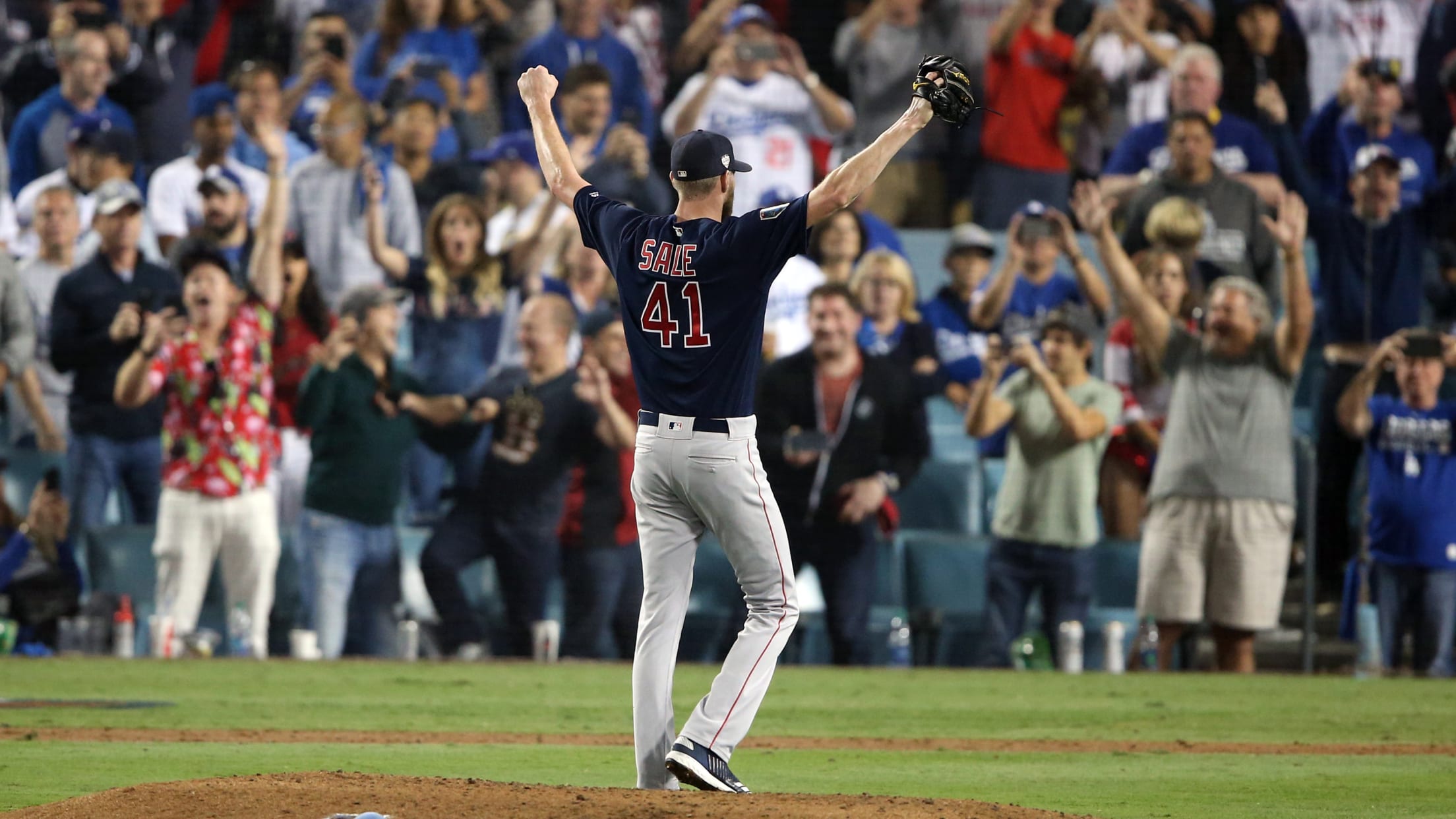 BOSTON -- Few teams in baseball history have had as many impactful trades as the Red Sox, who helped set up their recent golden era of World Series championships with their wheeling and dealing ways. Pedro Martinez, Curt Schilling, Chris Sale and Josh Beckett are some of the championship aces
BOSTON -- Few teams in baseball history have had as many impactful trades as the Red Sox, who helped set up their recent golden era of World Series championships with their wheeling and dealing ways.
Pedro Martinez, Curt Schilling, Chris Sale and Josh Beckett are some of the championship aces who came to Boston in trades. The Red Sox also dealt legends like Nomar Garciaparra and Manny Ramirez for varying reasons.
Without further ado, here is a look at the top 10 trades in Red Sox history.
1. Pedro for prospects
Red Sox got from Expos: RHP Pedro Martinez
Red Sox gave up: RHP Carl Pavano, RHP Tony Armas Jr.
Date: Nov. 18, 1997
The 1997 season was a disappointing one for the Red Sox, in large part because the team didn't replace departed free agent Roger Clemens in the starting rotation. But that all changed when general manager Dan Duquette set up an immediate and long-term rejuvenation when he acquired Martinez -- just 26 at the time -- for a pair of pitching prospects. Martinez had just experienced a breakout season with the Expos in '97, winning the first of his three career Cy Young Awards. In Boston, Martinez went on a seven-year run in which he established himself as one of the best pitchers of all time, going 117-37 with a 2.52 ERA. Martinez's final start with the Red Sox was a sterling performance in Game 3 of the 2004 World Series against the Cardinals. Pavano went on to have 108 wins in his career and Armas won 53. The deal was a monumental victory for the Red Sox.
2. Varitek, Lowe stolen for Slocumb
Red Sox got from Mariners: C Jason Varitek, RHP Derek Lowe
Red Sox gave up: RHP Heathcliff Slocumb
Date: July 31, 1997
A few months before he got Martinez, Duquette made what proved to be a brilliant move when he capitalized on Seattle's desperate need for help in the bullpen by dangling a mediocre closer in Slocumb for two prospects. In short order, those prospects became pivotal Red Sox contributors. Varitek emerged as the starting catcher and later the captain for World Series championship teams in 2004 and '07. Lowe was a swingman who made an All-Star team as a closer and another as a starter, and he was the winning pitcher in all three clinching games in the magical '04 postseason. Slocumb pitched just 84 games over two seasons in Seattle, going 2-9 with a 4.97 ERA.
3. Big Schill to Boston
Red Sox got from D-backs: RHP Curt Schilling
Red Sox gave up: LHP Casey Fossum, RHP Brandon Lyon, LHP Jorge De La Rosa and OF Mike Goss
Date: Nov. 28, 2003
In yet another trade that helped pave the way for the epic championship of 2004, Theo Epstein spent his entire Thanksgiving week finalizing a trade for Schilling that sent a jolt of excitement through Red Sox Nation. Boston had to finalize a contract extension for Schilling before he agreed to waive his no-trade clause. It came down to the wire, but Epstein got the job done. So, too, did Schilling, who won 21 games in 2004 and also helped fuel Boston to a second championship in '07. After teaming with Randy Johnson to slay the Yankees in the '01 World Series, Schilling brought instant bravado and credibility with him to Boston.
4. Sale changes Sox
Red Sox got from White Sox: LHP Chris Sale
Red Sox gave up: 2B Yoan Moncada, RHP Michael Kopech, OF Luis Alexander Basabe and RHP Victor Diaz
Date: Dec. 6, 2016
Red Sox president of baseball operations Dave Dombrowski had already made a huge investment in terms of dollars ($217 million) to get David Price a year earlier. This time, Dombrowski traded a big haul of prospects to the White Sox to get another ace at the height of his powers. The move showed immediate dividends as Sale became the second pitcher in Red Sox history to strike out 300 batters in a season in 2017 while finishing second in the American League's Cy Young Award voting. In '18, Sale came out of the bullpen in the ninth inning to throw the pitch that clinched the World Series, striking out Manny Machado at Dodger Stadium.
5. Beckett and more than a throw-in
Red Sox got from Marlins: RHP Josh Beckett, 3B Mike Lowell and RHP Guillermo Mota
Red Sox gave up: SS Hanley Ramirez, RHP Anibal Sanchez, RHP Harvey Garcia and RHP Jesus Delgado
Date: Nov. 24, 2005
In a classic example of one team wanting to win immediately and another trying to rebuild, the Red Sox and Marlins executed a blockbuster that was beneficial for both teams. Beckett was a centerpiece of the trade from Boston's standpoint, and many viewed Lowell as a throw-in the Marlins were trying to get rid of after the third baseman had the worst offensive season of his career in 2005. But Lowell turned out to be much more than a throw-in, emerging as the Most Valuable Player of the '07 World Series, in which the Red Sox swept the Rockies, 4-0. Beckett was MVP of the American League Championship Series, when the Sox came storming back from a 3-1 series deficit to topple the Indians. The Red Sox don't win the 2007 World Series without this trade. Ramirez went on to become a star for the Marlins, and Sanchez also developed into a quality starting pitcher.
6. Franchise icon Nomar dealt for Cabrera
Red Sox got from Expos: SS Orlando Cabrera
Red Sox got from Twins: 1B Doug Mientkiewicz
Red Sox gave up to Cubs: SS Nomar Garciaparra, OF Matt Murton
Date: July 31, 2004
There was a time when Red Sox fans thought Garciaparra was the next Ted Williams. And who could have blamed them when the star shortstop hit .357 in 1999 and .372 in 2000 to win back-to-back batting titles, all while hitting for power and making spectacular plays on defense? But by '04, Garciaparra was injury prone and also upset that the Red Sox nearly traded him to the White Sox the previous offseason to make way for the potential acquisition of Alex Rodriguez. The reason Epstein traded Garciaparra is that he felt the team's infield defense was a "fatal flaw." So the Sox got two plus defenders in Cabrera and Mientkiewicz, and Boston went on to win the '04 World Series without Gariaparra, who had been critical to the team's rejuvenation from 1998-2003.
7. Cherington sets up '13 title, unloads salary
Red Sox got from Dodgers: 1B James Loney, RHP Carl Webster, RHP Rubby De La Rosa, INF Ivan DeJesus and OF Jerry Sands
Red Sox gave up: 1B Adrian Gonzalez, RHP Josh Beckett, OF Carl Crawford and INF Nick Punto
Date: Aug. 25, 2012
This trade was never about what the Red Sox got, but rather that they were able to unload $258 million of salary at a time Beckett was worn out by the Boston experience and Crawford was recovering from Tommy John surgery. Gonzalez, especially from a chemistry standpoint, also didn't become the fit in Boston the Red Sox had expected when they traded for him in December 2010. What this trade did was open up the flexibility for Ben Cherington to sign several free agents (Shane Victorino, Mike Napoli, Jonny Gomes, David Ross, Koji Uehara and Ryan Dempster) who would help the team win the World Series in '13.
8. Baylor for Easler in rare rivalry trade
Red Sox got from Yankees: DH Don Baylor
Red Sox gave up: DH Mike Easler
Date: March 28, 1986
General manager Lou Gorman helped set up a pennant and almost a World Series championship when he made this surprising trade with the Yankees on Good Friday. It wound up being a good Friday indeed, as Baylor was just the clubhouse presence the Red Sox needed to win their first division title in 11 years. The designated hitter set up a kangaroo court, made everyone accountable and changed the "25-player, 25-cab" reputation the Red Sox had for several years prior. Baylor also clubbed 31 homers and drove in 94 runs, hitting behind Jim Rice and in front of Dwight Evans.
9. Disenchanted Manny shipped out for Bay
Red Sox got from Pirates: OF Jason Bay
Red Sox gave up to Dodgers: OF Manny RamirezRed Sox gave up to Pirates: RHP Craig Hansen, OF Brandon Moss
Date: July 31, 2008
Ramirez spent the first half of the 2008 season obsessed with his contract and acted out in several unsavory ways, including a dugout fight with teammate Kevin Youkilis and a shove of traveling secretary Jack McCormick. It was clear Ramirez needed to go, and Epstein made yet another one of his buzzer-beating blockbusters, getting a run-producer to replace Ramirez in the form of Bay. Luckily for the Red Sox, Bay got hot immediately after joining the team and also fit in perfectly in the clubhouse. In large part thanks to Bay, the Red Sox made it to Game 7 of the ALCS before losing to the Rays. Ramirez's Dodgers also lost in the NLCS. Bay helped the Red Sox get back to the playoffs with a big season in '09 before he left for the Mets as a free agent.
10. Eck of a deal
Red Sox got from Indians: RHP Dennis Eckersley, C Fred Kendall
Red Sox gave up: RHP Rick Wise, RHP Mike Paxton, C Bo Diaz, INF/OF Ted Cox
Date: March 30, 1978
The Red Sox helped set up their 99-win juggernaut in 1978 by acquiring Eckersley, a promising righty who would turn into an ace, from the Indians. At the time of the deal, he was just 23. Eckersley broke out in '78, going 20-8 for a team that finished the regular season in a tie with the Yankees for first place in the AL East. In '79, Eckersley was again in top form, winning 17 games. "Eck" made 192 starts for the Sox with a 88-71 record. In 1984, he was traded to the Cubs for Bill Buckner.