Revisiting Braves' 1995 WS club: May edition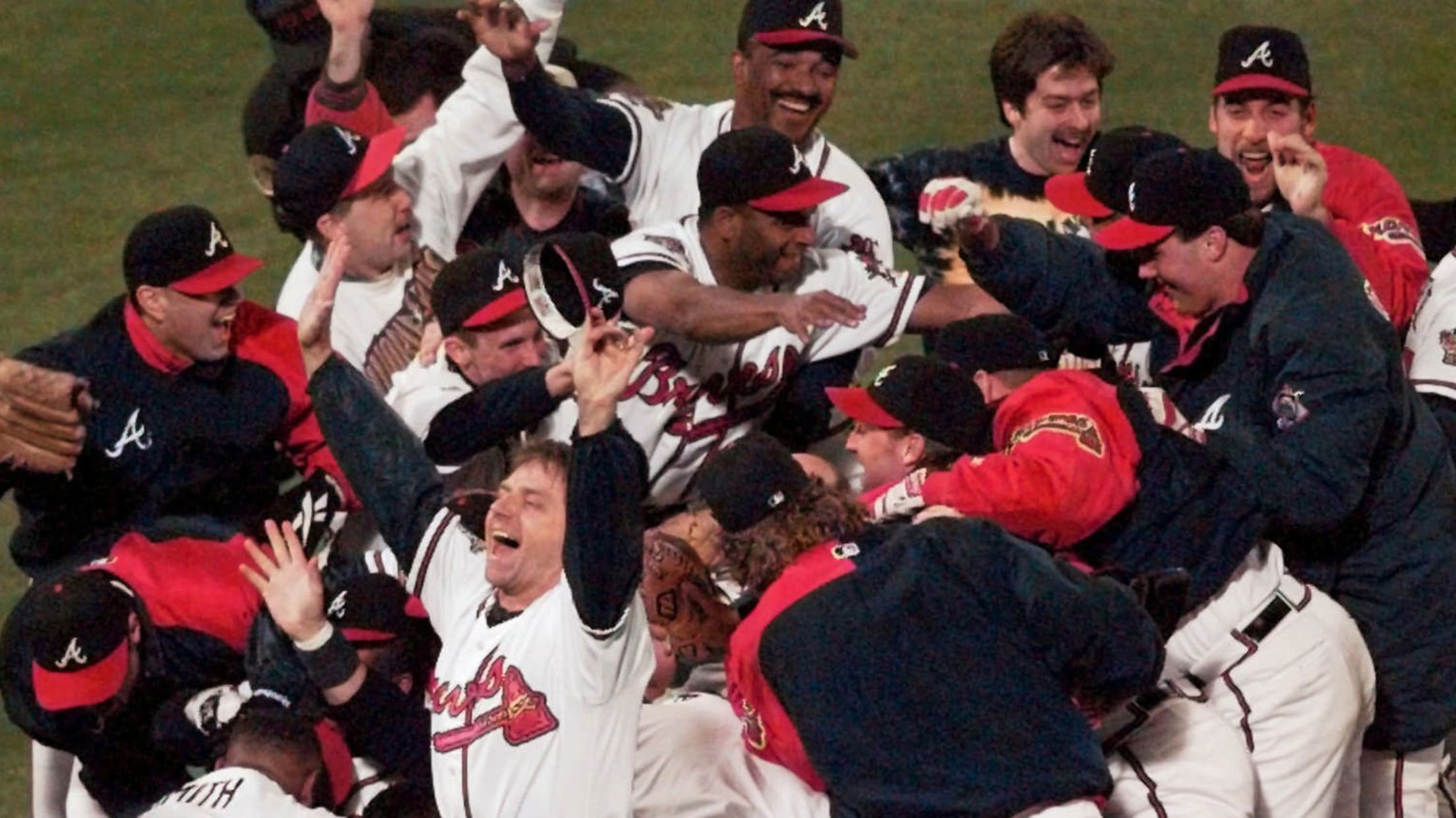 ATLANTA -- Throughout this year, we will recognize the 25th anniversary of Atlanta's only World Series title by providing monthly recaps of how the 1995 Braves fared. The strike-shortened season did not begin until April 26, so this is the first of these recaps, which will be published at the
ATLANTA -- Throughout this year, we will recognize the 25th anniversary of Atlanta's only World Series title by providing monthly recaps of how the 1995 Braves fared. The strike-shortened season did not begin until April 26, so this is the first of these recaps, which will be published at the end of each of the next five months.
The 1995 Braves went 90-54 during this 144-game season. They won their fourth division title in five seasons, but this was the first captured after being moved from the National League West to the NL East.
After eliminating the Rockies in the NL Division Series, the Braves swept the Reds in the NL Championship Series and then beat the Indians in the World Series.
Here's where the Braves stood on May 31, 1995
Record: 20-13
The Braves exited the season's first full month on pace to record 101 wins based on a 162-game season. Their 144-game pace targeted them for 87 wins, which was three shy of their final total.
NL East race: Second place, 3 1/2 games behind Phillies
Still, even at this point, there was reason to expect the Braves may end up at the top of the standings. They exited May with the NL's best run differential and their Pythagorean winning percentage (.625) was higher than their actual winning percentage (.606).
Streaks and the walk-off trend
After winning seven of their first eight games, the Braves were swept by the Phillies during a four-game series in Atlanta.
The Braves erased 1 1/2 games from the Phillies' lead while winning six straight from May 18-24. This stretch was highlighted with back-to-back walk-off wins against the Marlins.
The Braves ended this abbreviated season with a franchise-high 13 walk-off wins (a total matched in 1971, '75 and 2010). They had 44 home victories, which means that nearly a third of the wins claimed at Atlanta-Fulton County Stadium that year concluded in walk-off fashion.
May 19, 1995
Braves 4, Marlins 0
After holding the Marlins scoreless in the top of the ninth, Steve Avery headed to the dugout wondering if he would be awarded a no-decision or a shutout victory. He got his answer when Dwight Smith strolled to the plate with two outs and drilled a grand slam off the Marlins' Richie Lewis -- one of 13 walk-off grand slams hit by a Braves player. Hank Aaron (July 12) and his brother Tommie Aaron (Aug. 4) accounted for two of those within less than a month in 1962.
May 20, 1995
Braves 8, Marlins 7
One day later, Chipper Jones hit the first walk-off homer of his career. The rookie third baseman's solo shot off Robb Nen sealed another thrilling win over the Marlins. Jones hit a franchise-record nine walk-off home runs during his Hall of Fame career, which extended through 2012. Hank Aaron hit eight walk-off homers and Eddie Mathews tallied seven during their Braves careers.
Early standouts
Jones exited May with a team-leading seven home runs, which he would hit within 60 at-bats from May 9-26. His first career homer was a go-ahead ninth-inning blast against Josias Manzanillo on May 9 at Shea Stadium in his 47th at-bat of the season.
Greg Maddux entered June with an NL-best 2.37 ERA. The Mets' Bobby J. Jones ranked second with a 2.38 ERA and Atlanta's John Smoltz was third with a 3.35 ERA. Yet, it was actually the roughest stretch of the season for Maddux. He would post a 1.40 ERA over his 21 remaining starts and win his fourth consecutive NL Cy Young Award.
Mark Bowman has covered the Braves for MLB.com since 2001.