2016 Jackie Robinson MVDBP Award recipients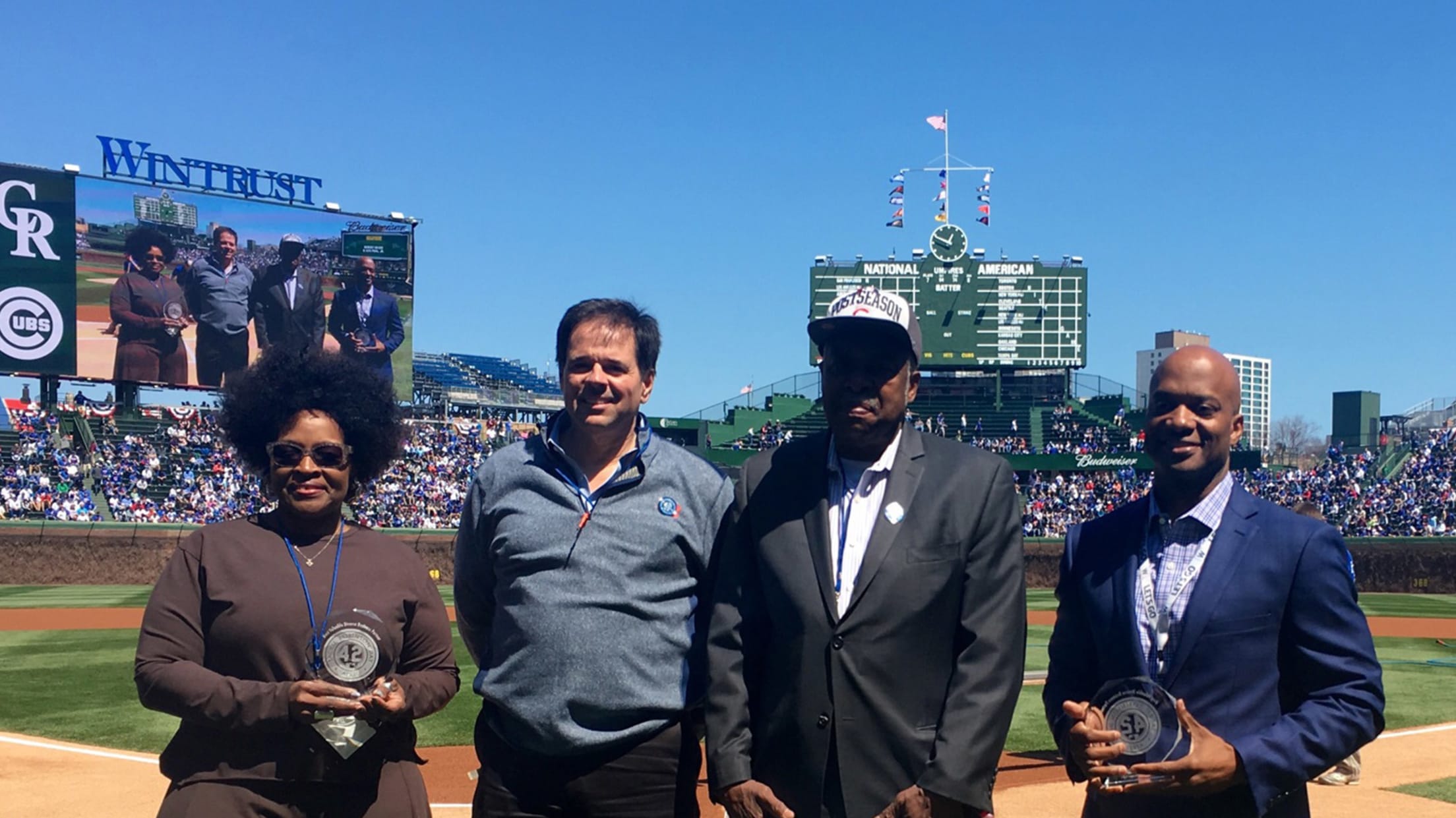 The Cubs are proud to announce II in One Contractors, Inc. and A.L.L. Masonry Construction Co., Inc. were named the team's recipients of Major League Baseball's 10th Annual Jackie Robinson Most Valuable Diverse Business Partner (MVDBP) Award. In recognition of the extraordinary contributions of Jackie Robinson, the MVDBP Award recognizes
The Cubs are proud to announce II in One Contractors, Inc. and A.L.L. Masonry Construction Co., Inc. were named the team's recipients of Major League Baseball's 10th Annual Jackie Robinson Most Valuable Diverse Business Partner (MVDBP) Award. In recognition of the extraordinary contributions of Jackie Robinson, the MVDBP Award recognizes diverse business partners who reflect his character and commitment to excellence and continue to break barriers. The Cubs recognized these two exemplary businesses during the 2016 Jackie Robinson Day celebration at Wrigley Field Friday, April 15. Accepting the awards were II in One Contractors' President Robert J. McGee Jr. and A.L.L. Masonry Construction Co., Inc.'s President Luis Puig. Both diverse firms won competitive bids as contractors on the 1060 Project and executed outstanding work this offseason.
II in One Contractors, Inc. is a minority-owned general contractor based in Chicago that specializes in concrete, steel and other heavy and civil engineering construction work. The firm performed preliminary work to facilitate the construction of the foundation walls for the new office building adjacent to the ballpark, including rebar, framing and concrete placement.
"To be associated in the same sentence as Jackie Robinson who was at the forefront of minorities being engaged in America's pastime is a privilege," said Robert J. McGee Jr., president, II in One Contractors, Inc. "I'm thankful for the opportunity to work with the Cubs and for the recognition."
A.L.L. Masonry Construction Co., Inc. is a Chicago-based commercial contractor specializing in masonry work. The firm conducted masonry work on the new office building and portions of the ballpark.
The Cubs are committed to creating a diverse and inclusive workforce and providing opportunities for minority- and women-owned businesses throughout the life of the 1060 Project. Since 2014, Chicago-based management consulting firm Target Group have served as the Cubs' diversity consultant on the 1060 Project and have been tasked with developing, implementing and monitoring the project's diversity and inclusion program in cooperation with Pepper Construction and ICON Venue Group.