Which league holds the All-Star advantage?
AL has won five straight, but NL holds 101-85 Interleague edge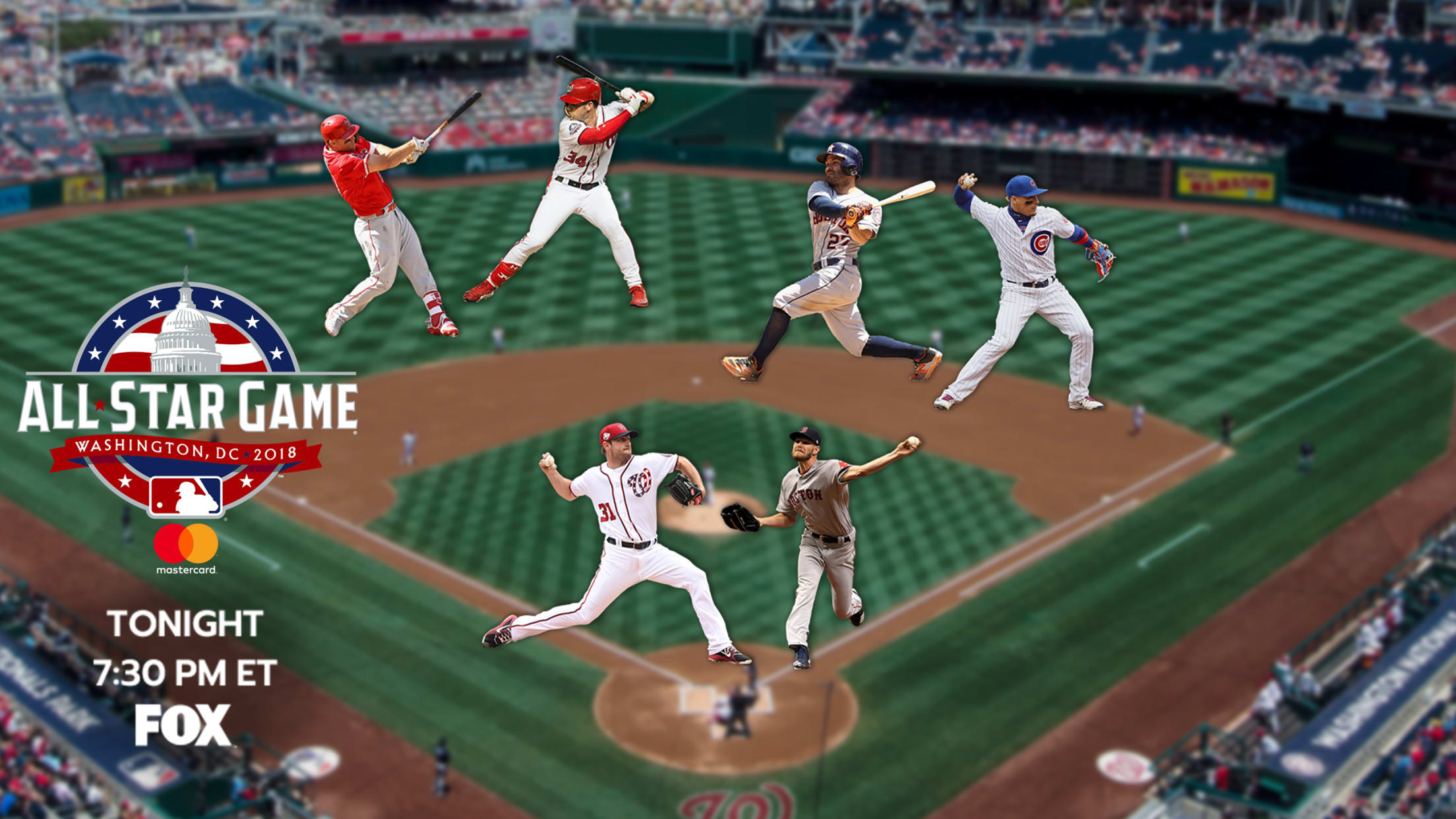 If the annual Midsummer Classic allows us to do anything, it's to argue about which league we think is better. For years, the answer has pretty clearly been, "the American League," for some pretty obvious reasons.The AL has held the edge in Interleague Play in each of the last 14
If the annual Midsummer Classic allows us to do anything, it's to argue about which league we think is better. For years, the answer has pretty clearly been, "the American League," for some pretty obvious reasons.
The AL has held the edge in Interleague Play in each of the last 14 seasons. They've won the last five All-Star Games and 17 of the last 20, excluding 2002's tie. If we look at the hitting Wins Above Replacement leaderboards, the AL has the top seven names. On the pitching side, it's the top two and six of the top 10. The AL side has a ton of the top talent. It always wins in Interleague Play and usually wins the All-Star Game. The answer is the AL. It's always been the AL.
:: Complete All-Star Game coverage ::
And yet … perhaps that's changing heading into the 89th MLB All-Star Game presented by Mastercard on Tuesday (7:30 p.m. ET on FOX). The National League holds a 101-85 Interleague edge this season, which, if it holds on, would be the first time since 2003 the NL would be the better side. Despite the top-heavy nature of the AL's top stars, a comparison of the full All-Star lineups (excluding injured players like Buster Posey and Gleyber Torres) shows a stunningly even group of stars.
NL hitters
7,364 PA
.294/.370/.513
.375 wOBA
134 wRC+
55.6 WAR
AL hitters
7,277 PA
.292/.370/.517
.377 wOBA
142 wRC+
59.1 WAR
It's nearly as tight on the pitching end.
NL pitchers
1,045 2/3 innings
2.43 ERA
2.80 FIP
30.3 percent strikeout rate
AL pitchers
1,159 1/3 innings
2.65 ERA
2.90 FIP
31.2 percent strikeout rate
So which league actually does have the edge? Let's break it down position by position.
Catcher
NL: Willson Contreras, J.T. Realmuto, Yadier Molina
AL: Salvador Perez, Yan Gomes
This was always going to be an enormous landslide in favor of the NL, because there's been one AL catcher -- starter Wilson Ramos (.297./346/.488) -- having what you might call an above-average season. Then Ramos injured his hamstring and had to be replaced by Gomes (.247/.306/.437), pushing Perez and his very weak .221/.259/.394 line into the starter's role. While Perez is better than that, this one's even more of a blowout than it was before, even with the NL losing Posey to an injury of his own.
Realmuto isn't just here to rep the Marlins, because he's hitting (.310/.365/.536) and may actually be the best all-around catcher in the Majors this season. Throw in another quality year from Contreras (.279/.369/.449) and the fact that Molina somehow has the third-most homers of any catcher, and this is a very easy call. Perhaps the easiest you could imagine.
Big advantage: NL
First base
NL: Freddie Freeman, Joey Votto, Jesus Aguilar, Paul Goldschmidt
AL: Jose Abreu, Mitch Moreland
Here's how stacked the NL first-base collection is: Brandon Belt, Player Page for Max Muncy, Matt Carpenter, Cody Bellinger and Jose Martinezcombined are hitting .272/.369/.510 -- which is basically the same as Matt Kemp -- and none of them made the team. It's that deep.
Here's how much of a mess the AL first-base collection is: As a group, AL first basemen are having their worst season in 70 years. Remember when this was the domain of Jose Cabrera, Edwin Encarnacion, Prince Fielder and the good version of Chris Davis? It seems like so long ago.
Big advantage: NL
Second base
NL: Javier Baez, Scooter Gennett, Ozzie Albies
AL: Jose Altuve, Jed Lowrie
Altuve is the biggest name here, understandably; he's the defending AL MVP Award winner, he's been the best second baseman in the game for the past half-decade and he's having another great year (.332/.394/.470). But this position is closer than you think, and it's not because the NL has one additional player. It's because the breakout power seasons from all three players, especially Gennett, gives this trio a 51-point slugging advantage, .537 to .486. Then again, the AL pair has a 39-point OBP advantage, so in the end, their production is about the same. The presence of Altuve tilts this to the AL, but it's not by much.
Small advantage: AL
Shortstop
NL: Brandon Crawford, Trevor Story
AL: Manny Machado, Francisco Lindor, Jean Segura
This is sort of like the first-base situation, just in reverse. While Crawford has had a nice rebound (.292/.363/.462) from a down 2017, and Story has had a strong all-around campaign, it hasn't been the strongest year for NL shortstops, in part due to Corey Seager's elbow surgery.
Meanwhile, AL shortstops may be having their best hitting season in history, to the point that Andrelton Simmons, Carlos Correa, Xander Bogaerts and Didi Gregorius are all on the outside looking in. It's not even that Crawford and Story aren't good, because they are. They're just up against Hall of Famers over here.
Big advantage: AL
Third base
NL: Nolan Arenado, Eugenio Suarez
AL: Jose Ramirez, Alex Bregman
Third base on both sides shows the depth here, because Kristopher Bryant, Matt Chapman and Anthony Rendon, among others, all didn't get in. Here's how unbelievable this group is: Suarez is hitting .312/.399/.574, his second straight very good season, and he may be the weak link of this group.
That's a little unfair to him, but it shows you the strength here, in part because Ramirez may legitimately be the best non-Trout player in baseball. Arenado lights up the defensive highlight reels every night, and you might have noticed that Bregman, still only 24, is in the midst of a breakout year. (He's almost certainly going to have the best season ever by a Houston third baseman.)
There's not a lot of difference here, but the combo of Ramirez/Bregman gives the AL a small edge.
Small advantage: AL
(For the outfield, we'll have to make our best guesses as to where the reserves will play, since some will have to move out of their primary positions.)
Left field
NL: Kemp, Christian Yelich
AL: Aaron Judge, Michael Brantley
Judge (.276/.392/.544 ) is the best player in this group, and it's not even really particularly close; he's got a 17-point lead in slugging over Kemp and a 28-point lead in OBP over Yelich. That alone gives the AL an advantage, though Kemp's breakout season and Yelich's solid all-around game at least make it close. Still, Judge has more than backed up his fantastic debut with a strong sophomore campaign, giving the AL the edge here.
Advantage: AL
Center field
NL: Bryce Harper, Charlie Blackmon
AL: Michael Trout, George Springer
When in doubt, go with the best player of his generation having the best season of his career, so we'll have Trout (.310/.454/.606) carrying yet another group. This is actually somewhat of an odd quartet, because Harper's struggles have been well documented and neither Blackmon nor Springer are having particularly great seasons, at least by their standards. Going up against Trout was always going to put the NL at a disadvantage, and they haven't done enough to overcome that.
Advantage: AL
Right field
NL: Nick Markakis, Lorenzo Cain
AL: Mookie Betts, Mitch Haniger, Shin-Soo Choo
There's five good stories here, but the most important one is this: Betts, hitting .359/.448/.691 with his usual fantastic defense, is on the very short list of players battling to be "the best player in baseball behind Trout." (It's probably just Betts and Ramirez, really.) If not for the abdominal strain that cost him time in June, he might be atop the WAR leaderboards; as it is, he's actually outhitting the Angels' star right now.
While Markakis' unexpected career season (.323/.389/.488) has been a huge part of Atlanta's success, Cain has quietly been one of the best players in baseball this year, as his above-average glove and 18 steals, to go with a .293/.393/.427 line, puts him in 10th in WAR. (Though he's a center fielder, we're assuming he enters in right, since Yelich has more experience in left and Cain played 157 games in right over the years in Kansas City.)
It's close here, really, but the AL has a nearly 100-point advantage in slugging, and this is the Mookie show anyway.
Small advantage: AL
Designated hitter
NL: Unclear. Maybe Aguilar?
AL: J.D. Martinez, Nelson Cruz
This one is a little unfair, simply because we don't know who the NL will roll out here. Aguilar seems like a decent guess, just because the NL has four first basemen to find playing time for. (Perhaps Molina or Realmuto appears here, too, since they have three catchers to the AL's two.)
Then again, it hardly matters. Martinez (.328/.393/.644) has legitimately been one of the most elite hitters in baseball this year, tied with Ramirez for the most homers in the game, at 29. Cruz, meanwhile (.267/.363/.538) is having the same strong campaign he has every year.
Advantage: AL
Pitchers
Starters
NL: Max Scherzer, Jacob deGrom, Thomas Stripling, Patrick Corbin, Zack Greinke, Aaron Nola, Mike Foltynewicz
AL: Chris Sale, Luis Severino, Blake Snell, Trevor Bauer, Jose Berrios, Gerrit Cole, J.A. Happ, Charlie Morton
Relievers
NL: Josh Hader, Kenley Jansen, Brad Hand, Jeremy Jeffress, Felipe Vazquez
AL: Edwin Diaz, Craig Kimbrel, Blake Treinen, Joe Jimenez
<we're all="" arms="" lumping="" these="" together=""> </we're>
The thing is, there's not much to separate the sides here, as we showed above -- the numbers are so similar. Over the course of a full season, you'd probably take the AL's starters, perhaps, just because of depth, but are you really going to argue against the idea of going Scherzer to deGrom to Nola and eventually ending with Hader and Jansen in a one-game scenario? Probably not.
There's not really a meaningful difference here, so why try to make one? Both sides are dominating.
Advantage: Push
Mike Petriello is an analyst for MLB.com and the host of the Statcast podcast.