Tracking every top prospect called up in September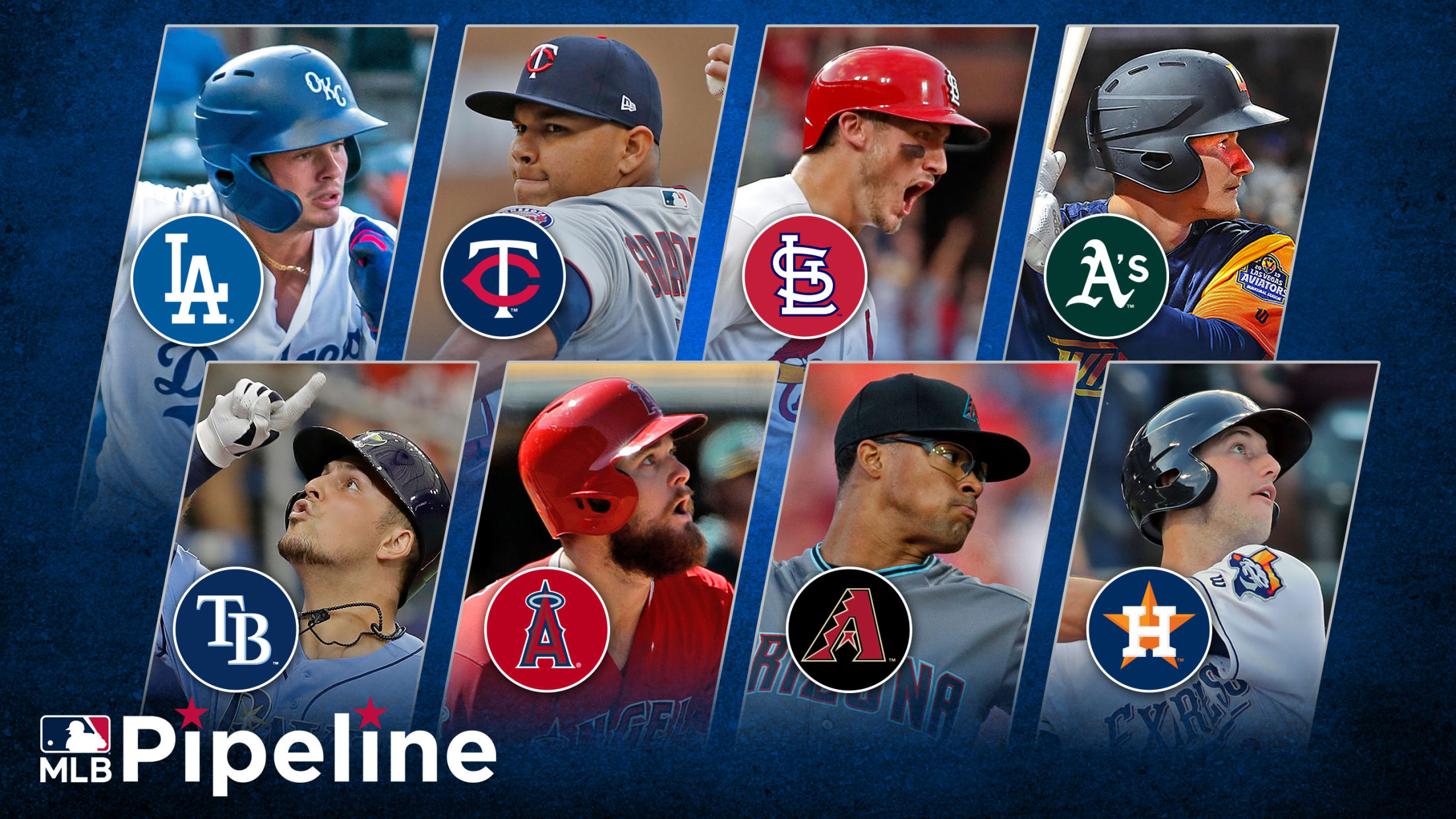 Here's a look at every player from a team Top 30 Prospects list to be called up since rosters expanded from 25 to 40 players on Sept. 1:
Here's a look at every player from a team Top 30 Prospects list to be called up since rosters expanded from 25 to 40 players on Sept. 1:
Angels
No. 22 Jared Walsh, 1B/OF/LHP; No. 26 Michael Hermosillo, OF
Walsh, 26, is returning to the big leagues after appearing in 15 games with the Angels earlier this season. A legitimate two-way player, Walsh collected nine hits including a pair of doubles in his first taste of the Majors and also made four appearances out of the Angels' bullpen, posting a 2.08 ERA with four strikeouts in 4 1/3 innings. In the Minors, the left-handed hitter put up monster numbers with Triple-A Salt Lake, slashing .325/.423/.686 with 36 homers, 30 doubles and 86 RBIs in 98 games.
Hermosillo spent 31 games with the Angels last year (.211/.274/.333) and went 0-for-3 in his lone big league exposure this season. The 24-year-old outfielder produced a .243/.330/.466 line with 15 homers in 64 games in Triple-A this season after missing the first two months with a core muscle injury. More »
Astros
No. 1 Kyle Tucker, OF; No. 5 Bryan Abreu, RHP; No. 12 Jose Urquidy, RHP; No. 15 Garrett Stubbs, C
Tucker, 22, got his first cup of coffee as an 18-year-old last year and hit just .141 across 72 plate appearances. But he's still tearing up Minor League pitching, having just wrapped up a 30-30 season (34 homers, 30 steals) while slashing .266/.354/.555 for Triple-A Round Rock. Tucker is known as a power-speed outfielder who can consistently knock the ball over the fence while also covering a ton of territory in the outfield. His strikeout rate was a fairly healthy 21.6%.
Abreu, 22, returns to the Major Leagues after making a brief one-game appearance with the Astros on July 31, where he pitched a clean inning. The right-hander has posted a 4.83 ERA between Class A Advanced Fayetteville and Double-A Corpus Christi this season with 126 strikeouts over 91 1/3 innings. Shortened up in a bullpen role to help the Astros down the stretch, Abreu will be able to use his fastball to set up an excellent curveball that grades out as the best in the system. He'll also feature an above-average slider.
Urquidy, 24, made five starts for the Astros in July, going 1-1 with a 5.87 ERA and 24 strikeouts in 23 innings. In the Minors, the right-hander racked up 134 strikeouts against 21 walks and held hitters to a .238 average in 103 innings across two levels. Urquidy pitches with a low-90s fastball and pairs it nicely with a plus changeup, his best secondary pitch. He throws both a curveball and slider and had more success with the latter in his first taste of the Majors.
Stubbs, 26, already appeared in nine games over parts of May, June and August, going 4-for-25 with a double. He took a step back in Triple-A this year, finishing with a .240/.332/.397 slash line after compiling an .836 OPS in 2018. But he controls the strike zone well and contributes value behind the plate with a strong throwing arm. Stubbs' 5-foot-10, 175-pound frame might be his biggest roadblock toward becoming a full-time catcher. More »
With a career-best 34 HRs & 30 SB in 125 games with the @RRExpress, #Astros top prospect Kyle Tucker became the first @MiLB player in 30 years to record three consecutive 20-20 seasons. Who was the last to do it? https://t.co/QMK309HAsU pic.twitter.com/L9wcZycP3f

— MLB Pipeline (@MLBPipeline) September 4, 2019
Athletics
No. 1 Jesus Luzardo, LHP; No. 3 Sean Murphy, C
Luzardo, the No. 18 overall prospect, has been called up and will make his highly anticipated Major League debut. The lefty was competing for a spot in the Opening Day rotation and even if he didn't win the job, many expected him to play a large role on the Athletics' pitching staff this season. However, injuries slowed down Luzardo's progress and limited him to just 43 innings this season. Now that he's healthy, A's fans will get a chance to look at the club's No. 1 prospect for a few weeks before he makes a bid for a spot in the 2020 rotation.
Murphy, MLB's No. 43 overall prospect, is set to make his big league debut after having his contract purchased by the A's. Regarded as one of the top defensive catchers in the Minors, Murphy can also hit for both average and power from the right side of the plate. The 24-year-old backstop played in just 41 Minor League games this season, losing most of the summer to a torn meniscus in his knee, but showed no ill effects from the injury upon returning to Triple-A Las Vegas in July and posted a .283/.358/.891 line with nine homers and 21 RBIs in 12 games before getting the call. He was the organization's third-round pick in the 2016 Draft, selected out of Wright State. More »
Welcome back, Sean Murphy.

In his first start off the IL, the #Athletics prospect wasted no time crushing a 3-run shot off the scoreboard for @AviatorsLV. pic.twitter.com/IiHCS9Kjxc

— MLB Pipeline (@MLBPipeline) August 22, 2019
Blue Jays
No. 16 T.J. Zeuch, RHP; No. 20 Anthony Alford, OF; No. 4 Anthony Kay, LHP
Zeuch, a first-round pick in 2016, has been impressive in 2019, posting a 3.74 ERA across two levels in the Minors. The 6-foot-7 right-handed pitcher has been especially impressive as of late, allowing three earned runs in his past four starts, including a dominant no-hitter on Aug. 19 for Triple-A Buffalo. Alford received his second big league call up of the season, with the first coming on April 2 and lasting just two days. The 24-year-old outfielder has been the victim of a bevy of injuries in his career, including an oblique injury that sidelined him this summer. Alford also saw time in the bigs in 2017 and '18, and he's 3-for-30 in 18 MLB games.. More »
Brewers
No. 27 Tyrone Taylor, OF
Taylor, 25, brings some outfield depth to a Brewers team that is currently dealing with some nagging injuries to Lorenzo Cain and Ryan Braun early in September. The former second-round pick from the 2012 Draft has traveled a long road to what will be his Major League debut. A hamstring injury cut his 2017 season short, but he returned with 20 home runs in 2018 and has hit another 14 this season for Triple-A San Antonio. He posted a .275 average and .804 OPS over 97 games between to different Minor League affiliates.
Cardinals
No. 3 Andrew Knizner, C; No. 8 Junior Fernandez, RHP; No. 9 Genesis Cabrera, LHP; No. 10 Randy Arozarena, OF; No. 14 Edmundo Sosa, SS/2B/3B
Knizner, 24, will provide the Cardinals with additional catching depth in September as the club continues its postseason push. He's appeared in 13 games across three stints with St. Louis this season, batting .190/.261/.310 with one homer in 42 at-bats. A former seventh-round pick (2016), Knizner has compiled a .303/.369/.461 batting line with 37 homers in 308 games in four Minor League seasons.
Fernandez and Cabrera have also seen big league time this season, appearing in five games apiece for the Cardinals. Cabrera, a 22-year-old left-hander, was used as both a starter and a reliever and posted a 6.17 ERA in 11 2/3 innings between the two roles. Fernandez debuted on Aug. 11 and proceeded to post a 3.60 ERA with seven strikeouts in five innings while showcasing an upper-90s fastball and power slider. The 22-year-old righty had a breakout season in the Minors, logging 11 saves and posting a 1.52 ERA with a .185 opponents' average and 80 strikeouts in 65 innings (45 games).
Arozarena, 24, is making his second big league stint after going 2-for-8 earlier this season. The Cuban outfielder was stellar in the Minors this season, slashing .344/.431/.571 with 15 homers across two levels (Double-A Springfield and Triple-A Memphis)
Sosa made his big league debut as a September callup last year and also appeared in three games for the Cardinals in July. The 23-year-old infielder otherwise spent his season at Triple-A Memphis, batting .291/.335/.466 with 17 homers in 118 games. He was especially good during the second half, slashing .355/.380/.530 with eight homers and 31 RBIs over his final 40 contests. More »
Cubs
No. 1 Nico Hoerner, SS; No. 26 Robel Garcia, INF
Hoerner, the No. 47 overall prospect, becomes the first member of the 2018 Draft class to reach the Majors. The 22-year-old Stanford product has missed time in each of the past two seasons and has only played 75 games in the Minors, but his advanced bat -- coupled with the Chicago's need for a shortstop -- promoted the organization to call up Hoerner.
Garcia, 26, spent three years playing in Italy before signing with the Cubs last October. He raked in Minor League spring training, then in Double-A and Triple-A to earn a call to the Majors in early July. The switch-hitter homered in two of his first three starts and ultimately went deep four times while batting .217 in 20 games with the Cubs before getting optioned to Triple-A Iowa on Aug. 1. More »
D-backs
No. 6 Jon Duplantier, RHP; No. 26 Kevin Cron, 1B/3B; No. 30 Domingo Leyba, 2B/SS
Duplantier became one of the first high-profile prospects to be summoned from the Minors this season when the D-backs called him up on April 1. The 25-year-old right-hander earned a save in his big league debut by tossing three scoreless innings in relief, and sports a 4.33 ERA with 26 strikeouts in 27 innings with Arizona.
Cron, 26, was leading the Minors with 39 home runs at the time of his callup. He hit 38 of them in 82 games with Triple-A Reno, a new franchise record, and drove in 105 runs while slashing .331/.449/.777. The former 14th-round pick (2014) from TCU also clubbed five dingers in 27 games with Arizona along the way, giving him 44 homers in 111 games in 2019.
Leyba is making his third trip to the big leagues this season after going 3-for-9 in 10 games earlier this year. The 23-year-old had a stellar campaign in the Minors, slashing .300/.351/.519 with 19 homers in 112 games with Triple-A Reno. More »
Dodgers
No. 1 Gavin Lux, SS/2B; No. 18 Edwin Rios, INF
Lux, MLB's No. 9 prospect, is set to have his contract purchased by the Dodgers after a phenomenal Minor League season. Promoted from Double-A to Triple-A in late June, the 21-year-old middle infielder hit safely in 16 straight games upon arriving in the Pacific Coast League and ultimately posted a robust .392/.478/.719 line with 13 homers, 35 extra-base hits and 54 runs scored in 49 games. Altogether, the 2016 first-rounder out of the Wisconsin prep ranks slashed .347/.421/.607 with 26 homers, 99 runs and 76 RBIs in 113 games.
Rios is making his third trip to the big leagues this season, and the 25-year-old infielder went 10-for-35 with two home runs. Rios had a strong 2019 campaign with Triple-A Oklahoma City, slashing .270/.340/.575 with 31 homers in 104 games.
Giants
No. 17 Conner Menez, LHP; No. 21 Chris Shaw, OF/1B; No. 23 Aramis Garcia C/1B
Menez has pitched to a 7.11 ERA with 14 strikeouts and eight walks in 12 2/3 innings (three starts) with the Giants after making his big league debut on July 21. The 24-year-old left-hander posted a 3.79 ERA in the Minors this season, striking out 154 batters in 121 innings between Double-A Richmond and Triple-A Sacramento.
Shaw had a three-homer game on Aug. 29 with Sacramento and finished his Minor League season with 28 homers and 94 RBIs across two levels. The 25-year-old former first-rounder (2015) will be looking to improve upon the .185/.274/.278 line he posted last season in his first taste of the big leagues (22 games).
Garcia, 26, also was recalled from Sacramento, where he batted .271/.343/.488 with 16 homers in 89 games. He received his first big league callup at this time last year and hit two homers in eight games with the Giants. More »
Mariners
No. 5 Justin Dunn, RHP; No. 10 Kyle Lewis, OF; No. 14 Braden Bishop, OF; No. 15 Shed Long, 2B/3B/OF; No. 26 Art Warren, RHP; No. 28 Donnie Walton, INF
Dunn, whom the Mariners acquired from the Mets during the offseason, spent all of 2019 with Double-A Arkansas, where he pitched to a 3.55 ERA and racked up 158 strikeouts over 131 2/3 innings. A first-round pick from the 2016 Draft, Dunn operates in the mid-90s with his fastball and also has a pair of solid breaking balls. More »
Lewis, the Mariners' first-round pick from the 2016 Draft, has an exciting mix of tools, but has struggled to stay healthy thus far in his career. The 24-year-old, who is being called up for the first time, hit .263 with 11 homers for Arkansas this season.
Bishop went 2-for-28 with 10 strikeouts in two stints with the Mariners earlier this year before losing most of the second half to a lacerated spleen. The 26-year-old made a healthy return to Triple-A last week and could help the Mariners during the final month of the season with his hitting ability, plus speed and strong outfield defense. More »
Long, 24, returned to action Friday after being sidelined seven weeks with a broken right finger. He spent time in the big leagues earlier this season, going 16-for-69 in 19 contests. Long slashed .274/.335/.460 with nine homers in 56 games with Triple-A Tacoma this season.
Warren will certainly be fun to watch as he makes his Major League debut. The 26-year-old operates in the upper 90s with his fastball and pairs that pitch with a nasty breaking ball. The right-hander yielded one earned run or fewer in all 29 of his appearances with Arkansas this season and pitched to a 1.71 ERA.
Walton, a 2016 fifth-round pick, has tremendous baseball instincts and put together a solid campaign at the Double-A level this season. The 25-year-old hit an even .300, homered 11 times and was also named a Texas League Mid-Season All Star.
Nationals
No. 18 Tres Barrera, C
Barrera, 24, received his first big league promotion after slashing .249/.323/.381 in 101 games with Double-A Harrisburg this season. Barrera was a sixth-round pick out Texas University in 2016, and he has a strong arm behind the plate.
Orioles
No. 6 Austin Hays, OF
Hays was the first player from the 2016 MLB Draft class to reach the Majors at the tail end of the 2017 season, but he has been limited by injuries ever since. He spent most of this season working his way back from various ailments but finally finds himself with the Orioles again, exactly two years after his debut. He hit .248 across four levels of the Minors this season, swatting 17 homers in 87 games. Those numbers include a lot of time spent getting back into a rhythm after injury layoffs, however, and he ended his Minor League season on a seven-game hitting streak for Triple-A Norfolk.
Padres
No. 15 Ronald Bolanos, RHP
Bolanos, 23, is starting to make the adjustment to professional hitters after defecting from Cuba and signing a $2 million bonus in 2016. The right-hander developed his slider into a swing-and-miss pitch to complement a fastball that can reach the upper 90s, and he struck out 88 hitters in 76 2/3 innings with Double-A Amarillo. Bolanos has posted a 3.66 ERA across two levels in the Minors this season. More »
Phillies
No. 16 Cole Irvin, LHP; No. 19 Deivy Grullon, C
Making his fifth Phillies stint this season, Irvin has compiled a 7.98 ERA and allowed 37 hits (7 HR) in 29 1/3 innings with the big league club. The 25-year-old lefty was more successful at Triple-A Lehigh Valley, pitching to a 3.94 ERA in 93 2/3 innings.
The Phillies purchased Grullon's contract after the 23-year-old catcher had a career-best offensive season in Triple-A, hitting .283/.354/.496 with 21 homers, 24 doubles and 77 RBIs in 108 games. Grullon's defense lags behind his bat, though he does have a cannon for an arm. More »
Pirates
No. 16 Jason Martin, OF; No. 9 Kevin Kramer, 2B, 3B, OF
Martin, 23, is making his third big league stint of the season, with the outfielder going 9-for-36 in 19 MLB games. An eighth-round pick in 2013, Martin slashed .259/.312/.419 with eight homers in 101 games with Triple-A Indianapolis this season.
Kramer made his Major League debut last September and drew a walk in his lone plate appearance. The 25-year-old, a second-round pick from the 2015 Draft, played in 113 games with Triple-A Indianapolis this season and slashed .260/.335/.417. More »
Rangers
No. 30 Ian Gibaut, RHP
Acquired from the Rays in July after they designated him for assignment, Gibraut, a 25-year-old reliever, owns a 1.35 ERA with eight strikeouts in 6 2/3 innings (four appearances) since joining the Rangers organization. More »
Rays
No. 2 Brendan McKay, LHP/DH; No. 8 Nate Lowe, 1B; No. 22 Anthony Banda, LHP; No. 24 Peter Fairbanks, RHP
McKay, a first-round pick in 2017, has spent plenty of time in the bigs this season, posting a 5.55 ERA in 35.2 innings across eight starts. The two-way prospect is hitless in five at-bats this season.
Lowe went 2-for-3 and hit a two-run homer in his return to the big leagues Sunday, giving him six dingers to go along with a .305 average for the Rays in 31 games. He spent much of the season at Triple-A Durham, slashing .289/.421/.508 with 16 homers and 63 RBIs in 93 games.
Acquired from the D-backs in February 2018 as part of a three-team trade with the Yankees, Banda appeared in three games with the Rays last season before undergoing Tommy John surgery in June. The 26-year-old left-hander returned from the injury this past June, and he was back with Triple-A Durham by mid-July. In nine appearances (four starts) with the Bulls, Banda posted a 6.04 ERA with 27 strikeouts and 11 walks in 28 1/3 innings.
Fairbanks, 25, also saw action on Sunday, striking out one batter in a scoreless inning against the Indians. It was the 6-foot-6 right-hander's second relief appearance with the Rays after they acquired him from the Rangers in exchange for Nick Solak back on July 13. More »
Red Sox
No. 21 Mike Shawaryn, RHP; No. 22 Travis Lakins, RHP; No. 30 Bobby Poyner, LHP
Shawaryn has made eight big league appearances this season before his most recent promotion, allowing 12 earned runs in 12 2/3 frames. The 24-year-old RHP sports a 4.52 ERA in 26 appearances with Triple-A Pawtucket.
Lakins, 25, tossed two innings on Sunday in his return to the Majors, allowing two runs on five hits in his 10th appearance for the Red Sox. Since making his debut on April 23, the 2015 sixth-round pick has logged a 4.70 ERA in 15 1/3 big league innings. More »
Poyner was an important part of the Red Sox's bullpen last year, logging a 3.22 ERA in 20 appearances. He's made three outings this season, allowing seven runs in four frames. In 43 games with Triple-A Pawtucket this season, Poyner posted a 3.77 ERA.
Reds
No. 23 Keury Mella, RHP; No. 26 Jimmy Herget, RHP
Mella, 26, spent some time in the big leagues in 2017 and '18, allowing 12 runs in 13 1/3 innings across six MLB appearances over the two seasons. This season, Mella has pitched exclusively for Triple-A Louisville, and he sports a 5.05 ERA in 27 starts.
Herget is making his second trip to the big leagues this season after allowing three runs in 3 2/3 frames in July. The 25-year-old reliever was stellar for Triple-A Louisville this season, posting a 2.91 ERA in 48 appearances.
Rockies
No. 13 Josh Fuentes, 3B/1B; No. 20 Rico Garcia, RHP
Fuentes received his first big league promotion earlier this season in April, and the 26-year-old went 2-for-18 in nine games. Fuentes showed off his power in the Minors this season, notching a career-high 17 homers in 101 games with Triple-A Albuquerque.
Garcia, 25, rejoins the Rockies after making his Major League debut on Aug. 27. Against the Red Sox, Garcia allowed six runs on seven hits and five walks over five innings of work, striking out two. He's split his season evenly between Double-A Hartford and Triple-A Albuquerque, making 13 starts for each, and owns a combined 4.24 ERA with 138 strikeouts over 129 1/3 innings.
Tigers
No. 21 Bryan Garcia, RHP
Garcia finished his first full season in 2017 on the cusp of the Majors and was poised to join the Tigers' big league bullpen at some point in 2018 before requiring Tommy John surgery. The 24-year-old reliever returned to action in early May and was back at Triple-A Toledo by the end of the month. In 31 appearances with the Mud Hens, Garcia posted a 2.97 ERA with 33 strikeouts in 33 1/3 innings. More »
Twins
No. 3 Brusdar Graterol, RHP; No. 11 Lewis Thorpe, LHP; No. 23 Jorge Alcala
Graterol, MLB's No. 54 overall prospect, showcased his tremendous arm strength in his big league debut Sunday as he threw a first-pitch strike at 99.6 mph en route to completing a scoreless inning. The 21-year-old right-hander was reportedly clocked at 103.8 mph during a relief appearance with Triple-A Rochester and should continue to light up the radar gun whenever he takes the mound in the Majors.
Thorpe, 23, made his big league debut on June 30 and has spent the better part of the past six weeks bouncing between Minnesota and Rochester. Across six appearances including one start, the Australian left-hander has a 4.40 ERA and 14 strikeouts in 14 1/3 innings.
Alcala, 24, brings another young, flame-throwing arm to the Twins bullpen as they look to secure a spot in the postseason. Alcala has spent most of his 2019 season in Double-A Pensacola as a starter. Despite an up-and-down season, he earned a promotion to Triple-A in late August before his eventual callup to Minnesota. More »
White Sox
No. 10 Zack Collins, C/1B, No. 26 Danny Mendick, INF
Collins received his second big league callup of the season, with the first coming in late June and extending into early July. The 24-year-old went 2-for-26 with a homer in nine MLB contests. A first-round pick in 2016, Collins slashed .282/.403/.548 with 19 dingers in 88 games with Triple-A Charlotte this season.
Mendick will be making his Major League debut after putting together a solid season with Triple-A Charlotte. The 25-year-old hit a career-high 17 homers and slashed .279/.368/.444 over 133 games. More »