New face among D-backs' 6 Sept. additions
Almonte provides outfield depth for Arizona; breaking down the club's notable prospects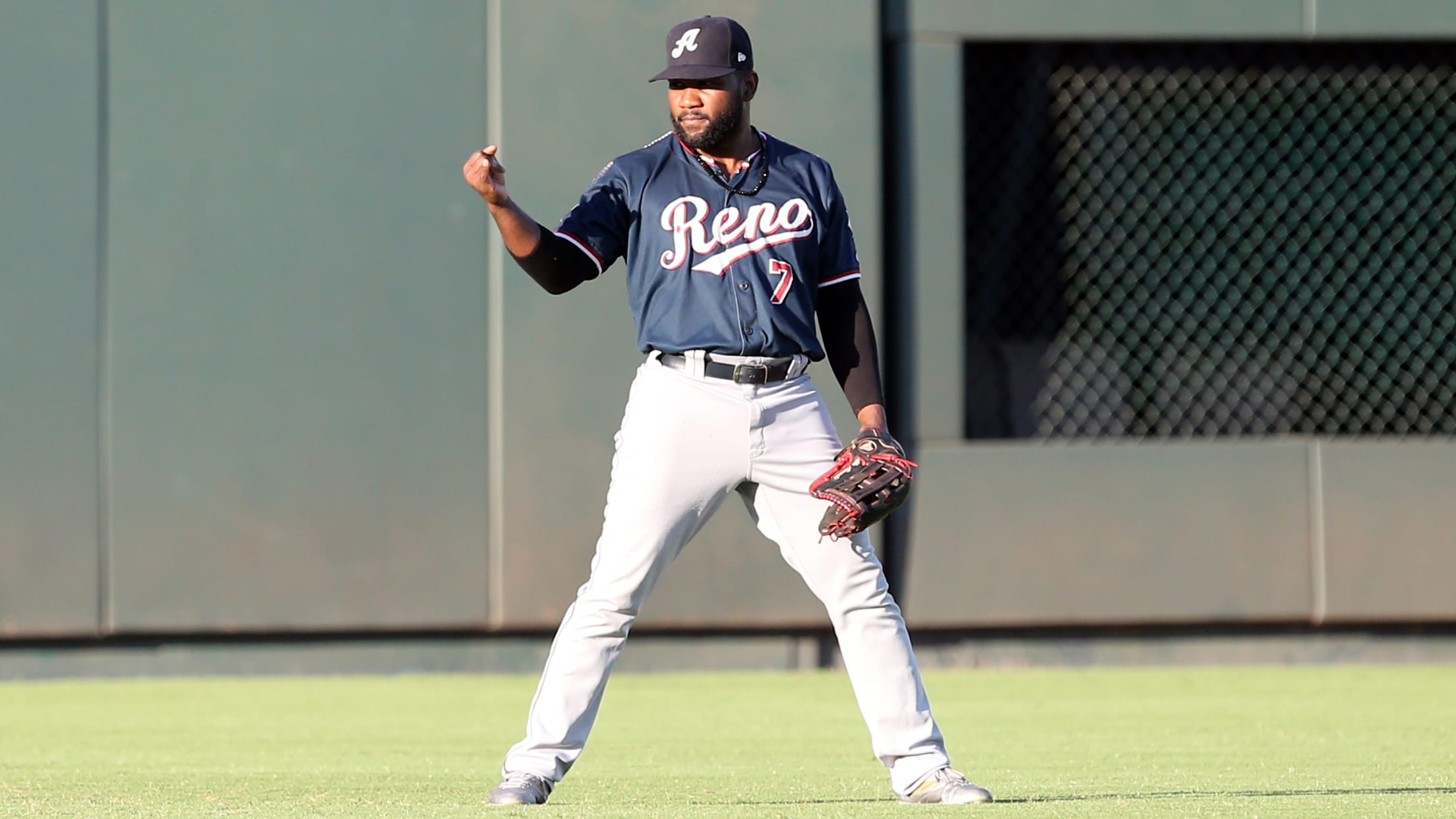 PHOENIX -- The D-backs made their first wave of Minor League callups Sunday as the rosters expanded for September. Pitchers Stefan Crichton, Robby Scott and Jon Duplantier along with first baseman Kevin Cron, catcher Caleb Joseph and outfielder Abraham Almonte were all promoted from Triple-A Reno. All but Almonte have
PHOENIX -- The D-backs made their first wave of Minor League callups Sunday as the rosters expanded for September.
Pitchers Stefan Crichton, Robby Scott and Jon Duplantier along with first baseman Kevin Cron, catcher Caleb Joseph and outfielder Abraham Almonte were all promoted from Triple-A Reno.
All but Almonte have been up at least one time during the regular season.
Crichton, Scott and Duplantier will add depth to the Arizona bullpen, with Duplantier being an option to join the rotation if need be. Cron adds a power right-handed bat to the bench, and Joseph gives manager Torey Lovullo a third option behind the plate.
• Every team's best September callup
The switch-hitting Almonte was the only player added that was not on the 40-man roster. He was added in order to be called up, and he gives the team additional outfield depth. Almonte's ability to play all three outfield positions is important given that Ketel Marte is still recovering from right hamstring cramping and Lovullo wants him to play more second base than center while he does.
The D-backs likely will make more additions as their Minor League affiliate seasons end. Reno wraps up Monday, while Double-A Jackson is one of five Arizona affiliates that has qualified for the postseason.
On the subject of the D-backs Minor League system here's a deeper look:
Arrival: RHP Kevin Ginkel
Since being promoted from Reno on Aug. 5, Ginkel has worked his way into being one of Lovullo's most trusted relievers. With Yoshihisa Hirano on the injured list and Yoan Lopez having some struggles, Ginkel has become the primary right-handed setup man for closer Archie Bradley.
Breakout: OF Alek Thomas
It's not that the D-backs didn't have high hopes for Thomas as they picked him in the second round of the 2018 Draft, it's just that they didn't necessarily expect him to be this good this quickly. Thomas, who was elevated to the organization's top prospect per MLB Pipeline this season, opened the year as a 19-year-old in the Midwest League and will finish it with high-A Visalia. He's had good at-bats throughout his season, showing good power and the ability to manage a full season.
Something to prove: RHP Taylor Widener
A year ago Widener was named the organization's Pitcher of the Year, but 2019 was a real struggle for him as he had an 8.18 ERA in 22 games for Triple-A Reno and he missed August due to a minor forearm issue. The organization identified a mechanical adjustment or two during the year that helped him improve his results, and they still believe in his stuff, chalking up a good part of his struggles this year to the inflated numbers throughout Triple-A and particularly in the Pacific Coast League.
Name to watch: 1B Pavin Smith
Smith was the team's first pick (seventh overall) in the 2017 Draft and had fallen off some people's radar last year when he hit .255/.343/.392. Smith made some mechanical adjustments before this season began, but still opened slowly. He impressed the organization with his ability to persevere through it and his batting averages by month clearly show the improvement: .237 (April), .221 (May), .292 (June), .341 (July) and .360 (August).