10 LCS questions with clinches on the line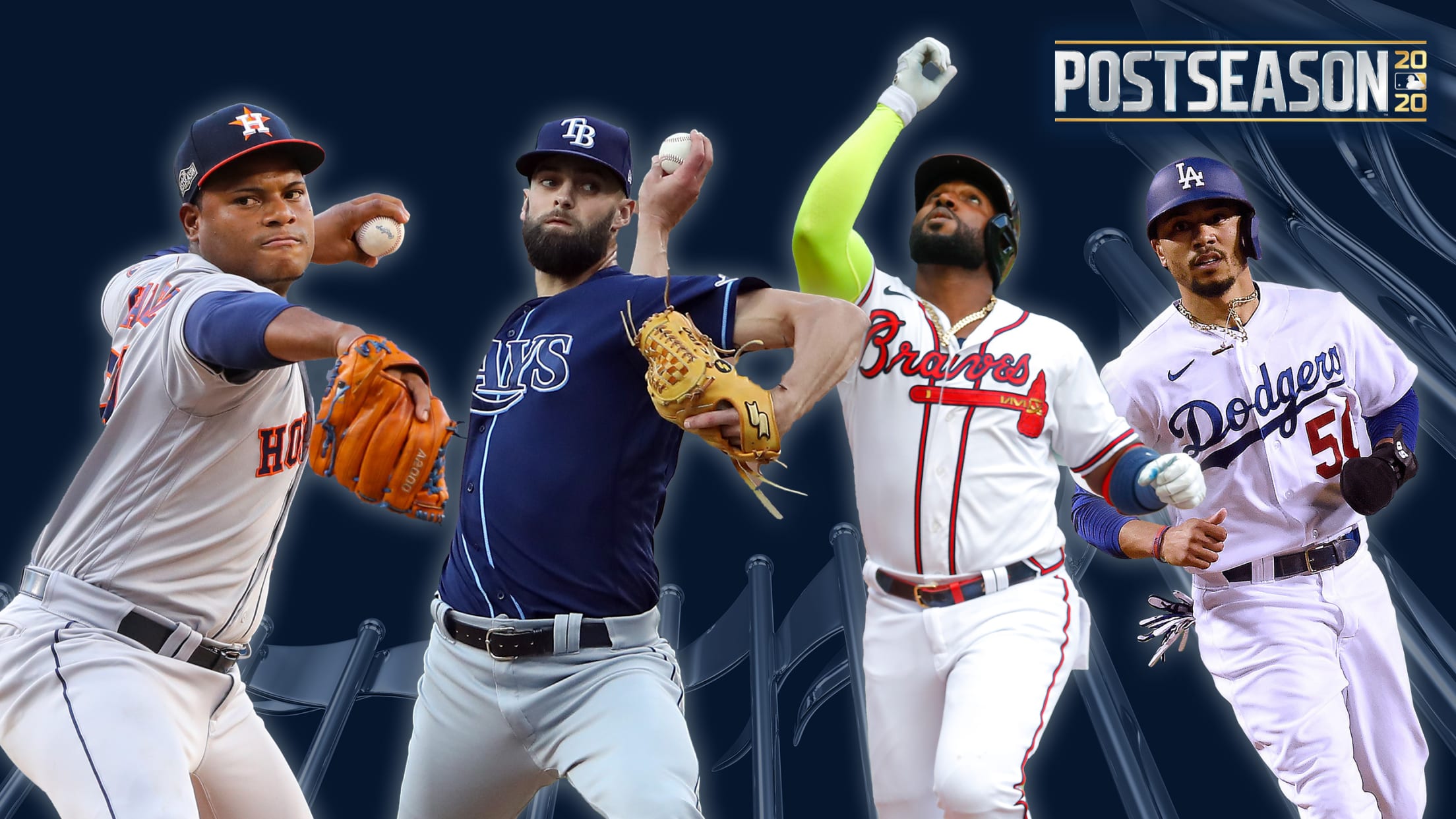 Back during Spring Training, the most insane World Series possibility anyone could possibly come up with was Dodgers-Astros, for reasons that were obvious then and even more obvious when the teams ended up playing each other in the regular season. That matchup is still on the table. So, too, is
Back during Spring Training, the most insane World Series possibility anyone could possibly come up with was Dodgers-Astros, for reasons that were obvious then and even more obvious when the teams ended up playing each other in the regular season. That matchup is still on the table. So, too, is Braves-Rays, which no one thought was insane, but it would be a pretty amazing series regardless. And each night of baseball makes every potential matchup even more compelling. But we still have a way to go.
Here are five questions for each series heading into Friday.
ALCS Game 6, Rays-Astros, 6:07 p.m. ET, TBS
FAQs: Lineups, pitchers, more
1) Was Carlos Correa's reaction to his walk-off better than a bat flip?
Bat flips are great! Ji-Man Choi had a particularly great one to contend with Correa's in Game 5 of the AL Championship Series. But there is something to be said for the "I'm just going to stand here and admire this really awesome thing I just did" move that Correa pulled after his walk-off homer. This had to feel particularly vindicating for Correa, one of the more outspoken players during all the controversy in the offseason and definitely the most defiant. Correa's pose was not just self-admiration: It had a lot of "take that, haters" to it. (Particularly because Dusty Baker said Correa had just called his shot.) He waited a long time for that.
2) Is Brandon Lowe back or not?
The Rays' best player has been a shell of himself the entire postseason, and he was benched in Game 4. Back in the lineup, Lowe's homer in the top of the third felt like his breakthrough moment, the pivot he needed to get his swing back in order. And then … then he went 0-for-3 the rest of the game. Lowe's disappearance has been as auspicious as Randy Arozarena's emergence, but it didn't seem like that big of a deal when the Rays were up by three games. They are no longer up by three games.
3) Is Framber Valdez an ace now?
After an extremely difficult 2019, Valdez surprised many by being the Astros' best pitcher in 2020, albeit largely because of all the other misfortunes to land on Houston's pitching staff. But in the playoffs, he has been, essentially, Justin Verlander or Gerrit Cole: 18 innings, four runs, a brilliant relief performance in the Wild Card Series and clear status as the most reliable shutdown guy they have. Walks hurt him in his one start in this series, but there's still probably not anyone the Astros would want on the mound more than him right now.
4) Who's the ninth-inning shutdown guy for the Rays right now?
All right, fine, fine, I know: The whole Rays bullpen is constructed not to have a set closer, but to use the right guy at the right time. It's what makes them the Rays! But still, in the eighth and ninth innings, when Tampa Bay wanted to keep the game tied and give itself a chance to clinch a World Series trip, it went to Nick Anderson, because Anderson is … well, he's their ninth-inning shutdown guy. But (shhhh ...) Anderson is kind of getting knocked around this series. Across his two appearances, he has given up four hits, two walks, two earned runs and that walk-off homer to Correa. The guy has pitches that no one else in baseball seems to have, and he's so fun to watch and so good. But is that the guy you trust to get your team to the World Series right now? If not … who is?
• Facts, figures from ALCS Game 5
5) Are the Astros really going to do this?
The great thing about being up 3-0 is that you have four full chances to finish off the series. The advantage isn't so much your ability to win the final game as in all the opportunities to do so. Well, the Rays have had two chances to finish off the series. They have Blake Snell on the mound for Game 6. They have that full bullpen. They have that incredible defense. But they also have used up almost all their margin for error, and all of a sudden, one dugout is a lot louder than the other one.
NLCS Game 5, Dodgers-Braves, 9:08 p.m. ET, FS1
FAQs: Lineups, pitchers, more
1) Did the Braves finally break the seal?
As well as the Braves have played this postseason -- they are now 7-1 -- it is easy to forget that the franchise's recent postseason history had been nothing but pain coming into 2020. They had lost their last 10 postseason series, going all the way back to '01, and any Braves fan had to worry when they couldn't hit Trevor Bauer way back in Game 1 of the Wild Card Series. But once they got past that round, something seemed to free up, not just with the players but with their fans: They started to believe. Since then, Atlanta has stomped a plucky Marlins team and gone up 3-1 on a team many considered one of the best baseball teams of the past 20 years. The Braves lost their best starter (Mike Soroka) and a big chunk of their rotation depth to injury, so it has been lost a little just how good they are right now. But it's not lost on the Dodgers.
2) Hey, is Mookie going to get going anytime soon?
When you are the centerpiece of the biggest trade of the offseason, and then you sign a huge contract extension, plus you are essentially thought to be the thing that will push a long-suffering postseason disappointment over the edge … you probably need to do a little better than 2-for-15 in the NLCS when your team has lost three of its first four games. It's not fair or right to blame Mookie Betts for the Dodgers' failures so far, particularly when the pitching staff gave up 10 runs in a pivotal Game 5. But Betts was brought to Los Angeles to win a championship, full stop. Betts isn't the reason the Dodgers are facing elimination, but he hasn't added much this series either. This would be a great time for Betts to explode, or else you'll be hearing plenty about this series all offseason.
3) Did Bryse Wilson just etch his name in Braves lore?
The somewhat-faded phenom was making his first postseason start after only seven MLB starts, and he was doing it against Clayton Kershaw and an absolutely terrifying top-to-bottom lineup. And he didn't work up a sweat. Wilson not only gave up only one hit (a home run to Edwin Ríos) and one walk, but he threw six full innings, easing the Braves' bullpen's burden and maybe just earning himself a World Series start if Atlanta makes it there. (At the very least, plenty of Braves fans are penciling him in the 2021 rotation now.) Don't get too distracted by the Braves' offensive explosion: Wilson basically gave Atlanta a platonic ideal start in Game 5. It won't soon be forgotten.
4) Are there any pitchers left?
The Dodgers and Braves both have clear starters for a hypothetical Game 6: Max Fried and Walker Buehler. But how does either team get to them? It's going to be a piecemeal, patchwork job for both managers in Game 5, though considering the Dodgers are facing elimination, they'll dig deeper than the Braves will if they have to. This is actually where Atlanta's one loss being a first-inning blowout works to its advantage: The team didn't blow up its pitching staff in that game, and it didn't have to in Game 4 either. The Dodgers have to pull out all the stops. The Braves might not need to … but they can.
5) It's not 28-3 … is it?
A Braves friend who keeps texting me during all these games has a constant refrain for why this year is different: Marcell Ozuna. Ozuna was a star with the Marlins, was fine with the Cardinals and has been an absolute monster for the Braves -- and his unbridled joy and signature flamboyance, my friend argues, has transformed this Braves team. Ronald Acuña Jr. might be the otherworldly talent, and Freddie Freeman is the franchise hero, but it's Ozuna, in his eyes, who is the reason all this is happening: He's fun, he's loose and he's incredible. "He has no idea Atlanta sports teams are always breaking their fans' hearts, and he plays like it," my friend said.
Of course, those other teams didn't mean to break Atlanta fans' hearts until they did. The Braves have a chance, on Friday night, to do something they haven't done this century, even though they've reached the playoffs 11 times: reach the World Series. They're playing relaxed and comfortable and with considerable mirth. Of course, that's how it always seems to start in Atlanta … and next thing you know that 28-3 lead is gone. They can put this away Friday and send the Dodgers off into a long, difficult postseason. But will they? Can they finish this right now? Because every night they don't, every Braves fan will find that knot in the pit of their stomach to be a little tighter. If they're going to do this, they best do it now.