Offense stalls, putting Dodgers in 3-1 hole
The Dodgers have been here eight consecutive Octobers and we're not talking about the postseason, but the brink of elimination from it.
The Dodgers have been here eight consecutive Octobers and we're not talking about the postseason, but the brink of elimination from it.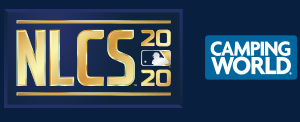 After the Dodgers boasted that a late rally in losing Game 2 carried over to a Game 3 breakout win, it was the Braves who carried over a late rally from Game 3 into a 10-2 blowout win in Thursday's Game 4 of the National League Championship Series at Globe Life Field.
Walker Buehler and his blisters were in the bullpen (but not used) for Game 4 and rookie Dustin May will start Game 5 on Friday, the first of three consecutive games the Dodgers must win, with no days off, to advance to the World Series. Otherwise, they go home.
Entering 2020, teams taking a 3-1 lead in any best-of-seven postseason series had gone on to win that series 74 of 87 times (85%). The last team to successfully rally from a 3-1 deficit was the 2016 Cubs, in the World Series against the Indians.
Buoyed by the way they wiped out the Braves pitching staff in Game 3, the Dodgers showed up for Game 4 confident in the pitching (mis)match-up: future Hall of Famer Clayton Kershaw against rookie Bryse Wilson, who took Cole Hamels' spot and was pitching on 18 days' rest. Kershaw was pitching with two extra days of rest after being scratched from Game 2 with a minor back spasm.
Out of nowhere, Wilson came up with a clutch, breakthrough performance on a national stage. Kershaw lost another postseason game, his manager defending the three-time Cy Young winner from the haunting narrative that he can't pitch big games -- when the manager wasn't defending himself for leaving Kershaw in too long.
"He gave us a chance to win the baseball game," Roberts said of Kershaw. "We couldn't put any runs up. That narrative couldn't be further from the truth."
Roberts explained that because Kershaw pitched a 1-2-3 fifth inning (facing the bottom of the order) with a strikeout, he "had no reason" to waver with Kershaw facing the top of the order in the sixth.
Ronald Acuña Jr. opened the sixth with a chop single over the mound that second baseman Kiké Hernández threw into the dugout. Freddie Freeman hit a sharp grounder past first baseman Max Muncy that went for a double because right fielder Mookie Betts was stationed in right-center. Kershaw was still on the mound when Marcell Ozuna -- who homered in the fourth inning off Kershaw and again in the seventh off Dylan Floro -- doubled to center.
"They were just finding holes. It's just kind of baseball and we couldn't find a way to limit damage," said Roberts. "A 3-2 breaking ball to Ozuna, it wasn't hit very hard, it just found the right spot in the outfield and turned into a double. Good piece of hitting. I felt really good with Clayton at that point in time."
Of course, Kershaw had more than enough help in losing this game. The offense that ran up 15 runs on 16 hits in Game 3 vanished at the sight of rookie Wilson. It looked more like the same offense that had been quieted earlier in the series by rookies Ian Anderson and Huascar Ynoa. The Dodgers totaled only three hits and left the bases loaded the first inning Wilson was out of the game.
Kershaw was charged with four runs in five-plus innings, his offense giving him no margin for error. Of the five Dodgers who homered in Game 3, one of them, Edwin Ríos, homered again and had a sacrifice fly in Game 4. The other four -- Corey Seager, Muncy, Cody Bellinger and Joc Pederson -- went 0-for-11 with three walks. Mookie Betts went hitless and is 2-for-14 with three walks in the series.
Then there's the Dodgers' bullpen, which had been the best in the National League during the regular season. But it gave up more runs (six) in three innings than Kershaw (four) did in five-plus as the Braves went all Dodgers on the Dodgers, patiently passing the baton for a six-run, seven-hit sixth inning.
"We just couldn't limit the damage," Roberts said. The prime violator was rookie Brusdar Graterol, who followed Kershaw and allowed four hard-hit balls and one inherited run to score plus was charged with three more. Floro allowed Ozuna's second home run, and two runs scored after Jake McGee took over following an error by Matt Beaty at first base.
"I think you've got to give credit at times to hitters," Roberts said. "We get two strikes, they fight and put the ball in play. You do that, you might find some hits out there. When we get ahead [in the count], we're not finishing with the strikeout."
Kershaw compared the Braves' lineup to the Dodgers'.
"They're similar to us as far as they build on momentum really well," Kershaw said. "It just seems like they have that domino effect when one thing gets going, and they've got great hitters, too. They're a good team. We've just got to come back and win tomorrow."
Ken Gurnick has covered the Dodgers for MLB.com since 2001.