More LCS action today: 3 storylines per team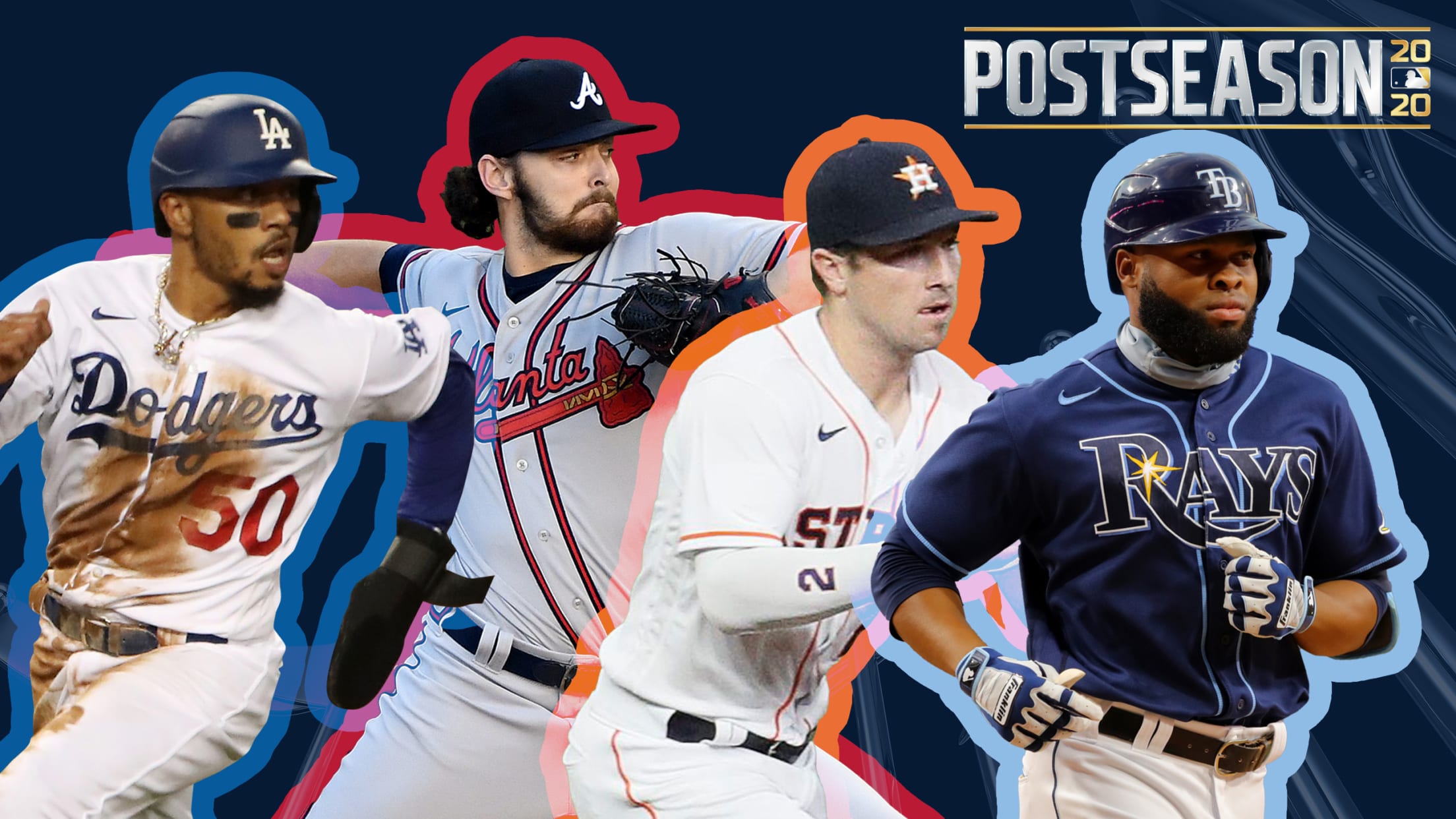 It was another staggering day of baseball on Monday, and we get to do it again on Tuesday. Here's a look at three looming storylines for each team heading into Game 2 of the National League Championship Series and Game 3 of the American League Championship Series. NLCS Game 2:
It was another staggering day of baseball on Monday, and we get to do it again on Tuesday. Here's a look at three looming storylines for each team heading into Game 2 of the National League Championship Series and Game 3 of the American League Championship Series.
NLCS Game 2: Braves-Dodgers, 6 p.m. ET, FS1
Braves lead series, 1-0
FAQ: Lineups, pitchers, more
Braves
1. Where in the world did all this pitching come from?
The Braves had a middle-of-the-pack pitching staff this year, and I mean that literally: Their 4.41 ERA ranked 15th in the Majors. (Just barely ahead of the Orioles.) And yet, here they are, having given up six runs in six games against, well, three playoff teams. The starters have been excellent -- and we'll get to their best one in a moment -- but the bullpen has been jaw-dropping.
• Postseason bracket, schedule
And it was again on Monday, with Chris Martin, Will Smith and Mark Melancon not allowing a single baserunner. The Dodgers have the best, deepest offense in baseball. But they sure didn't look it in Game 1 of the NLCS. That's been happening a lot with the Braves lately.
2. Do we get more Pablo Sandoval?
This postseason has provided us so many memorable moments, but there really haven't been any quite like Twitter's collective, "Wait … Pablo Sandoval's batting? In a huge moment? Right now? For the Braves?" during Game 1. Sandoval had four plate appearances for Atlanta in the regular season, with no hits and two walks. And yet, there he was, in the eighth inning, with a chance to be the hero in a 1-1 game.
Sandoval ended up being hit by a pitch to load the bases, but he played some third base and generally added some much-needed levity to a very stressful game. It's tough to imagine him coming in for a high-leverage spot like that again, but honestly, it was just very nice to see him, wasn't it? And hey, he's still got a chance for his fourth World Series ring.
3. Is Ian Anderson Atlanta's new playoff folk hero?
If the Braves end up breaking through this year and laying the groundwork for a franchise that is only going to get better as the years go along, could Ian Anderson be their version of what Madison Bumgarner was for the Giants in 2010, the year San Francisco won its first of three World Series titles in five years?
The 22-year-old Anderson had a 1.95 ERA in six regular-season starts and has yet to give up a run in 11 2/3 postseason innings. Atlanta has had a terrific offense all year, but the splendid starting pitching, that's new, and that in large part coincides with Anderson's arrival. He could put this series in a vice grip for the Braves if he can come in and keep those zeros coming.
Dodgers
1. Is it time to start worrying about Dave Roberts again?
Any time a team as talented as the Dodgers have been the past few years keeps falling short in the postseason, the manager is going to take some heat. But Monday did Roberts no favors, for the same reason some Los Angeles fans have been frustrated for a while: bullpen management.
With Kenley Jansen fully rested, Roberts went with Blake Treinen and Jake McGee in the ninth inning of a tied game with the Braves' best hitters coming up. Both pitchers gave up homers, and before you knew it, the Dodgers were down, 5-1, in the game and in short order, 1-0, in the series.
You can make an argument for Roberts -- Treinen is an excellent pitcher, after all -- but when a game implodes like it did in the ninth on Monday, and you have the history Roberts has … fans are going to let him have it. (It also raises questions about Roberts' confidence level in the struggling Jansen, as "top of the ninth of a tied game when you are the home team" is typically a situation a team brings in its closer for.) These NLCS games aren't going to suddenly turn into blowouts. Roberts is going to face constant decisions like that all series.
2. When do the stars show up?
The Dodgers are deep by design -- it's their signature feature -- but of course the difference this year was that they had a ton of stars in the lineup, too, including recent MVP Award winners in their prime. Mookie Betts was brought in specifically to get the team over the top in the postseason, after all. Well, Los Angeles' stars -- Betts, Cody Bellinger, Justin Turner and Corey Seager -- went a combined 2-for-16 in Game 1.
Now, the non-stars (however you want to define this) weren't able to do anything either: The rest of the lineup went 2-for-15. But the whole point of having stars, especially for a team as desperate for a World Series title as the Dodgers, is to have them come up big in key moments. It didn't happen in Game 1.
3. Uh ... without Kershaw, what do they do now?
Consider it your October surprise: After having a resurgent, vintage season -- and after having two terrific postseason starts already -- Clayton Kershaw was scratched by the Dodgers with back tightness just a few hours before Game 2 was set to begin. This obviously causes all sorts of problems for the Dodgers' staff, which used six pitchers in Game 1 of a seven-game series in which there are no days off, but obviously, losing one of the best pitchers in baseball is ... well, it's a problem.
Tony Gonsolin is getting the start, the first postseason appearance of his career and the first game he has pitched in 17 days. The Dodgers were already wobbly after that ninth-inning one-two punch in Game 1. Now their staff is already exhausted and looking at a bullpen game, down 1-0. The Dodgers were the best team in baseball this year. But as usual, in October, they sure are going to have to earn it.
Game 3: Rays-Astros, 8:30 p.m. ET, TBS
Rays lead series 2-0
FAQ: Lineups, pitchers, more
Rays
1. Can they continue to fly in the face of every strikeout trend?
If there has been a story of these playoffs so far, it's that the name of the game is strikeouts. Relievers show up blasting 100 mph heaters past you, and when they get tired, a new guy shows up to do the same thing. If you can strike guys out, you win.
Except:
I realize this is bordering on straight-up trolling, but, the Rays are up 2-0, and ...

In G1, they struck out 13 times. (Astros only 5)
In G2, they struck out 13 times. (Astros only 8)

TB hitters have whiffed 2x as much as HOU hitters, 26-13. They're up 2-0.

— Mike Petriello (@mike_petriello) October 12, 2020
Some people are arguing that the Rays are "getting lucky," and others are arguing they're "taking advantage of opportunities." Whatever your perspective, everything keeps landing just right for Tampa Bay right now. Can it keep it up? It only needs to stretch it out for two more wins.
2. Who will be the hero this time?
In Game 5 of the ALDS, it was Mike Brosseau. In Game 1 of the ALCS, it was … well, it was Randy Arozarena, but then again, he's been the hero a lot lately. In Game 2, it was Manuel Margot, who not only had a big three-run homer, but also an utterly ridiculous catch in right field. Margot was once considered one of the Padres' top prospects (they got him from the Red Sox in the Craig Kimbrel trade in 2015), but he never panned out the way he was supposed to before getting traded to the Rays this past winter. However, he came up to the Majors so early you can forget that he only just turned 26.
The Rays have so many players who aren't superstars but still have talent just waiting to be unleashed at the right time. Who's the top pick this time? How about Joey Wendle? He doesn't have a hit in the ALCS yet, but he was terrific in the ALDS. Maybe it's his number that gets called this time.
3. How much will they push Ryan Yarbrough?
Yarbrough is generally the kind of pitcher you bring in when you need innings in bulk (often in relief after an opener). He has only shown up once in the postseason, throwing five innings of relief in Game 4 of the ALDS and giving the always-busy Rays bullpen some time to rest.
They'll need that rest after mixing and matching for the past two games, and Yarbrough will be asked to give Tampa Bay as much as he can as its starter. If he can be on, though -- and he has the talent to do so -- he could go from "innings eater" to "guy who could put the Rays one win away from their second World Series appearance."
Astros
1. Is Alex Bregman cursed?
Bregman doesn't have a hit yet in the ALCS, but boy is it ever not for lack of trying:
Not a fun day at the office for Alex Bregman pic.twitter.com/BDaaFmUnIa

— FanGraphs Baseball (@fangraphs) October 12, 2020
Bregman's final at-bat on Monday was the perfect example of how frustrating this series (and in many ways this season) has been for him. Nick Anderson was tiring, struggling and wanting to throw a first-pitch fastball for a strike after consecutive walks; Bregman knew it, and he was ready.
Bregman then smashed a pitch that most times is in the gap for a game-tying (or more) extra-base hit. Instead, it landed in center fielder Kevin Kiermaier's glove … and Bregman ended up 0-for-5. He became the first player since Statcast tracking began in 2015 to have five hard-hit balls (95-plus mph exit velocity) in a postseason game and not get a hit. Some of those balls are eventually going to land, either in the outfield or in the seats. The baseball gods can't side against him forever.
2. Is Jose Urquidy the next to have a great start wasted?
You know, the whole deal with the Astros was that they were supposed to be in trouble with their rotation after losing Gerrit Cole in the offseason and Justin Verlander to Tommy John surgery. But both Framber Valdez and Lance McCullers Jr. were terrific to begin the series, but they were undone by a lack of clutch hitting and infield mistakes. Jose Altuve might be kicking himself for his error before Margot's homer all offseason.
If Urquidy can give the Astros, say, five innings of two-run ball or better, his teammates should be elated. But if they can't score runs, or make basic infield plays, it won't matter. They need Urquidy to be great. But they need more than that, too.
3. When it gets hairy, do they finally cry 'uncle'?
I know no one wants to hear it, but it does require considerable intestinal fortitude to keep coming back from everything the Astros have been faced with this year. Injuries, purpose pitches, the scorn of all of baseball … Houston has battled back from one setback after another and its status as baseball's bad guys.
That can provide an energy boost for a while, particularly in a postseason environment, but eventually, you can't run on adrenaline forever. If the Astros fall behind early, no one would blame them for finally collapsing from exhaustion and rolling over. OK, so everyone would blame them for that. But you'd also have to understand it.