Meet the artist behind MLB.com sketch auction
30 Ballparks in 30 Days bidding underway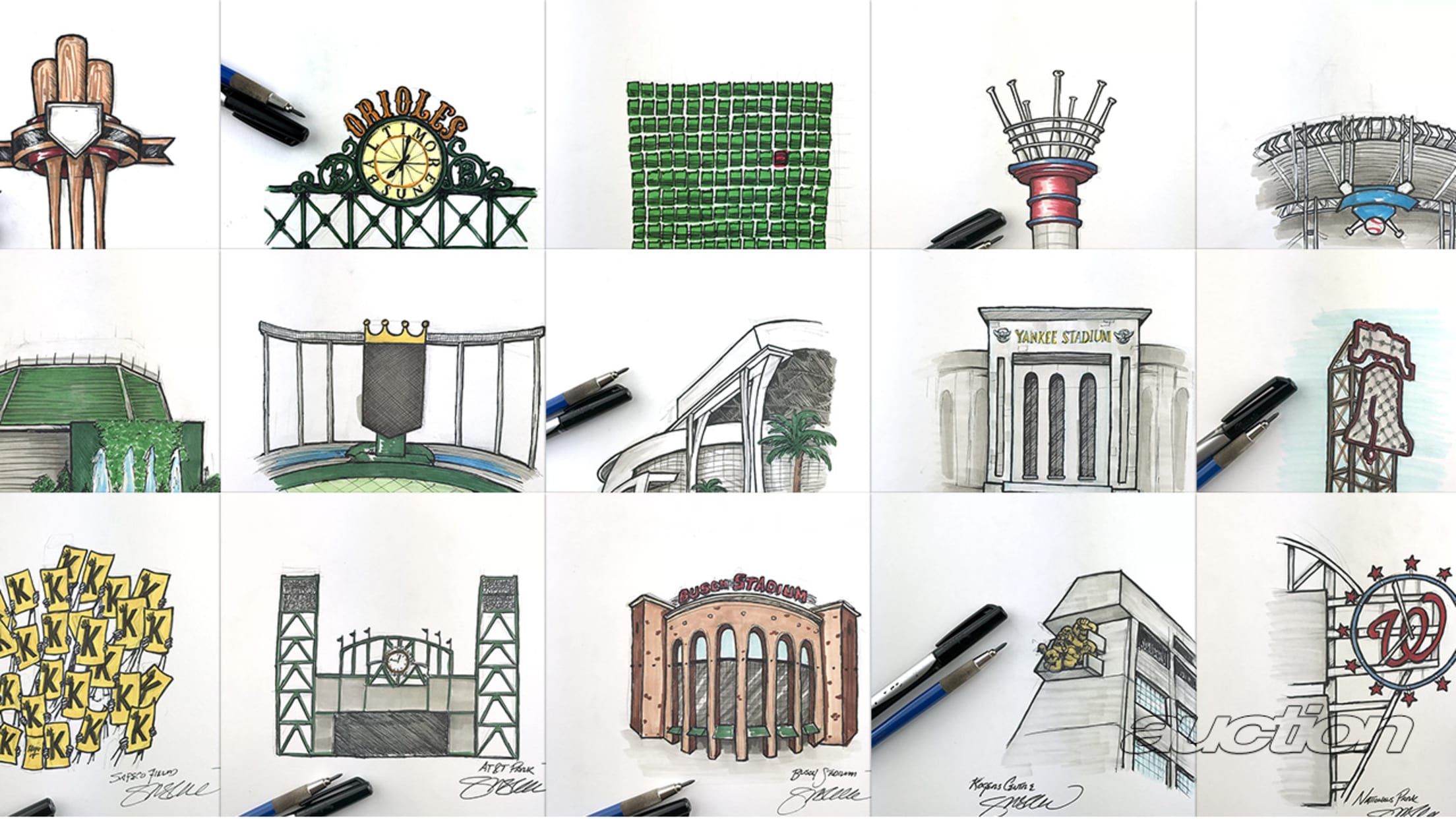 S. Preston loves Major League ballparks just like the rest of us, but he sees them a little differently. His minimalist sketches of them are being gradually offered here as original works in a special 30 Ballparks in 30 Days auction, his artwork is in the National Baseball Hall of
S. Preston loves Major League ballparks just like the rest of us, but he sees them a little differently. His minimalist sketches of them are being gradually offered here as original works in a special 30 Ballparks in 30 Days auction, his artwork is in the National Baseball Hall of Fame, and he will showcase his full collection as a featured artist at MLB All-Star FanFest next month in Miami.
Each sketch in his collection will be put up for bidding each day and remain on the auction block for seven days, and there is already buzz over this now that it's underway. MLB.com wanted to know more about the graphic artist behind the pen in these sketches, so here's a Q&A with the Canada native based in Irvine, Calif.:
MLB.com: How did the idea for 30 Ballparks in 30 Days come about, and what kind of response are you expecting?
Preston: As an artist, it's important to do warmup sketches every day to keep the mind creative, and the muscle memory fresh. I'm never shy of sharing my art on social media, and it's not uncommon for me to get offers from my followers on my illustrations. So to keep things interesting for me and my fans, I decided to challenge myself to draw one ballpark each day for 30 days as part of my daily exercise. When MLB decided to approve and hologram the series, we decided to make the originals available at MLB.com/auction.
MLB.com: How do you decide the element that you illustrate for each ballpark? Sometimes these are iconic elements, sometimes not.
Preston: I'm a ballpark nut. I'm a big fan of sports stadiums, and I love all the details that are built for the fan's experience. So over the years, I've been collecting new ideas from my travels and from my fans that would be iconic to each ballpark. I'm best known for my minimalist ballpark collection which is digital artwork, but not all of my ideas translate into that series. So this collection of sketches is another way to showcase my minimalist vision to each ballpark.
MLB.com: Everyone at Fenway Park knows about the red Ted Williams seat, in honor of him hitting the longest home run (502 feet) there in 1946. What made you choose an overview of that seating area, given so many iconic options at Fenway?
Preston: I've already drawn the Green Monster in my main minimalist series, and over the years, numerous Red Sox fans have urged me to do the Ted Williams seat because it lends so well to my minimalist style. I like my art to have a "only a true fan will know" aspect, so the red seat works in many ways.
MLB.com: How have fans responded to you while you are sketching and to your art in general?
Preston: When I travel to the ballparks around the country, I normally bring a sketchbook with me and I've been known to hand out free sketches to baseball fans in the stadium. It's not uncommon to have several of my Twitter and Instagram followers hunt me down to claim some original art from me. So I knew that a lot of baseball fans love my original artwork.
MLB.com: Do you have a personal favorite among the 30 sketches?
Preston: My favorite sketch is Safeco Field. Good art should immediately trigger an emotion in your soul, and if you've ever been part of the King's Court, you know exactly what it's all about.
MLB.com: How do players react to your work?
Preston: Most of my interaction is with the fans, not the players. Baseball art caters to a niche market of discerning fans. Especially since I do not draw players or logos, you need a certain respect for the arts to fully appreciate what I do. Funny enough, over 50 percent of my fan base consists of women, and several of the players' wives have my artwork, not the players. It makes sense if you think about it, because women are more attuned with style, color palettes and interior design.
MLB.com: How long did it take you to sketch these?
Preston: Since the spirit of this project is to do quick sketches, most of these took me no longer than 30 minutes each.
MLB.com: Do you prefer first initial-only on first reference here, and if so why?
Preston: S. Preston is an artist name. I've had this nickname since high school. Most people call me Preston.
MLB.com: Your artwork is on display at the Baseball Hall of Fame and some ballparks. What does this mean to you as an artist?
Preston: When the Hall contacted me, they made it clear that their mandate is to recognize "significant artifacts" and to "preserve the culture of baseball." They said that 99 percent of artists who submit their art are rejected, but my minimalist ballpark collection is culturally significant enough that they would want to add it archive. So my art now sits in a vault with Norman Rockwell and Andy Warhol, which is obviously a great honor.
MLB.com: You have said that your dream was to be in sports. Is this the next best thing to playing?
Preston: They say very few people get to do what they love. When you look at the players on the field, that's why we admire them. With a combination of talent and hard work, they dedicated all their lives to achieve that dream. Though my talents are different, it's the same (baseball) dream. In fact, every time a fan asks me to sign a baseball, it makes that little kid in me so happy.
Mark Newman is enterprise editor of MLB.com and a baseball writer since 1990. Follow him @Marathoner and read and join other baseball fans on his MLB.com/blogs hub.