Here's one breakout prospect for every team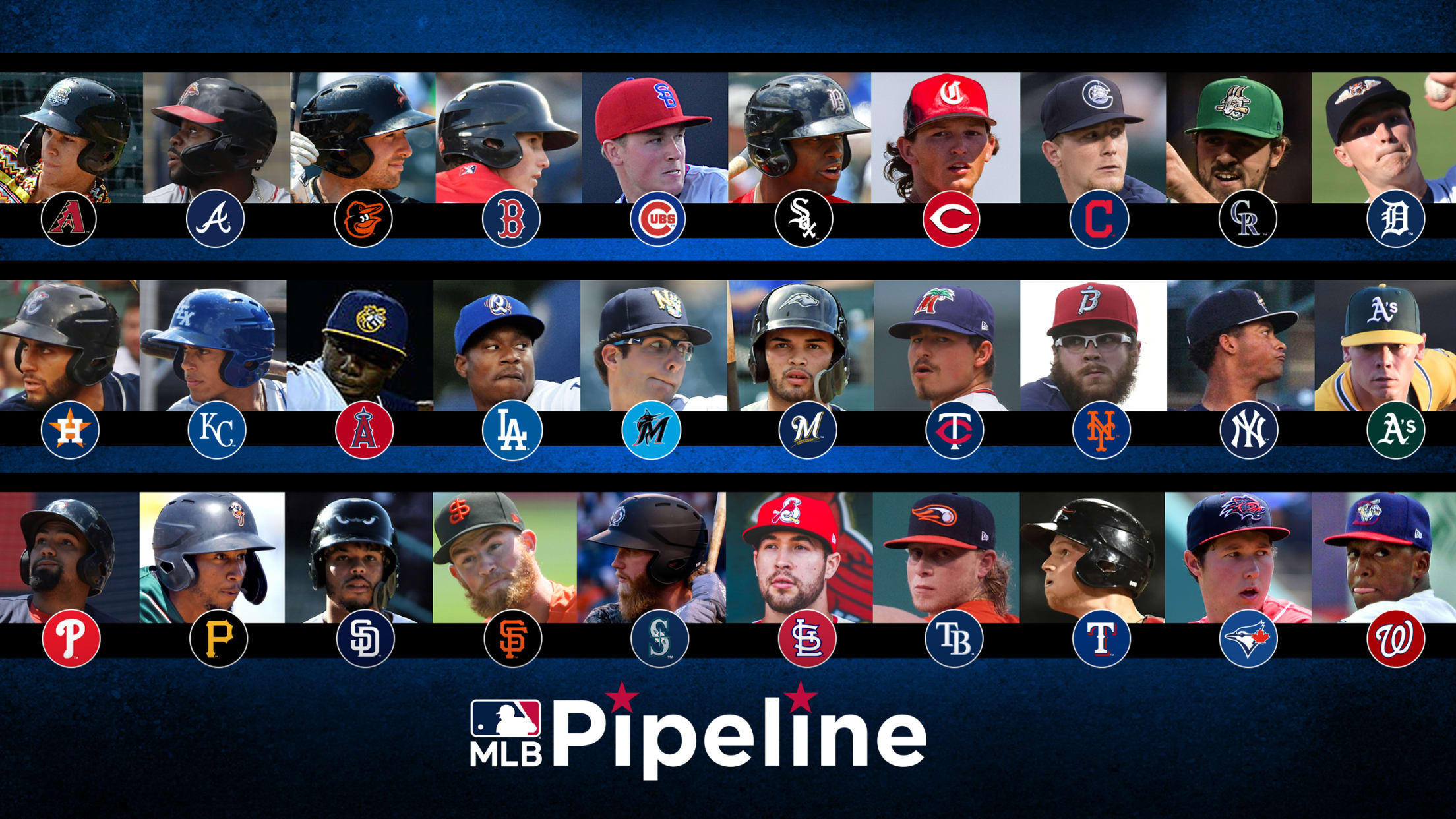 Keston Hiura (Brewers) and Luis Urias (Padres) are raking with OPS greater than 1.000 in Triple-A. Casey Mize (Tigers) and MacKenzie Gore (Padres) are dueling for the Minor League ERA leadership. None of that should be surprising, because Hiura and Urias are two of the best hitting prospects in baseball,
Keston Hiura (Brewers) and Luis Urias (Padres) are raking with OPS greater than 1.000 in Triple-A. Casey Mize (Tigers) and MacKenzie Gore (Padres) are dueling for the Minor League ERA leadership. None of that should be surprising, because Hiura and Urias are two of the best hitting prospects in baseball, and Mize and Gore are the two best pitching prospects in the game.
But there are plenty of prospects who have posted startling numbers in the first couple months of the Minor League season. Below, we identify a breakout performer from each of the 30 organizations.
AMERICAN LEAGUE EAST
Blue Jays: Nate Pearson, RHP (TOR No. 2/MLB No. 53)
This may seem like a bit of a cheat since Pearson opened the season on our Top 100 Prospects list, but it's important to remember that the 6-foot-6 right-hander logged just 1 2/3 regular-season innings last year due to injury before an eye-opening turn in the Arizona Fall League. Now pitching in his first full season, Pearson, who boasts a legitimate triple-digit fastball as part of a four-pitch mix, has already reached Double-A and is showing no signs of slowing down. He owns a 1.97 ERA between two levels, with a 63/8 K/BB ratio and .181 BAA in 45 2/3 innings.
Orioles: Mason McCoy, SS (BAL No. 30)
McCoy came out of Iowa as a sixth-round pick in 2017 with a strong defensive pedigree, but questions arose about his impact potential at the plate. A .266 average and .104 ISO at Class A Delmarva last season didn't change that opinion, but the 24-year-old has improved the quality of his contact and overall approach in 2019, hitting more line drives and using the opposite field more effectively en route to a .351/.404/.474 line with 21 extra-base hits while reaching Double-A.
Rays: Shane Baz, RHP (TB No. 9)
Baz is offering a glimpse of his ridiculous ceiling this year in his first full-season campaign, which is also his first season as a member of the Rays after they acquired him as the PTBN in last summer's Chris Archer trade that netted Tampa Bay Tyler Glasnow and Austin Meadows. He has all the ingredients needed to develop into an impactful big league starter, featuring a combination of size, athleticism and a deep arsenal of power stuff, including a fastball that's touched triple digits already in 2019.
Red Sox: Jarren Duran, OF (BOS No. 9)
A seventh-round pick in 2018, Duran made little impact with his bat during three years at Long Beach State, so when he debuted with a .357/.394/.516 line, it was unclear whether that performance was for real. It's clear now that it was, because he's hitting .361/.439/.513 with 23 extra-base hits and 19 steals in 58 games, forcing his way to Double-A already. He's the fastest prospect in Boston's system.
Yankees: Luis Gil, RHP (NYY No. 13)
Acquired from the Twins in exchange for Jake Cave in March 2018, Gil flew under the radar a bit last year in a Yankees system loaded with hard-throwing right-handers. That's changing now that he's made the jump to full-season ball, where his 94-101 mph fastball has enabled him to lead the low Class A South Atlantic League in ERA (1.81) and opponent average (.176) while striking out 73 in 54 2/3 innings.
AMERICAN LEAGUE CENTRAL
Indians: Zach Plesac, RHP (unranked)
Plesac blew out his elbow at Ball State in 2016, had Tommy John surgery and progressed slowly after signing as a 12th-round pick. He finished last season with four promising starts in Double-A, then recorded a 1.41 ERA in nine starts in Double-A and Triple-A this spring before joining Cleveland's rotation in late May. Using a 92-96 mph fastball to highlight a four-pitch mix, the nephew of former All-Star Dan Plesac logged a 2.92 ERA in his first four big league outings.
Royals: Michael Gigliotti, OF (KC No. 13)
After a very strong pro debut after being a fourth-round pick out of Lipscomb in 2017, Gigliotti missed nearly all of the 2018 season because of a torn ACL. He's back showing his advanced approach at the plate (.295 average, .383 on base percentage) while showing no ill effects from the knee injury as the South Atlantic League leader in stolen bases (26).
Tigers: Tarik Skubal, LHP (DET No. 17)
Credit to the Tigers' scouting department for targeting Skubal, who pitched to uneven results last year at Seattle University in his first full season back from Tommy John surgery. The 6-foot-3 lefty has put himself on prospect radar this year in his first full pro campaign, showing a fastball that reaches the mid-90s that he pairs with a nasty cutter/slider and a promising changeup. In 12 Florida State League starts, the 22-year-old has compiled a 3.08 ERA, 72/16 K/BB ratio and .205 BAA in 61 1/3 innings for Lakeland.
Twins: Jordan Balazovic, RHP (MIN No. 19)
The 20-year-old right-hander had pitched well in his full-season debut in 2018, though that didn't happen until the end of May as the Twins were limiting his workload. The gloves have come off this year and he's already earned a promotion up to the Florida State League, posting a combined 2.54 ERA, .184 BAA and 13.0 K/9 rate to go along with a 1.9 BB/9 rate.
White Sox: Luis Robert, OF (CWS No. 1, MLB No. 15)
The White Sox loved Robert's power/speed combination enough to hand him a $26 million bonus -- and paid a matching amount as a penalty for exceeding their 2016-17 bonus pool -- but injuries limited him to 50 games and zero homers in his first full pro season. He has exploded in his second, batting .370/.419/.661 with 12 homers and 18 steals in 57 games between high Class A and Double-A.
AMERICAN LEAGUE WEST
A's: Daulton Jefferies, RHP (OAK No. 14)
Jefferies was highly regarded enough to be the 37th overall pick of the 2016 Draft, but he needed Tommy John surgery and logged just 20 1/3 innings from 2016-18. Finally healthy, he's starting to show what the fuss was about, quickly earning a promotion up to Double-A and compiling a ridiculous 45/2 K/BB ratio over 39 2/3 innings so far this season.
Angels: LAA: Hector Yan, LHP (LAA No. 30)
Yan has already surpassed his high mark for innings in a season while making his full-season debut at age 20. There's still a lot of work to be done in terms of his command, but he's lowered his walk rate from 6.1 in 2018 to 5.3 so far this year while striking out 13 Midwest League batters per nine.
Astros: Abraham Toro, 3B (HOU No. 21)
Scouts inside and outside the Astros organization have said Toro is one of the best all-around hitters in the system, even if he didn't have the big numbers to show it. He does now, building off a strong Arizona Fall League performance to bat .297/.397/.586 with 10 homers in 60 Double-A contests. Yet another product of Houston's deft scouting efforts with Oklahoma junior colleges, he was a fifth-rounder out of Seminole State in 2016.
Mariners: Jake Fraley, OF (SEA No. 14)
Fraley had trouble staying healthy with the Rays, playing just 30 games in his first full season (2017) and 66 more in 2018, though some of his tools were on display during that shortened campaign. In his first year with the Mariners since coming over in the Mike Zunino trade, he's put it all together in his first taste of Double-A with a .326/.393/.563 line to go along with 11 homers and 14 steals.
It's a 2-homer kind of day for Jake Fraley ...

And it's the the 2nd multihomer performance of the season for the #Mariners' No. 14 prospect, who's now slashing .335/.401/.579 for @ARTravs.

Live @Mariners prospect stats: https://t.co/s5aDCFEErd pic.twitter.com/IuPHhBmVIH

— MLB Pipeline (@MLBPipeline) June 9, 2019
Rangers: Sam Huff, C (TEX No. 21)
A seventh-round pick as an Arizona high schooler in 2016, Huff had hit for average (.330 in his pro debut) and power (18 homers in 2018, seventh among Minor League catchers last year), but never in the same season before now. He's batting .313/.360/.634 with 18 homers in 62 games between two Class A levels, and he's a surprisingly good receiver for a 6-foot-4 backstop.
NATIONAL LEAGUE EAST
Braves: Trey Harris, OF (ATL No. 28)
It was a nice story when Harris, a Missouri senior taken by his hometown team in the 32nd round of the 2018 Draft, had a nice pro debut by hitting .302 and reaching full-season ball. He jumped firmly on the prospect map this year by hitting his way out of the South Atlantic League (.366/.437/.594) and continuing to rake over his first nine games in the Florida State League (.387/.457/.452).
Marlins: Zac Gallen, RHP (MIA No. 18)
Known as a finesse right-hander when the Marlins picked him up from the Cardinals in the December 2017 Marcell Ozuna trade, Gallen did nothing to dispel that notion in his first year in his new organization. He is now, however, adding velocity and reaching 97 mph, while topping the Triple-A Pacific Coast League in wins (eight), ERA (1.57), innings (86), strikeouts (104), opponent average (.150) and WHIP (0.70).
#Marlins No. 18 prospect Zac Gallen spun another 💪 start for @cakesbaseball:
7 IP
4 H
1 R
2 BB
11 K (ties career high)

Live stats for all the @Marlins' top prospects: https://t.co/RUU0xf1pg3 pic.twitter.com/DToOcWFuAs

— MLB Pipeline (@MLBPipeline) June 5, 2019
Mets: Anthony Kay, LHP (NYM No. 7)
It might not be long until Kay is pitching for the Mets after his recent promotion to Triple-A Buffalo. Few hurlers have been as successful this season as Kay, the Mets' first-round pick in 2016. He received a bump up to the Minors' highest level after a dominant showing with Double-A Binghamton, during which he ranked among the Eastern League leaders with a 1.49 ERA (second), 0.92 WHIP (fourth) and 70 strikeouts (fifth), all while limiting hitters to a paltry .165 clip over 12 starts.
Phillies: Deivy Grullon, C (unranked)
A Top 30 prospect back in 2016, Grullon is making a case to jump back on the list. Known mostly for his plus arm previously, the 23-year-old backstop is showing the offensive year he had in hitter-friendly Reading a year ago (.273/.313/.515 with 21 homers) wasn't a mirage by hitting .310/.364/.508 in Triple-A.
Nationals: Joan Adon, RHP (WAS No. 20)
Signed out of the Dominican Republic for $50,000 in July 2016, Adon worked out of the bullpen exclusively during his first two pro seasons before moving into the rotation for 2019. The 20-year-old has taken quickly to the new role, going 5-2 with a 2.93 ERA, .209 BAA and 56 strikeouts in 61 1/3 innings (12 starts) at Class A Hagerstown. A 6-foot-2, 185-pound right-hander, Adon features a plus fastball at 93-97 mph that he pairs with a hard slider and developing changeup.
NATIONAL LEAGUE CENTRAL
Brewers: Mario Feliciano, C (MIL No. 14)
The Brewers were very high on Feliciano's bat after taking him with the No. 75 overall pick in the 2016 Draft out of Puerto Rico, only to watch as injuries derailed his 2018 campaign and also cost him a stint in the Arizona Fall League. Fully healthy in 2019, the 20-year-old backstop is earnestly making an impact at the plate, hitting for average (.286) and power (14 homers) -- albeit with some swing-and-miss issues -- in the Class A Advanced Carolina League.
Cubs: Riley Thompson, RHP (CHC No. 27)
It's no secret that the Cubs are trying to develop some homegrown pitching help, and Thompson has looked promising since signing for $200,000 as an 11th-rounder out of Louisville last year. He had Tommy John surgery as a high school senior but has recovered to work at 93-98 mph with his fastball and flash some hammer curveballs. He has recorded a 2.50 ERA with a 51/14 K/BB ratio in 54 innings in low Class A during his first full pro season.
Cardinals: Dylan Carlson, OF (STL No. 2/MLB No. 97)
Carlson entered the season as a breakout candidate simply because he's a former first-round pick (2016) who held his own last year at age 19 in the challenging Florida State League. Advancing to Double-A in 2019, after a very impressive showing in big league camp, the now-20-year-old switch-hitter's game is coming together quickly, as he's showing an advanced bat (.293/.378/.522) along with an intriguing blend of power and speed (29 XBH, 11 SB) and the ability to play an above-average center field.
Pirates: Lolo Sanchez, OF (PIT No. 14)
Sanchez excited Pirates fans with a terrific United States debut in the Gulf Coast League in 2017, but didn't back it up well when he was pushed to full-season ball the following season. He's tweaked his setup at the plate to stay back better on offspeed stuff, which plagued him in 2018, and it's working, with a .309/.388/.464 line and 19 steals to show for it.
Reds: Packy Naughton, LHP (CIN No. 20)
The southpaw showed some good things in his first full season of pro ball in 2018, though he was a bit too hittable. He's taken a leap forward this year, pitching his way from the Florida State League up to the Double-A Southern League and posting a combined 2.58 ERA, a .251 BAA (down from .280 a year ago) and a robust K/BB ratio over five.
NATIONAL LEAGUE WEST
D-backs: Alek Thomas, OF (ARI No. 7)
A second-round pick in last year's Draft, Thomas has proved one of the more advanced prep players from his class in his first full season, showing a promising blend of hitting ability, on-base skills and power potential (.295/.384/.478, 6 HR, 22 XBH) as a 19-year-old in the Class A Midwest League. He's seen the bulk of his playing time in center field, too.
Dodgers: Josiah Gray, RHP (LAD No. 17)
Part of the Yasiel Puig trade with the Reds last December, Gray spent most of his first two season at NCAA Division II LeMoyne (N.Y.) as a shortstop before becoming a full-time pitcher and a supplemental second-round pick in 2018. With a fastball that reaches 97 mph and a slider and changeup that show the potential to become solid offerings, he has logged a 2.82 ERA with a 63/14 K/BB ratio in 51 innings between two Class A levels.
Giants: Conner Menez, LHP (unranked)
A 14th-round choice out of The Master's (Calif.), an NAIA program, in 2016, Menez quietly led Minor League lefties with 171 strikeouts last year but also battled his control and command en route to a 4.46 ERA. He has been sharper with his 90-95 mph fastball and slider in 2019, posting a 2.78 ERA, 79/21 K/BB ratio and .182 opponent average in 64 2/3 innings between Double-A and Triple-A. He's the grandson of former big league catcher Bill Plummer.
Padres: Luis Campusano, C (SD No. 15)
After having his first full season cut short due to a concussion in 2018, Campusano is showing the makings of an all-around catcher this season in the Class A Advanced California League, where he's currently second in batting (.314), has 20 extra-base in 52 games and nearly as many walks (25) as strikeouts (29). He previously profiled as more of a power-over-hit offensive player, so the fact that he's hitting for average and controlling the zone so well is highly encouraging. His defensive skills require more refinement, but there's a lot to like in his overall athleticism behind the plate.
Rockies: Ben Bowden, LHP (COL No. 16)
Bowden was drafted as a college reliever who might move quickly through the system back in 2016, but the Vandy product missed all of 2017 with a disc problem. He did turn in a full 2018 across two levels of A ball, but he's really reminded people of what he might be this year in Double-A by going 19-for-19 in save opportunities with a 1.09 ERA, .100 BAA and a 40/5 K/BB ratio over 24 2/3 IP.