4 former Mariners get home opener 1st pitch
Jones, Reynolds, McLemore, Bloomquist set for ceremonial throw on April 10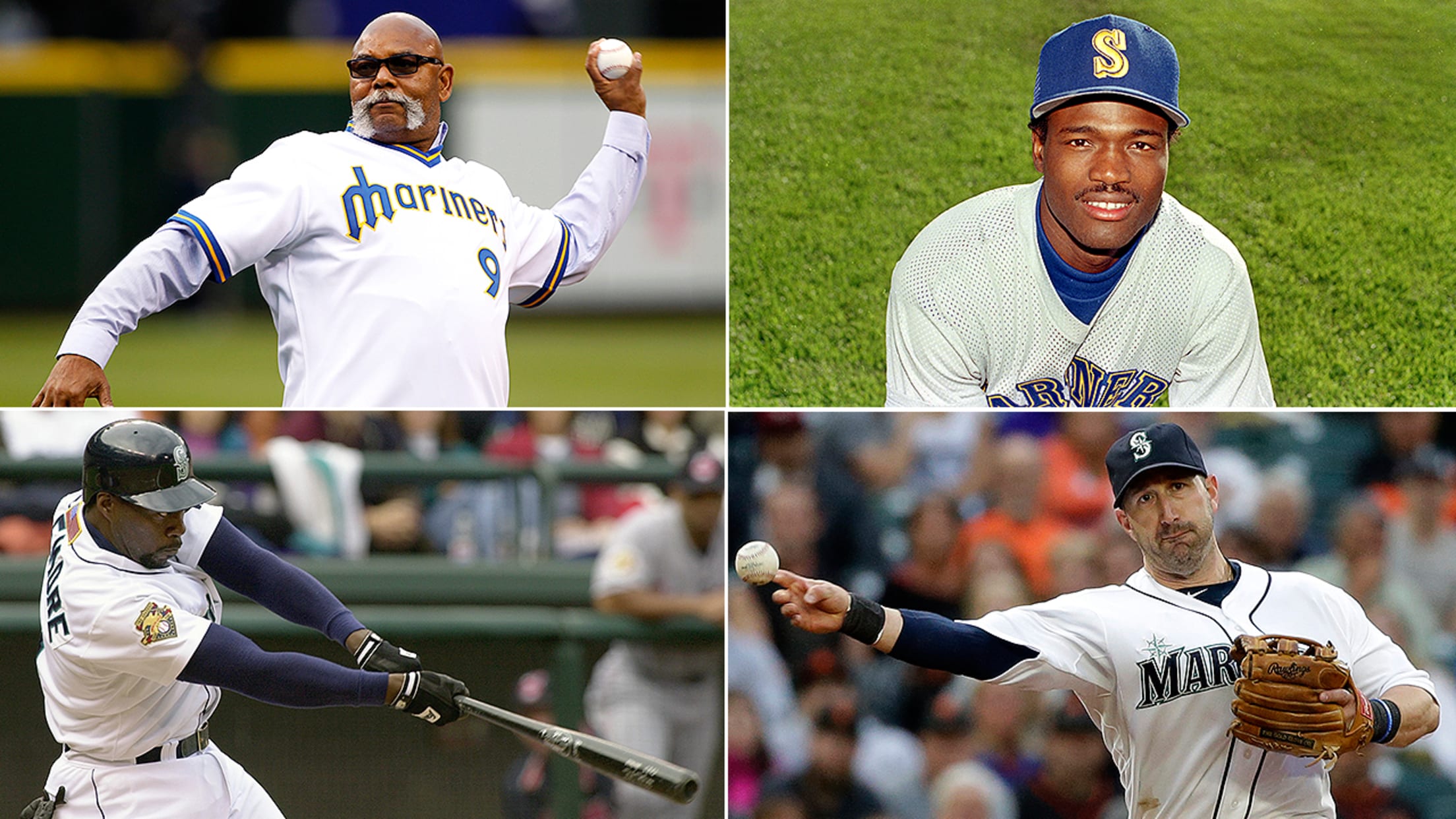 The careers of Ruppert Jones, Harold Reynolds, Mark McLemore and Willie Bloomquist spanned the four decades of the Mariners' 40 seasons. (AP)
PEORIA, Ariz. -- To begin their 40th-anniversary season, the Mariners will have four players whose careers spanned the four decades throw out the ceremonial first pitch prior to the home opener on April 10 at Safeco Field against the Astros.Ruppert Jones, Harold Reynolds, Mark McLemore and Willie Bloomquist will simultaneously
PEORIA, Ariz. -- To begin their 40th-anniversary season, the Mariners will have four players whose careers spanned the four decades throw out the ceremonial first pitch prior to the home opener on April 10 at Safeco Field against the Astros.
Ruppert Jones, Harold Reynolds, Mark McLemore and Willie Bloomquist will simultaneously toss first pitches that will be caught by four Mariners Hall of Famers -- Alvin Davis, Edgar Martinez, Jamie Moyer and Dan Wilson.
Pregame ceremonies for the 2:10 p.m. PT game will begin at 1:30 p.m., with Safeco Field's gates opening at 11:40 a.m. The pregame ceremony will be streamed live on mariners.com.
Tickets are still available for Opening Day as well as the rest of the first nine-game homestand, which features three-game series against the Astros, Rangers and Marlins. Tickets can be purchased at mariners.com/tickets, as well as Mariners Team Stores and the Safeco box office.
The Opening Day ceremonies will include the traditional run around the bases by a Make-A-Wish child, with Sophia Robinson, an 8-year-old from Anchorage, Alaska, doing the honors. Robinson has undergone six surgeries, including two open-heart procedures, to fight her life-threatening heart condition.
The national anthem will be performed by retired U.S. Navy Petty Officer 1st Class Generald Wilson, and the colors will be presented by the Kitsap Fire Fighters Union Honor Guard and the Lakewood Police Department.
The opening homestand includes Ken Griffey Jr. replica statue night on April 14 against the Rangers, with the first 45,000 fans to receive a miniature version of the statue that is being installed outside Safeco Field in honor of the club's first National Baseball Hall of Famer.
That game also will be the first King's Court of the season, with Felix Hernandez scheduled to start.
The first 20,000 fans at the final game of the homestand on April 19 will receive an Ichiro Suzuki bobblehead commemorating his achievements with the Marlins and Mariners as the former Seattle star concludes his first return to Safeco Field with Miami.
The Mariners open the regular season Monday in Houston.
Greg Johns has covered the Mariners since 1997, and for MLB.com since 2011. Follow him on Twitter [
---
@GregJohnsMLB]() and listen to his podcast.