5 buy-low targets for Week 9
Swing a swap for these players on the verge of getting hot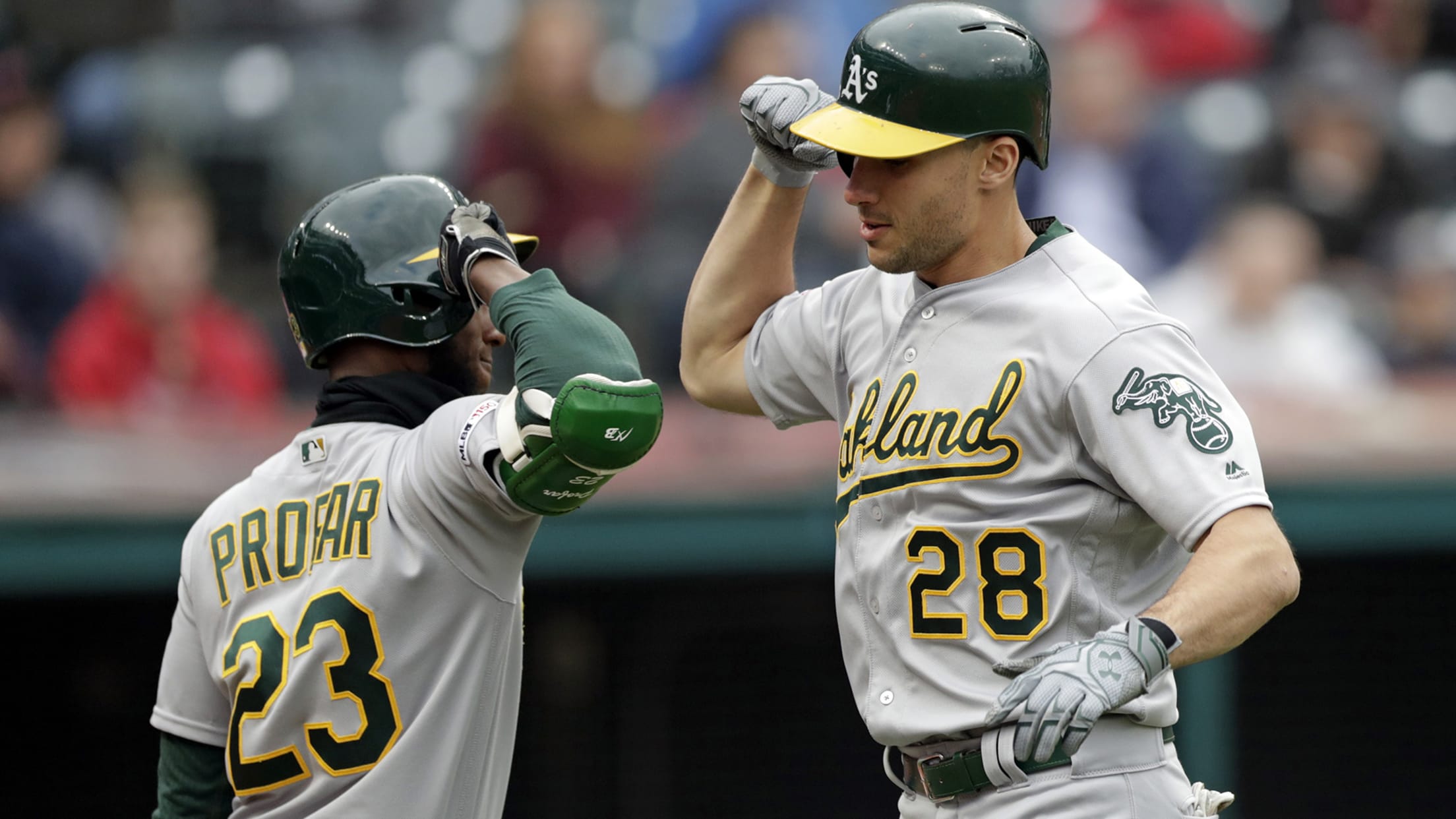 How is your fantasy team doing so far? If you're at or near the top of the standings, that's admirable, but you can always improve your roster. If you're (how should we put this?) a little lower in the standings, well, now is the time to start doing something about
How is your fantasy team doing so far?
If you're at or near the top of the standings, that's admirable, but you can always improve your roster. If you're (how should we put this?) a little lower in the standings, well, now is the time to start doing something about it.
Memorial Day is coming up, the national holiday that annually serves as a key marker in the fantasy baseball season. We're beyond stalling through slow starts from should-be stars, hoping those popular breakout candidates actually will bust out or waiting on injured players to get back on the field and produce.
Action should be taken, dear owner -- and the sooner, the better. With almost two full months' worth of performance and data to go on, here are five players you should consider buying low on now, so you can enjoy their turnarounds later.
Starling Marte, OF, Pirates
Marte's production has yo-yo'd in recent years, with strong seasons in 2016 and '18 sandwiching a '17 that was subpar (in part due to an 80-game suspension for testing positive for a performance-enhancing substance). His 2019 so far? It's been fairly underwhelming for an early round fantasy pick, with a .244/.275/.415 slash line, five homers and eight steals.
One thing to remember, though, is that the 30-year-old missed a chunk of April with an abdominal wall contusion after colliding with infielder Erik Gonzalez in the field. That explains some of the volume lacking in Marte's counting stats, and it's good to see he's hit better since returning (.274 AVG, .738 OPS).
One specific area that Marte could improve to help his all-around game, especially his stolen bases? Being just a tad bit more patient at the plate, as he has walked just three times in 172 plate appearances. He's never been a disciplined hitter (4.9% career walk rate), but he did take free passes nearly six percent of the time across 2017-18.
Getting back to that level would be a good start toward Marte turning it on and putting his pop-speed combo to use.
Matt Olson, 1B, Athletics
After a breakout 2018, Olson's 2019 started out with, well, a literal bad break. Just two games into the season, the 25-year-old had surgery to remove a fractured hamate bone in his right hand and wound up missing a whopping 34 games.
While Olson spent so much time on the shelf, there's a good possibility that whoever took him back in March has since found another useful option at first base and/or corner infield, thus rendering the lefty slugger somewhat less relevant. If so, make an offer -- fast.
In said offer, you should point out that surgery to fix the hamate bone tends to sap power for weeks, even after a player is healthy enough to return. Sure, there's a risk that could happen with Olson, but it's promising to see that he has started to display some of his usual pop by hitting four long balls in his past 10 games. If you still need more evidence, look no further than Olson's impressive .588 expected slugging percentage per Statcast.
Zack Wheeler, SP, Mets
Wheeler is a textbook example of a pitcher to buy low. The right-hander owns a 4.74 ERA and a 1.37 WHIP, both of which have actively hurt his current owner's pitching staff in those two rate categories. So why should you want him?
Well, it's pretty simple, really. For one, Wheeler, who turns 29 on May 30, continues to throw as hard as ever; in fact, his 96.8 mph average four-seam fastball velocity is the third highest among all starting pitchers (minimum 100 four-seamers, non-opener division).
For another, Wheeler's FIP is a strong 3.20 -- a full run-and-a-half lower than his actual ERA, which is tied for the second-largest gap among qualified pitchers. A big reason for that is an unsustainably elevated .333 BABIP, seventh highest in the sport.
Remember when Wheeler finally flashed what he could do when healthy and on a roll over 11 incredible second-half starts with a 1.68 ERA, a 0.83 WHIP and a 4.9 K-to-BB ratio last year? Signs are pointing to another run of dominance in the near future.
Gregory Polanco, OF, Pirates
Much like fellow outfielder and teammate Marte, Polanco's volume numbers (16 R, 5 HR, 13 RBIs) have been suppressed by injury. The lefty swinger missed the Pirates' first 19 games while finishing his lengthy recovery from left shoulder surgery he had last September.
Combine that with the fact that Polanco, who was an elite prospect a handful of years ago, has yet to meet lofty expectations with a true put-it-all-together season, and he tends to fall in the easy-to-overlook category.
Thing is, although it feels like Polanco has been around forever, he's still only 27 -- right smack in his prime -- and actually was having the best year of his career in 2018 (23 HR, 12 SB, .839 OPS) before the shoulder injury cost him most of September.
His current triple-slash line of .278/.343/.522 would represent the highest marks in each of those three stats of Polanco's six-year career. The window to buy low here could close quickly, so make your move now.
Justin Smoak, 1B, Blue Jays
Smoak saw his average dip from a solid .270 in his breakout 2017 to .242, and that decline has continued with a .221 mark through 46 games in '19. That's likely enough for most owners to put him on the trade block.
There are a number of underlying signs, however, that show the 32-year-old slugger's overall production should pick up soon. For one, his .419 xwOBA -- a Statcast metric that takes into account a player's amount and quality of contact -- is just outside the top 10 in MLB.
For another, Smoak's 18.1 percent walk rate is a career high and third best in baseball, while his 19.2 percent strikeout rate is the lowest of his 10-year career.
With the Blue Jays starting to beef up their lineup -- now featuring rookies Vladimir Guerrero Jr. and Cavan Biggio, among others -- there's a good chance Smoak's power performance will pick up. He may not hit .270 with 38 homers like he did in '18, but a respectable average (think: .240-.260) with 20-plus dingers the rest of the way should be worth the current low cost of acquisition.
Jason Catania is an editor and reporter for MLB.com. Follow him on Twitter at @JayCat11.