5 things we've learned from Mariners camp
Mix of youth and veteran presence has energetic feel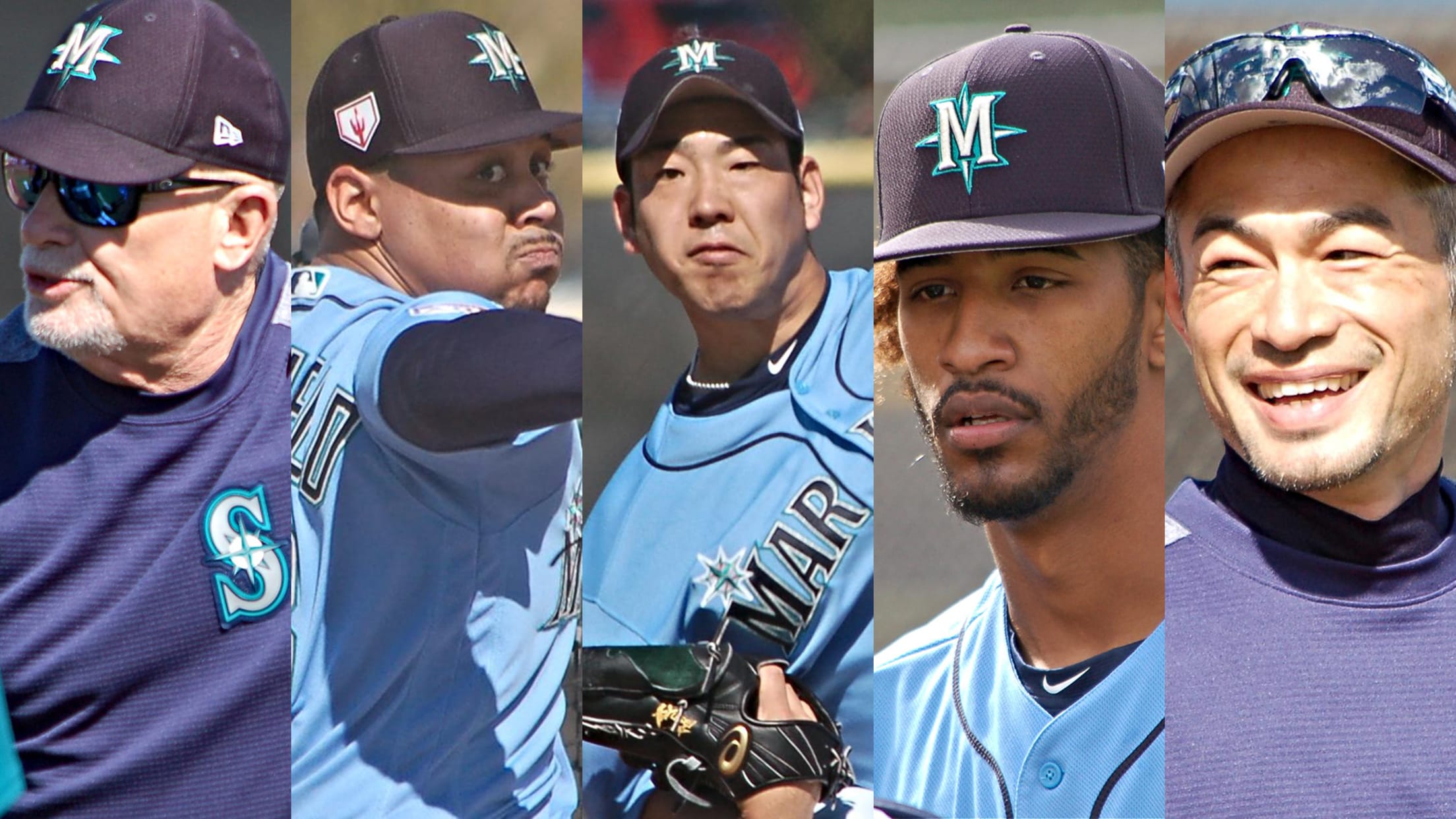 PEORIA, Ariz. -- After two weeks of Spring Training workouts and the first handful of games, it's a good time to step back and see what we've learned so far from Mariners camp. With only 21 days to go until Opening Day against the A's in Tokyo, here are five
PEORIA, Ariz. -- After two weeks of Spring Training workouts and the first handful of games, it's a good time to step back and see what we've learned so far from Mariners camp. With only 21 days to go until Opening Day against the A's in Tokyo, here are five observations:
1. The rotation looks better than you think
I've heard a lot of talk about how weak the starting five will be now that James Paxton is pitching for the Yankees, and obviously the big lefty will be missed. But if everyone stays healthy, the rotation will be the same group as last year except for Yusei Kikuchi replacing the oft-injured Paxton. And Kikuchi looks like he could be pretty good.
Marco Gonzales and Kikuchi are both talented 27-year-olds, and Mike Leake and Wade LeBlanc dependable veterans. All have looked solid in the early going. The uncertainty, again, is Felix Hernandez, and if he struggles as he did last year, there is a ready replacement waiting in promising 23-year-old lefty Justus Sheffield, the key return in the Paxton trade from the Yankees. Sheffield is the Mariners' No. 1 prospect, per MLB Pipeline.
As for the common refrain that the Mariners lack a true ace, they're hardly alone there. Not many clubs roll out a big-time ace and if Gonzales draws the Opening Day bid, his numbers last year (13-9, 4.00 ERA, 166 2/3 innings) stack up against Mike Fiers of the A's (12-8, 3.56, 172 IP), Mike Minor of the Rangers (12-8, 4.18, 157 IP) and Tyler Skaggs of the Angels (8-10, 4.02, 125 1/3 IP). We just won't talk about the Astros.
• Gonzales continues case as Seattle's ace
2. The biggest question remains the bullpen
While much of the roster appears fairly set, the relief corps figures to be a work in progress for much of the year. But there are some interesting arms and intriguing prospects among the 12 relievers who are new to the Mariners, as well as several returners who'll be given increased opportunities.
"We have power," manager Scott Servais said. "We certainly have guys that throw hard, there's no question about that."
Veteran free agent Hunter Strickland has looked good early and remains the front-runner for the closer's role. The club is also high on lefty specialist Zac Rosscup, who last season was with the Dodgers. My early favorite is 23-year-old right-hander Gerson Bautista, who came from the Mets in the Robinson Cano-Edwin Diaz deal. Bautista actually reminds me of Diaz in many ways with his slender build, whip-like delivery and a developing slider that could be a difference-maker to go along with his easy upper-90s heat.
Among returners, Shawn Armstrong has intriguing potential, Dan Altavilla is refining a slider that could be a nasty weapon for him, Rule 5 pickup Brandon Brennan might be a nice find, and there's some depth with Chasen Bradford and free-agent acquisition Cory Gearrin among others.
Does that all add up to a lock-down bullpen? Relievers are the hardest group to predict and often the biggest surprises, so we shall see. It will take good fortune on the health front and several guys successfully stepping up into late-inning roles for the first time to make it all work, and that seems like a lot to expect over a 162-game haul.
3. Youth will indeed be served … in due time
Cactus League games really aren't a great judge of what to expect when things get real. But the impact and potential of the influx of young prospects has been impressive, and that's something that's been missing from Mariners camps for years.
Sheffield looks like the real deal as a starting candidate. Outfielder Kyle Lewis and first baseman Evan White are impressive both on and off the field. And second baseman Shed Long has been the early star of camp. Toss in the brief glimpses we've seen of teenage outfielders Jarred Kelenic and Julio Rodriguez when they were called over from Minor League camp to help out in some drills and it's easy to start day dreaming.
Of course, the Mariners' history of actually hitting on young prospects has not been good, and it's a big reason the franchise hasn't seen the postseason in 17 years. Some or most of these youngsters are going to have to turn that trend around if this makeover plan is to succeed.
4. The old guys aren't done quite yet
Yes, this camp is largely about turning the page to a brighter future, but there are some veterans who'll play roles in that process and they're making their presence felt.
Kyle Seager and Dee Gordon are both healthy and motivated to bounce back from difficult seasons, but they're not the only 30-somethings in town. It's a common sight to see three-time All-Star Jay Bruce, acquired from the Mets, talking hitting at the batting cage with White, Lewis and others.
• Dee determined to overcome difficult '18
Edwin Encarnacion, another three-time All-Star, is a quieter presence than Bruce and may well just be biding his time waiting to be traded. But he still carries a potent bat and a wealth of knowledge. After facing Roenis Elias in a live batting practice session, he was quick to pull the young lefty aside to tell him what he was seeing from his pitches. And that kind of advice from a 36-year-old slugger can be invaluable.
And, yeah, Ichiro Suzuki is still running around at 45 -- a living, breathing testament to how discipline and hard work can pay off in a Hall of Fame career. As much talent and energy as the young players bring, it's important to have veterans who are willing and able to show them the ropes both through words and actions. And this team has a nice mix of both.
5. The Energizer bunny is 66 years old
Among the newcomers this spring, nobody has stood out more than energetic infield coach Perry Hill, whose non-stop banter and loud encouragement brings smiles to everyone watching and a little extra hop in the step to players under his tutelage.
Stop by a Mariners workout and this is the guy you'll wind up noticing first on the field. Starting his 24th season as a Major League coach, Hill brings an old-school approach to a camp leaning more and more toward analytics. While the trend around baseball is toward teaching and reinforcing mechanics through Rapsodo and TrackMan video and data, you still need guys who can motivate.
"I love him," said shortstop Tim Beckham, who spent five Major League seasons with the Rays and Orioles before signing with Seattle as a free agent. "He's been nothing but good vibes so far. His delivery is impressive, how he teaches the infield and the drills and keeping everyone engaged. You need that energy day in and day out. You can't fake that energy. That's organic and everyone vibes off of that. When it comes to coaching, he's pretty darn good at what he does."