Dee Gordon determined to overcome difficult '18
Veteran speedster candid about upcoming season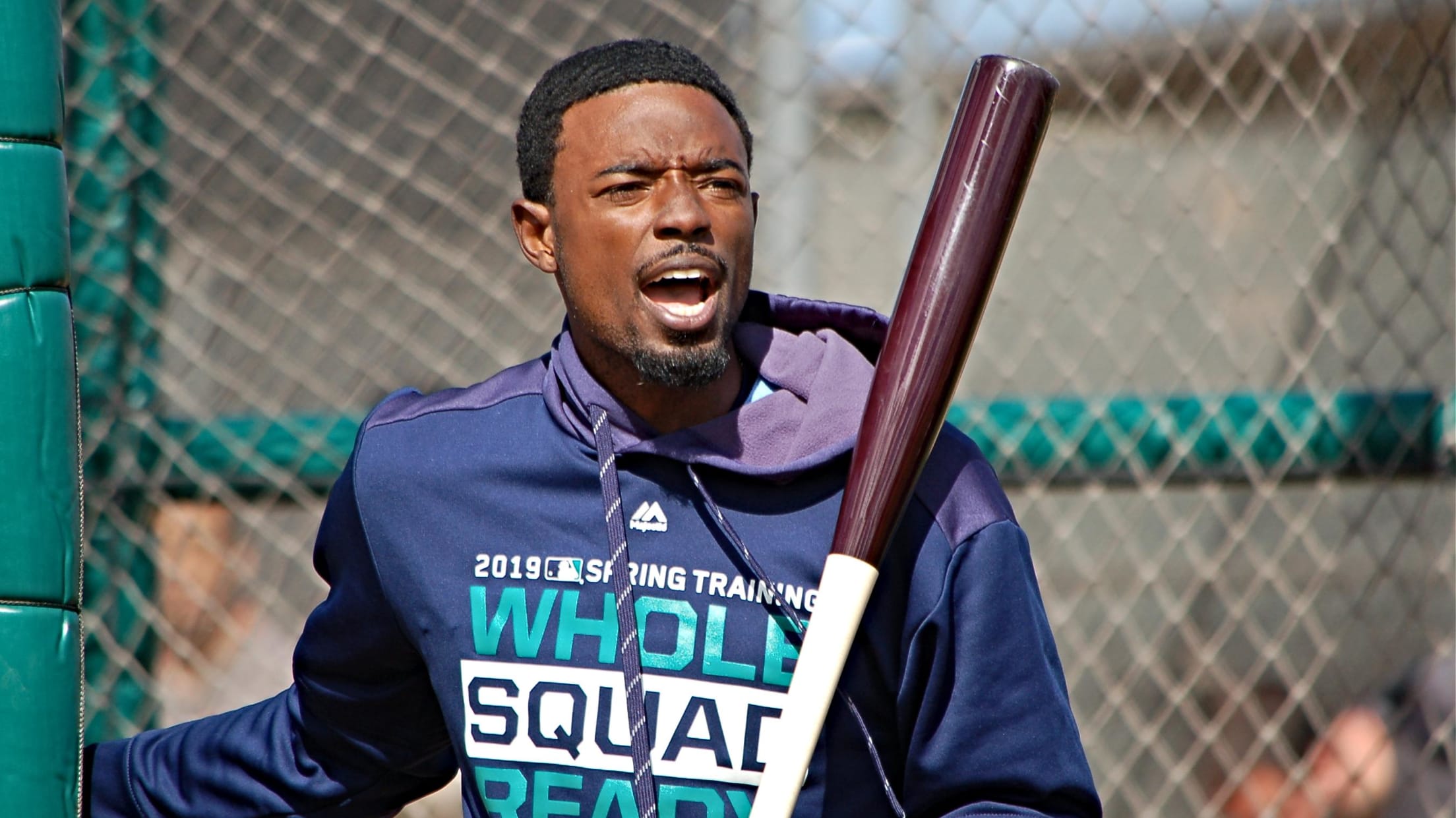 PEORIA, Ariz. -- In a Mariners camp filled with promising newcomers and intriguing prospects, there's another reason for optimism this spring. And it revolves around one of the "old" guys, if you can call Dee Gordon old at age 30.
PEORIA, Ariz. -- In a Mariners camp filled with promising newcomers and intriguing prospects, there's another reason for optimism this spring. And it revolves around one of the "old" guys, if you can call Dee Gordon old at age 30.
Gordon showed what he brings to the table the first half last season when he served as an Energizer bunny in the Mariners' hot start, using his leadoff speed on the basepaths and boisterous nature in the dugout to ignite a club that appeared postseason-bound until the wheels came off.
One of the biggest wheels to wobble was Gordon's right foot after he fractured his big toe on May 20 and went on the 10-day injured list. That short respite allowed Gordon to get back on the field and he played the rest of the season, but he often kept the foot in a walking boot in the clubhouse and clearly wasn't the same catalyst in games.
In his first 45 games, before going on the DL, Gordon posted a .304/.330/.386 line and stole 16 bases in 18 attempts. After coming back, he hit .250/.268/.331 with 14 stolen bases in 24 attempts over his final 96 games.
Gordon's speed was part of that. According to Statcast's Sprint Speed calculations, his average top-end speed was 29.1 feet per second in April and 28.8 in May, but after the injury, those marks dipped to 28.5 in June before inching back up to 28.9, 28.7 and 29.0 in the final three months.
Even a slight difference can be an issue for a guy who makes his money by beating out infield hits and stealing bases. The average MLB sprint speed is 27.0 feet per second and 30.0 is regarded as elite, so Gordon always will be at the high end of that group.
But perhaps an even bigger impact was the comfort level Gordon felt in the batter's box, driving onto a sore front foot. Whatever the reason, the numbers clearly suffered -- and so did a Mariners team that eventually dropped him to ninth in the batting order while trying to figure a way out of its second-half tailspin.
The Mariners' troubles were about far more than Gordon, of course, but getting Gordon back to being Gordon would be a great place to start. And a big step in that direction came over the winter when general manager Jerry Dipoto traded Robinson Cano to the Mets, which opens the door for Gordon's permanent return to his natural spot at second base after the brief center-field experiment.
So far, so good. Gordon is running well this spring and feeling back at home on the field.
"I didn't feel very comfortable at all last year with the circumstances," he said. "It was a snowball effect. I wasn't comfortable in the outfield and after I got hurt, I wasn't comfortable in the box. But I also wasn't going to cry about it, either. It is what it is. I get to be a little more comfortable this year, get to go play a full season in the position that I usually play, get to be myself. We'll see what happens."
Gordon's track record says being himself would be a very good thing. This is a guy, after all, who won the National League batting title in 2015 at .333 and racked up 200-plus hits in '15 and '17, not to mention leading the Majors in stolen bases three of the past four years.
But Gordon's .288 on-base percentage and career-low nine walks in 556 at-bats led the Mariners to push him to an offseason focus toward working deeper counts and swinging at pitches in his best zones. It'll be a work in progress, but Gordon walked in his first at-bat this spring and definitely heard the message.
Manager Scott Servais is encouraged by what he's seen in the early Cactus League games, both on the bases and at the plate.
"He feels really good in the batter's box right now," Servais said. "He's been very open about how he wants to get better at controlling the zone. He's continued to work on it. You see some of the at-bats, he's taking more pitches by design. He's trying to get in some deeper counts. I think it's really going to benefit him.
"But Dee is driven by the hit and that's not going to change. Dee likes to get hits. We like him to get hits. He's not up there looking for a walk. Not at all. He's made that clear to me, too. I'm cool with that. But he's more conscious of what he's swinging at."
If the pieces fall into place and some of the young talent emerges and veterans like Gordon and Kyle Seager bounce back to their normal selves, the Mariners could surprise people. But Gordon isn't worried about that in late February in the first week of Cactus League play.
He's been down this road enough to know that words don't matter, it's what happens on the field that will count.
"We're not going to talk about that stuff yet," he said. "We have to make sure we take care of ourselves and make sure we jell together and are pulling for each other and we can go from there.
"It's too early to say we're going to shock people or do this or that. You never know what can happen in a year, so we're just going to continue to focus on ourselves and get ready and keep preparing. And we'll see what happens."