Mariners' all-time top 5 international signings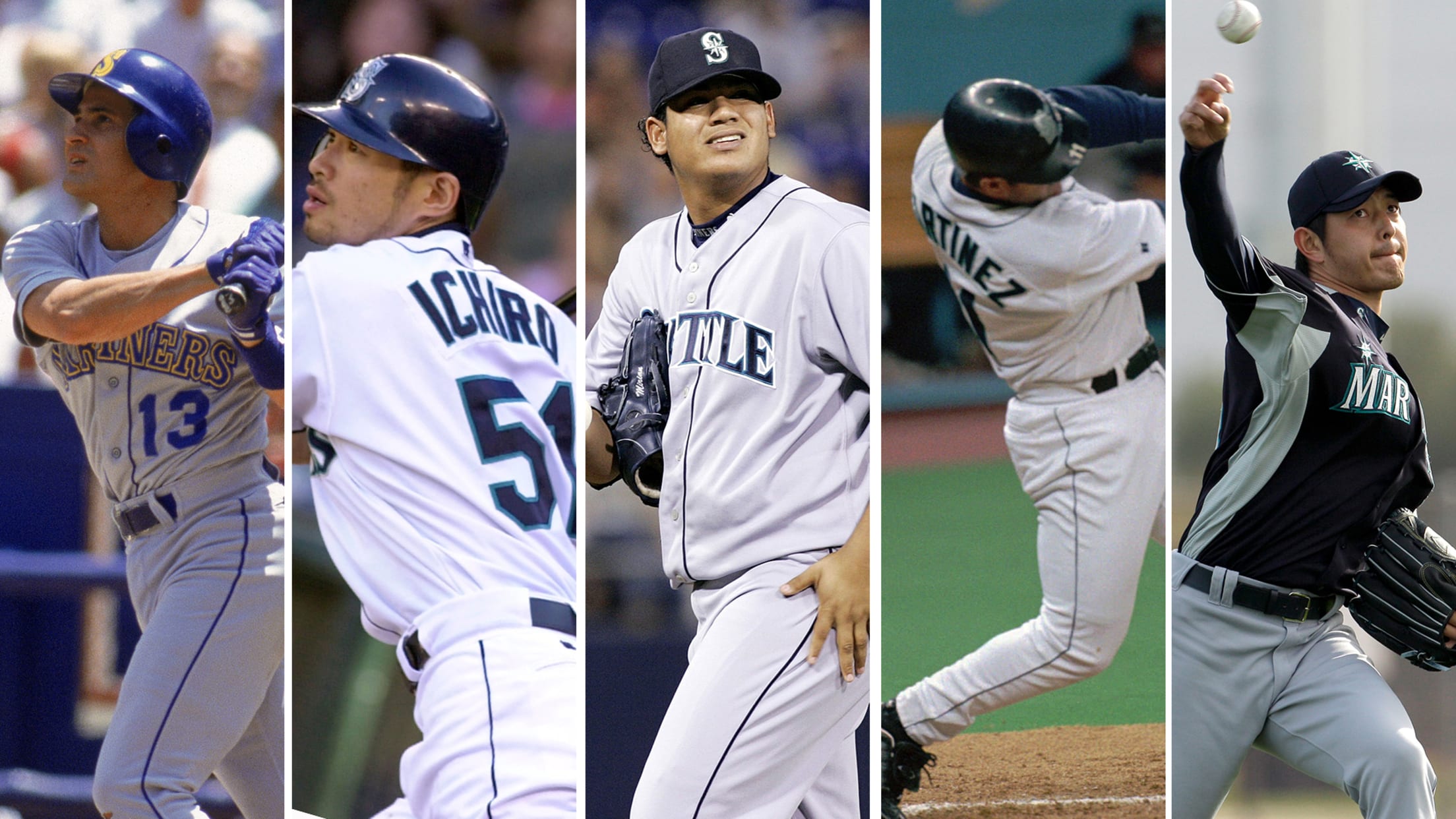 SEATTLE -- When it comes to acquiring new talent, much attention is understandably focused annually on Major League Baseball's June Draft. But there are other avenues to land promising young players and the Mariners have capitalized on the international market as much as any franchise in MLB over the years.
30 prospects we'll be talking about in 2022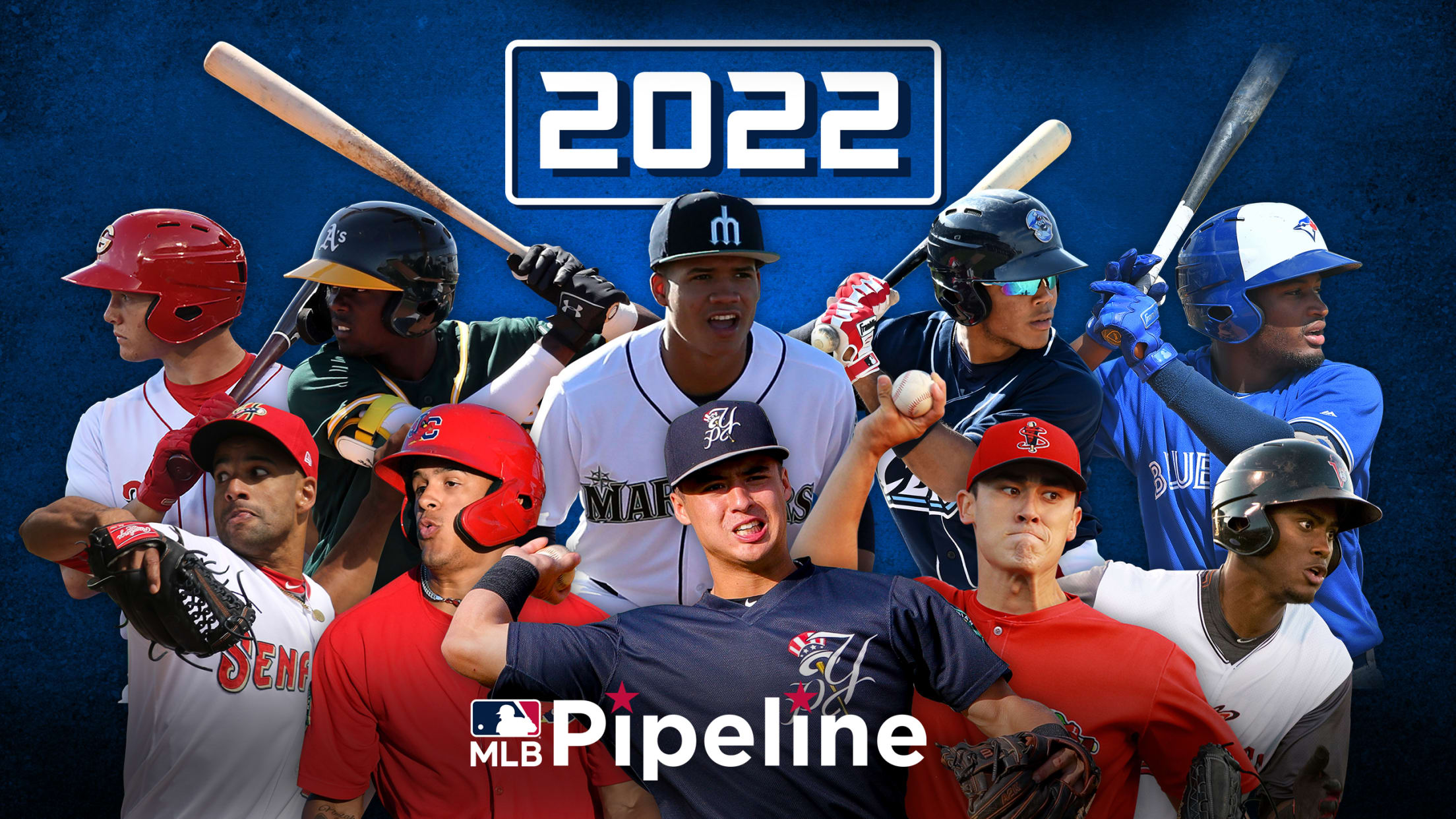 Right now, all baseball fans can do is look ahead to the future. We decided to take that to the extreme by looking two years down the road at which prospects we expect to be big names in 2022. The fact that 14 of the Top 20 players on MLB
Logan Gilbert talks Draft, repertoire, to-do list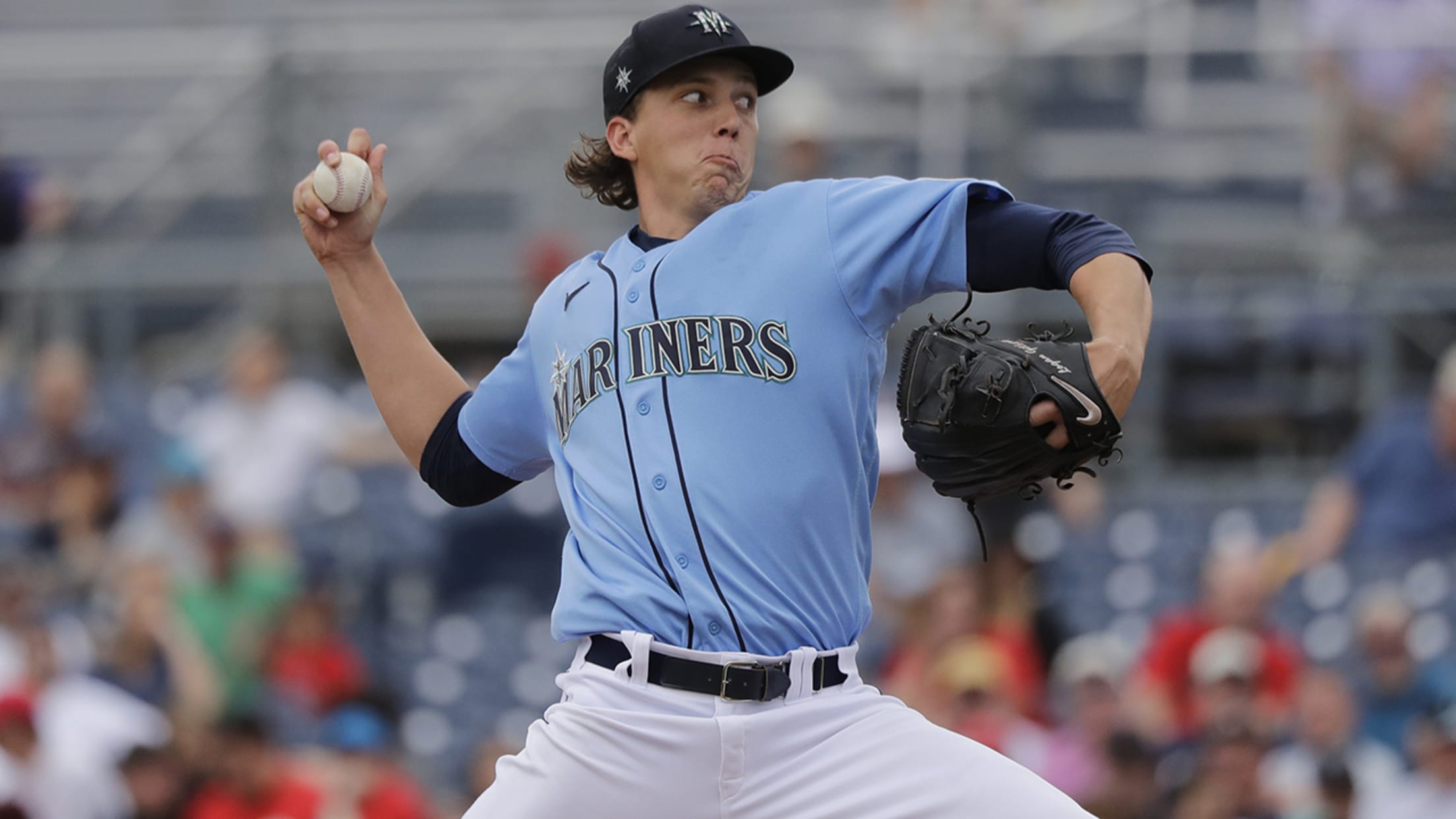 Right-hander Logan Gilbert led NCAA Division I and set a Stetson record with 163 strikeouts in 112 1/3 innings en route to winning his second straight Atlantic Sun Conference Pitcher of the Year award in 2018, but his velocity dipped while he was battling mononucleosis that spring. He sat out
Here's a look at the Mariners' farm entering 2020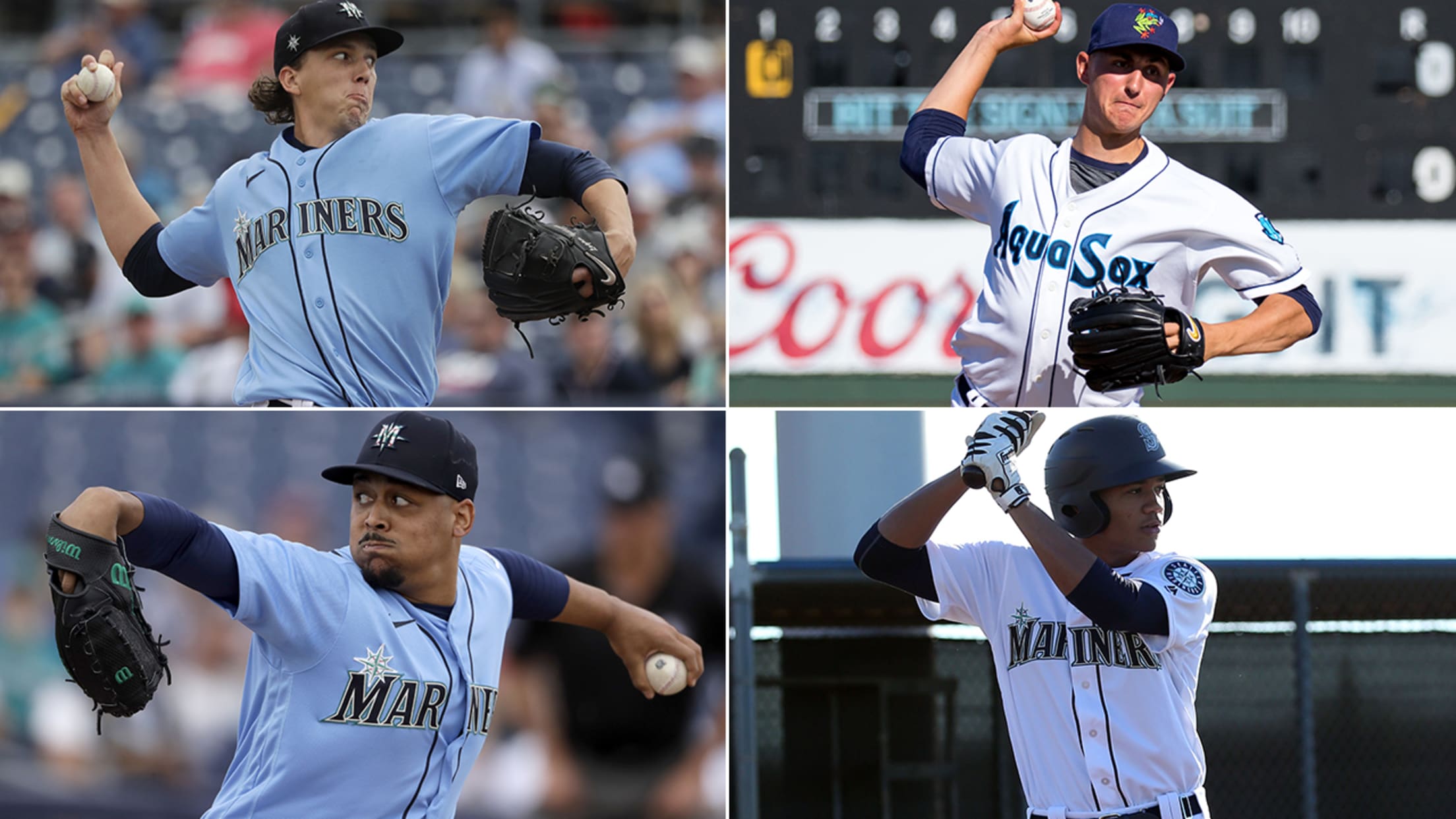 Precocious outfielders Jarred Kelenic and Julio Rodriguez soak up most of the attention accorded to Mariners prospects, and rightfully so. They rival White Sox sluggers Luis Robert and Andrew Vaughn as the best position prospect duo in the game and should provide a needed boost to Seattle's offense when they
Notes: Gilbert K's Ohtani; Kikuchi's pitch mix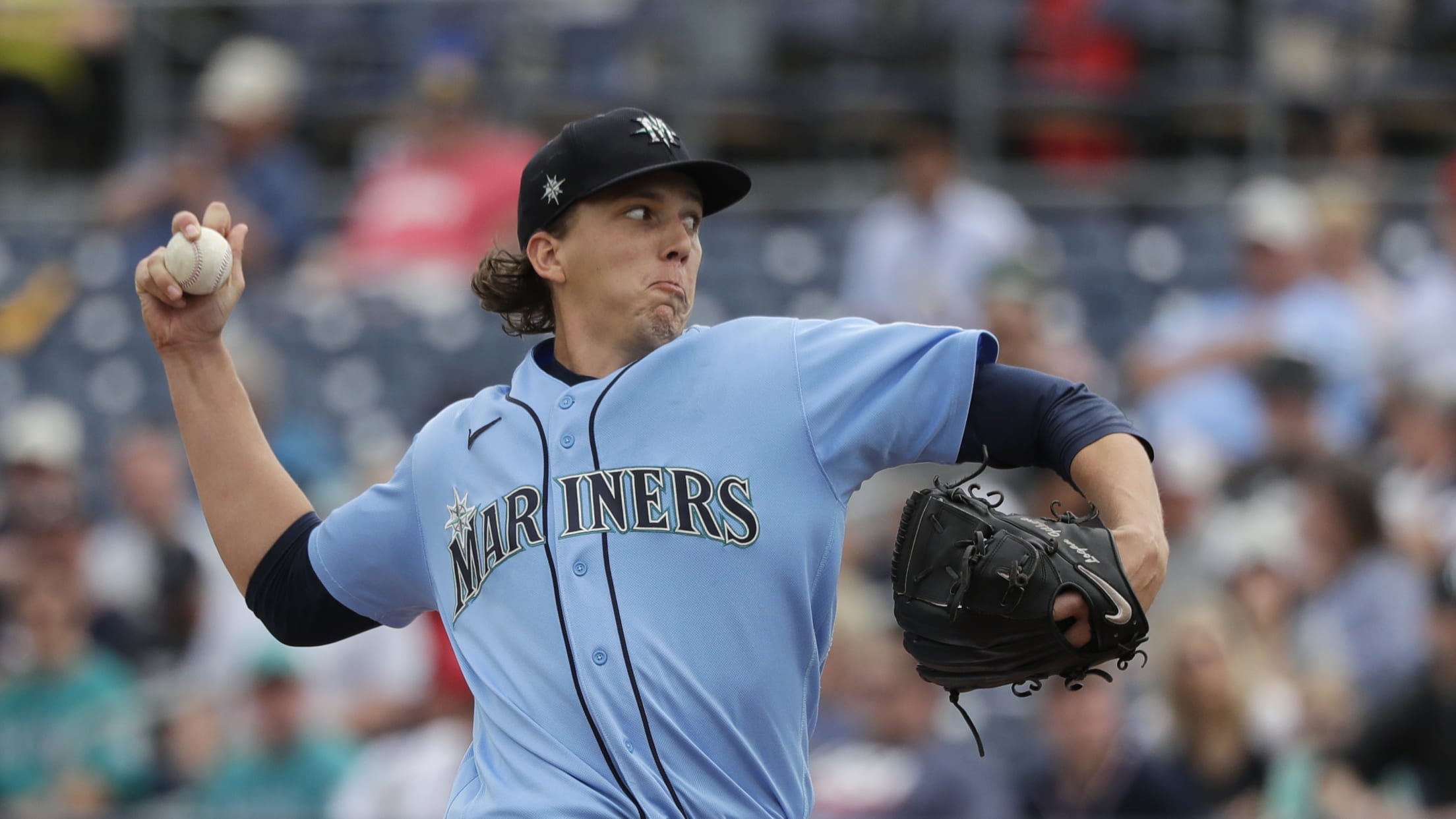 PEORIA, Ariz. -- The matchups that panned out on Tuesday could be the first of many in the landscape of the American League West. Logan Gilbert, the Mariners' top pitching prospect, squared off against Jo Adell and Shohei Ohtani, two long-term fixtures in a loaded Angels lineup. Both sides each
Fraley preparing to stick with Mariners long term
Outfield prospect thinking 'big picture' as he adjusts to The Show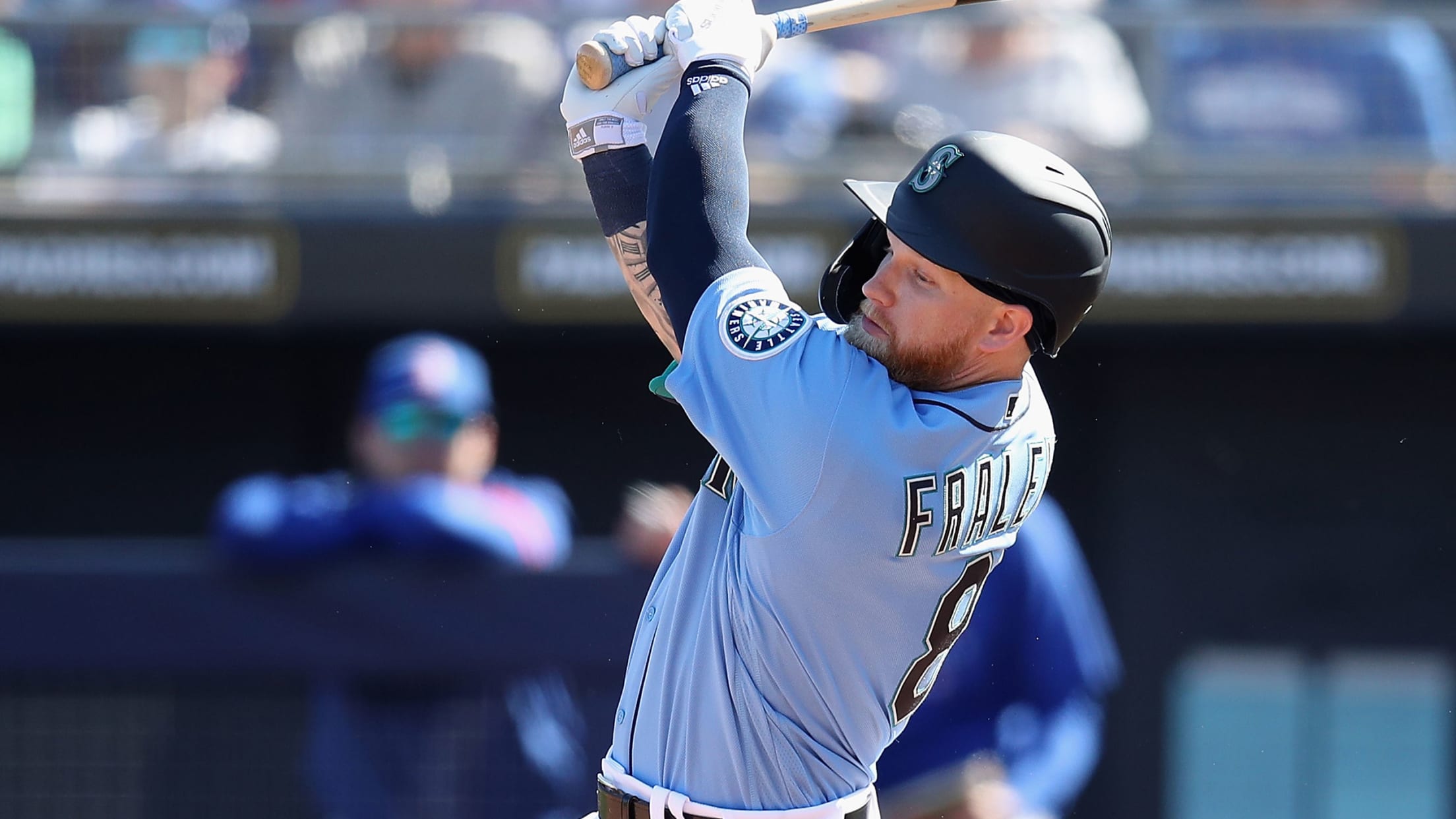 PEORIA, Ariz. -- For some in a young Mariners camp, manager Scott Servais has to remind them that jobs are already solidified and that it's time to just "relax and play." Outfielder Jake Fraley might be among a handful that falls into that category. Fraley is all but guaranteed an
Notes: Lewis hits slam; Margevicius fans four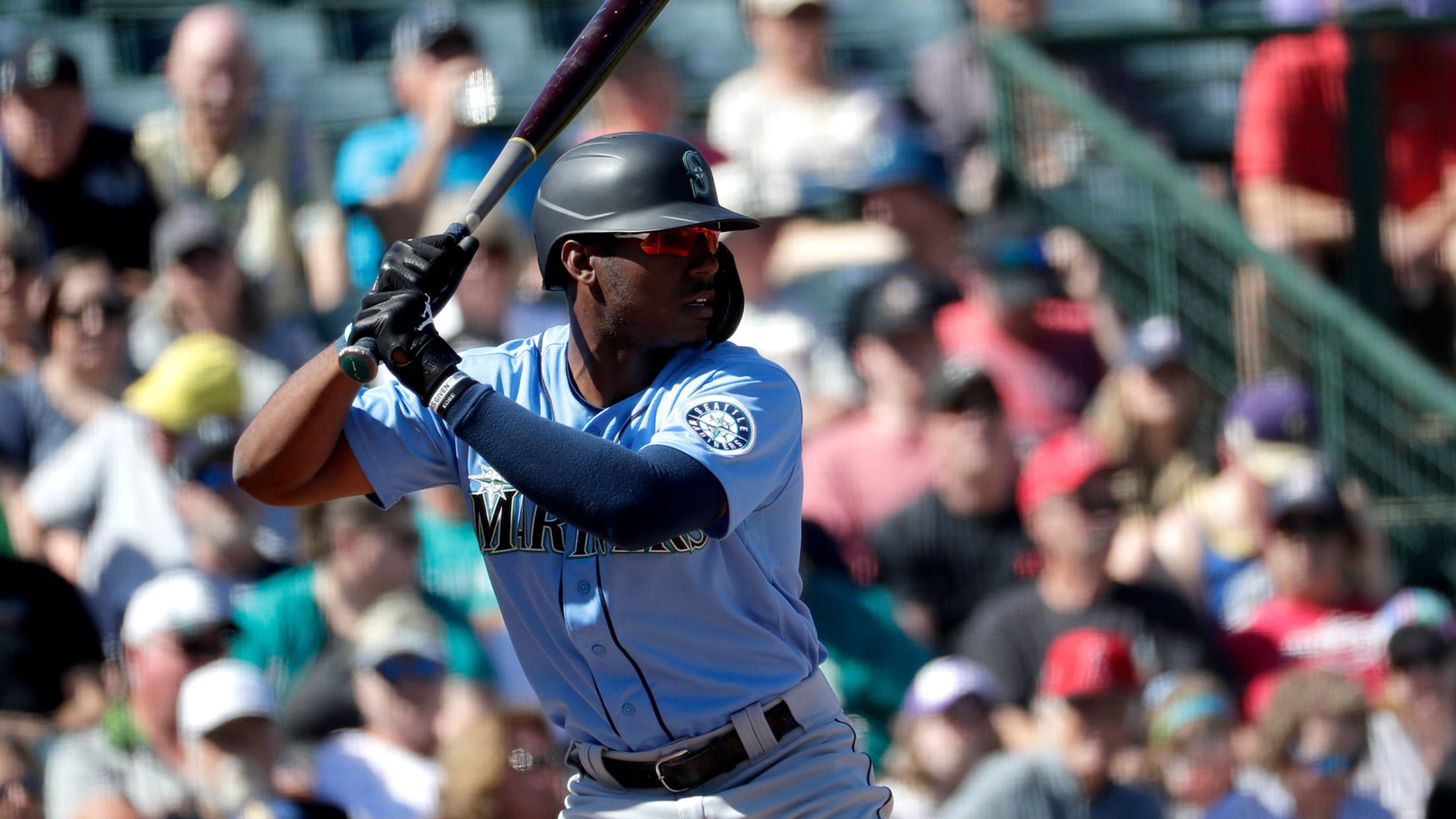 GLENDALE, Ariz. -- In a spring headlined by prospect promise, Kyle Lewis took his turn in the spotlight during Seattle's 9-3 win over the Dodgers on Friday. Lewis crushed an opposite-field grand slam in the seventh inning to give credence to a few hard-hit outs he's had recently. It was
Dunn gets first crack at 'superstar' Trout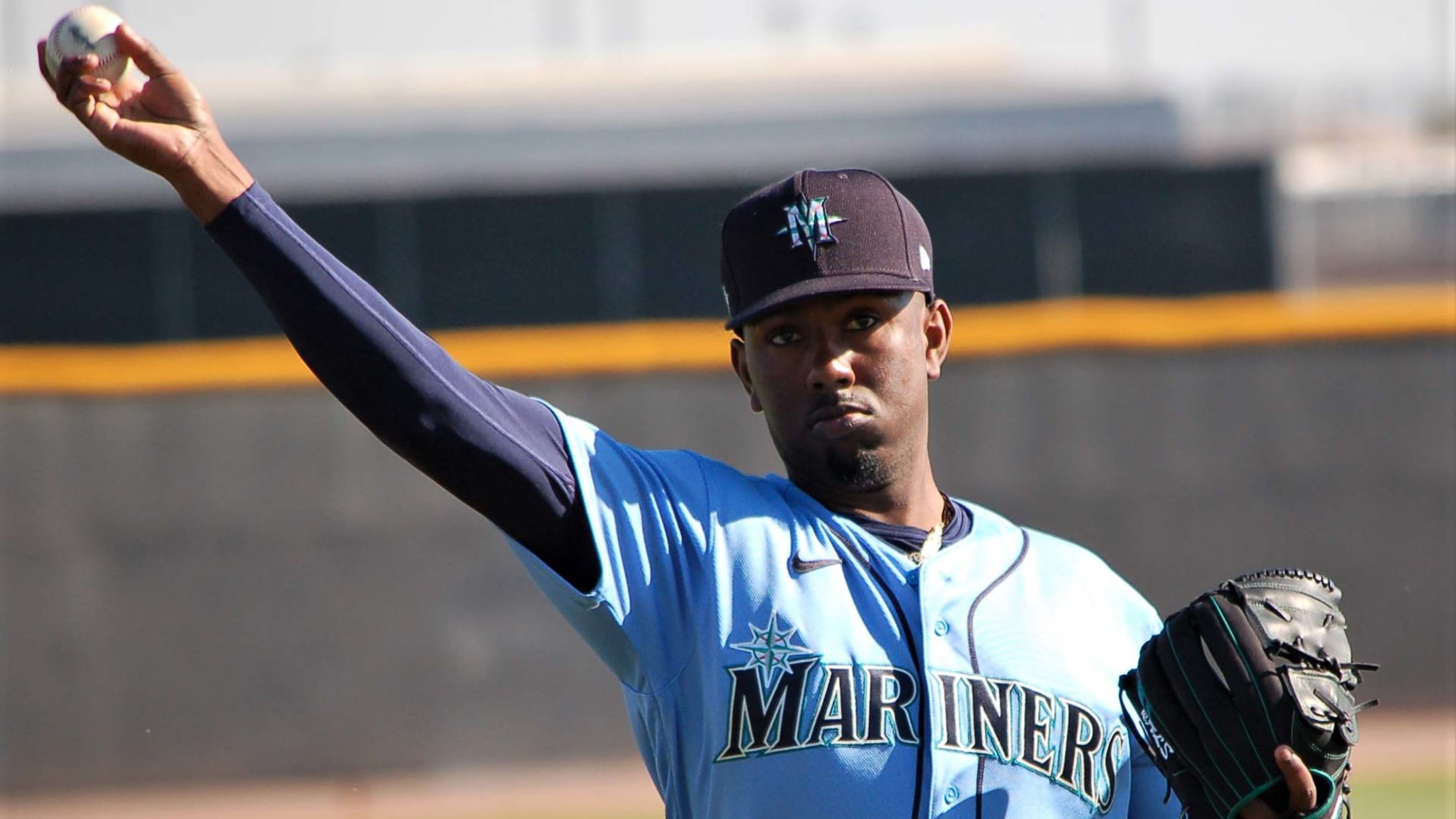 TEMPE, Ariz. -- So what's it like facing Mike Trout for the first time as an up-and-coming pitching prospect? Mariners rookie right-hander Justin Dunn pondered the question momentarily, then noted it wasn't exactly the first time he'd seen Trout. Turns out this was a scenario he'd been through numerous times,
These Mariners are turning heads this spring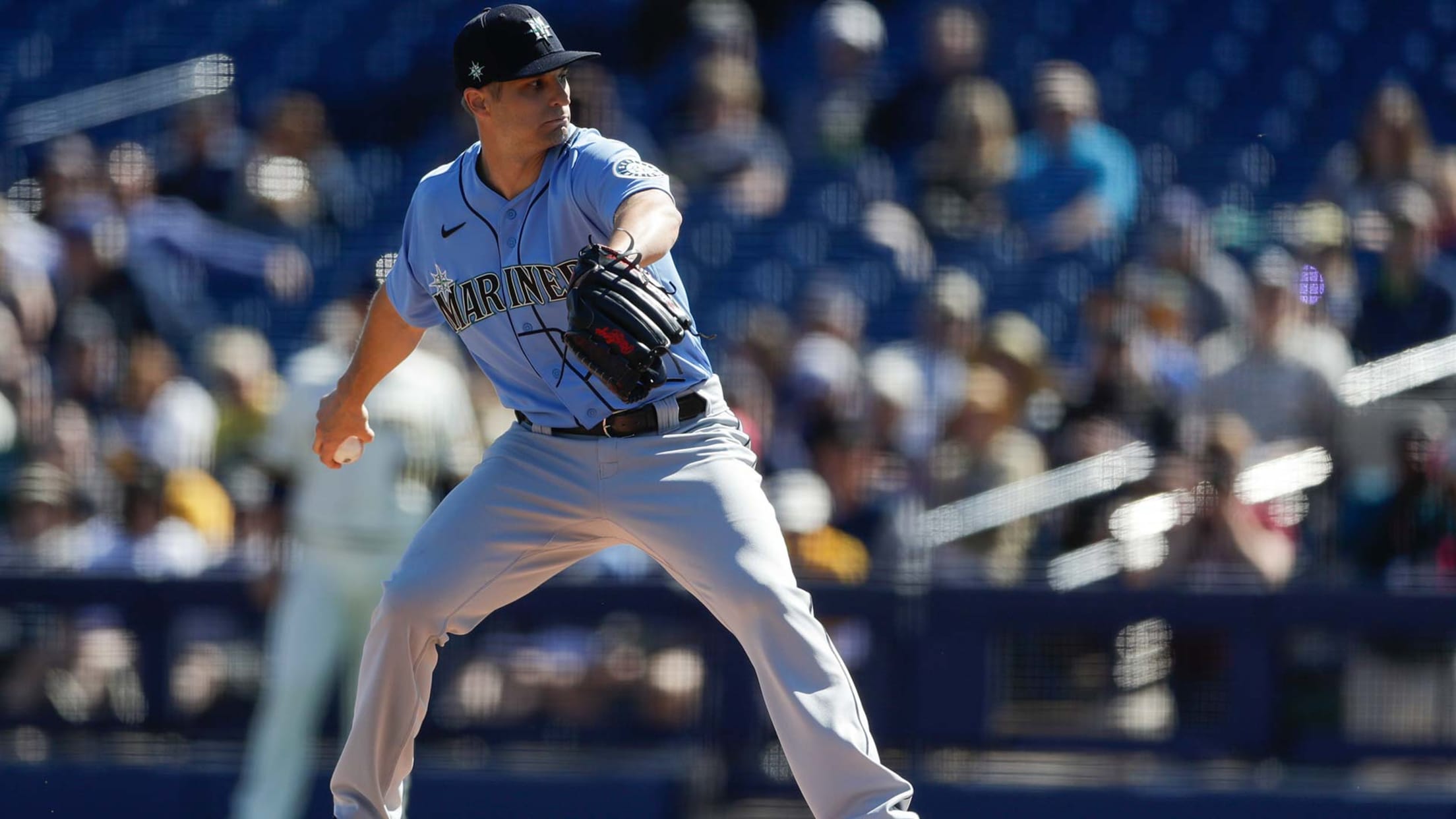 PEORIA, Ariz. -- In a Mariners camp filled with youngsters, many of the top prospects have been impressive this spring. But the young bucks aren't the only newcomers opening eyes. In a very informal survey of some Mariners players, veteran right-hander Kendall Graveman was mentioned prominently as one teammate who
Graveman escapes trouble; Julio's growing pains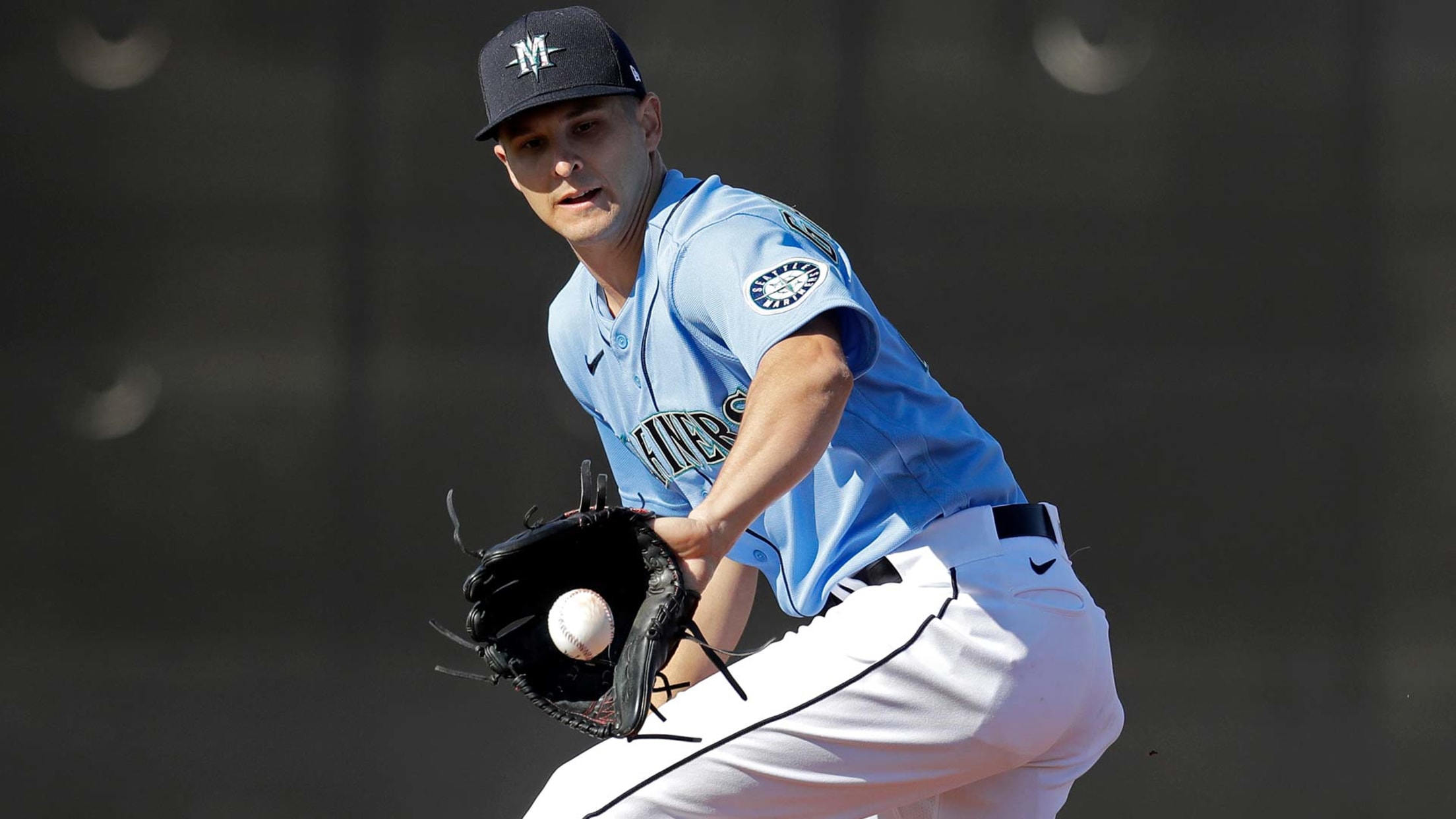 MESA, Ariz. – After spending last season rehabbing with the Cubs as he recovered from Tommy John surgery, Kendall Graveman found himself facing his previous club on Sunday in the latest test of his repaired right elbow. And though he needed to wiggle out of a bases-loaded jam in the
Notes: White update; Gonzales bounces back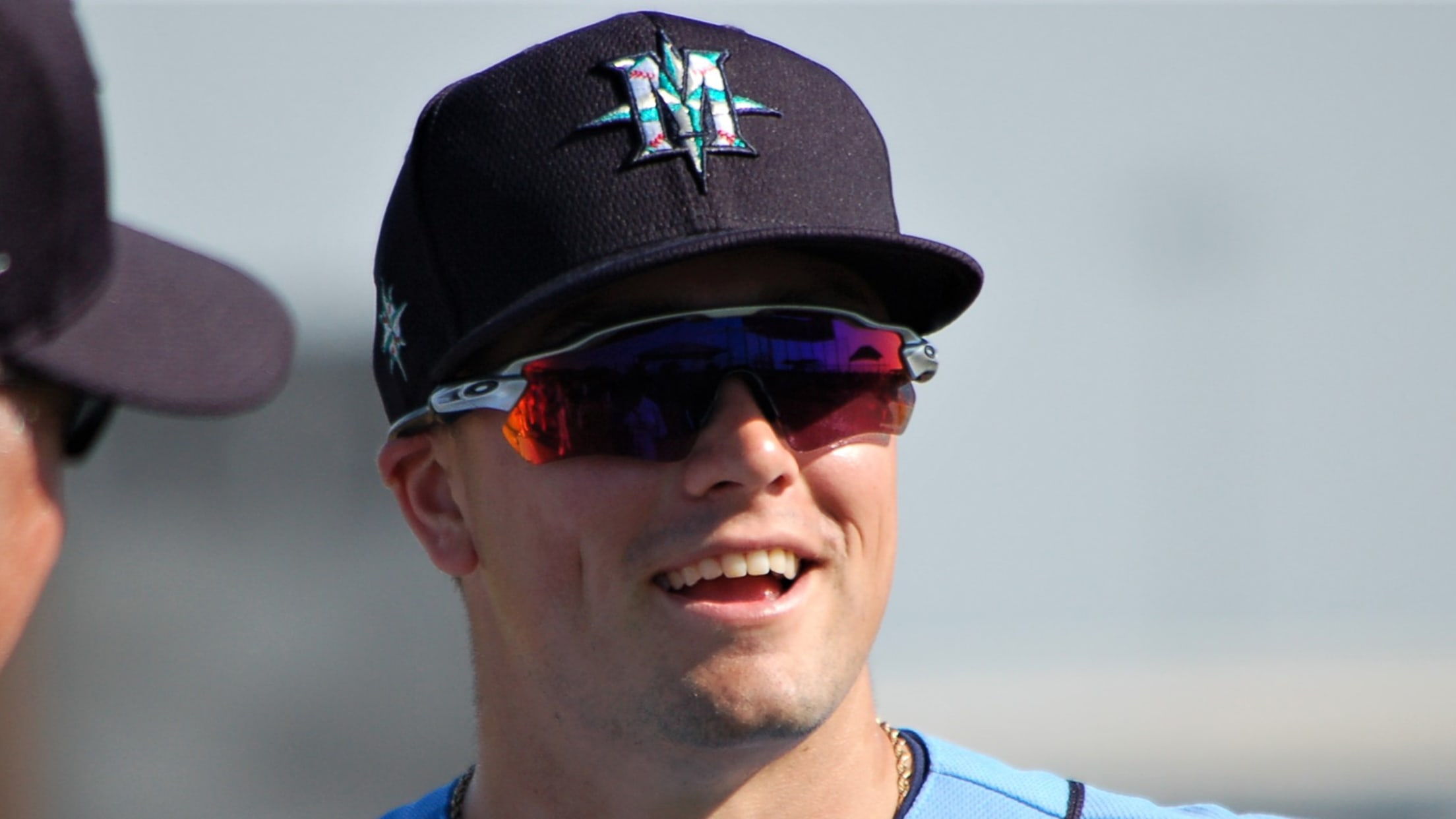 PEORIA, Ariz. -- Rookie Mariners first baseman Evan White faces an important Spring Training as he prepares for his first shot at a starting role, but the 23-year-old will likely be sidelined another day or two with tightness in his groin muscles. White sat out Saturday's game against the Royals;
'Special' day for Bishop brothers in first meeting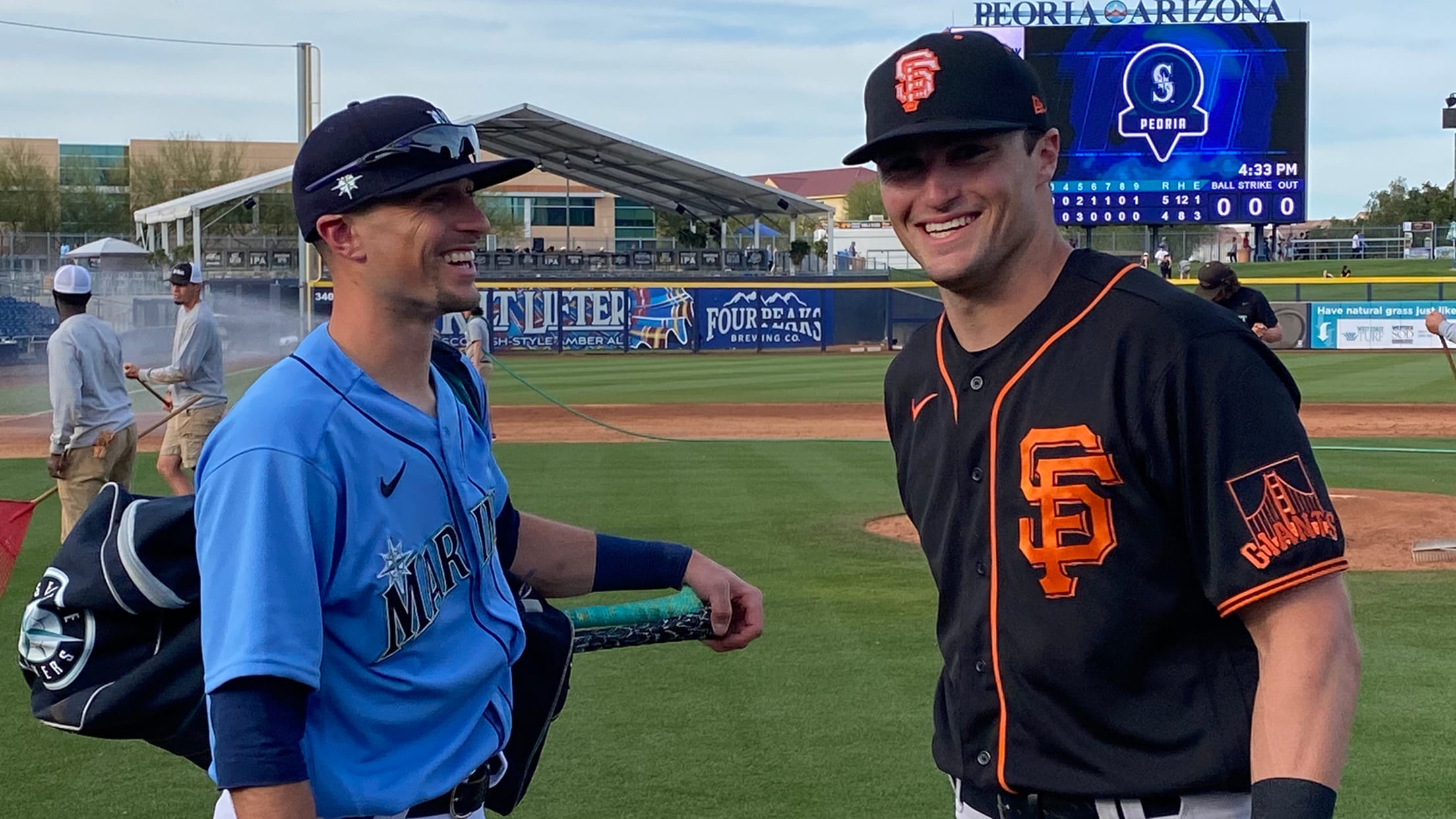 PEORIA, Ariz. -- When Hunter Bishop received the Giants' lineup for their scheduled game against the Mariners on Thursday, he immediately forwarded it to his brother, Braden Bishop. "No way, I'm actually playing today," Hunter wrote.
Notes: Dunn's spring rematch; Lopes hits ropes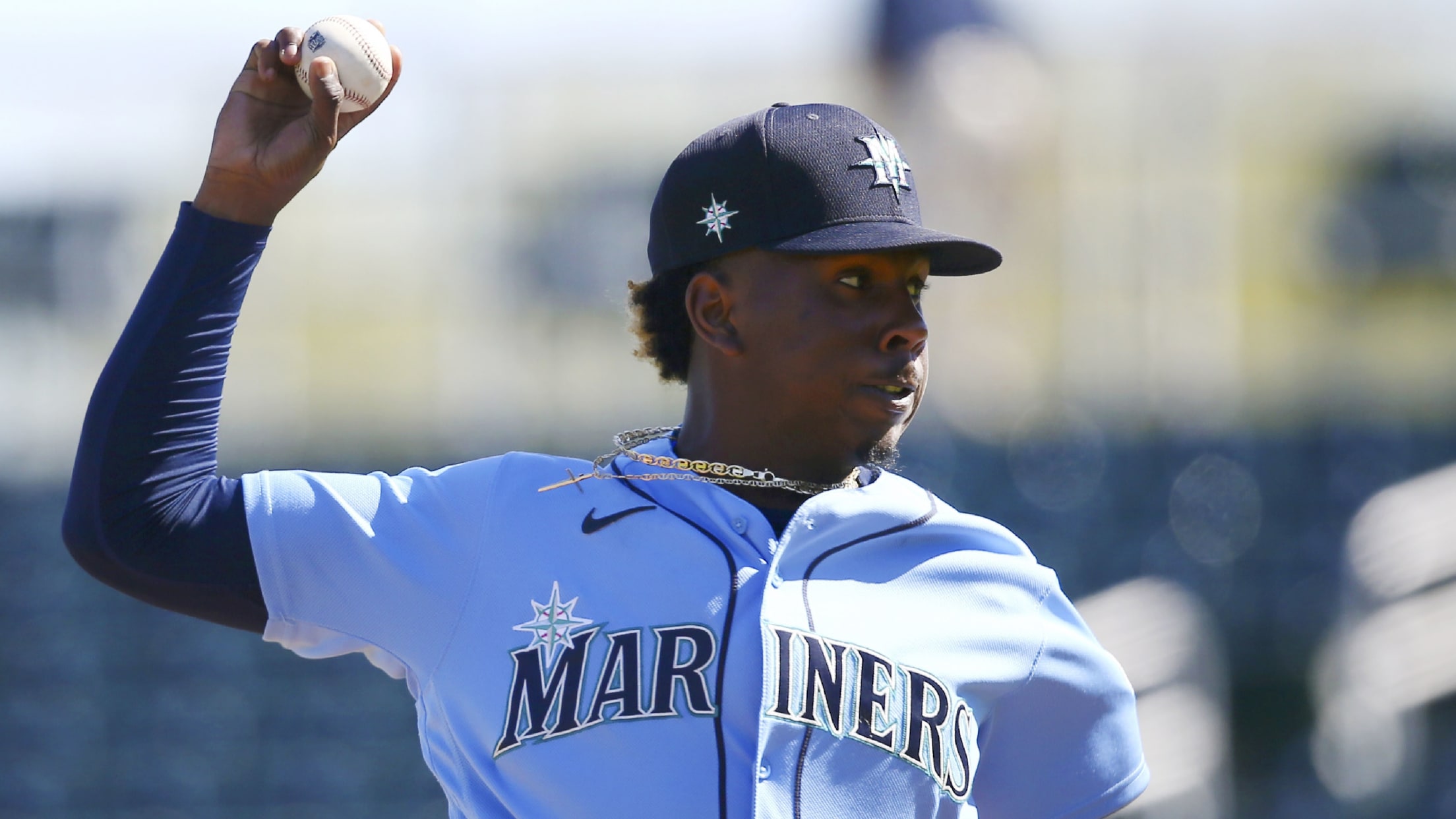 GOODYEAR, Ariz. -- Justin Dunn hasn't forgotten his first Major League start last September, but he did finally have a chance to erase some of the difficult reminders of that rugged night at T-Mobile Park in Wednesday's 5-3 Cactus League victory over the Reds. The Mariners' rookie got just two
Kelenic's attitude 'rubbing off' on teammates
Mariners' top prospect makes first spring start vs. hometown club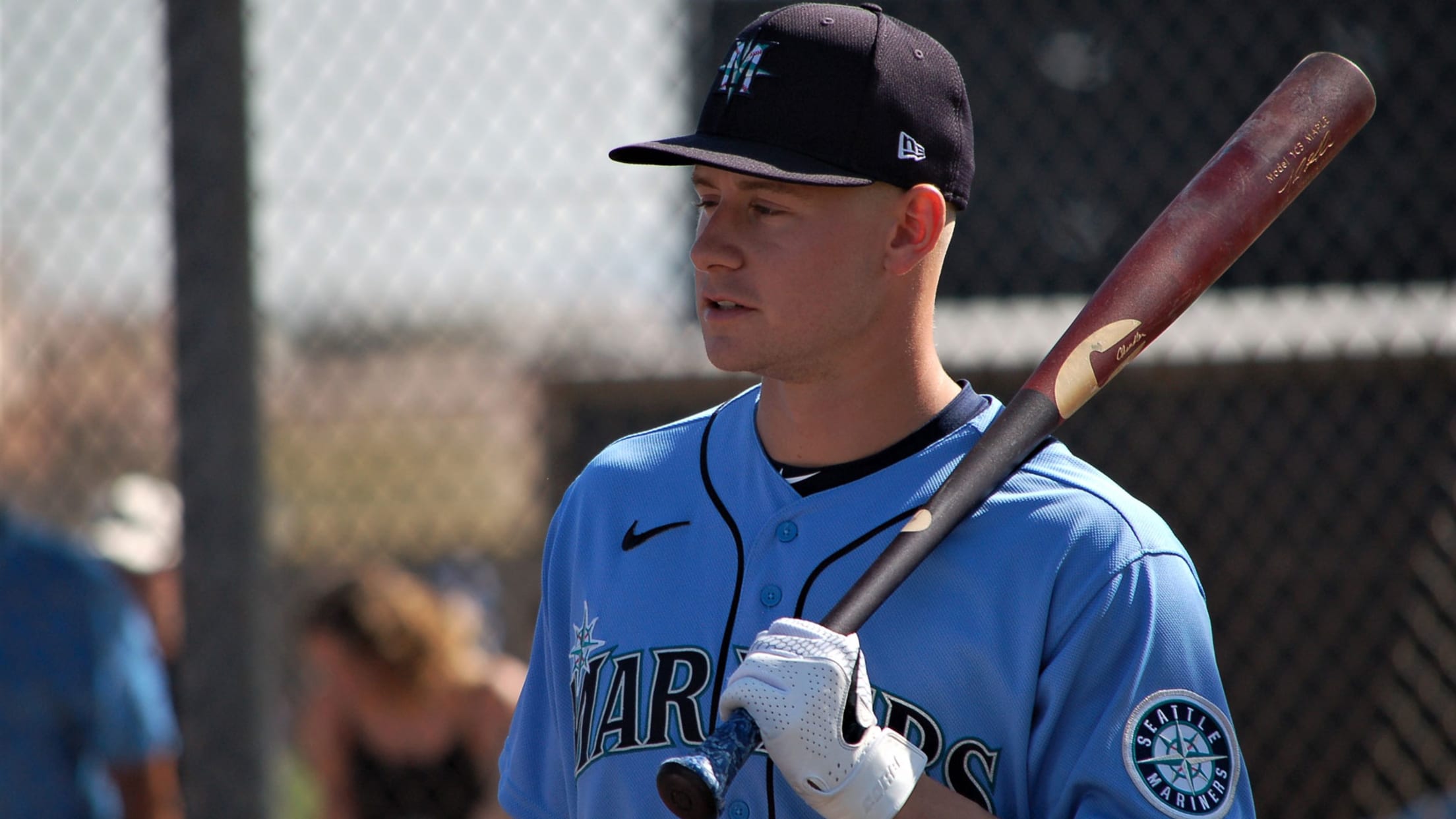 PHOENIX -- Jarred Kelenic's introduction to his first Major League camp has already come with plenty of lessons. And the 20-year-old outfielder is passing most of the early tests in impressive fashion, including lacing a run-scoring single and then scoring the winning run in the Mariners' 2-1 victory over the
White readying for Mariners' everyday 1B role
After inking 6-year contract, 23-year-old to make leap from Double-A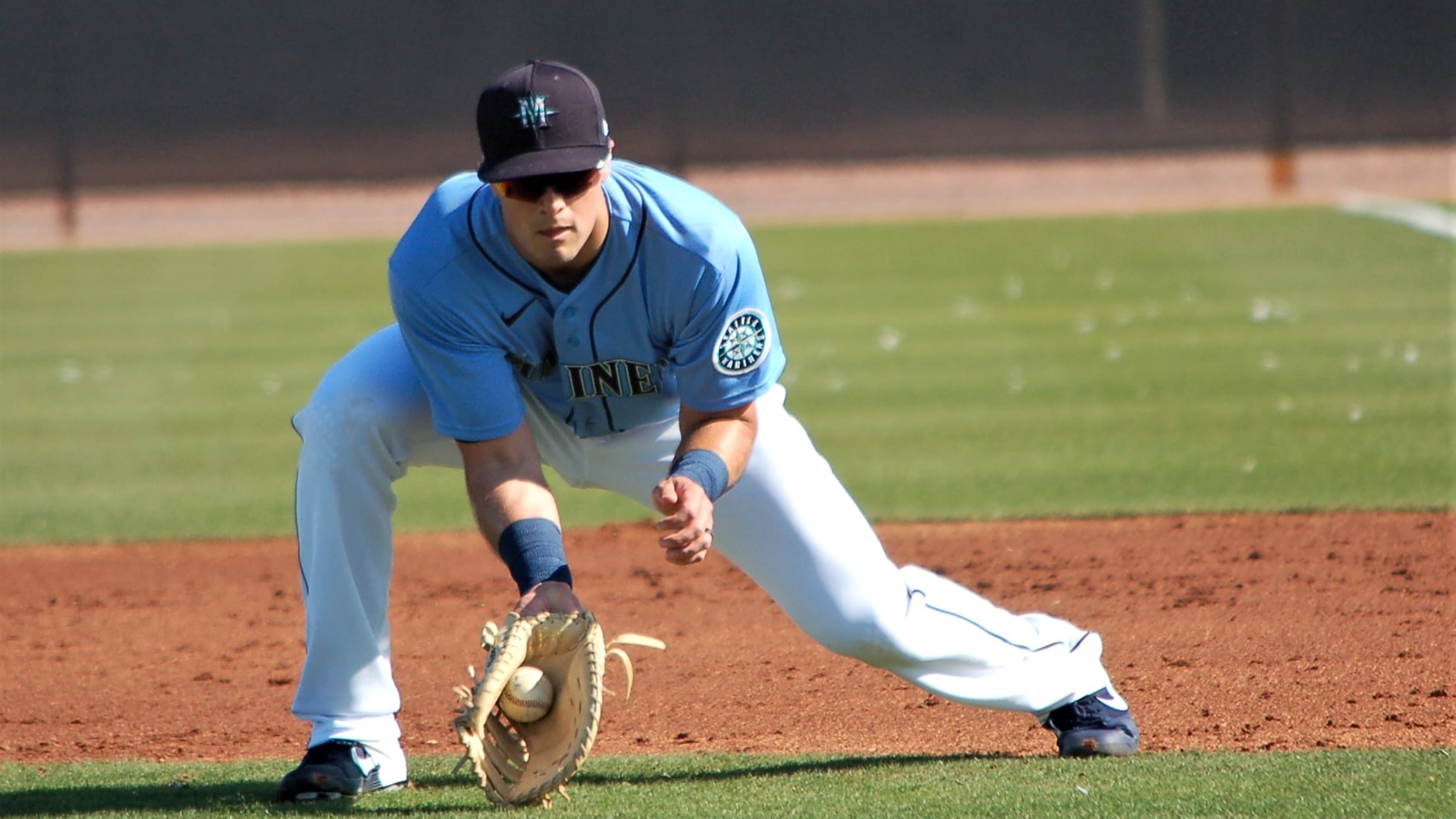 PEORIA, Ariz. -- A year ago, Evan White was happy just to be in his first Mariners camp, rubbing elbows with veterans and getting some valuable experience with the big league club before being sent to Double-A Arkansas. There was never any thought of White making the Mariners at that
5 observations from Mariners' spring camp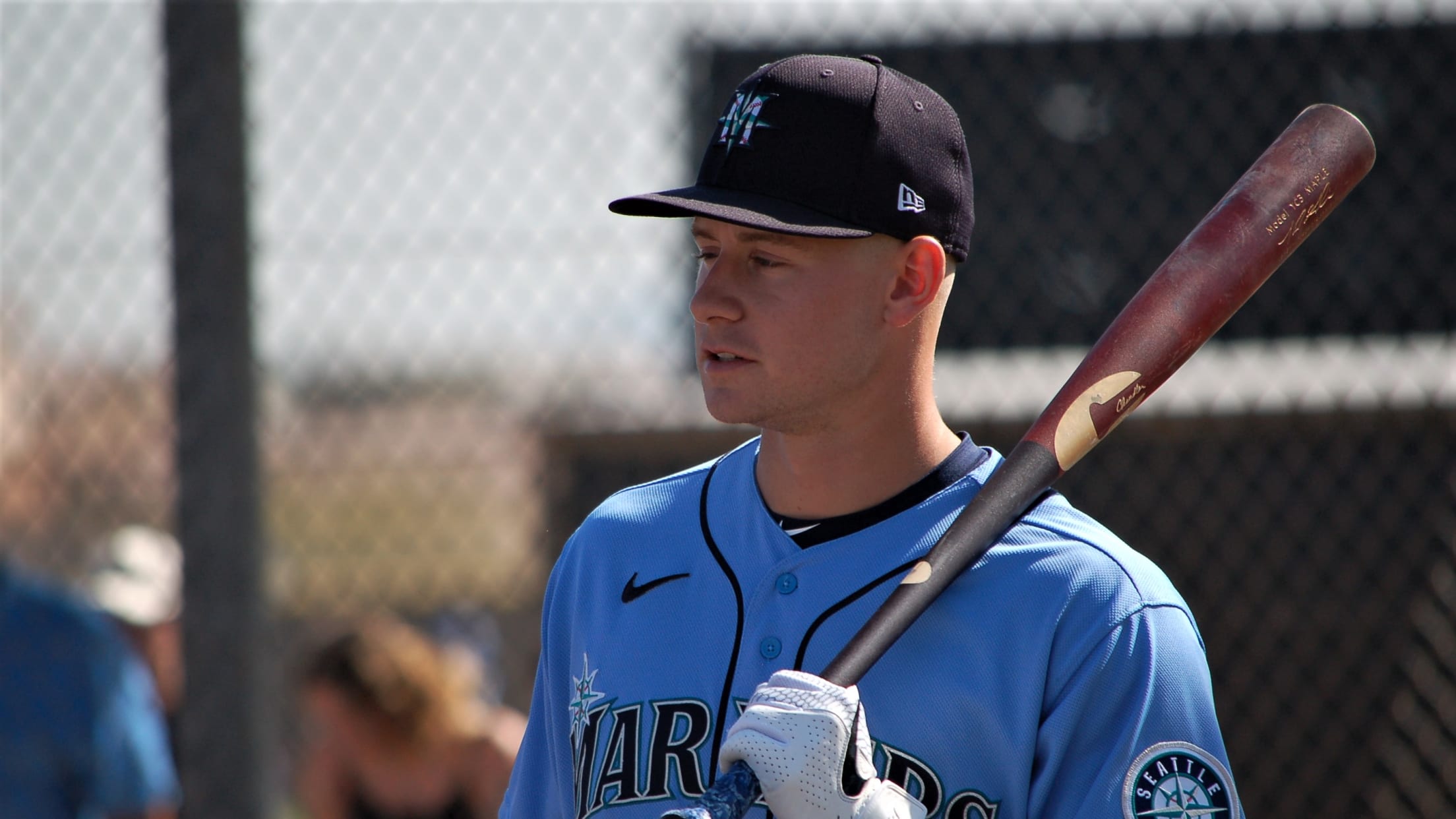 PEORIA, Ariz. -- After a rainout Saturday, Cactus League play is set to open on Sunday for the Mariners. But we've already had 10 days of practice for pitchers and catchers and four days of full-squad workouts, so here are five observations before the games begin: 1. The kids are
Each team's top power-hitting prospect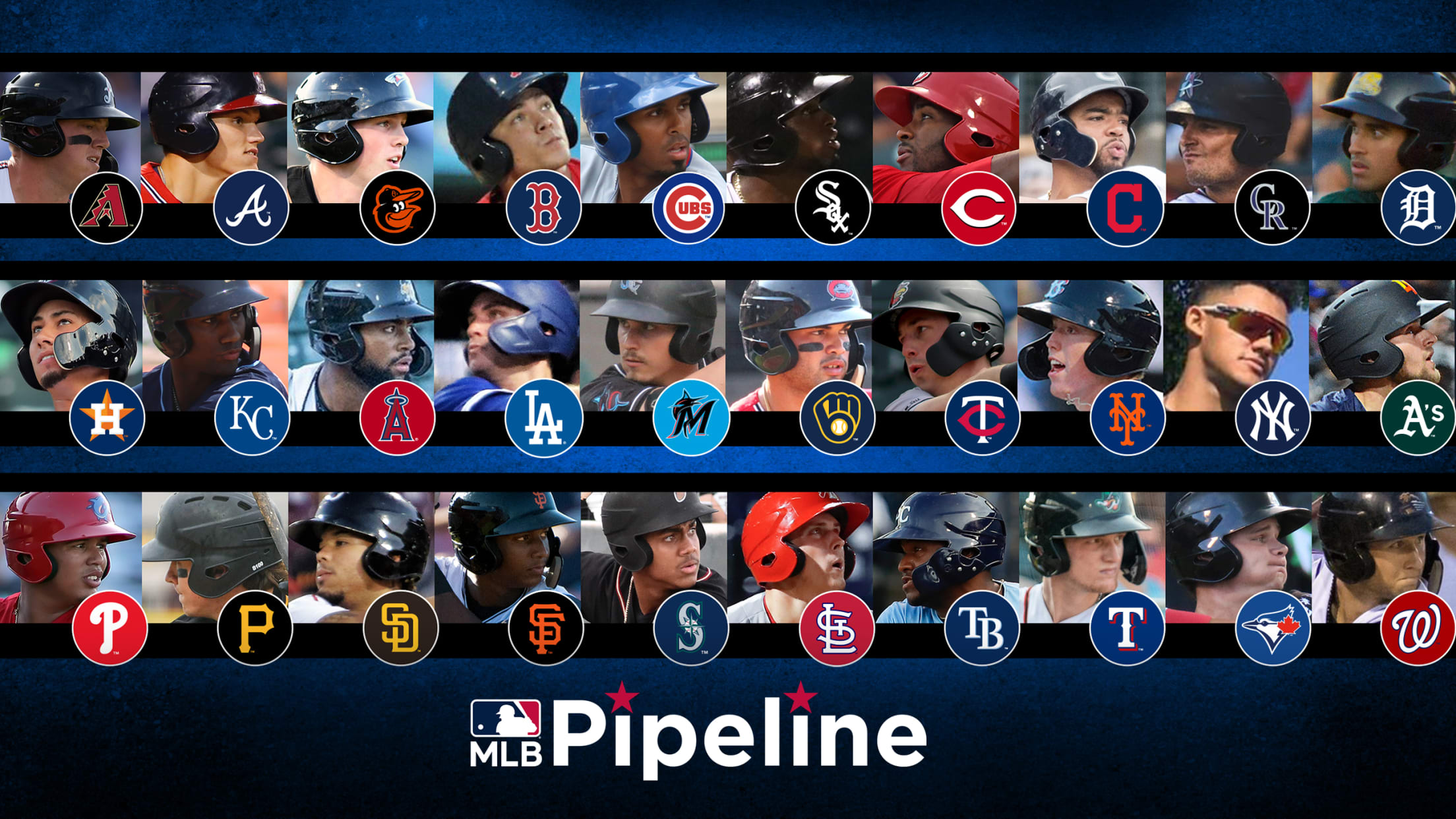 The 2019 Major League season will be remembered as the Year of the Home Run after players across baseball combined to hit a record 6,776 homers -- up from 5,585 in 2018 -- and 14 different teams set a new franchise record. National League Rookie of the Year Pete Alonso
Young Mariners: 'We're hungry for it'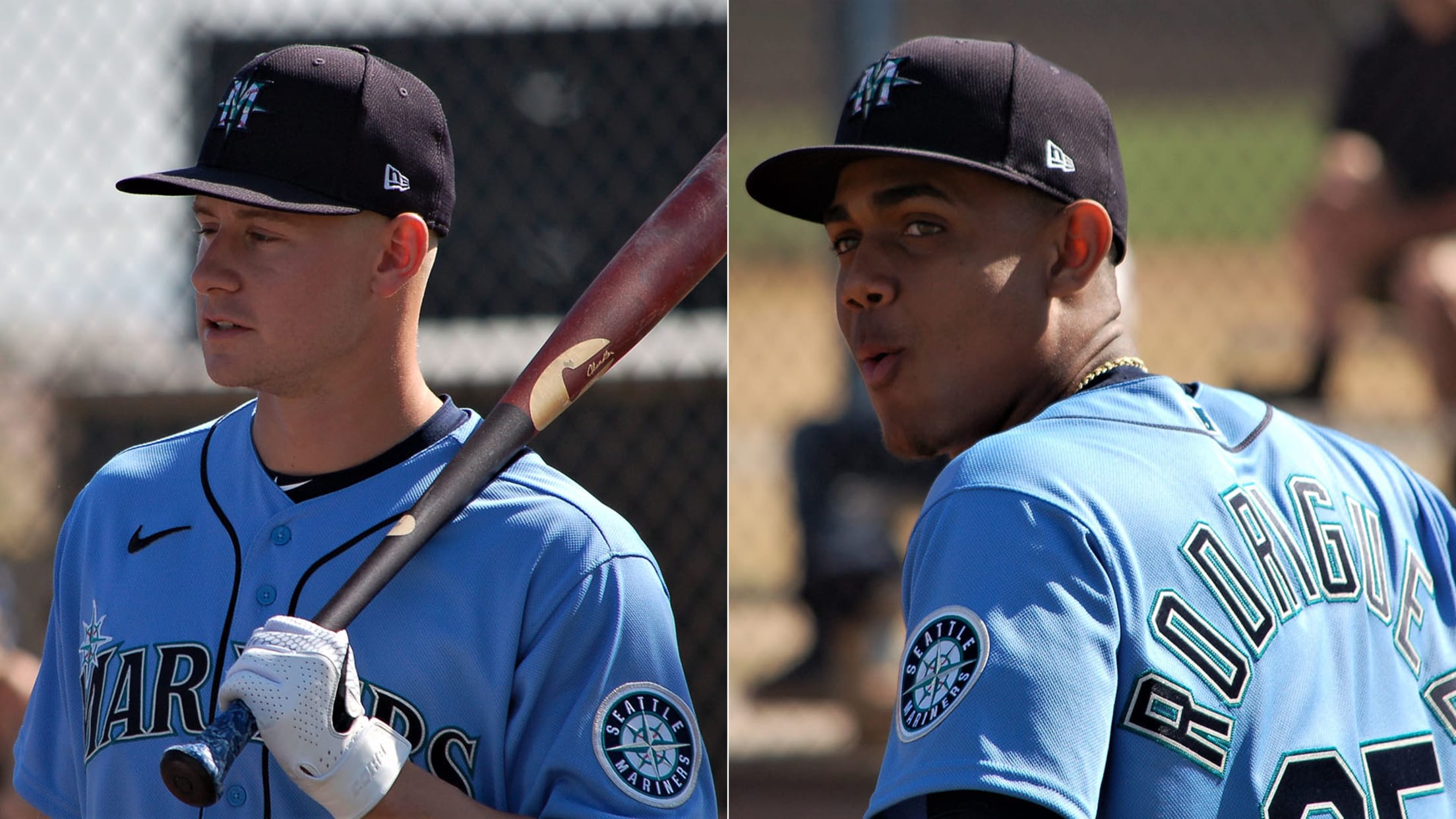 PEORIA, Ariz. -- For the Mariners, the future finally began to arrive on Tuesday with the first full-squad workout of the spring. There were young pups Julio Rodriguez and Jarred Kelenic running through outfield drills and taking their hacks in batting practice, with fellow rookie prospect Justin Dunn throwing the
Notes: Gilbert's 1st 'pen; two veterans added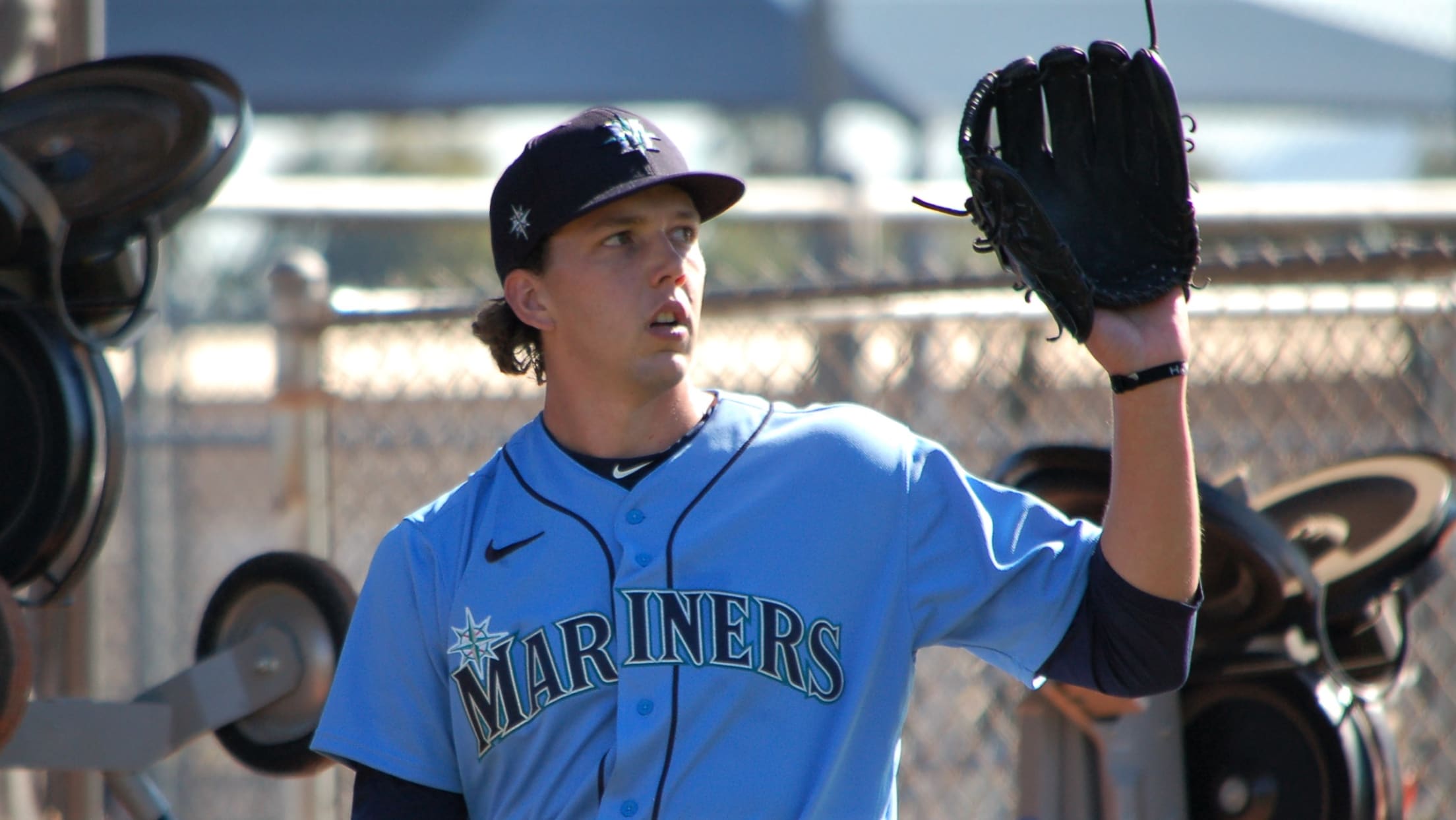 PEORIA, Ariz -- First impressions of 2018 first-round Draft pick Logan Gilbert? At 6-foot-6, he casts an imposing figure on the mound. And the 22-year-old generates a lot of power with a throwing motion that takes maximum advantage of his size. Gilbert threw his first bullpen session on Friday under
Sheffield shows resilience after 2019 struggles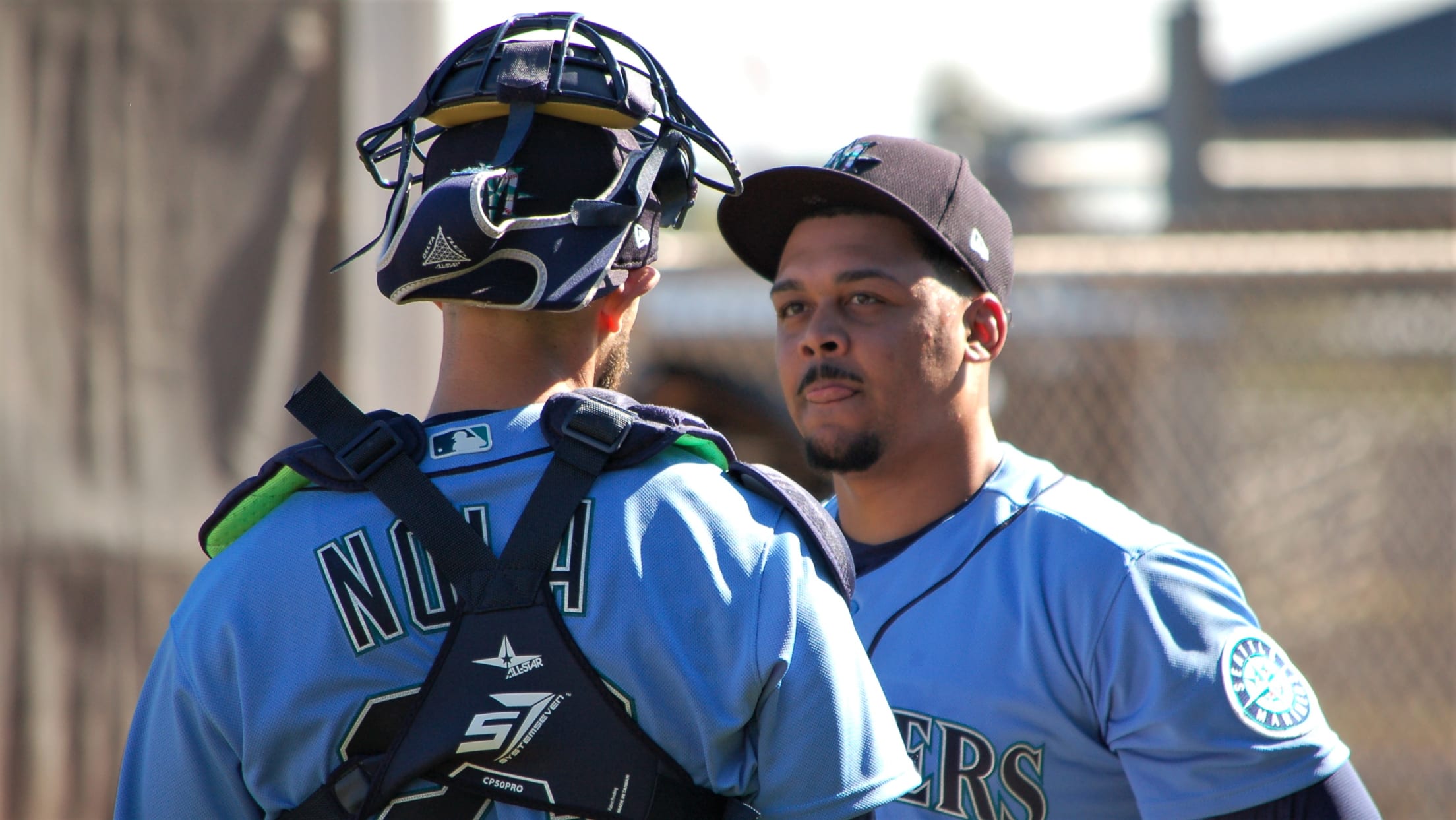 PEORIA, Ariz. -- When new Mariners pitching coach Pete Woodworth met promising prospect Justus Sheffield last year, it wasn't in the best of circumstances. Sheffield, the key piece in Seattle's trade with the Yankees for James Paxton, had struggled badly in Triple-A Tacoma and been sent down to Double-A Arkansas
Mariners take power arm in Rule 5 Draft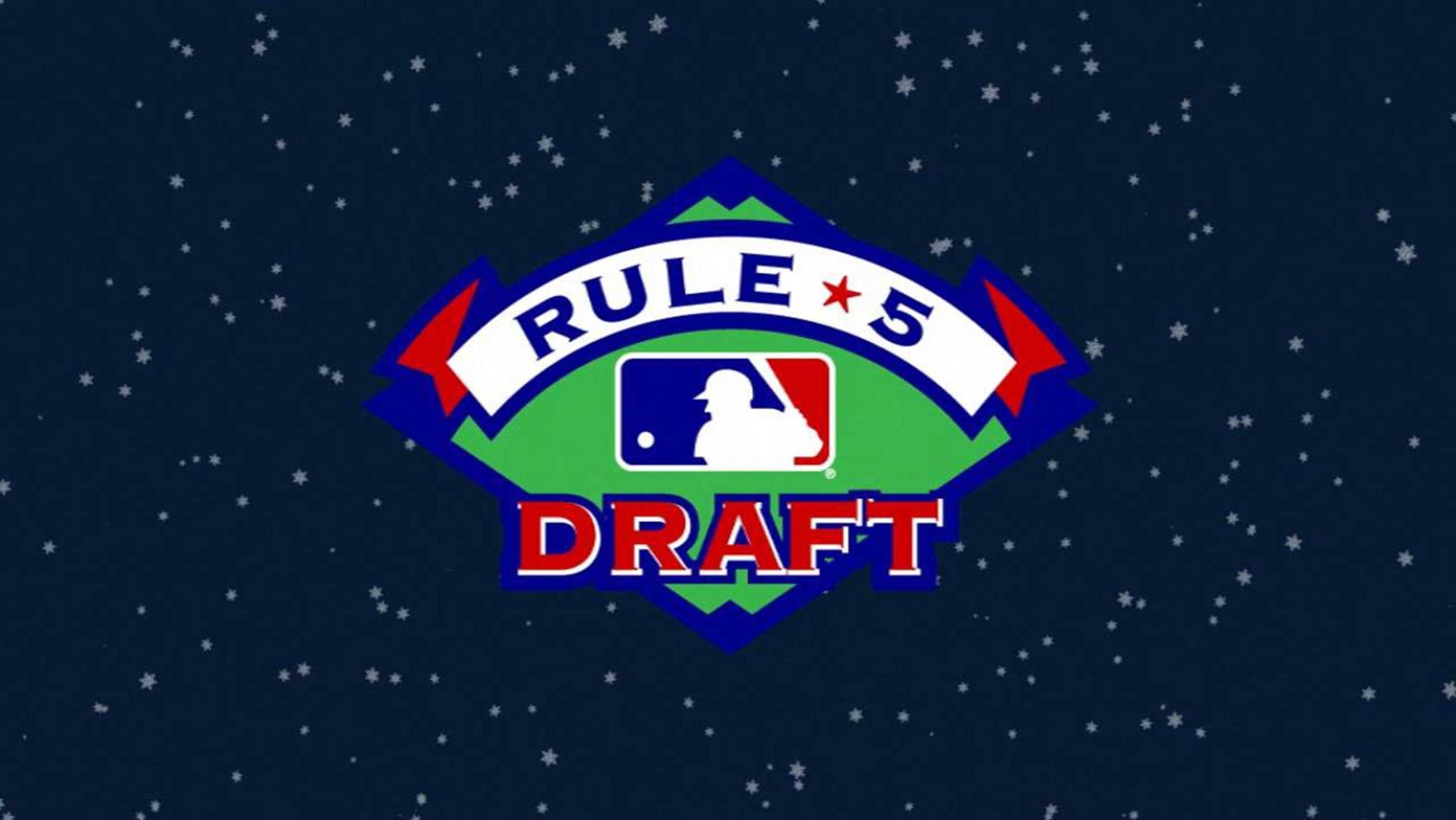 SAN DIEGO -- A Mariners team that has been exploring every avenue to beef up its bullpen over the past year added an intriguing power arm in Thursday's Rule 5 Draft, selecting 24-year-old right-hander Yohan Ramirez out of the Astros' organization with the sixth pick. Ramirez must be kept on
10 prospects who rebounded in 2019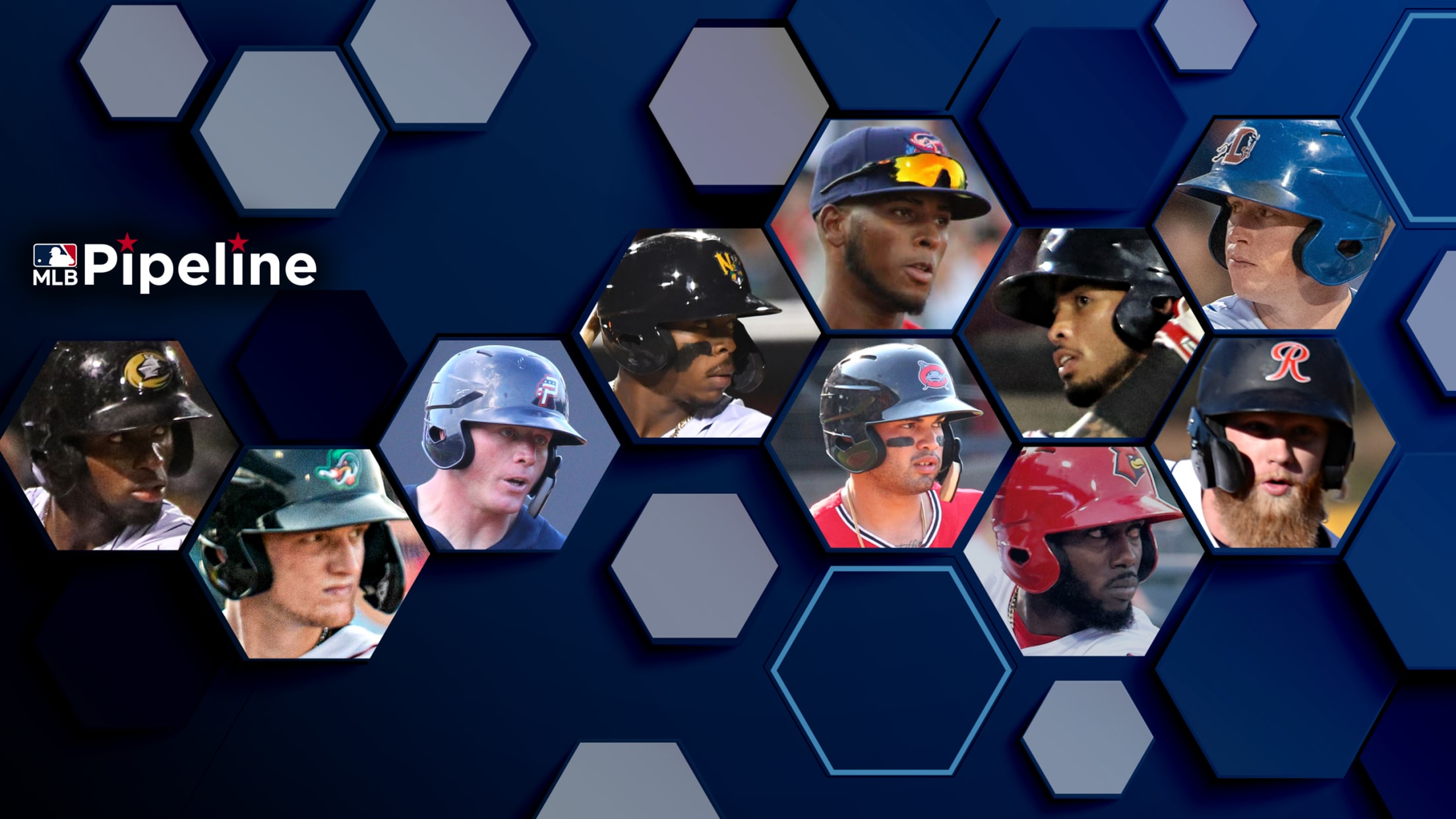 Perhaps no prospect rebounded more in 2019 than Trent Grisham. Grisham, Milwaukee's first-round pick in the 2015 Draft, batted .241 with 19 home runs in 1,488 plate appearances across his first four pro seasons before finally putting it together last season, slashing .300/.407/.603 with 26 homers in 441 plate appearances
Mariners prospect White inks historic 6-year deal
Prospect is 4th player to sign long-term contract before reaching bigs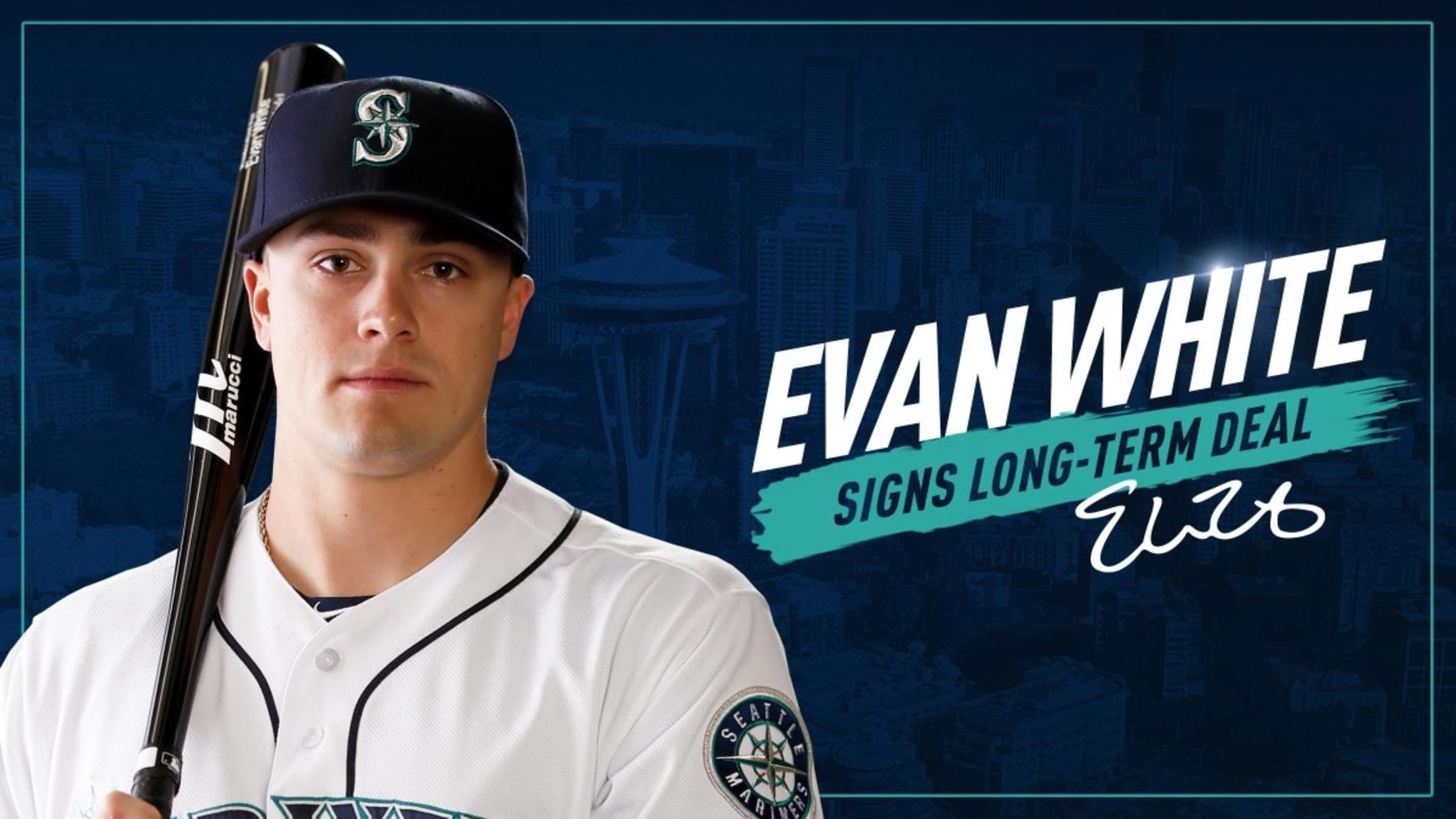 SEATTLE -- Evan White has yet to play a game in Major League Baseball, but the 23-year-old first baseman finalized a long-term contract on Monday that secures his future with the Mariners for at least the next six years. The Mariners announced the deal after White passed a physical exam
With White deal, Mariners solidify future at 1B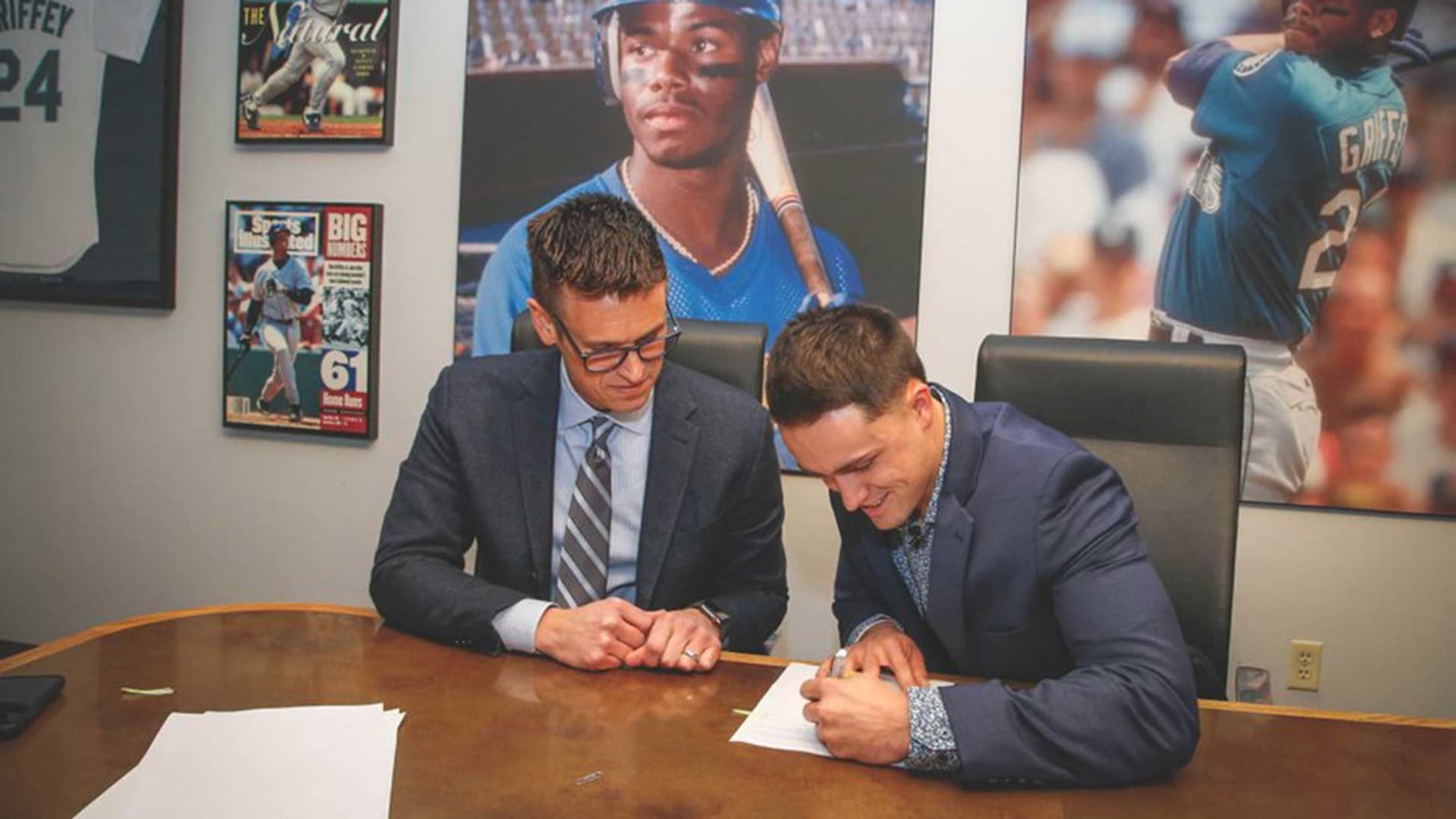 SEATTLE -- A Mariners team that has started six different first basemen on Opening Day over the past six seasons will have a seventh next season. But if things go to plan, that merry-go-round is about to stop with Evan White. The promising 23-year-old prospect, who has never taken a
Mariners quiet at Rule 5 Draft deadline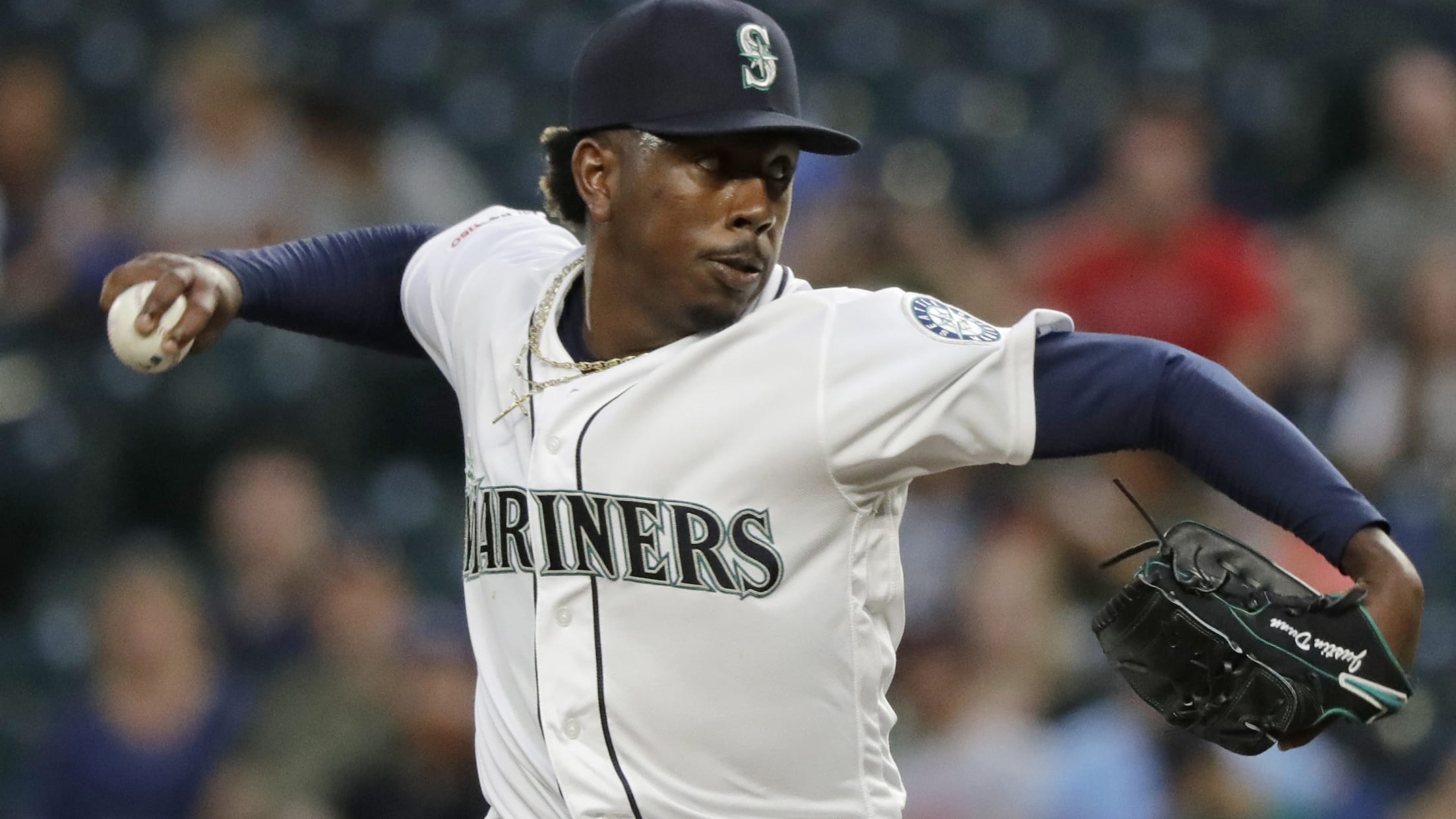 SEATTLE -- Having already moved a number of their top prospects onto the 40-man roster as September callups at the conclusion of last season, the Mariners kept quiet on Wednesday as the deadline passed for protecting players from next month's Rule 5 Draft. The Mariners promoted right-handers Justin Dunn and