5 trade ideas so crazy they might just work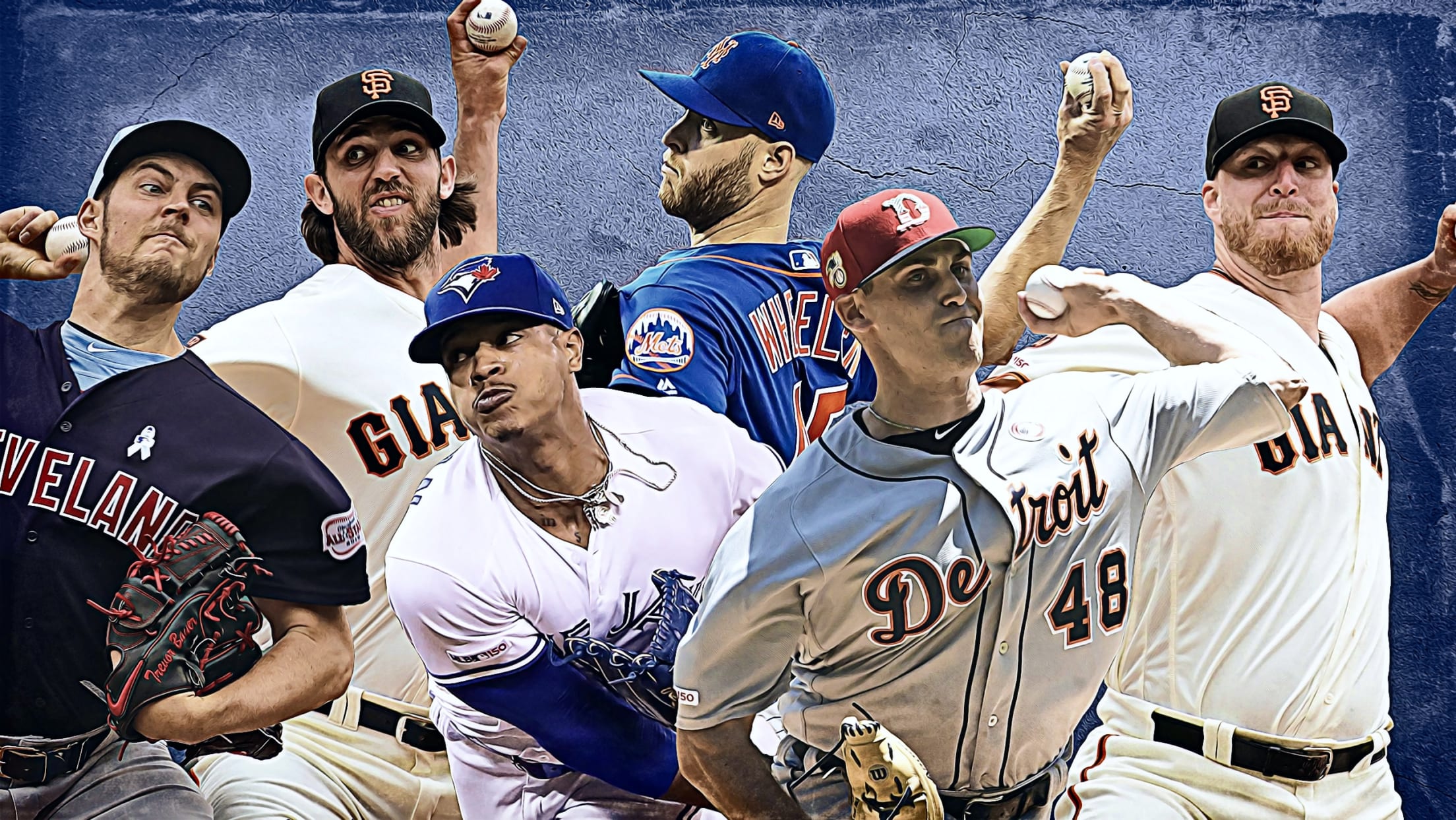 The one and only Trade Deadline of 2019 is less than three weeks away (July 31 at 4 p.m. ET), which means things are about to get real. But before they can get real, they've got to get fake. So let's fake a deal (or five) with a little game
The one and only Trade Deadline of 2019 is less than three weeks away (July 31 at 4 p.m. ET), which means things are about to get real.
But before they can get real, they've got to get fake. So let's fake a deal (or five) with a little game of "Who says no?"
(As always, this is supposed to be fun. I'm not a general manager, I just play one in print.)
The Braves make some Giant acquisitions
Atlanta gets: LHP Madison Bumgarner and LHP Will Smith
San Francisco gets: RHP Bryse Wilson, LHP Kolby Allard and OF Justin Dean
Though the Braves added to their rotation with the Dallas Keuchel signing last month and have had a much better bullpen than it looked early in the year, Atlantans could breathe a lot easier if both areas were bolstered at this Deadline. And the good news is that the Braves are about as well-situated as any club to make upgrades. Something about Bumgarner returning to his Southeast roots (and potentially getting a shot at the Dodgers in the postseason) feels right, as does Smith's return to his native Georgia (don't ever doubt his Falcons fandom).
All-Star reliever (and Georgia native) Will Smith is back in Cleveland eight months after he came here for a Browns-Falcons game, lost a bet to some buddies and had to jump in Lake Erie when ATL lost. "It was freaking cold!" he said.

— Anthony Castrovince (@castrovince) July 9, 2019
As for the Giants, it will be interesting to see what kind of haul they can get for Bumgarner, whose raw numbers are a shadow of what once was, but whose postseason pedigree is second to none. This deal nets them the Nos. 5 (Wilson), 8 (Allard) and 28 (Dean) prospects per MLB Pipeline, from a deep Atlanta system. Allard hasn't quite lived up to his billing as the 14th overall pick in the 2015 Draft, but this would be a nice boost to a Giants organization in need of pitching depth.
Who says no? Well, maybe Bumgarner, because the Braves are one of the teams on his no-trade list (though that could just be a negotiating ploy). As far as the teams are concerned, dealing two top-10 prospects for two rentals might be a bit rich for the Braves' blood.
The Indians, Brewers and Orioles bang out a blockbuster
Milwaukee gets: RHP Trevor Bauer
Cleveland gets: OF Trey Mancini; RHP Dylan Bundy and RHP Mychal Givens
Baltimore gets: SS Brice Turang, OF Tristen Lutz, RHP Zack Brown, C Mario Feliciano, RHP Nick Sandlin and SS Marcos Gonzalez
The genesis of this is that, for the Indians to move Bauer while still in contention, they need Major League-ready pieces back, and that's a tough trade to pull off one-on-one (it's why Bauer wasn't moved over the winter).
Here's one way to get it done. The Brewers have a clear need in their rotation in the complex National League Central, and Bauer might even lend himself to their progressive pitching usage. Milwaukee doesn't have the controllable young Major League outfielder the Indians would need in a Bauer trade, so they send a bundle of prospects Baltimore's way.
And the Orioles, in reaping young talent from the Milwaukee and Cleveland systems, send the Indians a ready-made run-producer in Mancini (under control through 2022), a bullpen-lengthening arm in Givens (under control through '21) and a rotation replacement in Bundy (also under control through '21), the latter two of whom could probably benefit from a change of scenery.
Prospects Turang (No. 2, Brewers), Lutz (No. 4, Brewers), Brown (No. 6, Brewers), Feliciano (No. 14, Brewers), Sandlin (No. 18, Indians) and Gonzalez (No. 28, Indians) continue the reshaping of the Orioles' system, though it's possible the deal would need to be rounded out by a couple other, lower-profile prospects.
Who says no? This one is pretty complicated. So … probably everybody!
The Twins get a pitching pair
Minnesota gets: RHP Marcus Stroman and RHP Ken Giles
Toronto gets: RHP Brusdar Graterol, SS Wander Javier, RHP Griffin Jax, OF Gabriel Maciel and LHP Ryley Widell
A surge from the Indians combined with a slump from the Twins created something more closely resembling a legit race in the American League Central just before the All-Star break.
But the Central itself isn't all the Twins have to consider at this Deadline. Are they good enough to advance in a top-heavy AL with two powerhouses in Houston and New York? And how will they address the rotation at season's end, when Jake Odorizzi, Michael Pineda and Kyle Gibson are free agents?
Enter Stroman, who would bring both swagger and an additional year of control to the Twin Cities. Giles is also under team control through 2020 and would allow some of the arms in the 'pen to slide into lower-leverage roles.
The Twins have enough pieces in their system to be aggressive in trying to nail down their first division title in nine years, and their Nos. 3 (Graterol, No. 50 overall), 6 (Javier), 23 (Jax) and 25 (Maciel) prospects would be nice building blocks for a Toronto team in transition. Graterol is reportedly off-limits in trade talks, but the market for Stroman should be competitive.
Who says no? With few controllable starters available in this market and the majority of contenders in need of bullpen help, the Blue Jays might be able to hold out for a better offer.
The Astros "Wheel" in another starter
Houston gets: RHP Zack Wheeler
New York gets: RHP J.B. Bukauskas, INF Jeremy Pena
Ultimately, I'm skeptical that the Mets will actually move Noah Syndergaard at this Trade Deadline (though there is ample argument that they should). With Wheeler, the situation is much more direct: He's a pending free agent, and the Mets need to capitalize on his value in this market.
For Houston, a team in need of a back-end-of-the-rotation boost, this makes a lot of sense. Why? Because Wheeler, like Gerrit Cole before him, could be a pitcher who benefits from a revised repertoire. Opponents are slugging .491 off Wheeler's sinker and just .295 off his four-seamer. Yet he's throwing the sinker more frequently.
In this return, the Mets get the Astros' No. 5 prospect Bukauskas, who had a difficult first half but was selected to the SiriusXM Futures Game, and No. 23 prospect Pena (Geronimo Pena's son), a good defender up the middle.
Who says no? With Cole and Wade Miley nearing free agency and injury concerns having cropped up among their top pitching prospects, the Astros prefer a more controllable arm.
The Yankees find a pitching piece on the Motor City assembly line
New York gets: LHP Matthew Boyd
Detroit gets: OF Estevan Florial, C Anthony Seigler and OF Antonio Cabello
Though the Yankees' rotation already leans left with J.A. Happ, James Paxton and CC Sabathia, the bottom line is that New York is certainly in need of a rotation boost, and the more controllable that option is, the better. Boyd is in the midst of a breakout year and is under team control through 2022.
The Tigers don't have to move him like they do reliever Shane Greene (who, come to think of it, would also be a nice addition for a Yankees team that has gotten nothing from Dellin Betances this year), but if any team has the incentive and the resources to overwhelm them, it's the Yankees.
Here, the Tigers, who are looking to upgrade the position-player side of their prospect pool, get the Yankees' No. 1 (Florial; No. 47 overall), 6 (Seigler) and 9 (Cabello) prospects. Maybe it takes another body from the lower levels to round out the deal, but three top 10s from a good system for a guy who had a 5.07 career ERA entering 2019 would be a worthwhile haul.
Who says no? Because the Yankees have generally been protective of their prospects and the Tigers are looking to be totally overwhelmed for Boyd, they'd both make it hard to find the right formula.