Detroit's 8 Pitch, Hit & Run winners crowned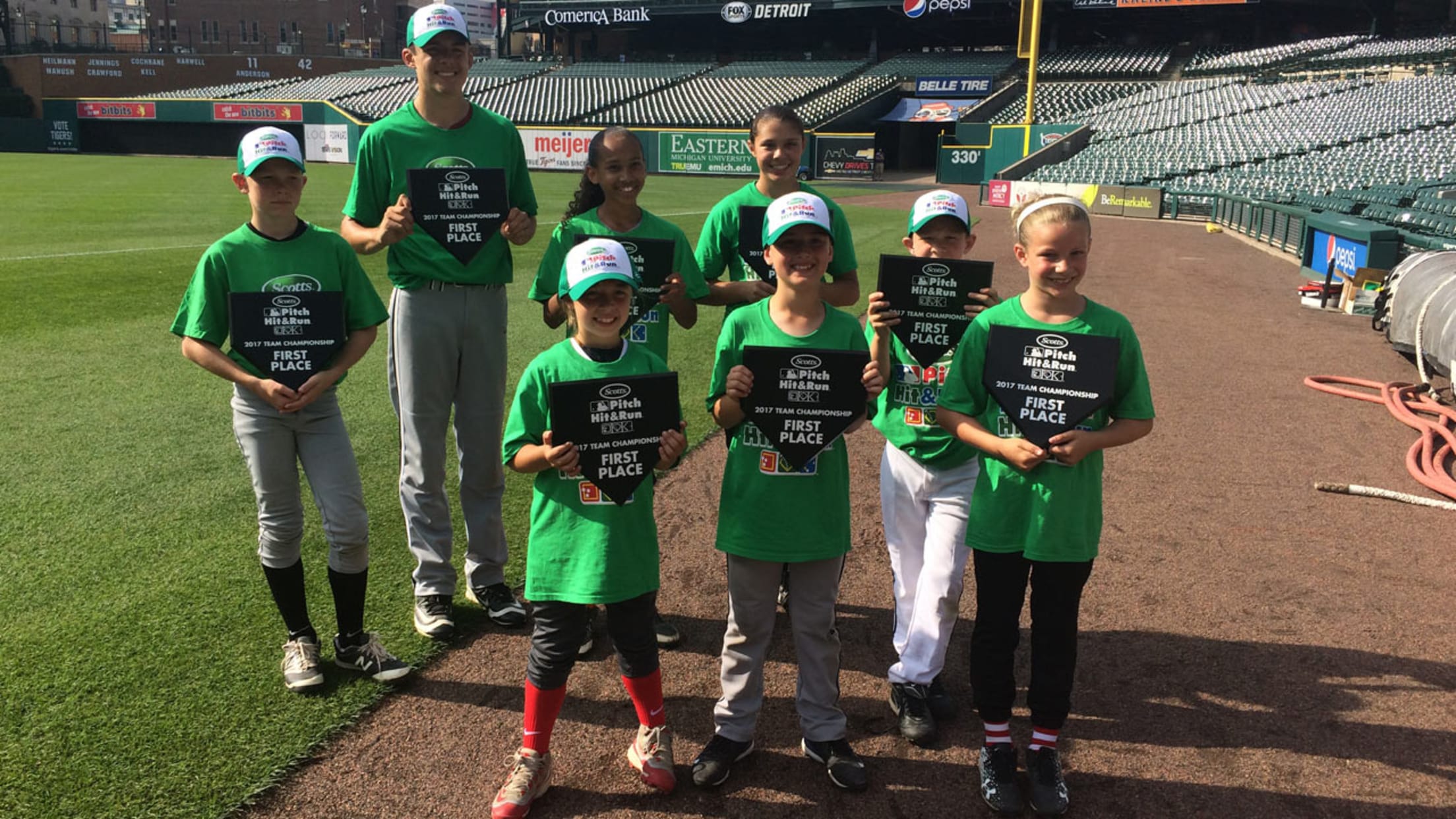 Pitch, Hit & Run winners display their plaques on Saturday at Comerica Park. (Jordan Horrobin/MLB.com)
DETROIT -- Joey Henegar's summer is off to a great start. Competing in the 13/14 Baseball age group, Henegar was one of eight winners in the Scotts Pitch, Hit & Run competition held on Saturday morning at Comerica Park for young baseball and softball players. For the event, which started
DETROIT -- Joey Henegar's summer is off to a great start. Competing in the 13/14 Baseball age group, Henegar was one of eight winners in the Scotts Pitch, Hit & Run competition held on Saturday morning at Comerica Park for young baseball and softball players. For the event, which started at 8 a.m., a crowd of about 60 parents, siblings and other family members sat on the first-base side to cheer on their competitors.
"I'm a morning person, so it wasn't that bad," Henegar said. "And I'd been waking up just about as early for school every day."
Twenty-four boys and girls, ages 7-14 from across Michigan, took part in the event. All of them qualified for the Team Championships in Detroit by winning at the local and sectional levels. The competition included three components: pitching to a strike zone target, hitting off a tee and running a 180-foot time trial (the distance from second base to home).
Unfortunately, there was a tarp covering the infield -- so the competition had to be moved to the outfield grass. Instead of rounding the bases for the running event, kids rounded the warning track.
Henegar, from Wood Haven, Mich., finished third in his age group three years ago at Comerica. He said he didn't expect to advance from the sectional round this year, which helped him relax and record his farthest hit and fastest run time to date. He was surprised when his dad told him he'd qualified for the Team Championship.
While Henegar said the uncertainty of his competitors made him a little nervous, he never lost focus once the first event started. Eventually, he made the most of his final year in the competition.
"Once I threw the pitches and I got five [targets out of six], I was chill," said Henegar.
The other winners were Alyson Peterson (7/8 Softball), Kayla Raines (9/10 Softball), Aalana Kimble (11/12 Softball), Taylor Huschke (13/14 Softball), Zharius McAllister (7/8 Baseball), Owen Dood (9/10 Baseball) and Ben Wedge (11/12 Baseball).
Every participant received a T-shirt, hat and home-plate-shaped plaque. But the winners earned something more: a chance to compete in the National Finals at the MLB All-Star Week in Miami. Every MLB team hosts a competition -- with the Top 3 scorers for each age division advancing.
"That would be really, really cool to go [to Miami]," Henegar said. "I controlled what I [could] control, [so] we'll see what the other guys did."
Saturday's winners were recognized during a pregame ceremony on the field ahead of an afternoon game between the Tigers and Rays. The qualifiers for the national competition will be announced on June 26 on MLB Network's evening show, "MLB Tonight."
Jordan Horrobin is a reporter for MLB.com based in Detroit.